I am glad you're here, and I'm so excited to be able to teach you to make Classic Shoofly Pie recipe from ingredients you probably already own. If you've never made one before, I think you'll really enjoy this homey and old-fashioned pie!

Like most old-fashioned recipes there is no definitive way to make it. Some are "dry bottom" and some are "wet bottom." Read on to learn the difference and how to make my wet-bottom version.

If you're a fan of desperation pies, you may also like my coconut custard pie recipe.

For ease of browsing, here are all of my pie and tart recipes. Thanks for stopping by!
Watch my shoofly pie recipe web story here.
You'll Like Shoofly Pie If
Not every recipe is for every person, so see if you've never had shoofly pie before, see if this is a pie you'll enjoy.
You'll like it if you:
Need pie and don't have any fruit on hand
Like a gel-like texture (sort of like lemon meringue pie)
Appreciate an old-fashioned pie as much for the name as the flavor
Think pie is a perfectly acceptable breakfast (the Amish call it a breakfast pie)
Enjoy multiple textures in a pie: this one has a crumbly topping, crisp pastry, and gooey filling
If this pie sounds up your alley, I have a request.
When you do make this recipe, it will help me and other readers if you:
✅Rate the recipes using the stars in the recipe card
✅Leave a review when prompted in the recipe card
✅Leave a comment on the post
Thank you! ❤️
Origins
Shoofly pie is most popular in and around Amish and Mennonite communities in Pennsylvania whose cooks are known for making delicious food alchemy with basic pantry ingredients. Moravian Sugar Cake, anyone? Right?
The original crust recipe most likely contained lard, and the recipe I based my version on called for shortening which wasn't invented until 1910 and certainly wasn't an ingredient in the pies made by the settlers who came to Pennsylvania in the early to mid-1700's.
I went with an all-butter pate brisee crust, since I didn't have any lard and the butter would have been a more likely candidate than shortening.
If you don't need step-by-step directions and just want the recipe, feel free to jump straight there.
How to Make Shoofly Pie
Ingredients and Substitutions
NOTE: The first three ingredients: flour, brown sugar, and butter are for the streusel topping. So the molasses filling itself only contains 5 ingredients!
flour

: I use all-purpose flour. Since it doesn't add much to the structure of the pie, you can also use cake flour. Bread flour might yield a chewy texture, so I'd stay away from that if you can

brown sugar

: dark or light–either will work. If you don't have brown sugar, use granulated sugar evenly mixed together with a couple of teaspoons of molasses.

butter

: use salted or unsalted here

molasses

: You'll need about 9 oz by weight or 3/4 cup. Use unsulfered and not blackstrap molasses. You could also substitute sorghum syrup if you have some.

hot water

: Heat it to help it mix together easily with the thick molasses

egg

: You just need one

baking soda

: neutralizes some of the bitterness of the molasses
salt: also counteracts some bitterness and brings out all the flavor
Procedure
Line your pie pan with dough, crimp, dock it (poke tiny holes in it with the tip of a knife, and freeze until you're ready to bake.
Rub the butter into flour, brown sugar, and salt to make a very sandy streusel. Set aside.
Whisk together molasses and hot water.
Whisk in the baking soda and salt. It will get a little foamy and will lighten in color.
Whisk the egg and then whisk it into the filling.
Mix half the streusel into the molasses mixture and pour into your prepared crust.
Sprinkle the rest of the streusel evenly over the top of the filling.
Bake at 400F for 15 minutes. Reduce heat to 350 and continue baking for an additional 10-15 minutes until puffy and mostly firm on top.
Equipment Recommendations
As with most old-fashioned pie, it doesn't take a lot of equipment to make shoofly pie.
You will definitely need a good balloon whisk–and if you don't already have one, you should pick one up. More wires equal more effective mixing as well as better aeration.
Jenni's Pick
OXO Good Grips 11-Inch Balloon Whisk,Black
With a rounded shape and a lot of tines (wires), this balloon whisk makes short work of whipping cream or combining ingredients in a bowl. I use OXO products and trust the name. This is a great buy--you will find yourself reaching for this whisk again and again.
This is an affiliate link which means I earn from qualifying purchases. Your price is unaffected.
And you will also need a standard pie pan. I recommend using an aluminum pan for maximum heat transfer to help ensure a crisp crust.
Jenni's Pick
USA Pan Bakeware Aluminized Steel Pie Pan, 9-Inch
Aluminum for rapid heat transfer and steel for weight and durability, baking pies in a metal pan helps ensure a crisp crust. And USA Pans are fabulous. You really can't go wrong. I do recommend hand washing to make sure the pan's magic nonstick coating stays magic for years.
This is an affiliate link which means I earn from qualifying purchases. Your price is unaffected.
Visual How-To
Here are some video clips that help to illustrate a couple of the steps. I hope you find them helpful.
Here is what your streusel should look like when you're finished rubbing in the fat:
Whisking some of the streusel into the molasses mixture:
This is an optional step, but I find the crust gets better color on it if I egg wash before baking. Note I've already filled the pan with filling and streusel:
Here's what the pie looks like when sliced and served. Note it was still barely warm when I cut this piece:
Wet Bottom vs Dry Bottom Shoofly Pie
There are two basic kinds of shoofly pie.
one with crumbs mostly on top, like the one I made, and
another with most of the crumbs/streusel thoroughly stirred in, yielding a more cakelike texture.
The version with the streusel on top and the molasses "gel" underneath is called "wet bottom," and the more cake-like kind with the streusel stirred in is referred to as "dry bottom."
Neither version is more authentic than the other, so don't worry about that. You just need to decide which version you want to eat!
Pro Tip
For a crisper crust, blind bake the pie crust first by lining the crust with a large-sized coffee filter or with parchment or non-stick foil. Fill crust completely with beans, rice, or sugar, and bake at 400F for 12015 minutes.

Remove weights and filter or foil, brush the entire crust with egg wash and bake an additional 5 minutes to set the egg wash. Let the crust cool to warm before filling it with the molasses mixture.

You will have to cover the edges of the pie during baking to make sure the edges of the crust don't get too dark.
Shoofly Pie Q & A
What does the baking soda do?
Another interesting thing about the pie is the use of baking soda. You whisk it into the molasses with hot water and then an egg. The baking soda changes the color of the mixture, making it lighter. It foams up as the acid in the molasses interacts with the base of baking soda. This neutralizes most (not all) of the bitterness of the molasses.
Why is it called shoofly pie?
The name shoo-fly pie suggests it is so sweet that, before you can eat it, you have to shoo away the flies that will come visiting.
What does it taste like?
Without the baking soda, it could be a bit on the bitter side, with a very strong molasses flavor. But since some enterprising cook back on the prairie or somewhere added baking soda to mellow out the flavor, this pie tastes of molasses without bitterness. The streusel layer is sandy and a little crunchy, and the baked molasses custard part is sweet and smooth. Both textures contrast nicely with the crisp crust.
How do I store it?
Cover the pie and store in the fridge for up to 5 days. Slice and plate 45 minutes or so before serving so it can come up to room temperature.
Serving Suggestions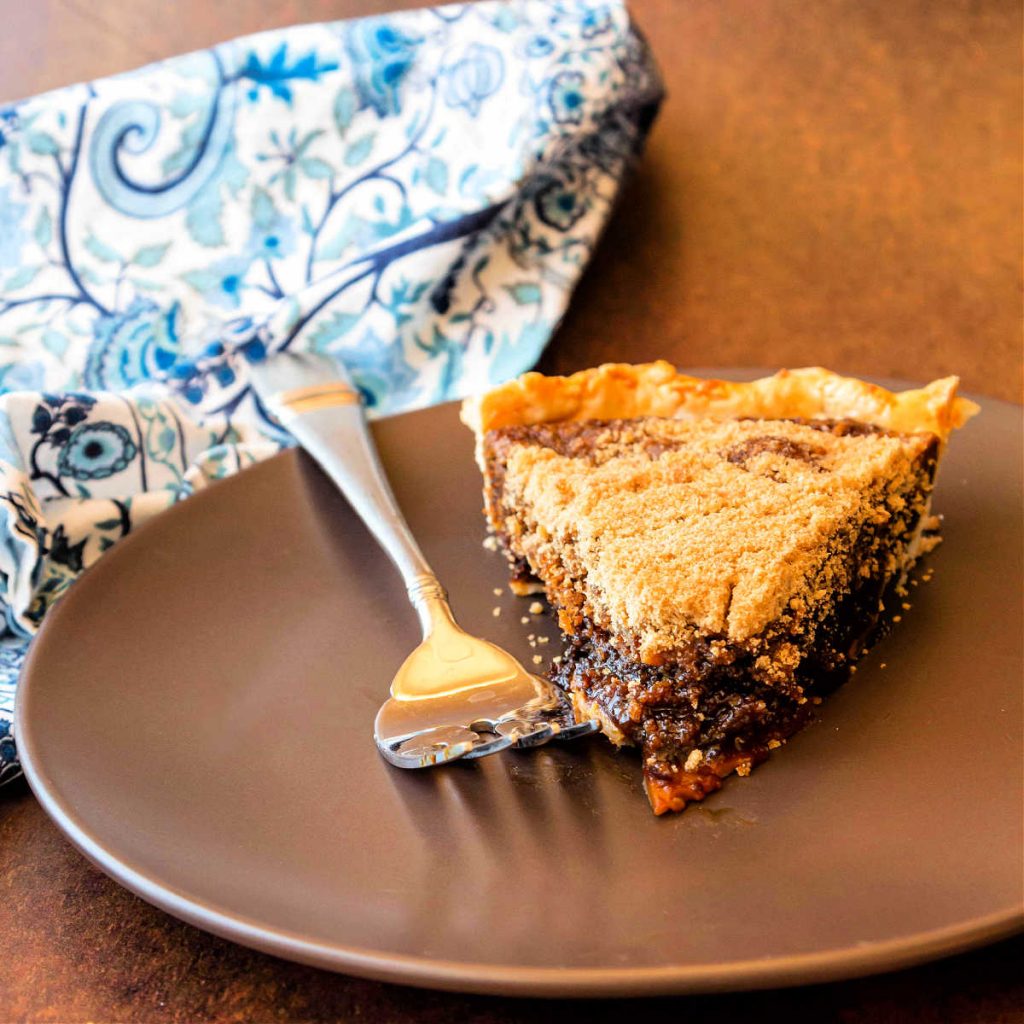 I like to serve this pie with a little unsweetened whipped cream. It's sweet enough on its own, so I don't feel the need to add sugar to my hand-whipped cream.
If you really want to gild the lily though, serve it with a scoop of homemade French vanilla ice cream.
Other Desperation Pies
This pie is one of four I made for a series on "desperation pies." You may enjoy some of these others, too.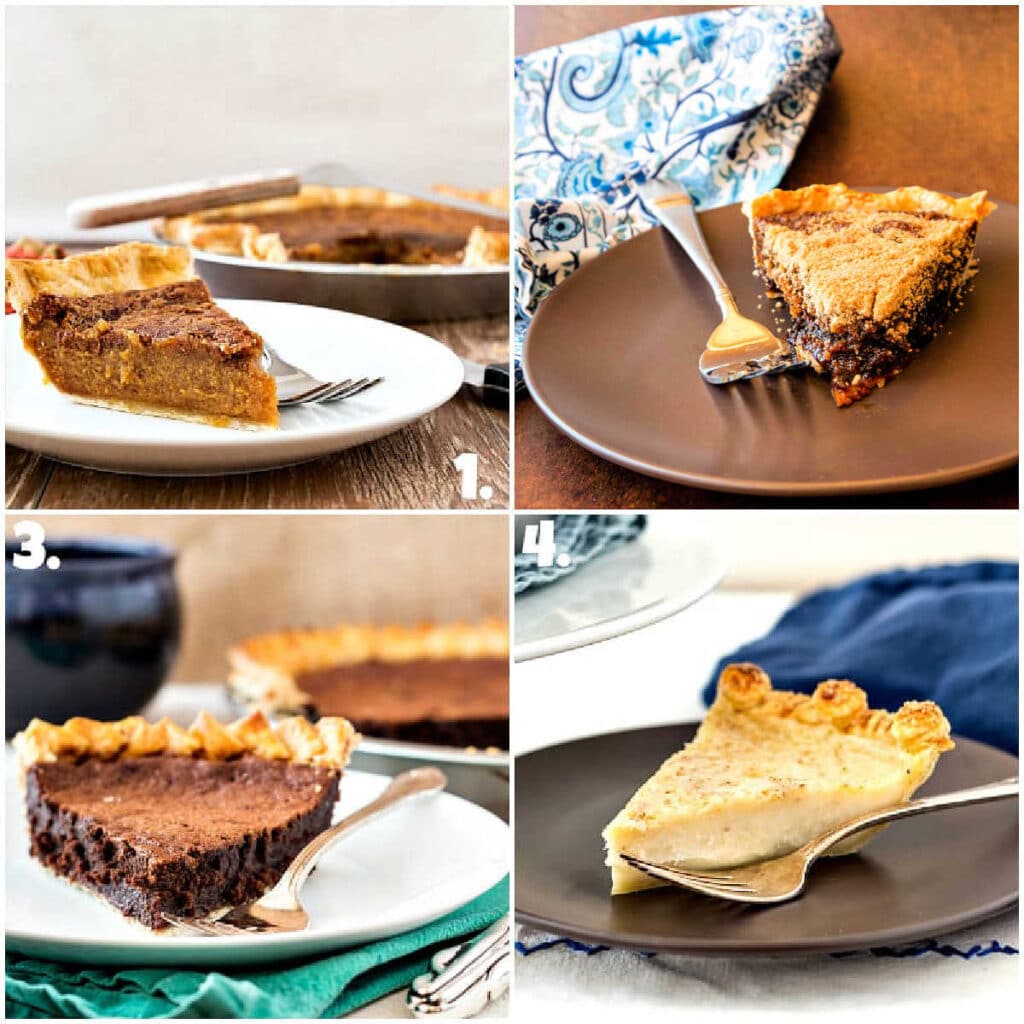 Cinnamon Sorghum Custard Pie Which I sort of made up but it worthy of mention, especially if you love sorghum syrup. And cookies.
This guy right here.
Chocolate Chess Pie: which is sort of like a gooey brownie in a pie crust. Delicious.
Indiana Sugar Cream Pie: Tastes like sweet, sliceable, nutmeg-scented cream. A cool, creamy, perfect dairy-based pie.
Questions
If you have a question about this post and it is not time-sensitive, you can leave your question in the comments section here under the post.
If your question is more time-sensitive, the best way to reach me is by email. I will get back to you in under four hours unless I'm sleeping.
To email, simply click the button below:
A Note About Measurements
For convenience, consistency, and accuracy, almost all my recipes are written by weight, either in ounces and/or grams, even the liquids.
I strongly encourage you to purchase a kitchen scale and learn to use it.
This is the one I used for years. I love it and highly recommend it:
Best for Home Use
Escali Primo Digital Food Scale
Don't let its small price and small size fool you. The Escali Primo is an accurate and easy-to-use food scale that I have used for years. It's easy to store, easy to use, has a tare function, and easily switches between grams and ounces/pounds for accurate measurements.
This is an affiliate link which means I earn from qualifying purchases. Your price is unaffected.
It would be so helpful to me and to other readers that, when you make a recipe, you rate it and leave a comment. Whether it's a recipe or an informational post, your feedback helps others decide if the post is helpful or if the recipe works as advertised.

If you could leave a star rating, that would be very helpful. Thank you for being here!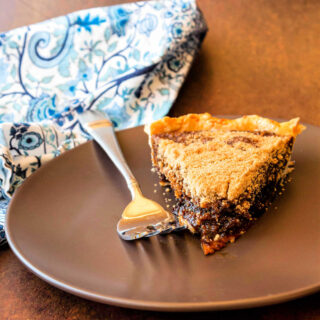 Wet Bottom Shoofly Pie
Classic wet-bottom Shoo Fly Pie is perfection in both texture and flavor. It's not hard to make, sets up to a barely woogly center, and the crisp, crunchy-yet-sandy streusel is a fantastictopping. The streusel that is baked in with the filling helps it to set up as the starches in the flour gel. It's a genius pie for lean times and not so lean times. I do hope you give it a try.
Ingredients
For the Crust
1 9

" pie shell

(not deep dish), docked and frozen* (See Note)
For the Streusel
4.5

oz

all purpose flour

(about 1 cup)

4.7

oz

dark or light brown sugar

(about 2/3 cup, packed)

3

Tablespoons

unsalted butter

cold
For the Molasses Syrup
9

oz

molasses

(3/4 cup)

4.5

oz

hot water

(1/2 cup plus 1 Tablespoon)

½

teaspoon

baking soda

heavy pinch kosher salt

(about 1/4 teaspoon)

1

large egg

beaten
Instructions
Preheat the oven to 400F.
To Make the Streusel
In a medium sized bowl, whisk together the flour and the brown sugar.

Rub in the butter very well so there are no little bits of butter remaining. The mixture should look about like cornmeal and should clump together when you squeeze it and then sort of fall apart if you poke it.

Squeeze some together so you have some pebbles of streusel and leave some of it sandy.
To Make the Molasses Syrup
In a medium bowl, whisk together the molasses and hot water. Thoroughly whisk in the baking soda and salt. Mixture may get sort of frothy and will definitely lighten in color. Thoroughly whisk in the beaten egg.
To Assemble and Bake
Mix about half the streusel into the molasses syrup and pour into the prepared pie crust.

Sprinkle the rest of the streusel in an even layer over the top of the pie.

Carefully place the pie on the center rack of the oven. Bake for 15 minutes then reduce the heat to 350F.

Continue baking for about 15 more minutes then cover the pie loosely with foil to prevent excessive browning of the crust. Bake an additional 10-15 minutes or until the pie is nicely puffed up all over. It will settle as it cools.

Serve warm or barely warm with lightly sweetened (or even unsweetened) whipped cream or a scoop of ice cream.
Did You Make Any Changes?
Notes
Since shoo fly pie filling is so wet, your bottom crust can sort of dissolve or get soggy. This didn't bother me. If it bothers you, you can blind bake and egg wash your crust to make it "waterproof." Please see the Joe Pastry post for instructions.
Storage
Store covered in the fridge for up to 5 days. Slice pieces about 45 minutes before serving so they can come up to room temperature.
Nutrition
Serving:
1
/8
Calories:
259
kcal
Carbohydrates:
52
g
Protein:
2
g
Saturated Fat:
2
g
Cholesterol:
31
mg
Sodium:
94
mg
Sugar:
40
g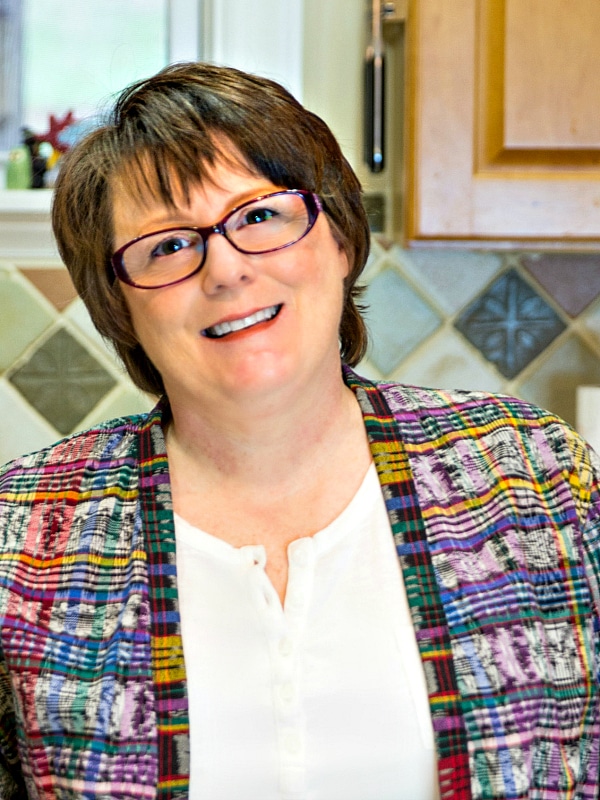 What are my qualifications to teach you baking and pastry? As a former working pastry chef and special educator, I marry my passions for both teaching and for baking into explaining techniques, methods, and developing the best possible recipes. For more info, you can read more about me.
If you'd like to receive new recipes and the occasional newsletter, I'd love for you to sign up for my Inbox Pastry Chef.
You can watch my classic shoofly pie web story here.
And that is really all there is to it! This is a truly delicious pie. The barely set, sort of woogly texture of the molasses layer is balanced by the sandy crispness of the streusel on top. Simple and easy and pure comfort. Please, if you've never tried shoofly pie, don't miss out. There's a reason why it's a classic!
Thank you for spending some time with me today. I appreciate it.
Have a lovely day.