If you've never had Moravian Sugar Cake before, you are in for a treat. Pull up a chair and I'll show you how to make one of the best yeast-raised coffee cakes you'll ever have!

Although we always enjoy this yeasted coffee cake as a Christmas treat, Moravian sugar cake is also a popular Easter bread.

If you are intimidated by yeast, you may enjoy my classic sour cream coffee cake recipe instead.

Find all my Sweet Yeast Bread recipes in one place.

I'm honored to again be partnering with the Idaho® Potato Commission to bring you this recipe.
Watch my easy Christmas morning breakfast ideas web story here.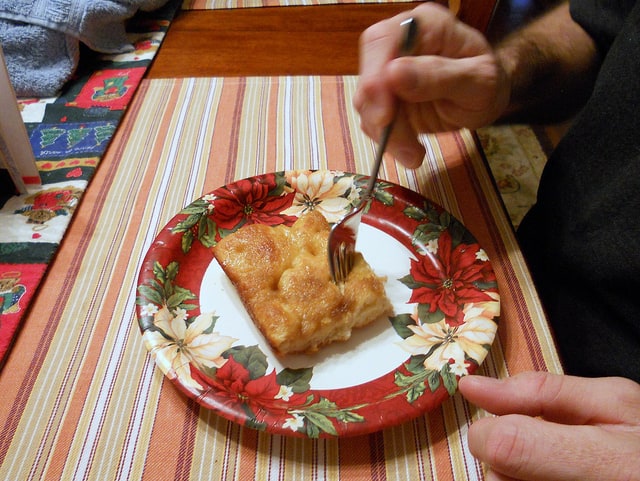 Who Are the Moravians?
Moravian Sugar Cake is the best, so as far as I'm concerned, the Moravians are the best, too.
But, unless you are from central North Carolina (or maybe from the Bethlehem, Pennsylvania area), you have probably never heard of the Moravians or of their magical sugar coffee cake.
The Moravians (or more correctly, the members of the Moravian Church) originally settled in central North Carolina from what is now The Czech Republic and Slovakia by way of Bethlehem, Pennsylvania in the mid-ish 1700s.
Old Salem, the site of their original settlement in North Carolina, has been restored and is maintained as a living history museum and National Historic Site. According to our friends at Wikipedia, about 70% of the buildings are original. Which means they're Old, at least by US standards.
What Is Moravian Sugar Cake?
Moravian sugar cake is a yeast-raised coffee cake that is dimpled like focaccia and then showered with melted butter, cinnamon and sugar before baking up to a beautiful golden brown.
Many recipes that I researched contain potato, although the bakery that made the version I grew up eating does not use potato in their dough.
Honestly, I think that is an anomaly (although it is tasty). Folks from Central and Eastern Europe like their potatoes, and they would certainly have used potatoes–or at least the water from cooking potatoes–in some of their breads.
I love the stuff so much I have 2 recipes for it on the site. This one, and one I call Authentic Moravian Sugar Cake that has a bit more potato, a bit less sugar, and more topping ingredients. Both are delicious.
How to Make Moravian Sugar Cake
Ingredients
This is not a hard recipe to make. Here's what you'll need for the dough:
water: I usually use the water I cook the potato in. Yeast loves potato water because it's starchy
yeast: instant or active dry. If using instant, you can add it with the rest of the ingredients. If using active dry, dissolve and proof it in the potato water first
mashed potato: no butter or salt, just plain mashed potato
salt: I usually use kosher salt. If using fine salt or table salt, you can decrease the amount to 1 teaspoon
sugar: adds sweetness and tenderness
melted butter: enriches and tenderizes the dough
milk: I use whole milk. You can also use 2%
eggs: I use large eggs. Adds some additional protein, emulsifiers, and liquid to the dough
all-purpose flour: no need to use bread flour here, although you could if you want to. You will end up with a chewier final result and may need a touch of additional liquid
And here's what you need for the topping:
melted butter: makes for a gooey topping. Use between 1 1/2 and 2 sticks of butter
granulated sugar:
brown sugar: you can use all granulated sugar rather than a mix of white and brown sugar. And if you use brown sugar, you can use either dark or light
cinnamon:
nutmeg: nutmeg is optional. If you do use it, grate whole nutmeg rather than using ground nutmeg. The whole spice has more flavor
salt: tempers the sweetness a bit and brings out the butter flavor in the topping
What To Do
Here's the rundown:
Make the very soft dough. I really recommend using a stand mixer for this step.
Allow dough to rise once in the bowl.
Divide in half and "pour" each half onto a buttered half-sheet pan.
Spread out in a thin layer, trying to cover the entire pan. You may have to let the dough rest for a few minutes a few times so it will stretch out.
Dimple all over with your fingertips. It's okay to poke holes completely through the dough, too.
Drizzle on melted butter and then sprinkle liberally with cinnamon sugar.
Let rise for another 30-45 minutes.
Bake!
Let cool as long as you can stand it.
Eat!
Time to Break Out the Stretchy Pants!
I have made 4 trays of Moravian sugar cake at one time. Not that I necessarily recommend it. Because then you'll have a ton of it in your house.
And the only way to get rid of it is to eat it. That's my reasoning anyway. It is so easy to eat, too. Soft, sweet potato dough with ripples and hills and valleys filled with cinnamon sugar deliciousness.
Care to join me in Stretchy Pants Land? Make some yourself. And then call me when you find yourself eating it like pizza. I'll be your support group. You're welcome.
Q & A
Can I Buy this stuff instead of making it?
If you want to forgo the baking, both Dewey's and Winkler's in Winston-Salem/Old Salem ship, although expect them both to be sold out close to the holidays.

It's fun to make your own, though, so I vote you go for it!.
What's the best way to reheat this?
I learned this tip from a reader, actually. Here's the "correct" way to reheat Moravian Sugar Cake:

*Heat a cast iron skillet over medium heat.
*Add butter and let it melt.
*Put in a piece of leftover sugar cake and fry that bad boy up on both sides until caramelized and crispy.
*Dig in.
Can I freeze it?
Sure. Freeze individual slices once completely cool. Wrap them in a double layer of plastic wrap and then in foil or place slices in freezer bags, making sure to press out as much air as possible before sealing. They'll keep well for up to 3 months. Thaw wrapped at room temperature and rewarm (or fry in butter as outlined above) to serve.
More Old Fashioned, North Carolina Recipes
Reader Rave
I can tell you this the best yeast-raised coffee cake in all the land until I'm blue in the face, but it means more when a reader has made and loved the recipe.
A Note About Measurements
For convenience, consistency, and accuracy, almost all my recipes are written by weight, either in ounces and/or grams, even the liquids.
I strongly encourage you to purchase a kitchen scale and learn to use it.
This is the one I used for years. I love it and highly recommend it:
Best for Home Use
Escali Primo Digital Food Scale
Don't let its small price and small size fool you. The Escali Primo is an accurate and easy-to-use food scale that I have used for years. It's easy to store, easy to use, has a tare function, and easily switches between grams and ounces/pounds for accurate measurements.
This is an affiliate link which means I earn from qualifying purchases. Your price is unaffected.
It would be so helpful to me and to other readers that, when you make a recipe, you rate it and leave a comment. Whether it's a recipe or an informational post, your feedback helps others decide if the post is helpful or if the recipe works as advertised.

If you could leave a star rating, that would be very helpful. Thank you for being here!
Moravian Sugar Cake
This recipe for Moravian sugar cake makes about 60 ounces of dough, enough to make 2 jelly roll pans of cake. In other words, enough for you and one of your dearest friends.
Ingredients
For the Dough
½

cup

warm water

(you can use the water from cooking the potatoes, if you want)

1

Tablespoon

dried yeast

1

cup

unseasoned mashed potatoes

(just potatoes–no milk or butter or anything)

1 ½

teaspoons

salt

½

cup

sugar

5 ½

ounces

melted butter

1

cup

whole milk

2

whole eggs

32-35

ounces

all-purpose flour

enough to make a soft, sticky dough
For the Topping
6-8

ounces

melted butter

your call

1

cup

granulated sugar

1

cup

light brown sugar

½

teaspoon

cinnamon

several gratings of fresh nutmeg

optional

heavy pinch of fine salt
Instructions
For the Dough
In the bowl of your stand mixer fitted with the paddle attachment, pour in the warm water and yeast. Stir for a minute or so to dissolve the yeast.

Add the potatoes, salt, sugar, butter, milk eggs and about half of the flour. Mix on low until you have a smooth batter.

Change to the dough hook, and add most of the remaining flour. Mix on low speed until combined, and then knead on medium speed for 5 minutes. Test the dough by pulling some up with your fingers. It should be very sticky and stretchy and almost-but-not-quite flow-y. If the dough doesn't have enough body, knead in the rest of the flour. Keep in mind that wetter is better than drier when it comes to yeast dough.

Once you are happy with your dough, remove the bowl from the mixer and smooth the top of the dough with a pan-sprayed hand or spatula.

Cover and let rise in a warm-ish place for about 1 1/2-2 hours, until doubled in size.

Spray 2 jelly roll pans with pan spray (I made one batch with parchment-lined trays and one without. The parchment isn't necessary for this, so you can skip it if you want.

Divide the dough in half (I weigh mine) and plop half on each of the prepared sheets. Spray your hands and the top of the dough with pan spray to keep it from sticking, and start stretching/patting/pulling the dough to fit each pan. Alternate between pans to give the dough a chance to relax and make it easier to stretch.

Once the dough is shaped, spray it again with a little pan spray and cover with a lint-free towel or plastic wrap and let rise until puffy, about an hour.
For the Topping
Set your oven racks for the bottom third and top thirds of your oven. Preheat oven to 400F (204C).

Whisk the sugars, cinnamon, nutmeg (if using), and salt together very well.

Once the dough is puffy, dimple the dough all over with your fingers. You don't have to be gentle–it's okay if you break holes all the way through the dough, even. Just dimple it all over very, very well.

Liberally brush 3-4 ounces of melted butter over each cake. The butter should pool in the little dimples.

Sprinkle half the sugar mixture evenly over each cake. Be generous–you pretty much don't want to see any dough showing through the sugar.

Place the cakes on the racks and bake for 7 minutes.

Switch the cakes on the racks and bake for 7 more minutes.*

Remove to racks to cool for a few minutes.

With a large spatula and maybe some help, slide the cakes out onto cooling racks so the bottoms don't get soggy. Slice however you think appropriate.

Serve warm.

Store at room temperature. If you're not going to eat all of this the same day, wrap the cakes well and freeze them.
Did You Make Any Changes?
Notes
*Ovens vary, so consider the baking time as a general guide. Yours may take a little longer. If you bake in 9"x13" pans, your sugar cake will also take longer to bake. Look for an internal temperature of 190-195F.
For a Thicker Cake, bake in a 9"x13" pan. For a thinner more traditional sugar cake, bake in a half-sheet pan or jelly roll pan.
You can freeze this whole cake cut in individual slices or cut into quarters. Cool completely, wrap in a double layer of plastic wrap and then in foil, and freeze for up to 3 months.
Allow to thaw on the counter, still wrapped.
To Reheat
The traditional way to reheat this cake is to melt some butter in a cast iron skillet and then "fry" slices until crisp on the outsides and heated through. This is more easily done if your slices are thinner (made in a larger pan).
If you prefer not to add extra butter, simply heat slices in the microwave for a few seconds, in your toaster oven, or in the oven. For oven heating, wrap in foil and bake at 350F for about 10 minutes until heated through.][]
'
Nutrition
Serving:
1
piece
Calories:
178
kcal
Carbohydrates:
26.2
g
Protein:
2.8
g
Fat:
7.1
g
Saturated Fat:
4.3
g
Cholesterol:
25
mg
Sodium:
137
mg
Fiber:
0.6
g
Sugar:
9.6
g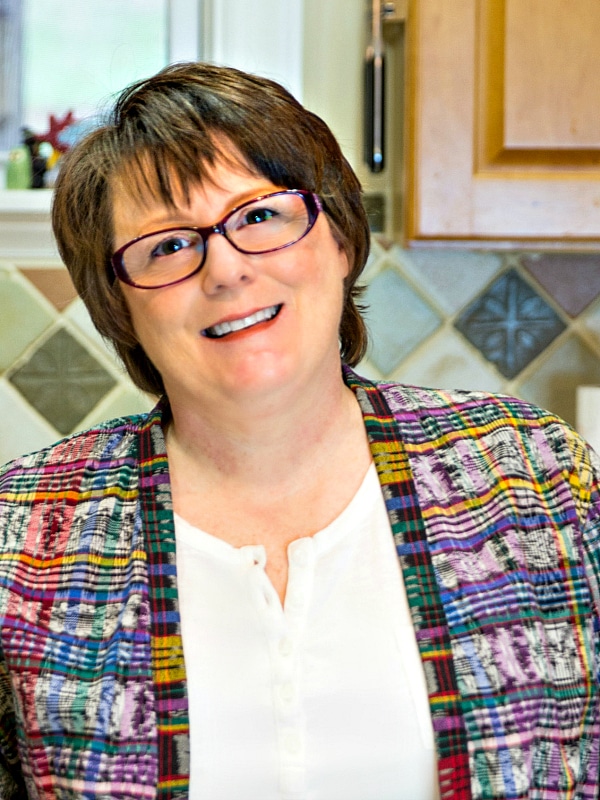 What are my qualifications to teach you baking and pastry? As a former working pastry chef and special educator, I marry my passions for both teaching and for baking into explaining techniques, methods, and developing the best possible recipes. For more info, you can read more about me.
If you'd like to receive new recipes and the occasional newsletter, I'd love for you to sign up for my Inbox Pastry Chef.
And that does it. I do hope you make the sugar cake so I won't be Alone in Shame.
Enjoy, and have a lovely day.
Thank you once again to the Idaho® Potato Commission for partnering with me on this post. I do love working with my friends at IPC.