You may know these as ham and cheese sliders, but where I grew up, we knew and loved them as plain old ham biscuits or poppy seed party ham biscuits.

They are seriously the best little sliders in all the land. I am not even kidding about how great they are!

These are one of my favorite retro appetizers and one that my mom used to make pretty frequently for parties, along with her cheese olive puffs.

For ease of browsing, here are all of my appetizer recipes in one spot. Thanks for stopping by!
Watch my poppy seed ham biscuit web story here.
Ham Biscuits, At a Glance
✔️Skill Level: Beginner
✔️Skills: mixing, slicing, heating
✔️Type: Appetizer sandwiches
✔️Number of Ingredients: 9
✔️Prep Time: 15 minutes
✔️Cook Time: 15 minutes
✔️Yield: 24 sliders

Jump Straight to the Recipe
Poppy Seed Party Ham Biscuits
These little guys seem to be making a comeback, and I am here for it.
And I say hooray, because while they might be new to many folks, I've been enjoying these little dudes for probably 45 years at our neighborhood Christmas Eve Party.
Yes, this is another retro recipe, and since it is exploding in popularity on social media, I wondered if it was even worthwhile to post this version. I asked my readers, and many of them had still not heard of these guys, so I figure it's my duty to share.
I've had other people's ham biscuits, but honestly nothing I've had so far has compared to what I (and probably my entire old neighborhood) consider the best poppy seed party ham biscuits.
What Makes These the Best?
I'm here to tell you that I'm not really sure. Here are some ideas.
It might be the ratio of mustard to butter
It could be the amount of Worcestershire sauce
It may even be the finely chopped onion<
It could also be the Very Very Lot of poppy seeds
Whatever it is, though, they really are the best. Please give them a try, and you'll see.
Reader Rave
Ingredients
Here's what you'll need to make these guys:
butter: Use salted or unsalted. This is the main spread for the rolls that carries all the flavor and soaks into the bread
minced onion: You don't need a ton. I usually just cut *some* onion and mince it finely
poppy seeds: If yours have been sitting around for a long time, buy fresh ones. Poppy seeds go rancid pretty quickly, and rancid poppy seeds will ruin your rolls. They should smell slightly sweet. You will know if they're rancid, because they'll smell like old, stale oil
yellow mustard: You can experiment with other mustards, but yellow is what I always use, because that's how mom made them
Worcestershire sauce: Adds some salt and lovely umami flavor
salt: (omit if you use salted butter)
deli ham: (boiled ham, honey ham, or your favorite)
Swiss cheese:
Hawaiian rolls: My preference is for the Savory Butter variety, but the standard, sweeter rolls work just fine as well
What to Do If You Don't Like Poppy Seeds
Honestly, I love this ham biscuit appetizer just the way it is, seeds and all. But if for some reason you don't like poppy seeds or cannot have them, you can leave them out.
The sliders will miss that slight crunch and subtle flavor of poppy seed, but you could potentially substitute in some sesame seeds or even some finely chopped toasted nuts. I think pecans would work especially well with the ham, Swiss, and mustard.
If you've never had poppy seeds before and just think they sound weird in a sandwich, I ask you to please try the recipe as written at least once before opting to leave them out.
Making Party Ham Biscuits in the Oven
This is definitely my preferred way to make party ham biscuits, you guys. Follow the instructions in the recipe or in the video, but here they are in shortened form:
Slice an entire tray of Hawaiian rolls horizontally. (We used to make these on Pepperidge Farms Petite Dinner Rolls, but I haven't seen those in years. I prefer the King's Hawaiian Savory Butter Rolls to the sweet rolls for this recipe.)
Spread each cut side with half the butter/poppy seed mixture
Layer on Swiss cheese, followed by ham and more cheese.
Put the top of the package of rolls back on top.
Place the whole shebang back in the original paper sleeve–yes, the paper tray can go in the oven!
Cut between the individual rolls to separate them and bake at 350 for 10 minutes. If you need to leave them in longer for the cheese in the center to get melty, cover the rolls loosely with foil so the tops don't get too brown.
Enjoy!
How To Keep These Guys Warm for Serving
Generally, these fly off the table so quickly that we've never had to worry about keeping them warm. But if you are serving a Suspicious crowd, they may hang out on the buffet a bit longer.
My mom had a very cool, lidded, warming server back in the 1970s, and it was used almost exclusively for these guys or her cheese olive puffs.
I have found something similar that works well:
My Pick
This is an affiliate link which means I earn from qualifying purchases. Your price is unaffected.
Reheating Ham Biscuits In the Microwave
The good news about heating your ham biscuits in the microwave is that it only takes a few seconds and the rolls stay nice and squishy.
If you like your rolls squishy, stick with the microwave for reheating.
If you prefer your sliders to have a bit of crunch to the rolls, then bake them in the oven.
I would not try to heat the entire tray of biscuits in the microwave at one time, so reserve the microwave for reheating individual servings of a roll or two and bake whole trays in a conventional oven or a good toaster oven.
My Favorite Way to Heat Them Up
My favorite way to heat these up is to start them in the toaster oven on the toast setting until the tops brown just a bit and the cheese just starts to melt around the edges of the biscuit.
Then I put them in the microwave for maybe 10-12 seconds.
That way, I get the browned top and the little bit of crunch I want as well as the soft, squishy insides thanks to the microwave.
For me, they're perfect when heated this way. Give it a try and let me know what you think!
More Retro Appetizer Recipes
These are some of my all-time favorite appetizer recipes. I hope you'll enjoy them too!
You ready to make these guys? And seriously, you don't have to share if you don't want to!
Questions?
If you have a question about this post and it is not time-sensitive, you can leave your question in the comments section here under the post.
If your question is more time-sensitive, the best way to reach me is by email. I will get back to you in under four hours unless I'm sleeping.
To email, simply click the button below:
It would be so helpful to me and to other readers that, when you make a recipe, you rate it and leave a comment. Whether it's a recipe or an informational post, your feedback helps others decide if the post is helpful or if the recipe works as advertised.

If you could leave a star rating, that would be very helpful. Thank you for being here!
The Best Ham Biscuits
This poppy seed ham biscuits recipe makes enough for a large flat of 24 King's Hawaiian Rolls. The original recipe makes enough for a flat of 12, and all I have done here is doubled it. Just go with the amount of butter–they're for parties, and you won't be making them every day. Probably!
Ingredients
2

sticks unsalted butter

8 oz, softened, you can also use salted butter and leave out the salt

5

Tablespoons

prepared yellow mustard

(you can get fancy with Dijon, but it won't be the same)

4

Tablespoons

poppy seeds

2

Tablespoons

finely minced sweet onion

(I use Vidalia when I can find them)

1

Tablespoon

Worcestershire sauce

heavy pinch of salt

between 1/8 and 1/4 teaspoons

1

flat of 24 King's Hawaiian Rolls or 2 flats of 12

(or similar small, soft rolls) They sell the 24-roll size at the warehouse club here. Or buy 2 packs of 12.

18

slices

give or take, of good quality Swiss Cheese

18

slices

give or take of boiled ham
Instructions
Mash together the first six ingredients very well. I start out with a potato masher and then use a spoon. You want a thick spread.

Cut the flat of rolls in half horizontally, removing the top as one big slab.

Spread each cut side of the flat with half the butter mixture.

On the bottom flat, arrange one even layer of Swiss cheese, 2 even layers of ham and another even layer of Swiss. For me for the large size flat, I used 2 1/2 slices Swiss in each of three rows and the same for the ham.

Carefully put the top of the flat back on the rolls and then use a bread knife to cut between each roll.

Place the rolls back in their cardboard flat (it can go in the oven with no problem) or put them on a cookie sheet.

At this point, you can refrigerate them for a week or freeze them, well wrapped, for several months. (Thaw before baking).

Bake on the center of the oven at 350F for 10 minutes for small flats or 15 for large. You may have to cover the top with foil for the last 5 minutes or so.

You can also heat them in the microwave until the cheese is lovely and melty. Microwaved party ham biscuits will be softer than the baked ones. For optimal goodness, I like to start them in the microwave to make sure the cheese and butter melts and then finish them in the oven to get slightly crispy top buns.

I dare you to eat only one. Enjoy!
Did You Make Any Changes?
Notes
Smaller Batch Recipe
1 stick butter
2 1/2 Tablespoons yellow mustard
2 Tablespoons poppy seeds
1 Tablespoon finely minced onion
1 1/2 teaspoons Worcestershire sauce
small pinch of salt
package of 12 King's Hawaiian Rolls, or similar
9 slices (give or take) Swiss cheese
9 slices (give or take) boiled ham
Storing
Store in the fridge for up to a week. Heat in the oven, or start them in the oven and finish them in the microwave (or vice versa) to get the optimal smooshy-on-the-inside-crisp-on-the-outside texture.
Freezing
Place the made-up ham biscuits back in the original packaging and then wrap well in heavy-duty foil. Freeze for up to 3 months. Thaw overnight in the fridge and then bake or microwave-then-bake to serve.
Nutrition
Serving:
1
roll
Calories:
263
kcal
Carbohydrates:
16
g
Protein:
11
g
Saturated Fat:
9
g
Cholesterol:
56
mg
Sodium:
447
mg
Sugar:
4
g
Thanks so much for spending some time with me today. Take care, and have a lovely day.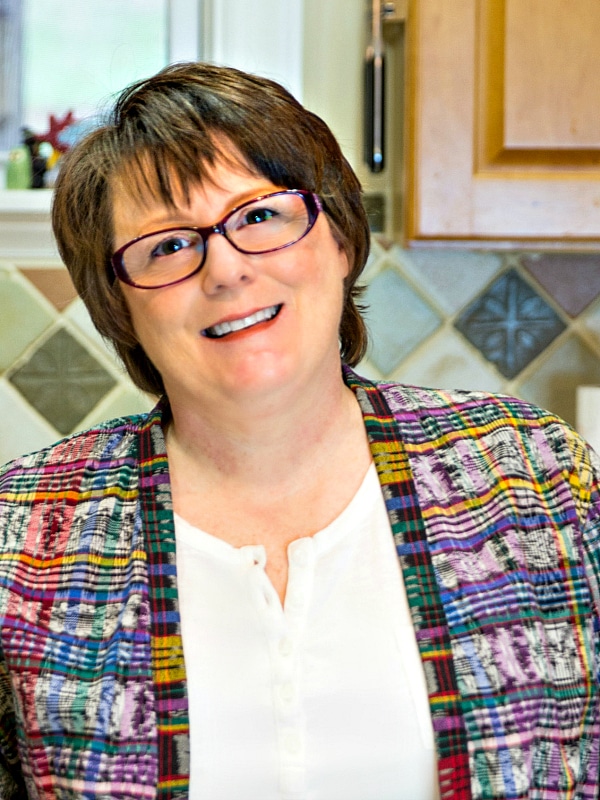 What are my qualifications to teach you baking and pastry? As a former working pastry chef and special educator, I marry my passions for both teaching and for baking into explaining techniques, methods, and developing the best possible recipes. For more info, you can read more about me.
If you'd like to receive new recipes and the occasional newsletter, I'd love for you to sign up for my Inbox Pastry Chef.
Watch my easy New Year's Eve appetizers web story here. And watch the best poppy seed ham biscuits web story here.