What's better than making penne alla vodka at home? Making it with jarred pasta sauce for a shortcut easy vodka sauce that is every bit as rich and silky as the kind you can get in a restaurant.

I have an easy trick to achieve that silky creaminess without using heavy cream. But make no mistake, this is not a low-calorie treat. This is pure comfort courtesy of a shortcut that will have you enjoying this restaurant staple often as possible!

For a restaurant-style vodka sauce that doesn't take shortcuts, try my classic vodka sauce recipe. You may also really enjoy my easy creamy white pasta sauce.

For ease of browsing, you can find all my pasta recipes in one place. Thanks so much for visiting!
I originally developed this recipe for Barilla in 2016. Thanks, Barilla, for partnering with me!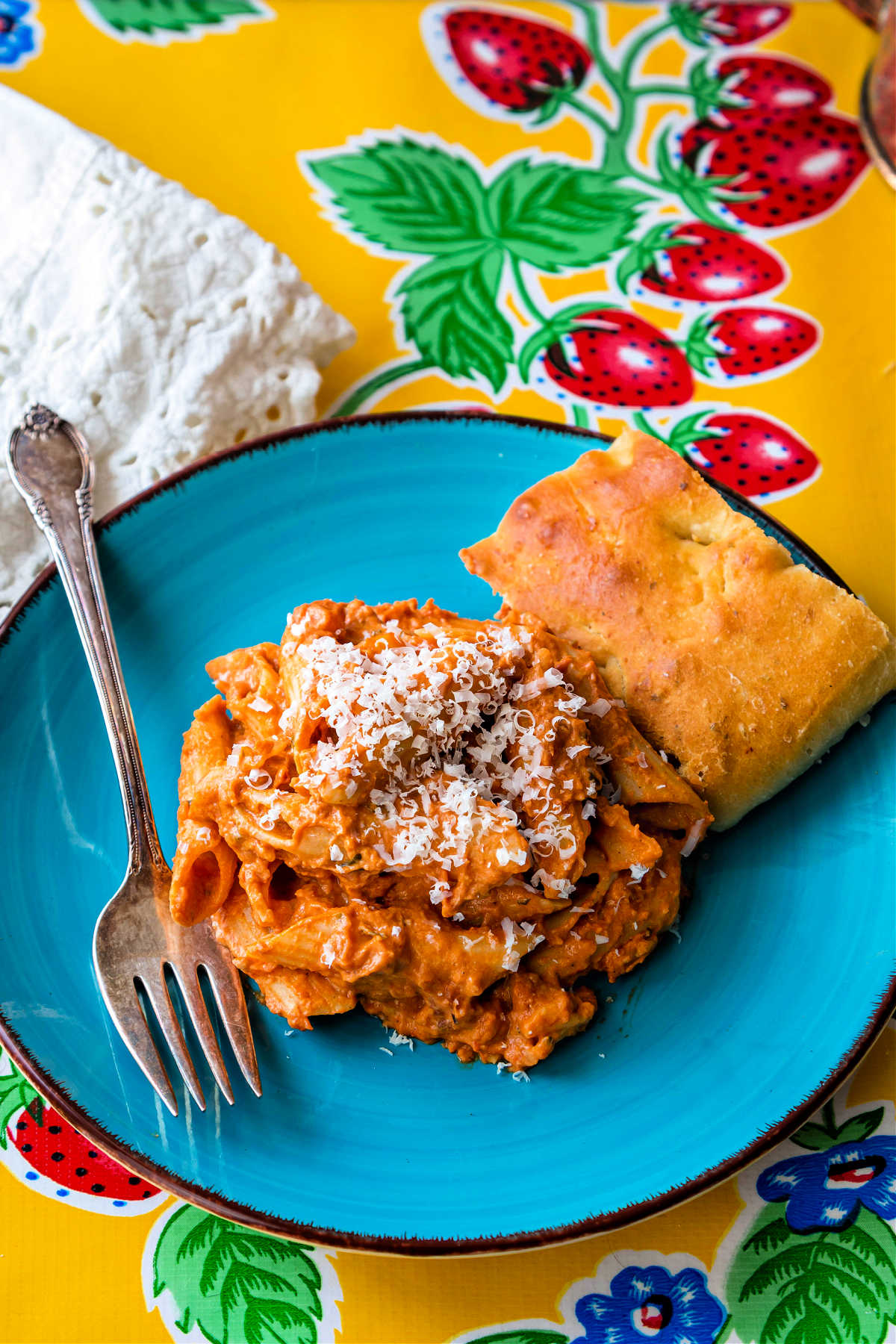 See my easy vodka sauce recipe web story here.
Easy Vodka Sauce, At a Glance
✔️Skill Level: Beginner
✔️Skills: Grating cheese, reducing a sauce, finishing pasta in sauce
✔️Type: Shortcut pasta sauce
✔️Number of Ingredients: 8
✔️Prep Time: 5 minutes
✔️Cook Time: 14 minutes
✔️Yield: 4-6 portions, depending on how hungry people are

Related Recipes: How to Make Classic Vodka Sauce
Jump Straight to the Recipe
Why Make Penne alla Vodka with Jarred Sauce
You are less than thirty minutes away from dinner!
One of my favorite quick meals is cooking up some pasta and finishing it in some great sauce, homemade or store-bought.
There are so many brands that make great ones these days, and it only takes a couple of extra ingredients to really make it sing.
If you start heating your water when you start making your sauce, your pasta will be cooked and ready to add to your so you can have dinner on the table in about 20 minutes, 30 minutes if you're not working super-efficiently.
And while I don't always have cream on hand to make vodka sauce, I almost always have The Secret Ingredient.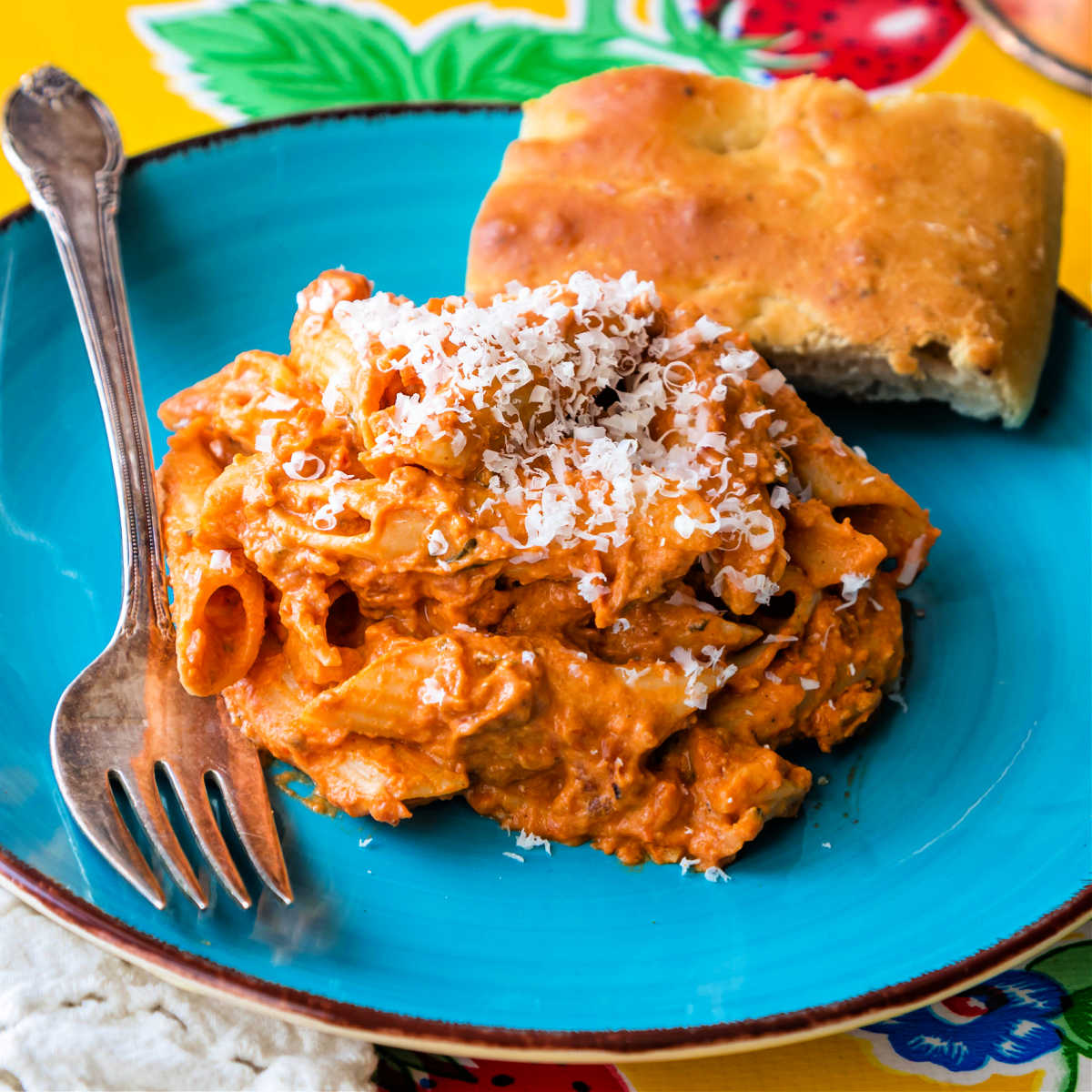 How to Make Shortcut Penne with Vodka Sauce
This is a really easy meal to put together, and I think you'll be shocked and Very Happy with how good it tastes.
I'll go over ingredients as well as substitutions you can make, how to make it, give some equipment recommendations, and also share some tips and tricks to make it the best it can be.
Ingredients and Substitutions
Here's what you'll need, and hooray for a short ingredient list!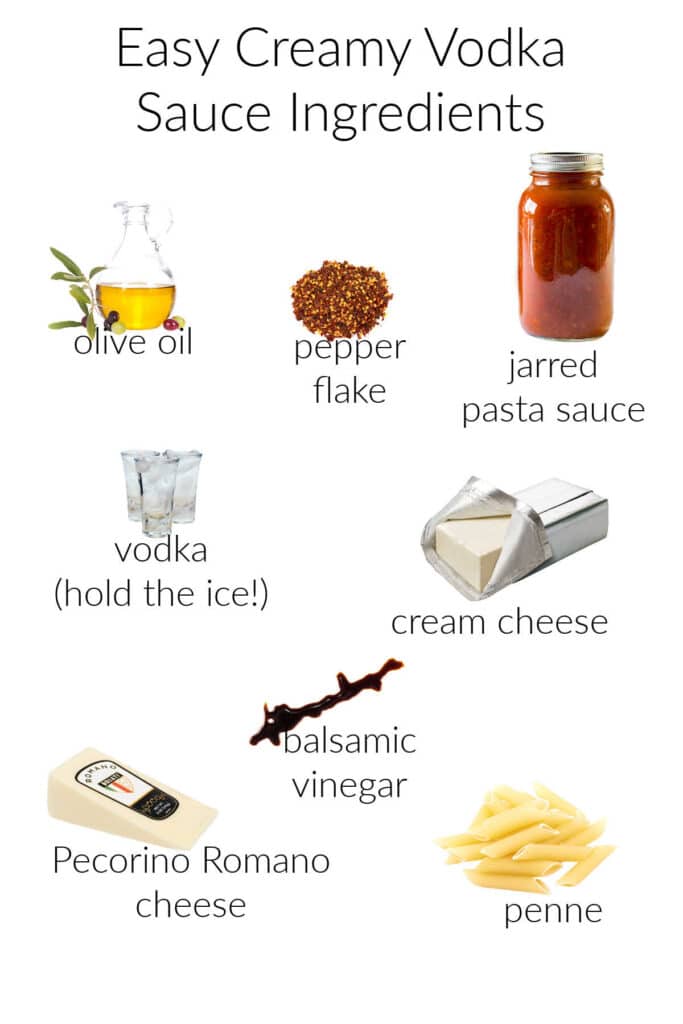 olive oil: Use an olive oil that has good flavor, because it will contribute to the flavor of the marinara
pepper flake: the kind you can get at the pizza place will work here. If you have other pepper flakes, such as Aleppo pepper, you could use that as well. If you don't want your sauce to have a little bit of spice in it, you can omit it entirely
jarred pasta sauce: Vodka sauce is traditionally made without meat, but use your favorite pasta sauce here, whether it has meat in it or not. I used a basic marinara sauce.
vodka: If you don't drink or don't have vodka in the house, you can just add a bit of vegetable or chicken broth. It won't be quite the same, but it will still be excellent
cream cheese: Usually it's heavy cream, but I don't have it on hand as often as I have cream cheese on hand, so I used that. I love the subtle tang and the smooth texture. You can use full-fat or neufchatel, and you'll need half a block, or 4 oz.
Pecorino Romano cheese: Classic vodka sauce is made with Parmesan, so I went with Pecorino for a bit of a different spin. If you have Parmesan, by all means, use that instead. Either way you go, Romano or Parm, do get a block or small piece of cheese as opposed to pre-grated. It will not melt nicely into your sauce.
Balsamic vinegar): Used to brighten the sauce up at the end of cooking if you feel it needs it. You can also use a squeeze of lemon juice or even just a little sugar
penne: This is the traditional short pasta shape to serve with vodka sauce, but feel free to use whatever you have on hand. You'll want "rigate" pasta, or ridges pasta, to help hold onto all that silky sauce!
My Favorite Jarred Pasta Sauce
As far as I'm concerned, you really can't do better than Rao's. Fresh-tasting and delicious, it's hard to beat. It tends to be a bit on the pricey side, but it's what I generally go with because of it's quality and flavor.
Jenni's Pick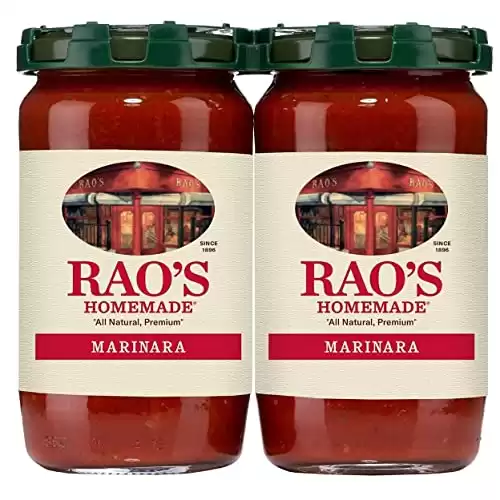 This is an affiliate link which means I earn from qualifying purchases. Your price is unaffected.
Procedure
I'm going to go through the steps to make this in as short an amount of time as possible, and that includes cooking the pasta:
Bring a pot of water to a boil.
Meanwhile, heat olive oil over medium heat and add pepper flakes.
Swirl and let the pepper flakes infuse the oil for about 1 minute.
Add the jar of pasta sauce, then rinse out the jar with the vodka and pour all of that into the pan.
Bring up to a simmer.
Cook the pasta in well-salted water for half the time called for on the box.
Cut the cream cheese into pieces and whisk until smooth.
Add the finely grated Pecorino Romano cheese and stir until smooth.
Let the sauce simmer gently until the pasta is cooked to a very firm al dente.
When the pasta is halfway done, use a strainer or spider to grab up all the pasta. Don't bother to drain it, because you want the pasta water too.
Once you get all the pasta into the sauce, add an additional 1/2 cup of pasta water.
Bring to a boil and stir fairly vigrorously and constantly until it has reduced to its original texture and the pasta is done and coated in velvety goodness. This will take about 5-6 minutes.
Taste and adjust the seasonings if necessary.
Serve with a little more cheese grated on top and crusty bread on the side for sopping.
Suggested Equipment
The more times I cook pasta, the more I realize I don't need to pick up a heavy pot of boiling water and pasta and try to drain it over the sink.
These days I use a large skimmer to scoop my pasta out of the pot. That way, the water is right there for me when I want to add some to the pasta.
I can't tell you how many times I've poured out all the water and forgotten to hold some back for marrying the pasta to the sauce.
I use a large skimmer, but I have my eye on this scoop colander which I think I might get soon.
Easy Vodka Sauce Q & A
Can I start with jarred vodka sauce?
Yes, you can make canned vodka sauce even better by following the same steps outlined in the recipe. You may want to use half the amount of cream cheese since there's already dairy in the jarred sauce. Otherwise, have at it!
How long does this keep?
This recipe is enough to perfectly dress 1 pound of pasta. If cooking less pasta, refrigerate some of the sauce to use later. And if you have leftovers, refrigerate those as well. Either way, the sauce and pasta will be fine to reheat for up to a week. For food safety, heat to 165F for at least 15 seconds.
Can I freeze vodka sauce?
Yes. If you know beforehand that your sauce is headed to the freezer, don't bother cooking the pasta. Freeze in a gallon-sized freezer bag, and store flat in the freezer for up to 3 months. Thaw overnight in the fridge, then heat and add the pasta and cooking water to marry the two together.
Is this gluten-free?
As written, vodka sauce is gluten-free. Cook and serve your favorite gluten-free penne to have a gluten-free meal.
Serving Suggestions
You will definitely want to serve this easy penne alla vodka with some bread, and I recommend focaccia. The open crumb really holds onto the sauce.
Other good choices are soft dinner rolls or potato bread.
Round out your meal with Italian green beans and tomatoes, a Caprese salad or even a nice Panzanella like this fall Panzanella with butternut squash and Brussels sprouts.
And for dessert, go for a classic coffee panna cotta or a less classic French vanilla ice cream.
Questions?
If you have a question about this post and it is not time-sensitive, you can leave your question in the comments section here under the post.
If your question is more time-sensitive, the best way to reach me is by email. I will get back to you in under four hours unless I'm sleeping.
To email, simply click the button below:
A Note About Measurements
For convenience, consistency, and accuracy, almost all my recipes are written by weight, either in ounces and/or grams, even the liquids.
I strongly encourage you to purchase a kitchen scale and learn to use it.
This is the one I used for years. I love it and highly recommend it:
Best for Home Use
Escali Primo Digital Food Scale
Don't let its small price and small size fool you. The Escali Primo is an accurate and easy-to-use food scale that I have used for years. It's easy to store, easy to use, has a tare function, and easily switches between grams and ounces/pounds for accurate measurements.
This is an affiliate link which means I earn from qualifying purchases. Your price is unaffected.
It would be so helpful to me and to other readers that, when you make a recipe, you rate it and leave a comment. Whether it's a recipe or an informational post, your feedback helps others decide if the post is helpful or if the recipe works as advertised.

If you could leave a star rating, that would be very helpful. Thank you for being here!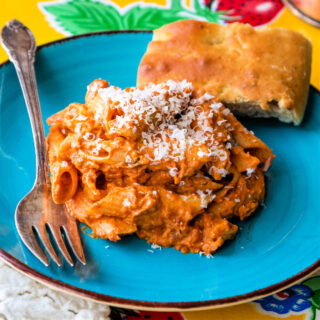 Penne alla Vodka (with Jarred Sauce)
This penne alla vodka is made using a doctored-up jarred sauce. It is easy to make and every bit as silky and creamy as restaurant vodka sauce. From start to finish, you can have dinner on the table in about 30 minutes.
Ingredients
For the Creamy Vodka Sauce
2

Tablespoons

extra virgin olive oil

1/4-1/2

teaspoon

red pepper flake

to taste

1 24

oz

jar marinara sauce

¼

cup

vodka

(sub water or stock if you don't want to use alcohol)

4

oz

cream cheese

(1/2 block)

2

oz

finely grated Pecorino Romano cheese

1

Tablespoon

balsamic vinegar

(if needed for sweetness)
To Finish and Serve
1

pound

your favorite hearty pasta shape such as penne
Instructions
In a medium saucepan, heat the oil until it shimmers.

Add the pepper flake and swirl for a few seconds to flavor the oil.

Pour in the jar of your favorite marinara sauce and stir well.

Bring to a simmer.

Add the vodka to the empty jar and swirl it around to get as much sauce out as you can. Add this to the pan.

Simmer and stir for about 5 minutes just to reduce the sauce a bit.

Whisk in the cream cheese until melted, and then, over low heat, stir in the grated Pecorino Romano.

Taste, and if needed, add the balsamic for a bit of brightness. I quite liked it in mine.
To Finish and Serve
Cook the pasta according to package directions for about half the time called for.

Add the very al dente pasta and about 1/2 cup of the pasta water to the sauce and stir well over high heat and at a vigorous boil until the pasta is done and the sauce beautifully coats every piece of penne.

You'll know it is done when the sauce has reduced back down to its original texture and beautifully coats the now perfectly-cooked pasta.

For an extra-silky sauce, add about 1 1/2-2 Tablespoons of additional olive oil as you boil and stir. The extra oil will emulsify into the sauce yielding a dreamy texture.

Serve with extra grated cheese and freshly ground black pepper.

Enjoy!
Did You Make Any Changes?
Notes
If you make your sauce while your pasta water is coming to a boil and while your pasta is cooking, I promise you dinner can be on the table in about 20 minutes!
Storing
This sauce will keep in the fridge for a good 5 days, but I doubt it will last that long! Store it air-tight.
Freezing
If you know you're going to be freezing the sauce, cool it and freeze it before you add the pasta. Seal in heavy-duty zip-top freezer bags or in freezer safe containers for up to 3 months. Thaw overnight in the fridge and rehet on the stove, adding the pasta and completing steps in the "To finish and serve" section.
Nutrition
Serving:
1
/6
Calories:
399
kcal
Carbohydrates:
43
g
Protein:
13
g
Fat:
17
g
Saturated Fat:
7
g
Polyunsaturated Fat:
9
g
Cholesterol:
33
mg
Sodium:
832
mg
Fiber:
4
g
Sugar:
9
g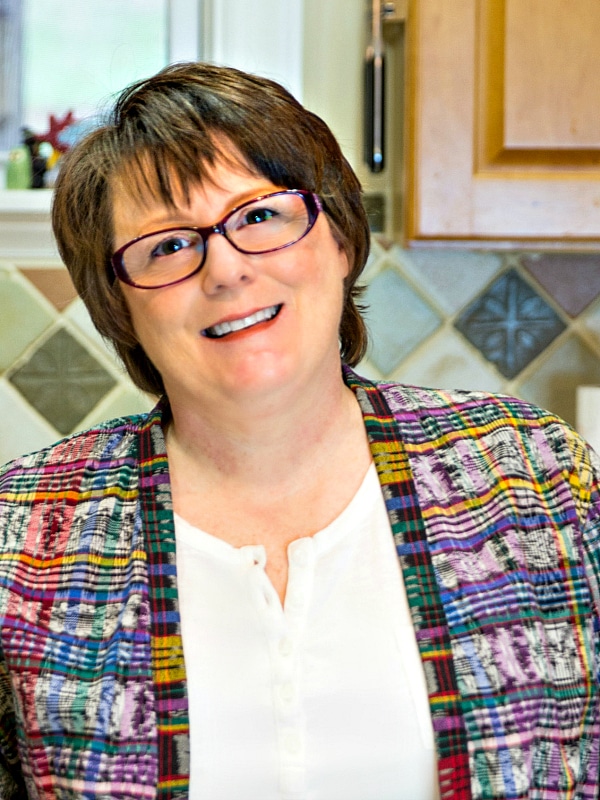 What are my qualifications to teach you baking and pastry? As a former working pastry chef and special educator, I marry my passions for both teaching and for baking into explaining techniques, methods, and developing the best possible recipes. For more info, you can read more about me.
If you'd like to receive new recipes and the occasional newsletter, I'd love for you to sign up for my Inbox Pastry Chef.
And there it is, friends. Starting with jarred pasta sauce is a great shortcut to vodka with minimal effort.
Thank you so much for spending some time with me and with Barilla®.
Take care, and have a lovely day.
Watch my penne alla vodka with jarred sauce web story here.