Friends, if you've never had sorghum custard pie before, you are in for a real treat! This cinnamon-scented custard pie is an original recipe that turned out exceptionally well.

Add this recipe to your repertoire of custard pie recipes along with this old-fashioned coconut custard pie. You'll be glad you did!

For ease of browsing, you can find all my pie and tart recipes in one place. Thanks so much for visiting!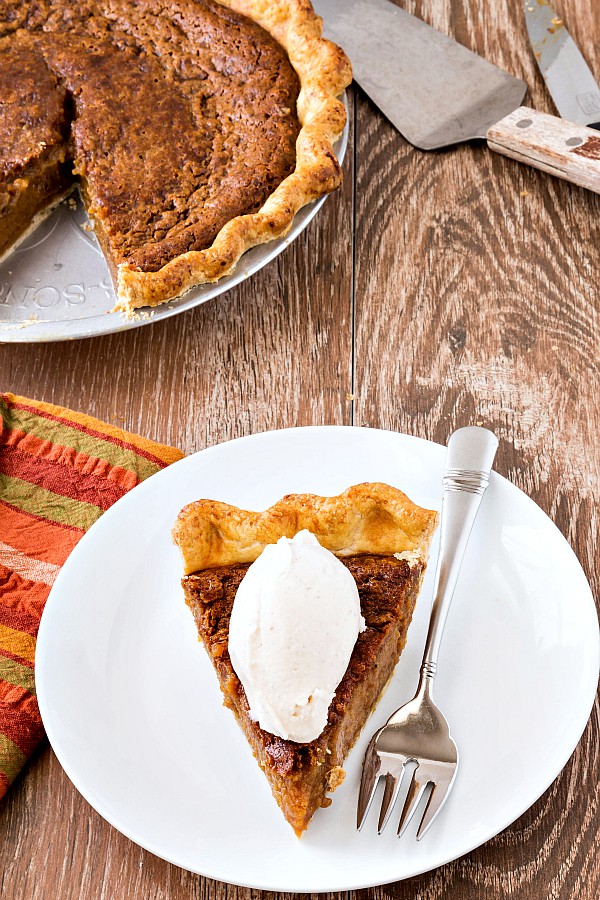 Why You Need to Make This Pie
For a relatively short list of ingredients, this sorghum pie delivers tons of complex flavor.
There are caramel notes from the coconut sugar and sorghum syrup, the unmistakable bite of cinnamon, a bit of a "bready" note from the Graham crackers and the crust.
It's also something a little different. Not many recipes out there for a sorghum pie, let alone sorghum custard.
And since it's based on pantry staples, like any good desperation pie, you can make it at any time of the year without worrying if sorghum or cinnamon is "in season."
And of course, it's sweet, but not overly. I mean, a scoop of French vanilla ice cream wouldn't be too much on top of this guy!
How To Make This Pie
Ingredients and Substitutions
unbaked pie crust: use a storebought crust or your favorite pie crust recipe
sorghum syrup: provides the complex sweetness and body. You may substitute honey or molasses if you preferd
eggs: I use large eggs. For a firmer set, you may choose to use one extra egg than called for
coconut sugar: Adds more sweetness and caramel flavor notes. You may substitute light brown sugar or granulated sugar
buttermilk: any type will work. My preference is for full-fat, but use what you have
sour cream: Adds a touch of tang and body to the filling. You may substitute plain Greek yogurt
salt: Counteracts any bitterness from the sorghum and brings all the flavors into focus
cinnamon: Adds flavor
vanilla extract: Rounds out the flavors
ginger snaps: This is an optional ingredient. I grind them up into powder to add more body and flavor to the filling. You may also use Graham crackers. Or you can leave them out entirely. In that case, I'd recommend using that extra egg
Procedure
This is a really easy pie to make. Here's what you'll do:
Line the pan with your crust, flute/crimp as desired, and place in the freezer.
Whisk all the filling ingredients together thoroughly.
Fill the crust.
Bake.
Cool to warm and enjoy with ice cream or whipped cream
See the full recipe at the bottom of this post for all the particulars.
Equipment You May Need
The wonderful thing about desperation pies is that you don't need a lot of fancy equipment to make them.
A sturdy whisk for mixing up the filling, a nice large bowl for making the dough and the filling, and a pie pan.
One of the main things to look out for with this sorghum custard pie is that for some reason (I haven't been able to find out why), the eggs do not set up at the same temperature as they would usually.
I expect that a custard pie is done at 165F or so.
But this pie needs to be baked to 180F.
It could potentially be an issue with the coconut sugar, as I found out in making a different recipe that eggs react differently with coconut sugar than with granulated sugar.
So be sure to bake your pie to 180F in the center. For that reason, and just because it is a useful piece of equipment, I do recommend you check the temperature of the pie with an instant-read thermometer.
That's really it.
Tips for Success
As I mentioned, be sure to bake this pie to 180F in the center if you're using coconut sugar.
If your crust is nice and brown before the pie is ready, tent it loosely with some aluminum foil to prevent over-browning.
Allow the pie to cool completely before slicing.
Your slices will hold their shape even better if you refrigerate first, slice, and then warm up the slices in the microwave for just a few seconds.
Sorghum Pie Q & A
What Is sorghum?
The sweet sorghum plant, which grows tall like corn, was most likely brought to the Southern US from Africa on slave ships. The whole grains–which fall into the category "ancient grains"–can be cooked and eaten much like any other grain, and since it's naturally gluten-free, it is often ground into flour for use as a gluten-free flour. One of the great things about sorghum is that it can flourish under less than ideal circumstances. It doesn't require particularly great earth to grow in, and it survives on much less water than corn. It's partly for this reason that it's one of the plants now grown to be turned into ethanol. As well, ranchers use the grasses as feed for their cattle, and that includes both cutting it and letting the cattle graze on the live plants in pastures. And of course, it's turned into syrup. Which brings me to the next question.
What Is sorghum syrup?
Made in much the same way that sugar cane syrup is made, sorghum is a gorgeous amber color, is thick like honey and tastes quite like molasses without as much bitterness. It's a complex flavor, and I am a recent convert and a huge fan of the stuff. If you're not sure what to do with it, look to the South where it's often eaten with buttered biscuits or poured over a stack of pancakes. You can use it pretty much like you'd use honey or maple syrup, and so far, I have been thrilled with the flavor it gives my baked goods.
What is the difference between sorghum and molasses?
Sorghum syrup is made from the stalks of the sorghum plant in much the same way molasses is made from sugarcane. Molasses is a byproduct of the sugar-making process–it's the thick, dark, bitter-sweet syrup leftover after extracting the crystalline sugar. Sorghum syrup is not a by-product. The flavors are somewhat similar, although molasses is much darker in color and more assertively bitter in flavor.
Do I need to blind bake the crust?
Nope. Just fill the frozen crust (already lining the pan, of course!) and then bake. Easy!
Can I make this pie with molasses instead of sorghum?
Yes you can, although the pie will be somewhat darker in color and have a more assertively bitter edge.
How should I store this pie?
Keep covered in the fridge for 3 days. Allow to come to room temperature or even warm it for a short time in the microwave before serving.
Can I freeze this pie?
Yes. Freeze the whole pie on a sheet pan. Once frozen, wrap well in plastic and foil and keep in the freezer for up to 3 months.
Other Desperation Pies
Sorghum Pie (you're here!)
Classic Shoo Fly Pie is probably the most similar to this pie. With sandy crumbs on top and rich molasses filling, this version is a wet-bottom shoo fly pie.
Chocolate Chess Pie: my recipe doesn't contain any evaporated milk making the pie intensely chocolatey. So good!
Sugar Cream Pie: Tastes of sweet cream, vanilla, and nutmeg. Made without eggs to muddy the flavor, this pie is thickened with flour.
Serving Suggestions
I've already suggested topping this pie with vanilla ice cream or whipped cream, but if you want to get even fancier, try these ideas:
Dust the pie (and the whipped cream or ice cream) with some cinnamon or pumpkin spice.
Consider adding a dollop of butterscotch ice cream sauce on top of the ice cream, if you're serving with ice cream. Butterscotch would go beautifully with the flavors in this pie.
For more texture, top each slice with some spiced nuts or coarsely crushed gingersnaps.
Don't forget the coffee! Pie and coffee, right? Try my beaten coffee recipe. It's creamy and delicious!
A Note About Measurements
For convenience, consistency, and accuracy, almost all my recipes are written by weight, either in ounces and/or grams, even the liquids.
I strongly encourage you to purchase a kitchen scale and learn to use it.
This is the one I used for years. I love it and highly recommend it:
Best for Home Use
Escali Primo Digital Food Scale
Don't let its small price and small size fool you. The Escali Primo is an accurate and easy-to-use food scale that I have used for years. It's easy to store, easy to use, has a tare function, and easily switches between grams and ounces/pounds for accurate measurements.
This is an affiliate link which means I earn from qualifying purchases. Your price is unaffected.
It would be so helpful to me and to other readers that, when you make a recipe, you rate it and leave a comment. Whether it's a recipe or an informational post, your feedback helps others decide if the post is helpful or if the recipe works as advertised.

If you could leave a star rating, that would be very helpful. Thank you for being here!
Cinnamon Sorghum Custard Pie
This cinnamon sorghum custard pie has a complex flavor and assertive flavor that sorghum and molasses lovers will adore. Serve it with a big scoop of vanilla ice cream.
Ingredients
1

unbaked pie shell

, fitted into a regular (not deep-dish) pie pan, docked and frozen (Use your favorite pie crust recipe or a high-quality store-bought)

1

cup

sorghum syrup

3

large eggs

⅔

cup

palm sugar or granulated sugar

SEE NOTE

½

cup

buttermilk

½

cup

sour cream

½

teaspoon

salt

1

teaspoon

cinnamon

½

teaspoon

vanilla extract

8

gingersnap cookies

ground to dust in a food processor

1

egg whipped with 1 teaspoon of water for egg wash
Instructions
Leave your lined pie pan in the freezer until you're ready to bake. Set a rack in the center of the oven and preheat to 425F.

In a large bowl, whisk together the sorghum syrup and eggs until smooth.

Add the coconut sugar (or granulated sugar), buttermilk, sour cream, salt, cinnamon, and vanilla and beat with a whisk until smooth.

Add the crushed cookies, if you decide to use them. You can either stir them in or scatter them in the bottom of the pie crust and pour the filling in after. Some will float to the top, but that's okay.

Pour the pie filling into the pie crust, brush the exposed crust with egg wash, and slip the pie into the oven.

Bake for 10 minutes.

Lower the heat to 350F and continue to bake until the pie is well puffed all over and set, about 40 minutes more. A little wiggle in the center is fine, but it shouldn't be sloshy. The crust will most likely be nicely browned before the pie has finished baking, so keep an eye on it and cover it loosely with foil once it's as browned as you like it. The internal temperature of the pie should be 180F.

Remove pie to a rack to cool for about an hour and then chill. Serve cold, at room temp, or slightly warm with a big old scoop of vanilla ice cream.

Enjoy!
Did You Make Any Changes?
Notes
Subbing granulated sugar for palm sugar: If you decide to use granulated sugar rather than palm sugar, your pie will most likely be done when the internal temperature reaches 165F. Using coconut sugar increases the temperature at which eggs set. I don't know how it does this, but it does.
Nutrition
Serving:
1
g
Calories:
356
kcal
Carbohydrates:
65
g
Protein:
6
g
Fat:
8
g
Saturated Fat:
3
g
Polyunsaturated Fat:
4
g
Cholesterol:
125
mg
Sodium:
272
mg
Fiber:
1
g
Sugar:
53
g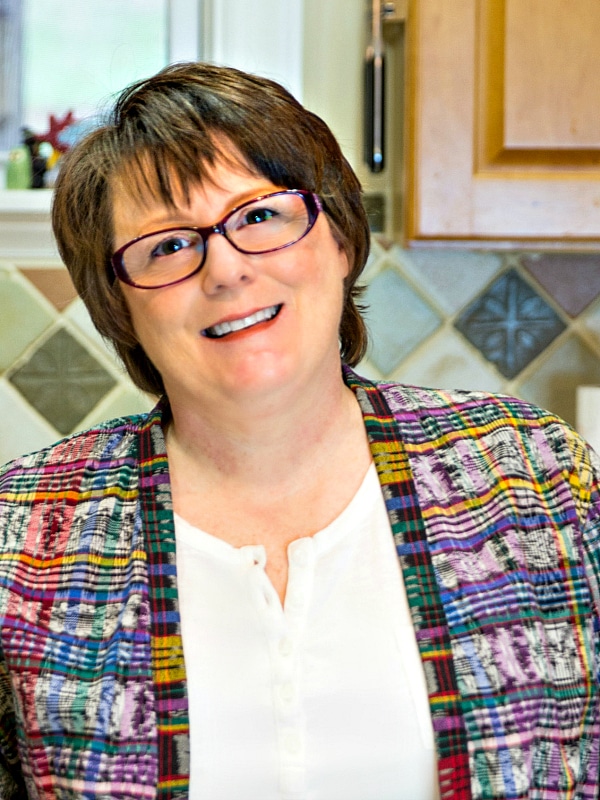 What are my qualifications to teach you baking and pastry? As a former working pastry chef and special educator, I marry my passions for both teaching and for baking into explaining techniques, methods, and developing the best possible recipes. For more info, you can read more about me.
If you'd like to receive new recipes and the occasional newsletter, I'd love for you to sign up for my Inbox Pastry Chef.
And there you have it. Southern comfort food: cinnamon sorghum custard pie. So worth making and enjoying. Unfussy. Humble looking but with huge, intense flavor. Lovely.
Thank you for spending some time with me today. Have a lovely day.