Most Recent Update:
Butterfinger Candy bars are one of my favorite candies ever, so I really wanted to make a copycat version, because I'm like that. Most homemade versions are chewy rather than crunchy, though.

For my homemadeButterfinger recipe, I wanted to make sure the results were crunchy and crispy rather than soft and chewy. If I want chewy, I'll eat fudge, am I right?

Anyway, settle in friends, and I'll show you exactly how to make this Butterfinger candy!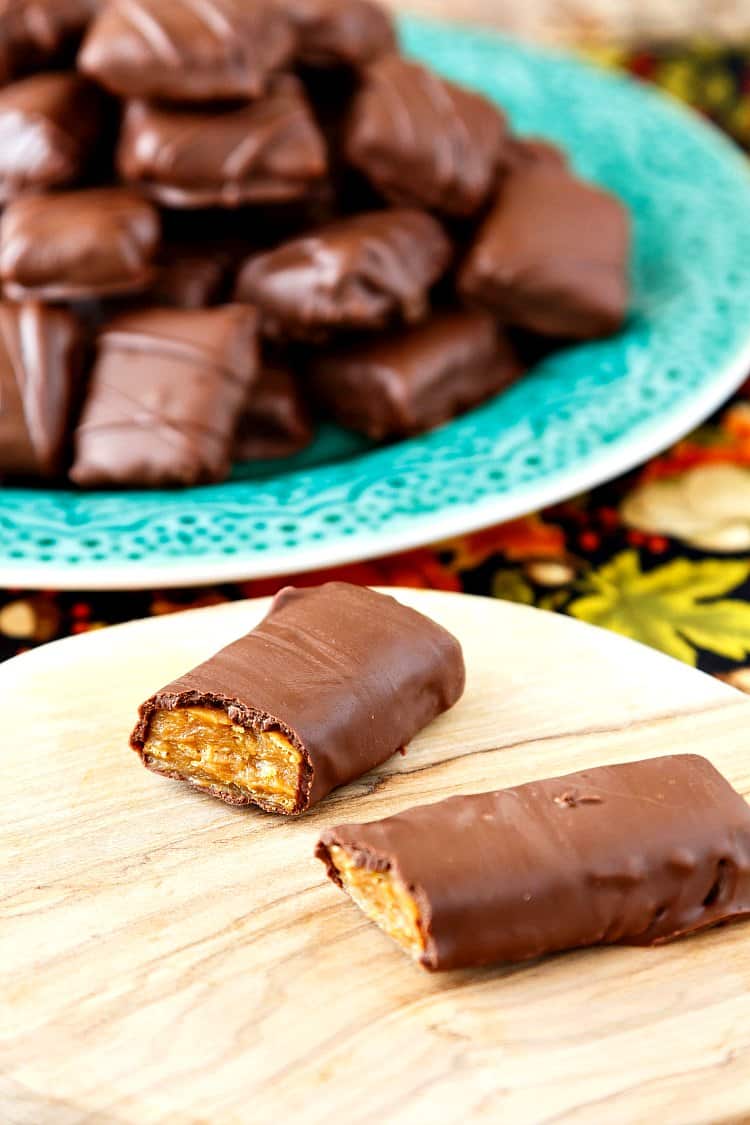 Recipe Testing to Get It Right
I am Extremely Excited, stoked even (and I never use that word), to bring you this crispy Butterfinger recipe, you guys. This is my most tested recipe ever.
I submit I have developed a homemade copycat for Butterfinger candy bars that is as close to the factory-produced kind as I can get while using my regular kitchen equipment.
Nine times.
That's the number of times it took me to get these Butterfingers just right.
I made some with a sugar syrup.
I made others with melted down candy corn.
Some I added molasses to.
I tried different proportions of peanut butter to syrup.
I tried folding the candy around the peanut butter (never try that. You're welcome).
And finally, after 8 tries and a two week break, I have it. Potion #9 is it.
Crispy.
Crunchy.
Peanut buttery.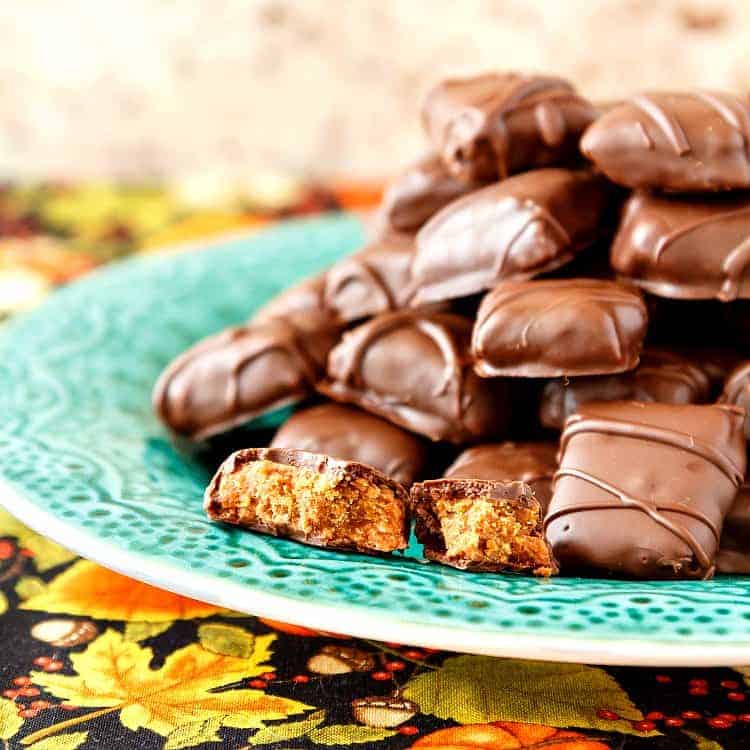 This post contains affiliate links. We are members of the Amazon Affiliate program. For any sale through our links, we earn a small commission. Your price is unaffected. For more information, please see our disclosure policy.
Butterfinger Ingredients
While I would never go so far as to say my Butterfinger recipe is healthy, I will say that my version tastes better than the originals, mainly because of the chocolate I used. More on that later.
Note that Butterfinger has recently reformulated their candy bar recipe. The new recipe has only been available since February of 2019. I haven't tried it yet, but when I do, I shall report back.
Regardless, kudos to Butterfinger for listening to consumers and getting rid of some ingredients folks weren't loving as well as improving their Questionable "Chocolatey Coating!"
Here is the ingredient list for the OLD Butterfinger bars:
Corn Syrup
Sugar
Ground Roasted Peanuts
Hydrogenated Palm Kernel Oil
Cocoa
Molasses
And Less Than 1% Of:
Dairy Product Solids
Confectioner's Corn Flakes
Nonfat Milk
Salt
Soy Lecithin
Soybean Oil
Cornstarch
Natural Flavors
Monoglycerides
TBHQ And Citric Acid (To Preserve Freshness)
Annatto Color
It says on the Butterfinger website that the new formula doesn't contain any of the following:
NO hydrogenated oils
NO TBHQ
NO artificial preservatives
NO artificial colors or flavors*
The asterisk indicates that "added colors are from real sources."
Making Butterfinger Candy with Candy Corn
I have made these candy bars/candy bites with candy corn, because candy corn already has the optimal proportion of corn syrup to sugar in them.
However, candy corn is not vegan or even vegetarian due to the addition of some gelatin and honey.
If that is a concern for you, I will also tell you how you can make these using corn syrup and granulated sugar.
They will not be as orange-y as a real Butterfinger or as a Butterfinger recipe made with candy corn, but they will be vegetarian. And they will be delicious.
Here's what you'll need to make this Butterfinger recipe:
Questions You May Have:
Are Butterfinger Bars Gluten Free?
According to the Celiac Disease Foundation: regular Butterfinger bars are gluten free, but: "…only in fun size, singles, and share pack (Butterfinger Bites, Butterfinger Minis, Butterfinger Cups, and special holiday-shaped Butterfinger items are NOT considered gluten-free)."
Be cautious if you have a gluten allergy or are Celiac.
These copycat crispy Butterfinger bars are gluten free as long as you are careful with your ingredient sourcing.
Here's a rundown of what you'll need to make them, with the exception of one sneaky ingredient you'll get in the recipe.
Are Homemade Butterfinger Candy Bars Hard to Make?
I would definitely categorize this recipe as intermediate to advanced.
It's not hard to make, per se, but you are working with molten sugar, and you have to be careful. This is not a recipe to make with your kids unless they are older. Like maybe teenagers.
Let younger kids help you dip the candies in chocolate, but keep them out of the kitchen or at least at a respectful distance while you're making the centers.
And definitely keep pets out of the kitchen while working with boiling sugar. Much better safe than sorry.
PRO TIP 1: When working with molten sugar, keep a bowl of very cold water handy so you can immerse your finger or hand if a little bit of sugar splashes on you. Whatever you do, don't stick your finger in your mouth. You'll just end up with a burned finger and a burned mouth.
PRO TIP 1: unless you're making a ton of specialty chocolates, using a regular fork for dipping will work just fine. No need to get fancy chocolate dipping forks unless you really want them.
What Can Possibly Go Wrong?
For one, you can burn yourself. We're cooking the candy corn mixture to just over 300F, and then we have to stir in some really thick peanut butter so be careful.
Once I stir in the peanut butter, I scrape the molten candy out onto a Silpat and then knead it through the Silpat by folding it over.
But, I have a fairly high tolerance for heat. If you don't, consider using an oven mitt or even better, get an Ove-Glove to help you in kneading through the Silpat.
You could also cook the candy too hot so it caramelizes, which is not what we want.
Or you might not get it hot enough so that when it cools, your candy won't be crispety crunchety.
The following are affiliate links. Pastry Chef Online participates in the Amazon Associates program. If you make a purchase through one of my affiliate links, I will receive a small commission. Your price is not affected.

The only help for that is to have an accurate instant read thermometer or candy thermometer so you can monitor the temperature and know just when to add the peanut butter to the pot.
Please note that a candy thermometer clipped to the side of the pot might not take a true temperature as the candy is generally cooler at the sides. Also, it might not read accurately unless the molten candy is deep enough.
For this candy, you're only looking at 8 oz of candy, so either double it or plan on tipping the pan to get a good reading with a clip-on thermometer.
Do I Have To Temper Chocolate To Make This Butterfinger Recipe?
No. I mean, you could use couverture and temper it, but since tempering can be finicky and I don't know what the conditions are in your particular kitchen, I wrote this recipe to use homemade coating chocolate.
It still sets up shiny like tempered chocolate, but it requires no special skill except for the ability to wait for the chocolate to set completely. And that can take a couple of hours if not more.
The secret? Refined coconut oil. The formula is this: use 10% of the weight of the chocolate in oil. So for 10 oz of chocolate, you'll need one ounce of oil. I will say it again.
If you don't have a kitchen scale yet, please get one. I promise it will make your life much easier. You will be so happy.
What Can My Husband Do to Help?
He can't. Tell him to kindly leave you alone while you're working. Whether you plan on making these into bars or (mostly) bites like I did, if you're giving them as gifts, I guess he could put together the candy boxes.
Honestly, I wanted The Beloved far from the action, because once the centers cooled off enough, I wanted to eat a few. You know, for quality assurance.
If you're feeling share-y, let him try a center or two. But if Butterfingers are your favorite and you don't want to share, I will not hold it against you.
How To Make Homemade Butterfingers, Step by Step
Time needed: 30 minutes.
Time is approximate and doesn't count cooling and dipping time.
Here's the rundown of how to make this Butterfinger recipe so you can get the steps clear.
Get Corn Flakes Ready

Spread out your corn flakes in the center of a Silpat-lined half sheet pan. Put the pan close to the stove.

Mix Up Your "Dry" Ingredients

Stir together the peanut butter, milk powder, and cocoa powder. Place that bowl convenient to the stove as well.


Cook the Candy

Add candy corn and water to you pan. Heat over medium heat until the candy corn has melted. Then you can raise the temperature and cook the candy until it reaches 290F. Add the molasses and continue cooking until the candy reaches 305F.

Stir all ingredients together.

Once your candy reaches 305F, immediately remove from the heat and stir in the peanut butter mixture. Be careful and use a long-handled wooden spoon to minimize your chances of burning yourself.

Pour candy out onto prepared Silpat.

Scrape the candy out onto the corn flake-lined Silpat. Use the Silpat to fold the candy over to incorporate the corn flakes.

Roll and fold the candy.

As the candy cools and becomes more solid, you will be able to fold the candy over on itself into thirds, like folding a letter. Do this a couple of times using the Silpat to help you so you don't burn yourself. As the candy continues to cool, you'll be able to roll it out and fold it without the Silpat (although it will still be very hot, so be careful).

Score, Cool, and Dip. Done!

Give the candy a final roll to about 1/3″. Use a pizza wheel to score the candy about halfway through. You can make whatever shapes you like. I'm a fan of tiny squares rather than large bars, but make them how you want them. Once cool, break the candies apart and then dip them in the chocolate coating and let harden.
Other Homemade Candy Recipes You Might Enjoy
Looking for more candy? Try this bourbon honeycomb candy. Or maybe this cashew toffee is more your style. And do not miss my butterscotch hard candies. Seriously.
Don't deny yourself. Make some candy. It's rewarding and delicious!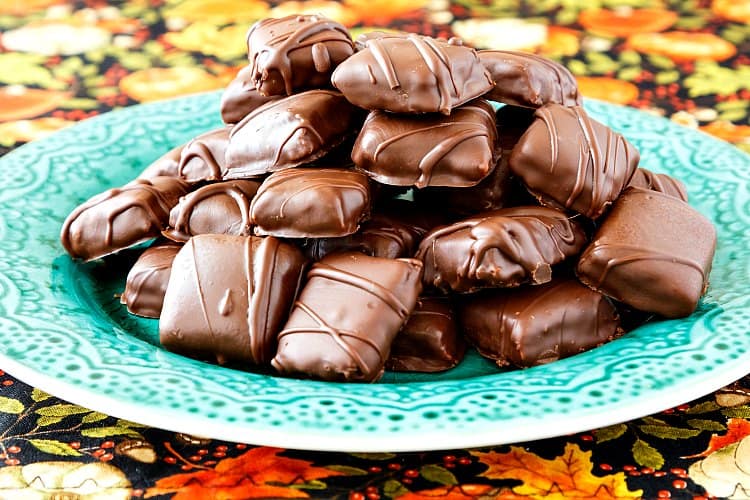 I hope you enjoy these, you guys. And remember, if something goes awry and your candy gets crumbly (this happened to me AT LEAST TWICE while testing), stir the crumbles into ice cream. Seriously, they'll still be delicious!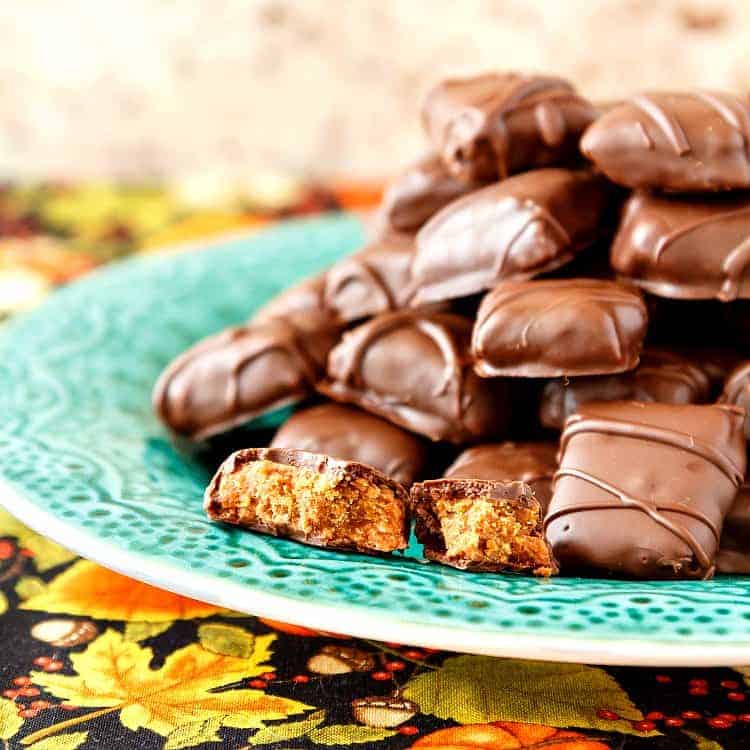 Crispy Homemade Butterfinger Recipe
If you are a fan of Butterfinger candy bars but you wish the chocolate were tastier, or you just want to use up leftover candy corn, or you just love crunchy peanut butter candy, you are going to love these. NOTE: All measurements other than teaspoons and tablespoons are by weight. ANOTHER NOTE: If you do not want to use candy corn to make these copycat crunchy Butterfingers, I give you an alternate in the notes at the end of the recipe.
And that's it, you guys. Maybe not quite as crispy as the originals, but just as crunchy. Homemade Butterfinger candy, y'all. Nine times is the charm.
Thanks for spending some time with me today, friends. Enjoy the copycat crunchy Butterfinger candy bars!
Take care, and have a lovely day.