Hello, friends, and welcome to what may be one of the most important posts I've written. Today we're talking about how to use a food scale, and more importantly, why to use one.

A kitchen scale is perhaps the most used piece of equipment I own, and I'll tell you why, give you my recommendation for my favorite one, and teach you how to use it. So if you've ever wondered why people would ever bother to weigh their ingredients for a recipe, now you'll know!

This post is one in my Fundamental Friday series where I answer baking and cooking questions and/or teach techniques. For ease of browsing, you can find all of my Fundamental Friday posts in one place. You may also be interested in my ingredient function and mixing methods posts.

Thanks for being here as we explore using a kitchen scale!
See my how to use a kitchen scale web story here.
Balance Scales Vs Digital Scales
Friends, how to use a food scale is the most fundamental of fundamentals. And it's something that the average home baker resists most mightily. I know; I was one of them.
The first day of culinary school, they set scales in front of us. And not those cute little glass ones you can get at Bed, Bath and Beyond, either. No, they were big old doctor's office-looking balance scales with sets of weights and everything. Our heads collectively exploded.
Even though I got used to using the balance scale, it still kind of makes my head explode. Plus, they are expensive. (See that link above)
And they're not super intuitive to use, either. I feel like I'm doing algebra when I have to replace a bunch of smaller weights with a bigger one and then add on more. Yuck.
A few weeks into culinary school though, our personal digital scales arrived. Nothing flashy. Nothing fancy. Just small plastic oval-shaped kitchen scales made by Escali. I still have that scale plus a matching friend for him.
The Importance of Using a Scale
Like all of us in our initial baking class, you're probably wondering "What's the big deal about using a scale?"
Here's the thing. Measuring cups are made to hold a certain amount of Stuff. Once the measure is full, you level it off, and you're done.
If you fill a cup measure with sand, you have a cup of sand. If you fill it with salt, you have a cup of salt. If you fill it with flour, you have a cup of flour.
When we use measuring cups to measure, we're measuring volume or how much room something takes up.
Now, pour each of those cups of Stuff onto a scale. Each one will weigh a different amount. Even though each ingredient took up the same amount of room (8 ounces of room, since there are 8 ounces of volume in a measuring cup), since different ingredients have different densities and some can be packed down, their weights will all be different.
Confusion
To illustrate the confusion, here's a quoted comment from my friend Brandy's fantastic Savory Simple blog in response to a post about Grain-Free Paleo Pizza Crust in which she gave measurements in both cups and ounces:
I am confused about the recipe. It says add – "4 ounces (1 cup) almond meal" and "4¼ ounces (1 cup) arrowroot flour" – but… 4 oz does not 1 cup make. 🙂 Did you possible [sic] mean 1/2 Cup … or the 1 Cup for each?
On the surface, it does seem confusing. If I may be so bold, I think this is how that commenter's thought process went:
What the what?!
A cup is 8 ounces, right?
Then why would anyone specify one cup of two different ingredients and say one is 4 ounces and the other is 4 1/4 ounces? That's crazy all by itself.
Aside from that, she surely must have meant half a cup since half of 8 is 4.
I will gently remind her of this, softening the blow and keeping it light by making a smiley face.
What Brandy's instructions indicate is that, if you're using a scale, you'll need 4 ounces by weight of almond meal and 4.25 ounces, again by weight, of arrowroot.
And if you don't have a scale, the best you'll be able to do is use a one cup volume measuring cup and get pretty close.
It's like that old riddle, "Which weighs more, a pound of feathers or a pound of bricks?" The answer is that they weigh the same: one pound.
Volumetrically though, the feathers will occupy a ton more space since they weigh so much less than bricks. It takes lots of feathers to add up to one pound, but you'll have to break a brick into six pieces to get a piece that weighs a pound (standard building bricks weigh about six pounds each).
You could easily hold a pound of (part of a) brick in one hand. You might need a pillowcase to hold a pound of feathers, though.
Busting the Volume Measure Mentality
Here's what a friend posted on her Facebook page regarding measurements:
Hey folks! There's often a bit of confusion when I specify ounce measurements next to cup measurements in a recipe. I think this is worth repeating periodically for those who are new to baking:

-1 cup of liquid = 8 fluid ounces.
-1 cup of dry ingredients does not = 8 ounces. It will vary depending on what the ingredient is. For example, 1 cup of bricks will weigh more than 1 cup of feathers. Make sense?

Liquid measurements are different than dry measurements. I highly recommend investing in a kitchen scale!
Now, this sort of post is music to my ears, because I have been preaching the gospel of weights lo these many years I've been lost and wandering in the wilderness. But, many people (especially in the US) only understand cup (Volume Measures).
1 Cup Doesn't Always Equal 8 Ounces
Another commenter had this to say:
Glad you posted this different sites say different things. I guess flour, sugar butter would weigh the same? (THIS IS NOT TRUE)
And this:
I always use scales but thanks for the advice if I stick to 8oz = 1 cup for things like butter, flour, sugar it should be ok. How many fluid ounces in one cup? (THIS IS NOT TRUE)
I understand the confusion. Let me try to be very clear about weights and volumes:
For liquid measurements in fluid ounces, there are three ingredients where one cup equals 8 oz (or where 8 fluid ounces equals 8 ounces by weight):
whole milk
whole eggs
water
The only culinary liquid ingredients that measure the same both by weight and by volume are whole milk, whole eggs (out of the shell), and water.
While most other liquid ingredients will weigh right around 8 oz per cup, some such as honey are notably heavier (1 cup of honey (8 fluid ounces) weighs about 12 ounces while 1 cup of vegetable oil (8 fluid ounces) weighs about 7 ounces.
Weighing in Grams or Ounces
Since I'm from America, I tend to weigh ingredients–liquid or dry–using ounces. In almost every single one of my posts, I have a section that specifically lets folks know that they need to know how to use a food scale so they can follow my recipes and succeed.
Maybe I'm a stickler, but I'm willing to die on this hill, even in ounces.
As much as I hate to admit it, measuring in grams is more precise.
Here are some often-used conversions from grams to ounces/ounces to grams:
1 ounce = 28 grams
1 cup water, milk, or whole eggs = 225 grams
1 cup flour = 125 grams
| | | |
| --- | --- | --- |
| Ingredient (1 Cup) | Weight in Ounces | Weight in Grams |
| flour | 4.5 ounces | 125 grams |
| granulated sugar | 7 ounces | 200 grams |
| brown sugar | 7.5 ounces | 213 grams |
| milk | 8 ounces | 225 grams |
Whether your recipe is written in grams (which is always a measure of weight) or it is specified that everything is weighed in ounces (like most of my recipes), you can use the same scale. Just press the measurement selection button to toggle between pounds & ounces and grams.
Do I Need to Weigh Small Amounts Like Teaspoons?
I generally use measuring spoons for anything with a volume of less than 2 Tablepoons (roughly an ounce, if it's a liquid).
Here are some common ingredients that are usually used in small amounts, so if you want to weigh them, you certainly can:
1 teaspoon kosher salt = 3 grams for Diamond Crystal, 5 grams for Morton's (Morton's has smaller crystals, so it packs together more tightly than Diamond)
1 teaspoon table salt = 6 grams
1 teaspoon yeast = 3 grams
1 teaspoon baking powder = 4 grams
1 teaspoon baking soda = 3 grams
Parts of a Kitchen Scale
If you've never used a digital kitchen food scale before, it's a pretty straightforward piece of equipment. While there will be some differences among brands and models, these are the basic parts that almost all scales will have in some form or other.
Weighing platform: This is where you place your bowl or container to measure ingredients into. Some scales come with a bowl strictly for this purpose. I tend to measure into whatever I'll be cooking/mixing in: stand mixer bowl, saucepan, etc. If I'm scaling out individual portions, like for rolls, cookies, or hamburger patties, I'll cover the weighing platform with a piece of plastic wrap to keep it from getting dirty. Then, I scale directly onto the platform rather than into a bowl.
Display: Pretty self-explanatory. Here's where you'll read the weight and double-check to see if you've zeroed out your scale between measurments.
ON/TARE button: Press once to turn the unit on. Press again once you have weighed something to reset the scale to zero again, even with a bowl on the weighing platform.
Measurement Units Selection: toggle among pounds and ounces, ounces, and grams.
When scaling small portions, as for meatballs or cookies, place a piece of plastic wrap over your scale to keep it clean. Then you can measure directly on the weighing platform.
How to Use a Food Scale
Using a kitchen scale to weigh your ingredients is a straightforward process, once you get used to it.
Here's how to do it.
Place your scale on a clean, flat surface.
Place the bowl or container you'll be measuring into onto the weighing platform.
Turn the scale ON. It should come on and read 0.00, 0:0.0, or 0g depending on which measurement it is set for. NOTE: If you place your bowl or container on the scale after you turn it on, press the TARE or zero button. On the Escali, this is the same button you press to turn it on.
Measure your ingredient into the bowl, stopping at whatever measurement you're going for.
To add more ingredients into the same bowl, simply press the TARE/ON button between measurements so the scale will always start at 0.
It would be so helpful to me and to other readers that, when you make a recipe, you rate it and leave a comment. Whether it's a recipe or an informational post, your feedback helps others decide if the post is helpful or if the recipe works as advertised.

If you could leave a star rating, that would be very helpful. Thank you for being here!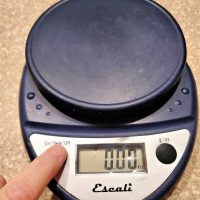 Print Recipe
How to Use a Food Scale
Step by Step instructions on how to weigh ingredients using a kitchen food scale.
Ingredients
Bowl or Other Container

Plastic Wrap

optional

Scoop

Spoon, or Cup
Instructions
Place your scale on a clean and level surface, like a countertop.

If portioning directly onto the weighing platform (for rolls, cookie dough, meatballs, etc), cover the platform with plastic wrap to keep it clean. Otherwise, place your bowl onto the weighing platform.

Press the ON/TARE button on your scale and wait for it to read "0."

Press the measurement selection button so your scale will measure in the increments needed: pounds and ounces, ounces, or grams.

Using a scoop, spoon, or cup (depending on what you're weighing), add the ingredient to the bowl until you reach the desired weight.


To Weigh Multiple Ingredients Into the Same Bowl

Follow Steps 1-5, above.

Press the TARE button to return the display to zero.

Repeat Step 5 for each subsequent ingredient, pressing the TARE button after each measurement before going on to measure the next ingredient.

To Scale Out Individual Portions

Follow steps 1-4.

Using a bench knife or similar, cut off a piece of what you're scaling out (bread dough, cookie dough, meatball mix, etc) and place it on the plastic wrap-covered weighing platform.

Read the measurement in the display, and add a bit more or remove a little until you get the measurement you need.
Thanks for hanging out with me for this admittedly very long post about how to weigh ingredients using a kitchen scale!
Take care, and have a lovely day.