I'm glad you're here, and I'm excited to share the Indiana Sugar Cream Pie recipe with you! It's the fourth and last in my "Throwback Thursday Food" series of Heritage Pies or "Use What You Have" Pies.
I Have a Thing For You
Hey, do you like that "button crust" treatment? Pretty cool, huh?
Click Here and I will send you the
Step-by-Step Photo Tutorial
of How to Make the "Button Crust!"
Desperation Pie
Everyone loves a fruit pie, but back in the days before IQF (individually quick frozen) fruit and bags of all sorts of nuts on the shelves year round, early Americans made pie of whatever they could get their hands on. Some people call them "make do" pies or Depression Pies, but I go with "Use What You Have" pies. Whatever you call them, these are the pies folks made when they either couldn't afford fruits and/or nuts or they weren't in season. These are the Dead of Winter pies made with regional staples. Folks on farms had access to milk, cream, butter, and eggs. Even when refined sugar was expensive, most people had a jug of molasses or sorghum. And everyone had a bag or a bin or a sack of flour. From these humble staple ingredients, creative cooks dreamed up some damn fine pies.
My Use What You Have Pies for #tbtfood
Indiana Sugar Cream Pie
You can see I did a different crust treatment for each pie. I get bored easily!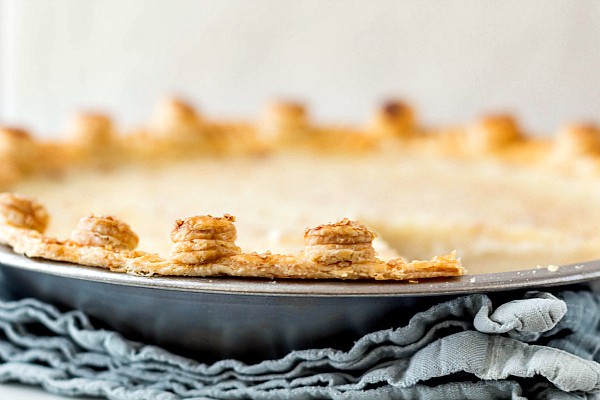 Click Here and I will send you the
Step-by-Step Photo Tutorial
of How to Make the "Button Crust!"
Indiana Sugar Cream Pie
Knowing what I know about "use what you have pies," I'd have to say that lots of folks in Indiana had year-round access to cream and sugar. I'm almost a little surprised there's no egg in it since I figure if you've got access to cows, you probably have access to chickens. Still, it's a lovely pie with a really clean dairy flavor. Egg lends richness and also tends to add their own mellow yet distinctive flavor. With eggs out of the picture, Indiana Sugar Cream Pie (also called Hoosier Pie) tastes of sweetened cream. Do use the best cream you can find because the flavor will shine through. Now is not the time for generic store brand cream since it is the predominant flavor. Splurge on the organic stuff for this guy.
I looked through a ton of Indiana Sugar Cream Pie Recipes. Some used cream and half and half, a couple used whole milk (but really? It's called Sugar Cream Pie…). A couple of fillings were cooked on the stove top and then poured into the pre-baked crust to set up in the fridge. There were a lot of variations. Believe it or not, the one I followed most closely is from Dan Quayle. Yes, that Dan Quayle.
Here's the recipe attributed to him on the site Feed Me That.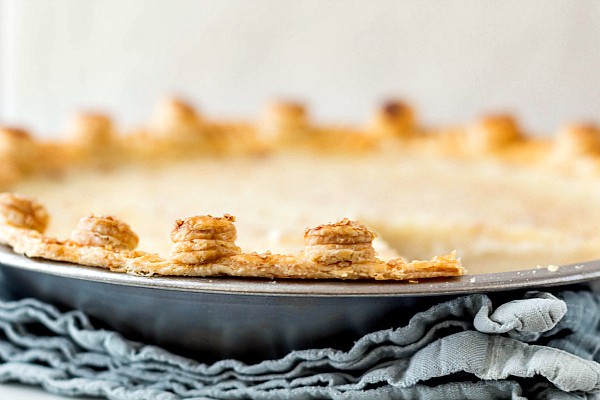 Indiana Sugar Cream Pie
Indiana Sugar Cream Pie is rich but not overly so since it doesn't contain eggs. It is flavored with vanilla and nutmeg, so it's somewhat reminiscent of eggnog without the egg part. Use the best cream you can find and use freshly grated whole nutmeg. The flavor is worth it.
What You'll Need
1 9

" pie shell

, frozen (not deep dish--store-bought or using your favorite recipe)

1 1/2

cups

heavy cream

1/2

cup

whole milk

1

teaspoon

excellent quality vanilla extract

2.25

oz

(1/2 cup) all purpose flour

6

oz

granulated sugar

(slightly less than one cup)

1/2

teaspoon

fine sea salt

(yes, you need that much)

1

Tablespoon

butter

(I used salted. This pie can take a lot of salt)

Freshly grated nutmeg
What To Do
About 30 minutes before baking, preheat the oven to 425F.

In a bowl, whisk together the cream, milk and vanilla.

In another bowl, whisk together the flour, sugar and salt.

Slowly whisk the milk mixture into the flour mixture until you have a smoothly combined and very loose "batter."

Set aside for a moment.

Grate some nutmeg evenly over the bottom of the frozen crust. Maybe 1/2 teaspoon altogether.

Cut the butter into bits and scatter evenly across the bottom of the pie.

Whisk the batter again very well to make sure it hasn't separated any and then pour it into the crust on top of the butter and nutmeg. Some of each will float, and that's okay.

Carefully place the pie on the center rack.

Bake for 10 minutes. Open the oven door and stir the filling really well with a fork. Be careful not to get over-enthused and bust into the crust with your fork. Mix well more or less in the middle of the pie, and stir "shallowly" so you don't hit the bottom crust and tear it. Doing this ensures that the pie won't set up with an almost cake-like layer on top and a gooey layer underneath.

Turn the heat down to 325F and continue baking the pie until it just barely jiggles in the center when shaken, about 30-35 minutes. The Dan Quayle recipe suggests you shake the pie every 8 minutes, so I did. I'm not sure it's strictly necessary, but who am I to argue with Dan Quayle?

Cover the pie loosely with a large piece of foil once the crust is as golden brown as you want it.

When the pie is done, remove it to a cooling rack. Evenly grate some more nutmeg over the whole pie--maybe another 1/2 teaspoon. If you're not a nutmeg fan, I'm sure it would be okay to use cinnamon. I won't tell Dan if you don't.

Serve chilled, slightly warm or at room temperature. Store leftovers in the fridge.
Recipe Notes
This pie would be lovely with some fruit compote, but it is also fantastic alone. The flavor is very clean and light. Good stuff!
And there you have it: Indiana Sugar Cream Pie. And don't forget about the process shots for making the crust, friends.
Click Here and I will send you the

Step-by-Step Photo Tutorial
of How to Make the "Button Crust!"
Thank you so much for spending some time with me today.
Enjoy the pie, and have a lovely day.