Chocolate chess pie tastes like a rich, super gooey, fudgy brownie in a crust. If that sounds good to you, read on!

Chess Pie is as southern as the day is long. A simple plain custard thickened with egg and some flour or cornmeal, flavored with vanilla, lemon or chocolate. It's Just Pie. Or as we say in the South, "Jes' Paah" which eventually became "chess pie."
"Whatcha makin'?"
"It ain't nuthin'. Jes' paah."
This pie is "jes'" one of four "desperation pies" I made for #tbt in January, 2016. Here are the rest.
this one right here
As you can see, I used a different treatment for every crust. Scroll down a bit, and I'll show you how I did the treatment for the old fashioned chocolate chess pie. If you like the button crust on the Indiana Sugar Cream Pie (it's my favorite),
Click Here and I will send you the
Step-by-Step Photo Tutorial
of How to Make the "Button Crust!"
Chocolate Chess Pie
Looking for a Christmas version of this pie? Check out my Mexican Hot Chocolate Pie.
Chocolate chess pie adds some cocoa powder to the custard to make it chocolatey. But honestly, I've not been a super fan of the chocolate chess pies I've had before. Even when The Beloved and I went to The Angus Barn, the very well-known and highly regarded steakhouse between Durham and Raleigh, I was underwhelmed by the chocolate chess pie. Even though the Los Angeles Times apparently raved about this pie at one point, it was just too sweet and not chocolatey enough for me. And you know there is nothing worse than getting a chocolate dessert and having it just taste sweet and brown.
Fortunately, it doesn't take much to enrich a chocolate chess pie so that it's as deeply chocolatey as its color implies it will be.
Chocolate chess pie slices like a dream and the texture is sort of "moist brownie." Fudgy. Delicious.
Here's how I made the crust design: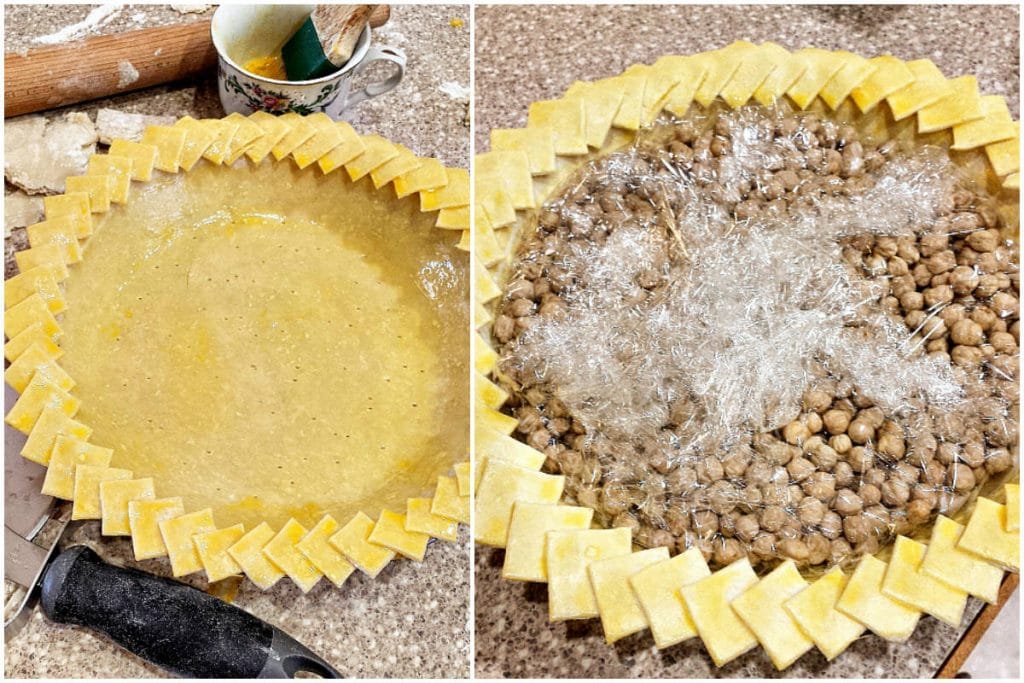 After lining the pie pan with the crust, I trimmed it to about a 1/2″ overhang and then folded the excess under to make a double-thickness around the rim (you can see that in the photo of the baked pie). Then I simply cut wee squares of scrap dough and glued them down with egg wash. I did blind bake my crust for about 15 minutes (10 with the weights you see: dried chickpeas and about five without), but that is a totally optional step. I didn't blind bake for either the cinnamon sorghum custard pie or the shoo fly pie, and you don't have to either. Blind baking is an option if you want a crisper crust, but it is by no means necessary in pies where the filling also must be baked.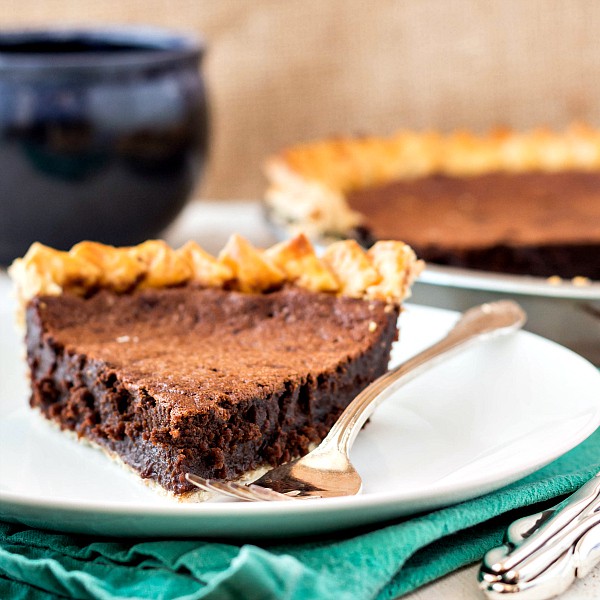 Chess pie recipes vary from region to region. Some contain milk or evaporated milk. Others use flour and eggs for thickening. Some recipes use a mixture of flour and cornmeal, and while some recipes call for chocolate, most I've seen call for cocoa powder. I think the main things to remember are that it needs eggs because it is a simple custard and not to get too fancy with it. After all, it's Jes' Paah.
Old-Fashioned Chocolate Chess Pie
This chocolate chess pie is thickened with fine cornmeal and eggs, and the chocolate is reinforced with the addition of just enough instant coffee and salt to make it sing.
What You'll Need
1 9

" pie crust

, frozen using your favorite pie crust recipe or store-bought

2

oz

(1/2 stick) unsalted butter

10.5

oz

(1 1/2 cups, packed) dark brown sugar*

1

oz

(1/3 cup) cocoa powder, sifted

3

eggs

2

Tablespoons

finely milled cornmeal

2

teaspoons

espresso powder

(or finely ground instant coffee)

1

teaspoon

vanilla extract

3/4

teaspoon

kosher salt

(use slightly less if using fine sea salt)
What To Do
Place a rack in the center of the oven and preheat to 350F.

Slowly melt the butter so that it remains creamy. It should stay emulsified and not separate into clear yellow, runny butter. I melted mine in the microwave in short bursts at medium power until it was mostly melted, then I whisked it until all the butter was melted. Pour the creamy melted butter into a medium-sized bowl.

Add the dark brown sugar,* making sure there are no lumps in it, the cocoa powder, eggs,cornmeal, epsresso powder, vanilla and salt.

Whisk very well to make a smooth batter. Scrape the bowl a couple of times to make sure all the ingredients are evenly incorporated in the batter.

Pour the batter into the frozen pie crust.

Bake for 35-45 minutes or until the entire pie is puffed up but is still a little jiggly in the center. You may have to cover the crust with foil after the first 20 minutes or so to prevent over-browning, so keep an eye on it.

Remove the pie from the oven and let cool to room temperature. Serve warm or cold, with or without ice cream or whipped cream.

Enjoy!
Recipe Notes
*If you can't find dark brown sugar, use 10.5 oz light brown sugar and 1 Tablespoon molasses.
Nutrition Facts
Old-Fashioned Chocolate Chess Pie
Amount Per Serving
Calories 332
Calories from Fat 117
% Daily Value*
Total Fat 13g 20%
Cholesterol 76mg 25%
Sodium 390mg 16%
Potassium 163mg 5%
Total Carbohydrates 51g 17%
Protein 4g 8%
* Percent Daily Values are based on a 2000 calorie diet.
For such a short ingredient list, you're rewarded with a beautiful texture, a ton of rich, chocolate flavor, and a heavenly scent as it bakes and cools. Like the other #tbtfood pies I've baked this month, this humble guy really shines. No bells and whistles. No swoops of meringue or avalanches of whipped cream. It's short and humble. Modest. It's Jes' (delicious) Paah.
And don't forget, if you'd like the tutorial for making the "button crust" (I mean, just look at that guy)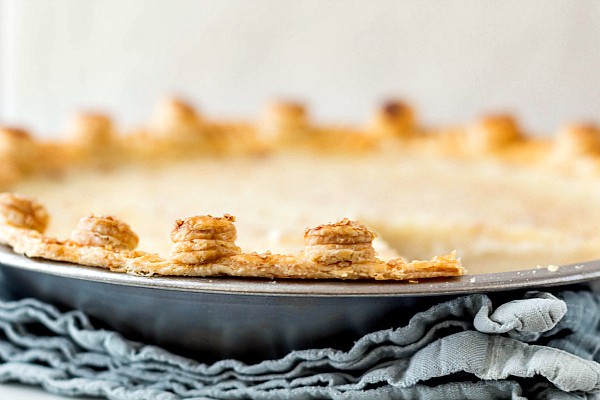 Click Here and I will send you the
Step-by-Step Photo Tutorial
of How to Make the "Button Crust!"
Here are a few more chocolate chess pie recipes, including the one from Angus Barn.
Thank you for spending some time with me today, friends. Enjoy this simple, delicious chocolate chess pie, and have a lovely day.