Today I have a lovely original red velvet cake recipe for you. I call it original because I frosted it with ermine frosting.

Many sources say ermine frosting is the traditional frosting for red velvet cake and not cream cheese frosting. Let's get to it, shall we?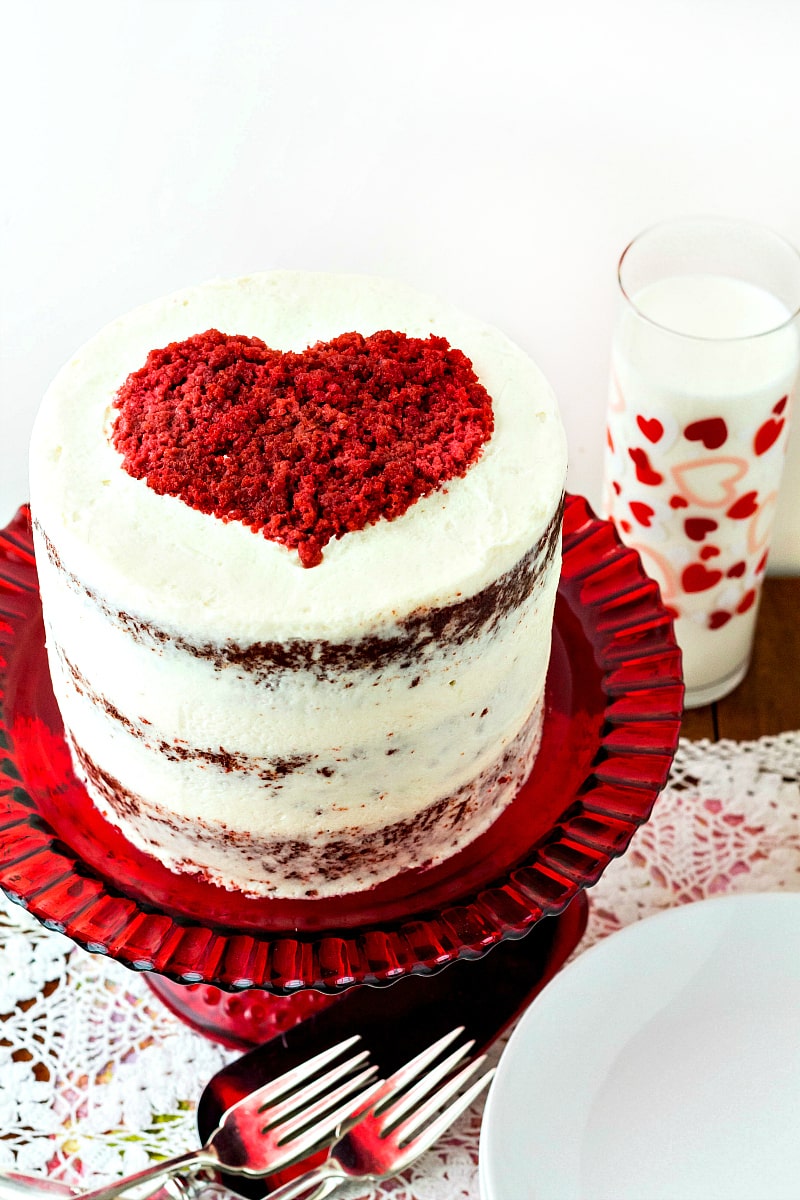 What is ermine frosting, anyway?
As far as I can tell, the origins of ermine frosting, or boiled milk frosting, are lost in the murky recesses of time. But it is made in the same manner that European buttercream is made in the sense that you
make a base
beat butter into that base until the whole is light and fluffy, impossibly smooth and perfectly spreadable.
In European buttercream, the base is generally either an egg/sugar syrup base as in French buttercream or an egg white/sugar syrup base as in Swiss buttercream and Italian buttercream.
Ermine's closest buttercream relative seems to be German buttercream, which is based on an egg-and-starch thickened custard base. Lose the eggs, and you end up with ermine!
My moderately educated guess is that someone or someones of German heritage moved over to the United States years and years ago, found themselves both in need of cake and with a shortage of eggs, so left the eggs out of their German Buttercream.
And Ermine Buttercream was born.
What does it taste like?
Ermine frosting is buttery and smooth.
Just because there was a shortage of eggs doesn't mean there was also a shortage of butter.
This frosting, while containing less sugar than standard American powdered sugar buttercream (7 oz as compared to 10.67 oz), also happens to contain a lot more butter (8 oz in this recipe as opposed to 3 oz or 4 oz of butter for the same size batch of American buttercream).
Ermine frosting has a clean, neutral vanilla flavor that is just sweet enough.

It doesn't fight with the mild, slightly tangy flavor of red velvet, making it the perfect accompaniment.

It doesn't hurt that the white color also looks dramatic against the red cake.
If you are used to pairing more assertive, tangy-in-its-own-right cream cheese frosting with your red velvet, give ermine a try. I think you will love the completely smooth texture and lovely mild vanilla flavor.
If you're interested in a chocolate version of ermine frosting, you can read about that in my recipe for 1234 Cake.
Is red velvet cake just chocolate cake with food coloring?
The short answer to this question is no. There is not enough chocolate (in the form of cocoa) to make this a truly chocolate cake.
If you were to leave the red food coloring out, the cake would most likely be a pale mocha color at best.
Possible origins of Red Velvet Cake
There are two schools of thought about the origins of red velvet cake.
Some people say that the original red color was caused as a reaction between the acidic cocoa powder and buttermilk with the baking soda. So in that case, red velvet cake is a type of chocolate cake.
The other school of thought is that a food coloring manufacturer, Betty Adams of Adams Extracts, developed a cake recipe using red food coloring as an integral ingredient. This recipe contained cake flour and buttermilk for tenderness and just a hint of cocoa powder to keep the red color vibrant. You can find that red velvet cake, labeled as "original," on the Adams Extract site.
The recipe is described as being frosted with either "classic white icing," or cream cheese frosting.
Classic white icing=ermine frosting. Huzzah!
So if you really want to make a traditional version, make sure to use Adams Extracts red food coloring in your recipe!
And of course, it is totally fine to use your favorite red food coloring.
PRO TIP: Make sure you are using liquid food coloring rather than gel coloring. You need the liquid form to make sure the cake contains enough liquid.
Looking for more old fashioned cake recipes? Try my butterscotch cake. It is pretty spectacular, if I do say so myself!
How to Make Your Cake
Please scroll down for the whole recipe which includes amounts. This section is for your convenience to make sure you have all the ingredients you need.
Ingredients
As with most cake recipes, you most likely have all the ingredients you will need already. Here's a checklist for you:
cake flour or all purpose flour
American cocoa powder (not Dutch process)
baking soda
buttermilk (I like full-fat, but non-fat will work)
red food coloring (liquid, not paste or gel)
vanilla
brown sugar
vegetable oil
salt
vinegar
Mixing Method
Old-school red velvet cake is made using a modified creaming method.
Since there the fat in the cake is liquid, you cannot expect to get really good aeration from beating the oil and sugar together as you would butter and sugar.
All the leavening comes from the reaction of the vinegar and the baking soda, which is why the vinegar is added last.
Once you mix in the vinegar, get the cake into the oven pronto so you don't lose all the bubbles that the chemical reaction creates.
Here's how to mix up your cake:
Whisk together your dry ingredients: flour, cocoa powder, baking soda
Mix buttermilk, red food coloring, and oil
Mix together oil, sugar, and salt with a hand mixer or stand mixer
Add eggs and beat until opaque and thick
Alternate adding dry ingredients and wet ingredients
Mix in vinegar last, pan up your batter, and get it into the oven ASAP
More traditional cake recipes
If you love this recipe, here are some other cakes on my site you might enjoy as well.
Traditional red velvet cake recipe
The Original Cake/Frosting Combo
Traditional red velvet cake, at least as it evolved in the mid-20th century, gets its red hue from food coloring rather than from a reaction between cocoa powder and vinegar.
The recipe does contain a bit of cocoa–just enough that you can taste it without it reading as a real chocolate cake. Red velvet also has a tender crumb courtesy of the buttermilk used in the recipe. For the tightest crumb, use cake flour. I used all purpose and nothing bad happened.
For an excellent discussion of this cake (and excellent all-around recipes for desserts) check out Stella Parks's wonderful BraveTart: Iconic American Desserts.
Okay, now let's bake this guy and frost it, old-school, with the original ermine frosting, shall we?
Questions?
If you have any other questions about this recipe or any other, please don't hesitate to get in touch.
You can leave a comment here, and I will be back in touch in about 24 hours.
If your question in more urgent, you can email me and I answer within about 4 hours.
Either way, I promise to help!
I really hope you love this recipe, you guys!
If you make it, please share a photo with me, either in the PCO Facebook Group or on instagram by tagging @onlinepastrychef and using hashtag #pcorecipe.
Thanks, and enjoy!
Red Velvet Cake Recipe with Traditional Ermine Frosting
Total Time:
1 hour
5 minutes
This original red velvet cake is the one I always made at the restaurant, although we paired it with cream cheese frosting. The ermine is perfect with it, so I recommend getting to know ermine frosting if you're a red velvet cake fan.
Ingredients
For the Cake (for 3 6" layers)
11.5 oz all purpose or cake flour, (2 1/2 cups)
2 Tablespoons non-alkalized cocoa powder, (such as Nestle or Hershey's)
1 teaspoon baking soda
8 oz (1 cup) buttermilk
1/2 oz red food coloring, (liquid, not gel or paste)
1 teaspoon vanilla
10.5 oz (1 1/2 cups) light brown sugar
10.5 oz neutral vegetable oil, (1 1/2 cups)
1 teaspoon kosher salt
2 large eggs
1 teaspoon vinegar
For the Ermine Frosting
8 oz (1 cup) whole milk
7 oz (1 cup) granulated sugar
4 Tablespoons plus 2 teaspoons all purpose flour
1/4 teaspoon kosher salt
8 oz (2 sticks) unsalted butter at cool room temperature
1 teaspoon vanilla extract
a couple of shakes of chocolate bitters, (optional but lovely)
Instructions
For the Cake
Set a rack in the center of your oven and preheat to 350F.
Spray 3 6" cake pans with pan spray. Line the bottoms with parchment circles, and place them on a baking tray. Set aside.
Sift together the flour, cocoa powder and baking soda. Set aside.
Stir the buttermilk, food coloring, and vanilla together. Set aside.
With a hand mixer or in the bowl of your stand mixer, cream together the sugar, oil, and salt. Add the eggs, 1 at a time, and beat until emulsified. The mixture will thicken and be opaque.
Alternate adding the dry ingredients in three additions with the wet ingredients, mixing just until combined and scraping the bowl as necessary.
Mix in the vinegar.
Divide evenly among the three prepared pans and bake for 40-45 minutes, rotating the pan after about 25 minutes, until well-risen and slightly domed and the cakes spring back when pressed lightly on the tops.
Run a thin spatula around the inside of each pan. Allow the cakes to cool in the pans for 10 minutes, then turn them out onto cake racks to cool completely.
For the Ermine Frosting
In a medium saucepan, combine the milk, sugar, flour, and salt. Bring to a boil over medium heat, whisking constantly.
Allow to boil for 15-30 seconds and then pour through a fine mesh strainer into a bowl. Cool to room temperature.
Stir in the vanilla and optional bitters into the milk-sugar mixture once it has cooled.
Cut the butter into 1-2 Tablespoon pieces. If the butter seems too firm, flatten each piece to allow them to soften faster.
Using the whip attachment, whip the butter into the cooled base a piece at a time, waiting until one piece is completely incorporated before adding the next. Once all the butter is added, whip on high speed for a few minutes (5-7 or so) until the frosting is smooth and fluffy. If it's still not coming together in a glorious fluffy mass, refrigerate the bowl for a few minutes and then whip again.
To Assemble the Cake
Slice the domes off the cakes and crumble into crumbs.
Smear a dab of icing in the center of your cake plate, and place one layer on top.
Spread evenly with about 1/2 cup frosting.
Place another layer on top, spread another 1/2 cup of frosting on that layer and top with the final layer, bottom side up. Make sure the cake is level and the layers are stacked evenly, and then refrigerate for 30 minutes or so. This will keep your layers from sliding while you frost the rest.
Spread a thin layer of frosting around the sides so you can see the cake through the frosting. Spread a thicker layer of frosting on the top of the cake.
Use the cake crumbs to decorate however you'd like, either pressing them around the sides or using them in a stencil to make a design on top like I did.
Notes
Since the fat in this cake is oil, it will not get hard in the fridge. The butter in the frosting will get hard though, so if you refrigerate it, slice and then wait 30 minutes or so before serving so the frosting can soften up.
FREEZING INSTRUCTIONS

If you need to freeze the cake, I would suggest freezing the layers before frosting. Ermine is really best when made and then spread on your cake immediately. Since it is a bit temperamental, I wouldn't recommend freezing the frosted cake since the texture of the frosting might suffer.
Wrap each completely cooled cake layer in a double layer of plastic wrap and then foil. If you make 6" cakes like I did, you can put the double wrapped layer in a gallon sized freezer bag instead.
The cake should be fine for 6-8 weeks frozen.
STORING
Red velvet cake will be fine at room temperature for 2-3 days. If you want to, you may refrigerate the cake. The nice thing about red velvet is, because it doesn't contain butter, it will stay soft in the fridge.
Still, I'd allow slices to come to room temperature for a good 20 minutes or so before serving so that the butter in the ermine frosting has a chance to soften.
Recommended Products
As an Amazon Associate and member of other affiliate programs, I earn from qualifying purchases.
Nutrition Information
Yield

8
Serving Size

1/8 3-layer, 6" cake
Amount Per Serving
Calories

782
Saturated Fat

37g
Cholesterol

86mg
Sodium

458mg
Carbohydrates

77g
Fiber

1g
Sugar

51g
Protein

7g
And there it is, gang. A beautiful, tender red cake with perfect white frosting. For my money, it doesn't get more old school or more Southern than that.
Thanks so much for spending some time with me today. Take care, and have a lovely day.