This classic 1234 cake (also written 1-2-3-4 cake) is a great recipe to commit to memory. And to my palate, it also gives me the classic flavor and texture of The Perfect Birthday Cake.

This old-fashioned yellow cake recipe has the added benefit of being easy to remember.

Enjoy this 1 2 3 4 cake recipe with pretty much any frosting you can think of.

Find all my cake recipes in one place for easy browsing. Enjoy!
See my old-fashioned yellow cake (1-2-3-4 Cake) web story here.
✔️Skill Level: Beginner
✔️Skills: The Creaming Method (linked)
✔️Type: Yellow Butter Cake
✔️Number of Ingredients: 8
✔️Prep Time: 15 minutes
✔️Cook Time: 40 minutes
✔️Yield: 12-16 servings

Jump Straight to the Recipe
The Best Birthday Cake Recipe
As I said in the introduction, a 1234 cake is my idea of the best kind of birthday cake.
Moist and flavorful, the cake rises high, resulting in two tall layers (or four, if you torte them) that have a lot of "presence."
Since the cake has 4 eggs in it, it is fairly rich and a beautiful buttery yellow color.
Compared to a modern "standard" yellow cake, it's also sweeter and contains a bit more flour.
The extra flour makes it pretty "sturdy," but not in a bad way.
It's the kind of cake you could easily carve or sculpt if you needed/wanted to.
If this type of old-fashioned cake appeals to you and you decide to make it, I have a favor to ask:
When you do make this recipe, it will help me and other readers if you:
✅Rate the recipes using the stars in the recipe card⭐⭐⭐⭐⭐
✅Leave a review when prompted in the recipe card✍️
✅Leave a comment on the post📝
Thank you!😘
1-2-3-4 Cake Formula
A 1 2 3 4 cake is an old-fashioned yellow cake recipe.
Versions of this cake have been around for decades.
This is an old, old recipe.
The amounts of the four main ingredients are easy to remember, making this an excellent cake formula to keep in your head in case you find yourself in Dire Need of Cake with nary a cookbook or Hinternets to be found.
Here's all you have to remember:
1 cup of butter (2 sticks/8 oz)
2 cups of sugar (14 oz)
3 cups of cake flour or all-purpose flour (13-14 oz)
4 eggs (about 7 oz)
You'll also need
1 level teaspoon of fine salt (or a slightly rounded teaspoon of kosher salt)
1 Tablespoon baking powder (3 teaspoons, 1 teaspoon per cup of flour)
1 cup of milk
1 Tablespoon of vanilla
Another thing about the batter for this cake: it tastes exactly the way cake batter ice cream wishes it tasted but doesn't.
How to Make This Old-Fashioned Yellow Cake
In this section, I'll go over the ingredients you will need, offer substitutions where applicable, and walk you through the mixing method.
Ingredients and Substitutions
butter: Adds richness, tenderness, assists in browning, and carries flavor. I use unsalted. If you have salted, go ahead and use that. You will probably be able to cut down the additional salt by half. You may also use a plant-based butter
sugar: Adds sweetness, tenderness, helps to retain moisture, and assists with browning. Regular granulated sugar is called for. You may also use the cup for cup granulated sweetener of your choice such as Lakanto Monkfruit or Swerve.
salt: Enhances the flavor, especially of the butter and egg. Use fine salt or kosher. If using kosher salt, you will want to use a slightly rounded teaspoon instead of a level teaspoon.
vanilla: Rounds out the flavor and adds some woody and floral notes. Use the vanilla you have. No need to go out and buy the primo kind
eggs: Provides structure, moisture, some additional fat and emulsifiers, and promotes browning. I use large eggs. For a no-egg version, you can use an egg replacer such as JUST Eggs or your favorite egg substitute. (That link shares 4 different substitutes you can try)
flour: Adds bulk and structure, holds onto some moisture as well. You can use all-purpose or cake flour. If you use cake flour, the cake will be a bit more tender and may not rise quite as high, so it comes down to personal preference
baking powder: chemical leavener. I use Rumford brand.
milk: Lightens the cake, keeping the batter from being too dense. You may use whole milk or 2% or any plant-based milk you prefer.
Tips on Making a 1234 Cake
This recipe makes a Rather Lot of batter.
The original recipe, slightly adapted from Carole Walter's Great Cakes cookbook calls for this to be baked in a 10″ tube pan.
If you're going to bake layers, you'll have enough batter to make 2 8″ or 9″ x 2″ layers.
Make sure you're baking in pans with 2″ sides. Those 1 1/2″ jobbies from the grocery store won't hold it. I love the Fat Daddio cake pans with 2″, straight sides.
Jenni's Pick
This is an affiliate link which means I earn from qualifying purchases. Your price is unaffected.
Fill your pans only half full. Trust me. As added insurance, put your cake pans on a sheetpan before baking, just in case there's any spillover.
You can also bake this cake as a yellow sheetcake.
Separate the batter into different bowls, tint each a different color,and use it as the base for my Halloween Monster Cake.
Since a 1234 cake has more of a pound cake texture, it's a great cake for carving and decorating. You can use it as the base for my Easter Bunny Hill Cake or my Graveyard cake.
Jenni Says: For the moistest cakes, wrap the layers in plastic wrap while still hot and let them cool. This will ensure all the moisture stays in the cake rather than evaporating during cooling.
Best Frosting for a Yellow Cake
One of my favorite frostings for this cake is the melted chocolate bar frosting from Jill O'Connor's book, Cake, I Love You. You can find that recipe in the post for my rocky road cake.
In the photos in this post, I used my fluffy caramel frosting recipe. Yellow cake with caramel frosting is a lovely, old-fashioned flavor combination.
Qeustions?
Looking for more old-fashioned cake recipes? Give my Butterscotch Cake a try. You won't be sorry!
A Note on Measurements
The majority of my recipes are written by weight rather than volume, although by its nature, a 1234 cake is designed to be made by volume.
Still, I implore you to buy a scale, both for accuracy and consistency. This is the scale I use, love, and highly recommend:
For convenience, consistency, and accuracy, almost all my recipes are written by weight, either in ounces and/or grams, even the liquids.
I strongly encourage you to purchase a kitchen scale and learn to use it.
This is the one I used for years. I love it and highly recommend it:
Best for Home Use
Escali Primo Digital Food Scale
Don't let its small price and small size fool you. The Escali Primo is an accurate and easy-to-use food scale that I have used for years. It's easy to store, easy to use, has a tare function, and easily switches between grams and ounces/pounds for accurate measurements.
This is an affiliate link which means I earn from qualifying purchases. Your price is unaffected.
It would be so helpful to me and to other readers that, when you make a recipe, you rate it and leave a comment. Whether it's a recipe or an informational post, your feedback helps others decide if the post is helpful or if the recipe works as advertised.

If you could leave a star rating, that would be very helpful. Thank you for being here!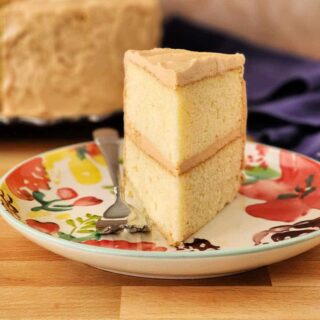 1234 Cake Recipe
The Birthday cake childhood dreams are made of, if childhood dreams of birthday cakes include the best yellow cake in the world. 1234 cake should be your go-to old-fashioned yellow cake recipe.
Ingredients
For the Cake
1

cup

butter

(2 sticks/8oz)

1

teaspoon

fine sea salt

1

Tablespoon

best quality vanilla

2

cups

granulated sugar

(14oz)

3

cups

sifted cake flour

(13oz)

4

large eggs

, lightly beaten

1

Tablespoon

baking powder

1

cup

milk

(I used whole milk)
Instructions
For the Cake
For the best and most stable emulsion, make sure all your ingredients are at cool room temperature.

Preheat the oven to 350F.

Spray 2 9"x2" cake pans with pan spray.

Line the bottoms with parchment circles and set aside.

Whisk together the flour and baking powder. Set aside.

Cream the butter until smooth.

Add the salt, vanilla, and sugar and continue to cream until very light and fluffy. Scrape the bowl and beater as necessary.

With the mixer running, slowly drizzle the eggs in, a bit at a time, until completely incorporated. This should take about 5-6 minutes. Scrape the bowl as necessary.

Add the dry ingredients alternately with the milk: 3 additions for the dry and 2 for the milk, beginning and ending with dry.

Do this on low speed and don't take longer than a minute for the whole process. Scrape the bowl as necessary. You may have to finish mixing by folding with a spatula, but that's okay. Better that than over-mixing your batter.

Scrape into the prepared pans. Do not fill them more than half full. If you have extra batter, make a few cupcakes.

Bake the pans in the center of the oven until they are well risen, firm to the touch and and a lovely golden brown. A tester inserted into the center of the cake should come out clean. Depending on your oven and pan size, this could take anywhere from 35-45 minutes or longer, so keep an eye on them.

When done, remove from the oven and let sit on racks for 10-15 minutes.

Turn out on racks, wrap tightly in plastic wrap and either let come to room temperature or put them in the refrigerator or freezer for more rapid cooling.

Once cooled, serve plain with some whipped cream or ice cream, or fill and frost as desired.
Did You Make Any Changes?
Notes
Since this cake is more pound cake-ish, the outer crust can be a bit crisp if you let it cool at room temperature without wrapping it in plastic wrap. Use a serrated knife to slice off the crisp bit on the top. This will also let you level the cake if it has domed slightly in the oven.
THE CREAMING METHOD
Please watch the video in the recipe card to see the creaming method in action, especially the modified way I make it, beating the eggs before slowly adding them into the batter.
TIPS ON MAKING A 1234 CAKE
This recipe makes a Rather Lot of batter.
The original recipe, slightly adapted from Carole Walter's Great Cakes cookbook calls for this to be baked in a 10″ tube pan.
If you're going to bake layers, you'll have enough batter to make 2 9″x2″ layers.
Make sure you're baking in pans with 2″ sides. Those 1 1/2″ jobbies from the grocery store won't hold it. And if you have any question about whether all the batter will fit into your pans, err on the side of caution and bake a couple of cupcakes, too.
Fill your pans only half full. As long as you are using fresh baking powder, this cake rises really nicely, and you don't want your cake to end up rising up and spilling over.
Storing: Store the frosted cake at room temperature for up to 5 days. For longer storage, freeze individual slices and allow them to stand at room temperature for about an hour before serving.

NOTE that the calculated calories are for cake plus frosting.
Nutrition
Serving:
1
g
Calories:
426
kcal
Carbohydrates:
62
g
Protein:
6
g
Fat:
18
g
Saturated Fat:
11
g
Polyunsaturated Fat:
6
g
Trans Fat:
1
g
Cholesterol:
104
mg
Sodium:
454
mg
Fiber:
1
g
Sugar:
35
g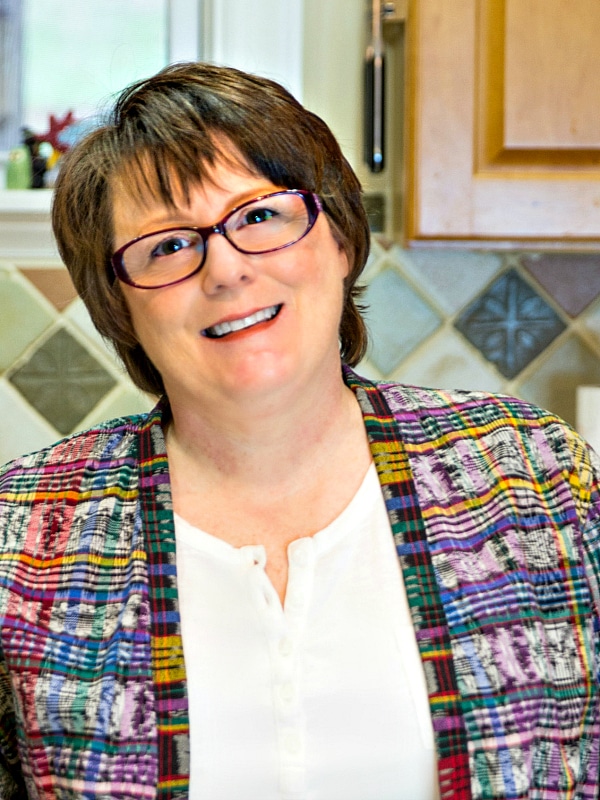 What are my qualifications to teach you baking and pastry? As a former working pastry chef and special educator, I marry my passions for both teaching and for baking into explaining techniques, methods, and developing the best possible recipes. For more info, you can read more about me.
If you'd like to receive new recipes and the occasional newsletter, I'd love for you to sign up for my Inbox Pastry Chef.
Enjoy the cake, friends!
Thanks for reading, and I hope you have a lovely day.