Friends, today I'm bringing you this easy recipe for a butterscotch sheet cake. This guy is actually one of those Depression-era wacky cakes that I have modified slightly for a butterscotch flavor profile.

The frosting is made with homemade butterscotch sauce whipped into cream cheese and powdered sugar, and it's so good, it's worth the price of admission right there!

If you'd like to make a layered cake, try my butterscotch cake recipe. It's perfect for a celebration.

For ease of browsing, here are all of my cake recipes in one place. Thanks for stopping by!
This post is sponsored in conjunction with #SpringSweetsWeek. I received product samples from sponsor companies to help in the creation of my recipes. All opinions are my own.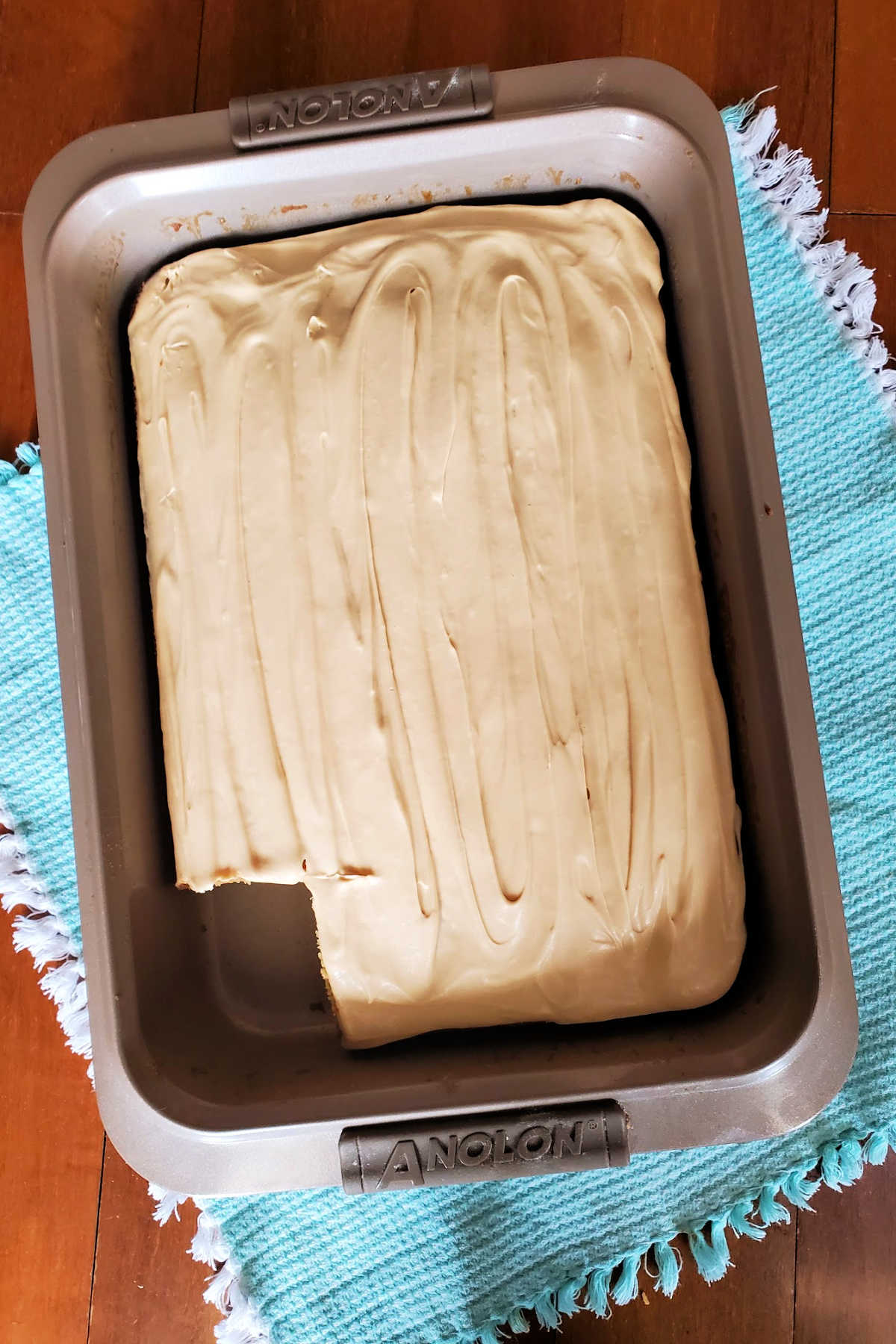 Wacky Cake
Desperate times sometimes call for desperate measures, my friends. And when One is in need of cake and one doesn't own eggs, butter, or milk, then one makes a wacky cake.
It's a super moist cake leavened by the bubbles created when vinegar and baking soda react.
I decided I need a butterscotch version of a wacky cake, so I did use melted butter in place of the oil in the original recipe, and I used a mixture of brown and white sugar instead of all white sugar.
Because, as we know, butterscotch flavor is created by cooking sugar and butter together, along with a bit of molasses, until the sugar caramelizes and the butter browns. So I felt the need to use both brown sugar and butter in the cake.
Please note that if you don't have butter, you can absolutely substitute vegetable oil. And if you only have white sugar, use that.
Believe me, your cake doesn't have to be made just like mine in order for it to taste good!
What Makes This Cake So Great?
It's an easy cake to put together, and the amounts of ingredients are easy to remember.
You can scale it in half to make it in an 8″ x 8″ pan or make a full recipe for a 9″ x 13″ pan.
Even if you don't own milk, a lot of butter, or eggs, you can make this cake, and it is super moist and stays that way for several days.
Since it only contains a small amount of butter (or oil if you don't have butter), it stays soft even straight out of the fridge.
Butterscotch Sheet Cake Ingredients and Substitutions
For the Cake
all-purpose flour: Feel free to substitute cake flour for the AP. The texture will be a bit more fine if you use cake flour, and that's never a bad thing. Do not use bread flour or your cake will turn out a bit on the chewy side. Read more about how to choose the right kind of flour here.
sugar: Sugar does so many things in a recipe: brings sweetness, moistness, tenderness, browning. In this recipe, I use half granulated and half brown sugar
brown sugar: Since butter and brown sugar are the backbone of butterscotch, I use some brown sugar in the recipe. I used dark brown sugar. If for some reason you don't have granulated, you can use all brown sugar, but in that case, go with light brown sugar. If you don't have any brown sugar, add a tablespoon of molasses to white sugar
baking soda: This is what leavens this cake. When the acidic vinegar reacts with the basic (high pH) baking soda, tons of wee bubbles are released. Since this is the sole leavener, it's important to get the cake into the oven quickly so you don't lose all the bubbles and end up with a flat cake.
fine salt: table salt or fine sea salt will work great. If all you have is kosher salt, use about 1 1/2 teaspoons. This is slightly more salt than I'd normally use in a cake, but salt is also a prominent part of the butterscotch flavor profile.
vinegar: reacts with the soda to leaven the cake.
vanilla extract: rounds out the flavor. You can leave it out if you'd like. You can also replace the vanilla with coffee extract if you happen to have some. Yum!
melted butter: Most wacky cakes call for oil, but again: butterscotch. So that's why we use melted butter here. You can substitute neutral vegetable oil if you prefer. There will still be plenty of butterscotch flavor in the frosting.
water: provides the liquid for the sheet cake. If you have milk, you may substitute whole or 2% for the water. The resulting cake will be a touch richer and may brown more quickly, so keep an eye on it.
For the Frosting
butter: butter, brown sugar, and salt are the only 3 ingredients necessary for butterscotch. The first step in making a butterscotch frosting is to make butterscotch. And that's what you'll do! Note the recipe makes more sauce than you'll need to make the frosting.
brown sugar:
salt:
cream or half and half: Either will work here. Do not substitute milk.
cream cheese: provides a delicious tang to the frosting as well as body and creaminess. You can substitute neufchatel cheese. Do not use cream cheese spread from a tub. It won't be firm enough.
powdered sugar: Adds additional body and a "frosting consistency." Without the powdered sugar, the frosting would be too dense. Whipping it with powdered sugar beats some air into it to make it a bit more fluffy.
Procedure
Here's how you make the butterscotch sheet cake:
Whisk flour, baking soda, salt, sugar, and brown sugar together really well.
Dump the dry ingredients into your greased 9″ x 13″ pan and spread them out evenly.
Make 3 holes in the flour mixture, 2 small, and 1 large.
Pour vinegar and vanilla extract into the 2 smaller holes.
Pour melted butter or oil into the larger hole.
Pour cold water over all and mix until smooth.
Bake at 350F until done, about 30 minutes.
The cake can cool right in the pan, then all you need to do is spread on your frosting.
NOTE: the Anolon pan worked really well. There was really no sticking and after the cake was gone, the pan was extremely easy to clean.
And as an added bonus, the Anolon-branded silicone strips on either side make it easy to grip the pan with hot pads with no slipping. Makes it really easy to take the pan out of the oven.
Thanks, Anolon!
Flavor Profile
You'll see in the video of me making the frosting below that I say the cake tastes oddly of Chex cereal, and it really does.
Think of the flavor of Wheat Chex, but softer and with "cake texture."
The butter and brown sugar must have something to do with it, along with getting more "flour" flavor since there are no eggs or milk to mute what is usually a pretty subtle flavor.
Once you add the butterscotch icing, it really does read as a moist butterscotch snack cake. I think you will really enjoy it.
Making the Frosting
Each component of this butterscotch sheet cake contains elements of real butterscotch. For the frosting, you start by making butterscotch.
This recipe will make much more than you need for the frosting. Use the rest as an ice cream sauce, or just make a ton of frosting to put on whatever you'd like!
Here's video of me making the butterscotch on a live video so you can see exactly how I do it.
The short version is:
melt butter
add salt and brown sugar, and bring to a boil
cook until the butter browns and the sugar caramelizes
carefully add half and half (or heavy cream)
stir until smooth
cool and chill
NOTE: In the video, I made twice as much butterscotch as is in the recipe. You can absolutely make the full batch. Just know you'll have tons left over for ice cream or for making more frosting. Or for stirring into hot milk for a butterscotch beverage!
Once you've made the butterscotch, the frosting is very easy.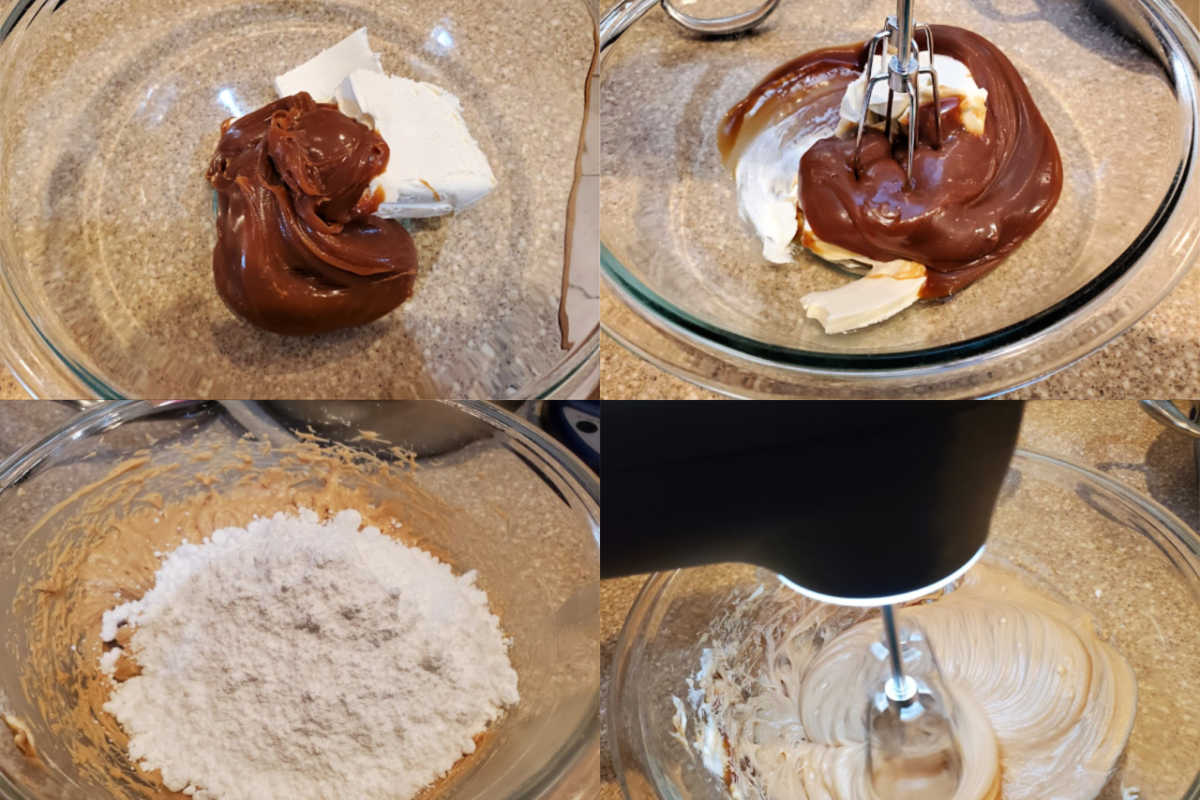 All you do is beat softened cream cheese until smooth, and then beat in some of your butterscotch sauce, a pinch of salt, some powdered sugar, and a touch of vanilla.
And that's it. It's very easy and unbelievably tasty!
Q & A
Can I make this taste even more butterscotchy?
Yes! You can add in another layer of butterscotch flavor by poking little holes in the cake with a skewer. Then liberally brush on some of my butterscotch coffee syrup. Let it soak in for a few minutes before covering the cake with your frosting. Yum!
Can I make a gluten-free butterscotch sheet cake?
The easiest way to make this cake gluten-free is to use your favorite cup for cup gluten-free flour blend. You won't need to make any other changes to the recipe.
How long does the cake keep?
Keep the cake and any leftovers in the fridge. As I said, it'll stay nice and soft since there is a minimal amount of butter in it. The one I made is still going strong after five days, and we're down to the last 2 pieces. I think it will stay perfectly delicious for about a week.
Does the cake freeze well?
Yes, it does. My vote is to freeze the cake before frosting it, wrapping it well (in the pan if you don't need the pan for anything else for a while) in both plastic wrap and foil. The cake will be fine in the freezer for at least a month. Thaw it in the fridge, still wrapped, and then frost and enjoy.
For convenience, consistency, and accuracy, almost all my recipes are written by weight, either in ounces and/or grams, even the liquids.
I strongly encourage you to purchase a kitchen scale and learn to use it.
This is the one I used for years. I love it and highly recommend it:
Best for Home Use
Escali Primo Digital Food Scale
Don't let its small price and small size fool you. The Escali Primo is an accurate and easy-to-use food scale that I have used for years. It's easy to store, easy to use, has a tare function, and easily switches between grams and ounces/pounds for accurate measurements.
This is an affiliate link which means I earn from qualifying purchases. Your price is unaffected.
It would be so helpful to me and to other readers that, when you make a recipe, you rate it and leave a comment. Whether it's a recipe or an informational post, your feedback helps others decide if the post is helpful or if the recipe works as advertised.

If you could leave a star rating, that would be very helpful. Thank you for being here!
Thanks, and enjoy! And don't forget to keep scrolling to see everyone else's recipes, too!
Butterscotch Sheet Cake
This butterscotch sheet cake is based on a wacky cake, so you know you can make it even if you don't have milk, eggs, or butter.
The butterscotch frosting starts with homemade butterscotch sauce, and together with the cake, you end up with a delightful butterscotch snack cake your whole family will enjoy.
Ingredients
For the Cake
3

cups

all purpose flour

1

cup

white sugar

1

cup

brown sugar

packed

2

teaspoons

baking soda

1

teaspoon

fine salt

table salt is fine

2

teaspoons

vinegar

1

Tablespoon

vanilla extract

10

Tablespoons

1 1/4 stick or 5 oz unsalted butter, melted

2

cups

cool water
For Butterscotch Sauce
1

stick butter

¾

cups

brown sugar

dark or light, packed

heavy pinch of salt

3

oz

about 1/3 cup heavy cream or half and half
To Make the Frosting
4

oz

1/2 block cream cheese, softened

¼

cup

plus 2 Tablespoons butterscotch sauce

chilled

pinch

of salt

taste after mixing and add more as needed

1

teaspoon

vanilla extract

1-1 ½

cups

powdered sugar

use the higher amount for frosting that sets up a bit better in the fridge. It's plenty sweet and delicious with just the 1 cup, though
Instructions
For the Cake

Grease a 9 x 13 pan with pan spray. Set aside.

Preheat your oven to 350F and set a rack in the center of your oven.

Whisk together the flour, white sugar, brown sugar, baking soda and salt.

Pour into the prepared pan and spread out evenly.

With your finger or the handle of a wooden spoon, make 3 holes in the dry ingredients, 2 small and 1 large.

Pour the vinegar into one small hole, the vanilla into the other small hole, and the melted butter (or oil if you're out of butter) into the large hole.

Pour the cool water over everything and mix in the pan until the batter is smooth.

Bake for about 30 minutes, or until deep golden brown and firm on the top. If you press down in the center of the cake, it should spring back.

Allow the cake to cool in the pan.

For the Butterscotch Sauce

Melt the butter over medium heat.

Add the sugar and salt and stir so everything is moist.

Bring this mixture to a boil, stirring almost constantly.

Cook, still stirring, until the butter browns and the sugar caramelizes. You will be able to smell a caramel smell, the color will darken some, and there may be wisps of smoke starting to come off the mixture.

Turn off the heat and add the half and half or cream all at once. Do this carefully, because the mixture will bubble up vigorously.

Bring to a boil again, stirring, to thicken slightly, about 3 minutes.

Cool and the refrigerate. This will make more than you need for your frosting. Use the extra as ice cream sauce.

For the Frosting

In a medium bowl, beat the softened cream cheese together with the butterscotch sauce until smooth.

Mix in the salt, vanilla, and powdered sugar until smooth.

Spread evenly on your cooled cake, and enjoy.

Did You Make Any Changes?
Notes
Nutrition Information is based on 24 servings. If you cut the pieces larger or smaller, the counts will change.
Nutrition
Serving:
1
g
Calories:
280
kcal
Carbohydrates:
41
g
Protein:
3
g
Fat:
12
g
Saturated Fat:
7
g
Polyunsaturated Fat:
4
g
Cholesterol:
32
mg
Sodium:
310
mg
Sugar:
29
g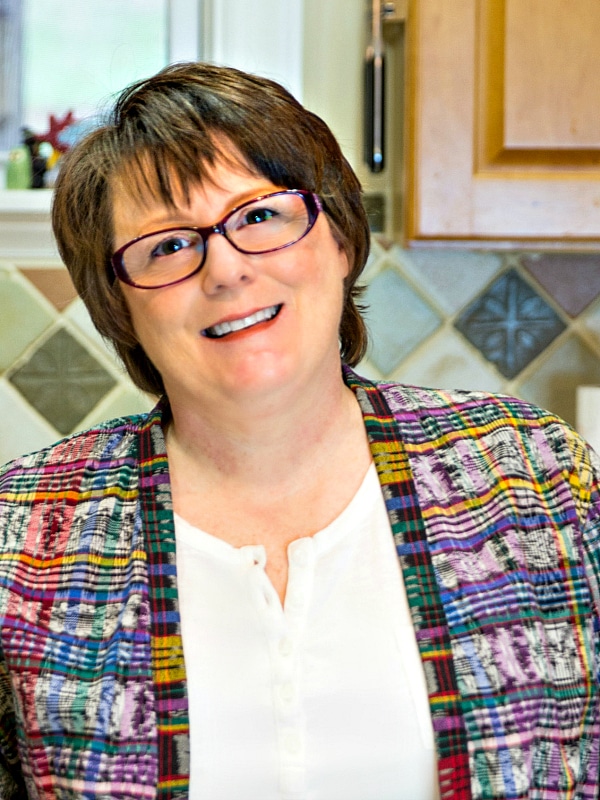 What are my qualifications to teach you baking and pastry? As a former working pastry chef and special educator, I marry my passions for both teaching and for baking into explaining techniques, methods, and developing the best possible recipes. For more info, you can read more about me.
If you'd like to receive new recipes and the occasional newsletter, I'd love for you to sign up for my Inbox Pastry Chef.
#SpringSweetsWeek
Welcome to #SpringSweetsWeek 2020 hosted by Heather from
Hezzi-D's Books and Cooks!
What better way to celebrate the warmer weather and flowers blooming than with food and a fun giveaway? 27 bloggers from around the country have come together to share over 100 sweet recipes perfect for spring! So stop thinking about cold and snow and get ready to enjoy the best spring sweets like cupcakes, cookies, brownies, pies, and even beverages! Our #SpringSweetsWeek sponsors are helping us give away some great prizes. Thank you so much to
Dixie Crystals
,
Millican Pecan
,
Door County Coffee
,
Anolon
,
Deiss Cookware
,
Adams Extract
, and
Fresh April Sprinkles
for your generosity. We have an incredible giveaway below and would love if you would take a moment to read about it and the prizes you can win!
#SpringSweetsWeek Recipes
Here are the other great sweet recipes from the #springsweetsweek bloggers today. Check them out!