Vegans and non-vegans alike will love this vegan Christmas cake.

Flavored with orange and some fancy chocolate bitters, this festive cake will be the hit of your holiday dessert table!

For another, non-vegan version of this cake, see my Chocolate Creamsicle Ombre Halloween Cake.
Another great Christmas cake is my chocolate yule log recipe.

For ease of browsing, here are all of my cake recipes in one place. Thanks for stopping by!
This Cake is Vegan Approved
I brought a version of this cake to a vegan dinner party and the host and all the guests proclaimed it the best vegan cake they'd ever had. Chocolaty, moist, and delicious!
I frosted it with vegan buttercream, using Smart Balance in place of butter, and I decided to frost it "naked" so the chocolate cake showing through would be somewhat reminiscent of birch bark.
Vegan Chocolate Christmas Cake
This cake is delicious. It is moist but not dense–it has just a bit of spring to it when you bite it.
It's deeply chocolatey and also orangey, because I really cannot get enough of the chocolate orange combination.
I flavored both the cake and the frosting with a touch of orange oil, although you could certainly use freshly grated orange zest if you'd rather.
I also added a couple of dashes of Mexican chocolate bitters to the frosting. It sounds fancy, but it's just like adding a dash of vanilla to something.
Once you buy some, you'll have it and will find a bunch of ways to use it. (I'm pretty sure it needs to go in chocolate chip cookies).
Plus, the bitters give a slight chocolate flavor and aroma to the frosting without turning it brown. Sneaky!
How to Make a Chocolate Cake Vegan
The cake base is just Hershey's Perfectly Chocolate Chocolate Cake, a recipe I turn to again and again when I need chocolate cake because it's incredibly moist and very easy to make.
It's one of the few cakes I don't use my mixer to make.
You can see another version here in my Day of the Dead cake.
All I need is two bowls and a whisk.
How To Veganize a Chocolate Cake
Veganizing this cake was really easy, too:
I just swapped out chicken eggs for flax eggs
melted Earth Balance for my usual butter. The original recipe calls for vegetable oil, so that's always an option for the fat as well.
used full fat coconut milk for the milk. You could certainly use any nut milk you prefer, or you could leave out the milk altogether in favor of coffee.
The butter in the frosting is Earth Balance (the tub kind because that's all I had), vegan powdered sugar, orange oil and chocolate bitters. That's it!
Since the tub Earth Balance is soft, you shouldn't add any extra liquid to the frosting to thin it out to spreading consistency. It's already at spreading consistency.
Easy!
Whether or not you're vegan, this vegan chocolate Christmas cake will make a striking centerpiece on your table, and you can dress him up however you want.
Is This Cake Hard to Make?
No, I promise it's not.
As a matter of fact, this cake was featured in the holiday 2019 issue of IMPACT Magazine, and the editor thought it sounded so good that she and her daughter made their own.
See?
Here's what they said about the cake:
I made your cake over the weekend and we loved it! Everyone asked for second helpings.

Brenda Drew, Editor, IMPACT Magazine (and home baker)
So see? You can make and enjoy this cake no matter your skill level. As I said, you don't even need a mixer to make it (but a hand mixer will definitely come in handy for making the frosting!)
Other Seasonal Cake Decorating Ideas
While I am fond of the naked look for this cake, I can also see it topped with sugared cranberries and some rosemary.
Maybe stick a Tasteful Woodland Creature or two on top as well. Or not. Your call.
You could also make small Christmas trees using pretzel rods for the trunks and then drizzling them with green candy melts in the shape of trees (basically a triangle shape). Let them dry and then place the trees either in the top of the cake, press them around the sides, or both!
However you decorate yours, I'd love to see it. Email me or post it to the Pastry Chef Online facebook page.
Let's stop talking about this tasty vegan Christmas Cake and just make it already, okay?
For convenience, consistency, and accuracy, almost all my recipes are written by weight, either in ounces and/or grams, even the liquids.
I strongly encourage you to purchase a kitchen scale and learn to use it.
This is the one I used for years. I love it and highly recommend it:
Best for Home Use
Escali Primo Digital Food Scale
Don't let its small price and small size fool you. The Escali Primo is an accurate and easy-to-use food scale that I have used for years. It's easy to store, easy to use, has a tare function, and easily switches between grams and ounces/pounds for accurate measurements.
This is an affiliate link which means I earn from qualifying purchases. Your price is unaffected.
Vegan Chocolate Christmas Cake
This Vegan Chocolate Christmas Cake is moist and chocolatey and orangey and delicious. A simple American buttercream makes an easy and festive frosting for this guy, too!
Ingredients
For the Cake
8

oz

about 1 3/4 cups all purpose flour

14

oz

2 cups granulated organic sugar

2.25

oz

3/4 cup cocoa powder, sifted

1

Tablespoon

espresso powder

2

teaspoons

baking powder

1

teaspoon

baking soda

1

teaspoon

fine sea salt

8

oz

full fat coconut milk

shaken well

4

oz

melted and cooled Earth Balance

(stick or tub)

2

Tablespoons

flax meal

(whiz it up in a blender or food processor to make it as fine as you can) mixed with 5 tablespoons water

2

teaspoons

vanilla

3-4

drops orange oil or the zest of an orange and/or 1/2 teaspoon orange extract

8

oz

1 cup boiling water
For the Frosting
8

oz

Earth Balance

(I used the tub kind)

16

oz

1 pound or 4 cups vegan powdered sugar

3-4

drops orange oil

(or zest of 1/2 orange and/or 1/4-1/2 teaspoon orange extract)

2-3

shakes chocolate bitters

(totally optional but really lovely)
Instructions
For the Cake
Line 3 6″ (or 2 8″ or 9″) pans with parchment, spray sides with pan spray and set aside.

Preheat oven to 350F.

In a large bowl, whisk together the flour, sugar, cocoa powder, espresso powder, baking powder, baking soda, and salt. Set aside.

In another bowl, whisk together the coconut milk, Earth Balance, flax meal/water mixture, vanilla and orange oil.

Pour the wet into the dry and mix well for about 3 minutes using either a whisk or a large wooden spoon. The batter should be fairly thick and smooth.

Pour in the boiling water and stir carefully to combine–it will take a minute for the water to want to mix with the thick batter, so go slowly and don't splash yourself. Scrape the bowl and stir a bit more.

Pour the batter evenly into the prepared pans. Bake on the center rack for about 30 minutes for the 6″ cakes and maybe 35-40 for 8″ or 9″ cakes or until the cakes read 200F on an instant read thermometer and have just started to shrink from the sides of the pans.

Cool on racks for 15 minutes before turning out to cool completely.

Frost and decorate as desired.
Did You Make Any Changes?
Nutrition
Serving:
1
slice
Calories:
608
kcal
Carbohydrates:
92.2
g
Protein:
3.7
g
Fat:
27.7
g
Saturated Fat:
7.4
g
Sodium:
573
mg
Fiber:
2.5
g
Sugar:
73
g
And here's your printable holiday recipe card. You can click and save it as a pdf or right click to save it as a jpeg. You're also more than welcome to download my three holiday recipe card templates as well.
Thank you so much for spending some time with me today. Have a lovely day.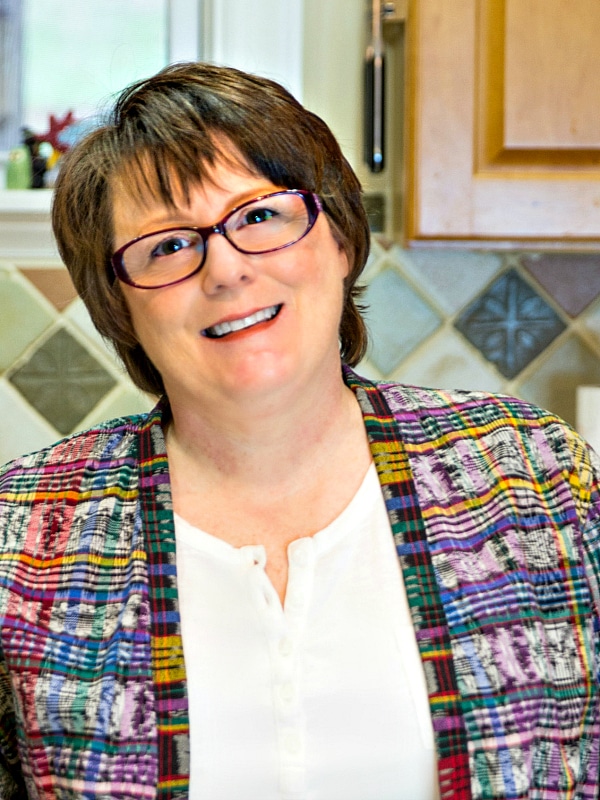 What are my qualifications to teach you baking and pastry? As a former working pastry chef and special educator, I marry my passions for both teaching and for baking into explaining techniques, methods, and developing the best possible recipes. For more info, you can read more about me.
If you'd like to receive new recipes and the occasional newsletter, I'd love for you to sign up for my Inbox Pastry Chef.