Hello, friends! I am excited to provide you a bit of escapism in the form of these ooey-gooey coffee peanut butter sweet rolls. My vote is that you serve them up alongside a frothy mug of beaten coffee.

Today's coffee rolls feature Door County Coffee. Thanks, Door County friends!

This post is sponsored in conjunction with #SpringSweetsWeek. I received product samples from sponsor companies to help in the creation of my recipes. All opinions are my own.

If you are a fan of sweet rolls, you may also want to check out my gooey cinnamon rolls. With just a little bit of tinkering, you can easily make peanut butter cinnamon rolls!

For ease of browsing, here are all of my sweet yeast bread recipes. Thanks for stopping by!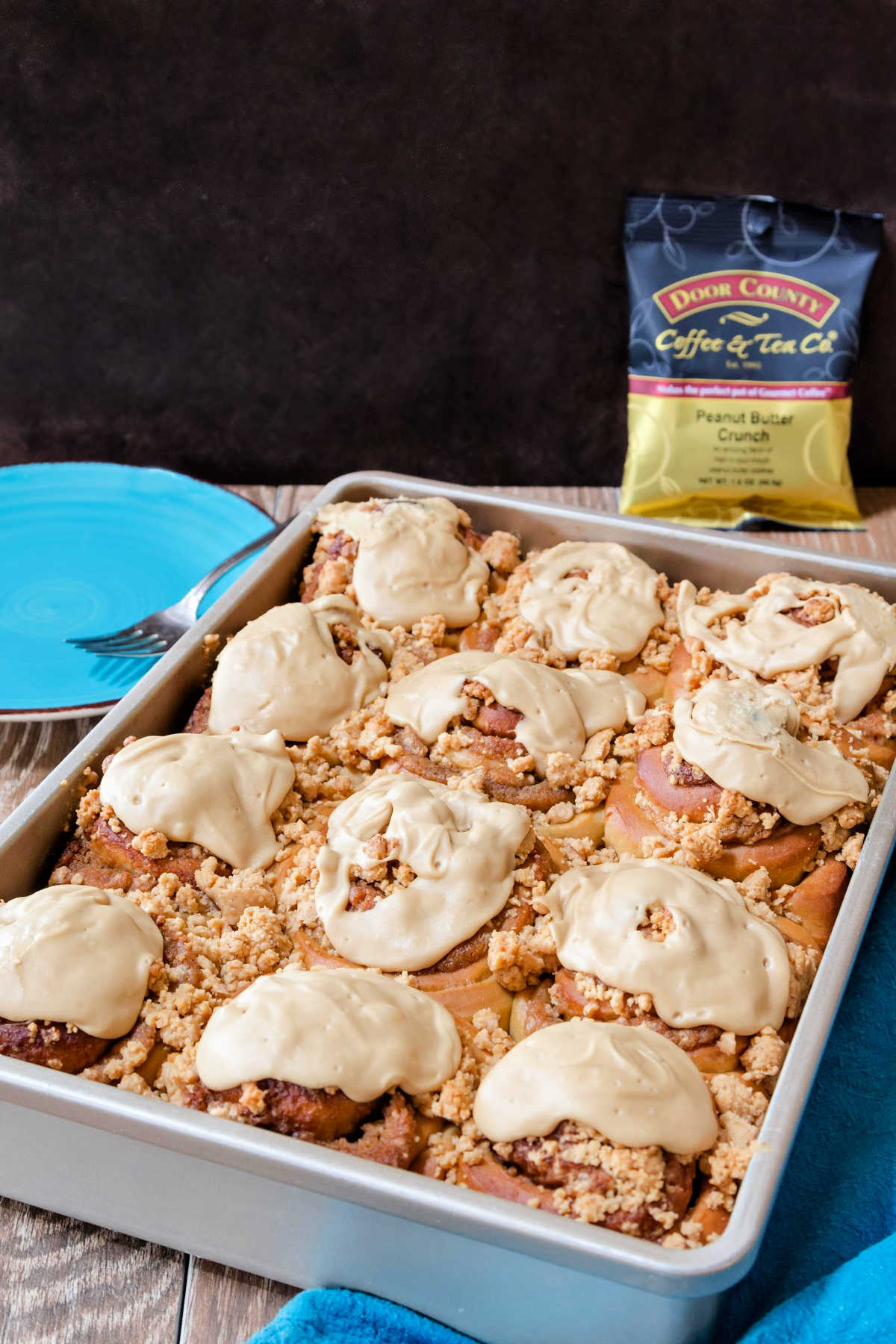 Why This Recipe?
Y'all these peanut butter sweet rolls are really delicious! Plus, they're not hard to make.
Here's what to love about this recipe. Then you can decide if you want to make them yourself.
The dough is soft and beautiful, plus there's coffee in the dough, so even if get a bite that doesn't have glaze, you'll still get great flavor
Two toppings! These sweet rolls are topped with both peanut butter streusel and a thick coffee glaze, so you get double peanut butter and double coffee in (almost) every bite.
After refrigerating, the dough is very easy to work with and won't stick to your counter, even when rolling it out without flour.
What You'll Need
The ingredients for these coffee rolls are pretty straightforward. Note that if you don't have specialty coffee flavors, you can use "regular" coffee and things will work out just fine!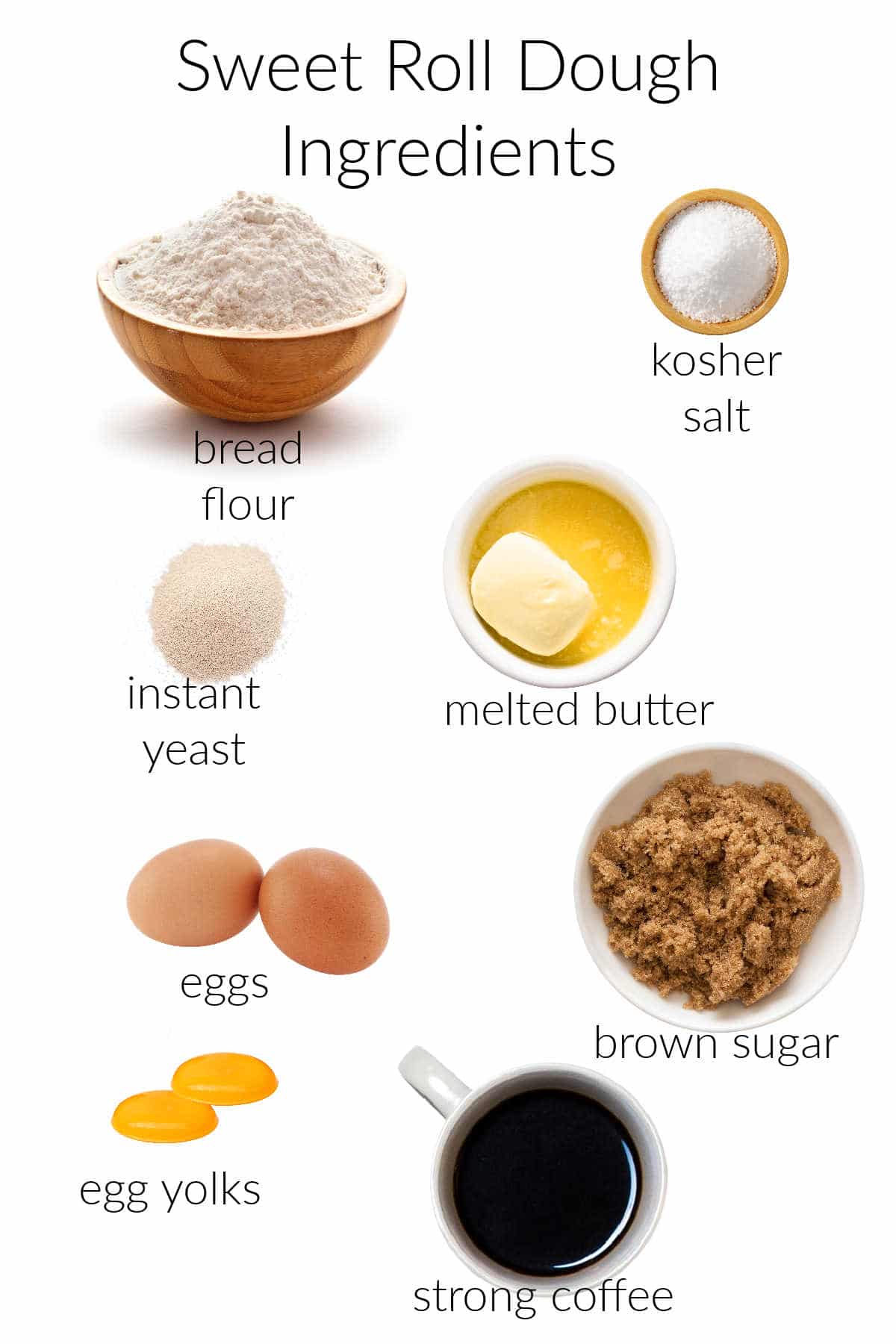 large eggs
egg yolks: I add extra yolks for extra richness. If you think these guys will be rich enough without, you can leave them out, although you may have to add an additional couple of teaspoons of liquid to the dough
brown sugar: you can use either dark brown or light brown sugar. If you don't have brown sugar, you can substitute white sugar. If you own molasses, add a teaspoon or so of molasses to get the brown sugar flavor. If you don't, these rolls will still be delicious using just white sugar
melted butter
kosher salt
bread flour: you can use all purpose flour as well, although you may have to reduce the amount of liquid just a little bit. Do not substitute any low protein flour such as pastry flour or cake flour. That kind of flour does not have enough gluten in it to give you a nice rise, and you will end up with sweet rolls with more of a cakey rather than bready texture.
instant yeast: I like using instant yeast because you can just stir it right in with the rest of your ingredients. If you have active dry yeast, you can use that as well in the same amount. In that case, proof it beforehand in some of the cooled coffee.
strong brewed coffee: the coffee makes up the bulk of the liquid in the dough. It also gives the dough a lovely golden/tan color and of course adds coffee flavor.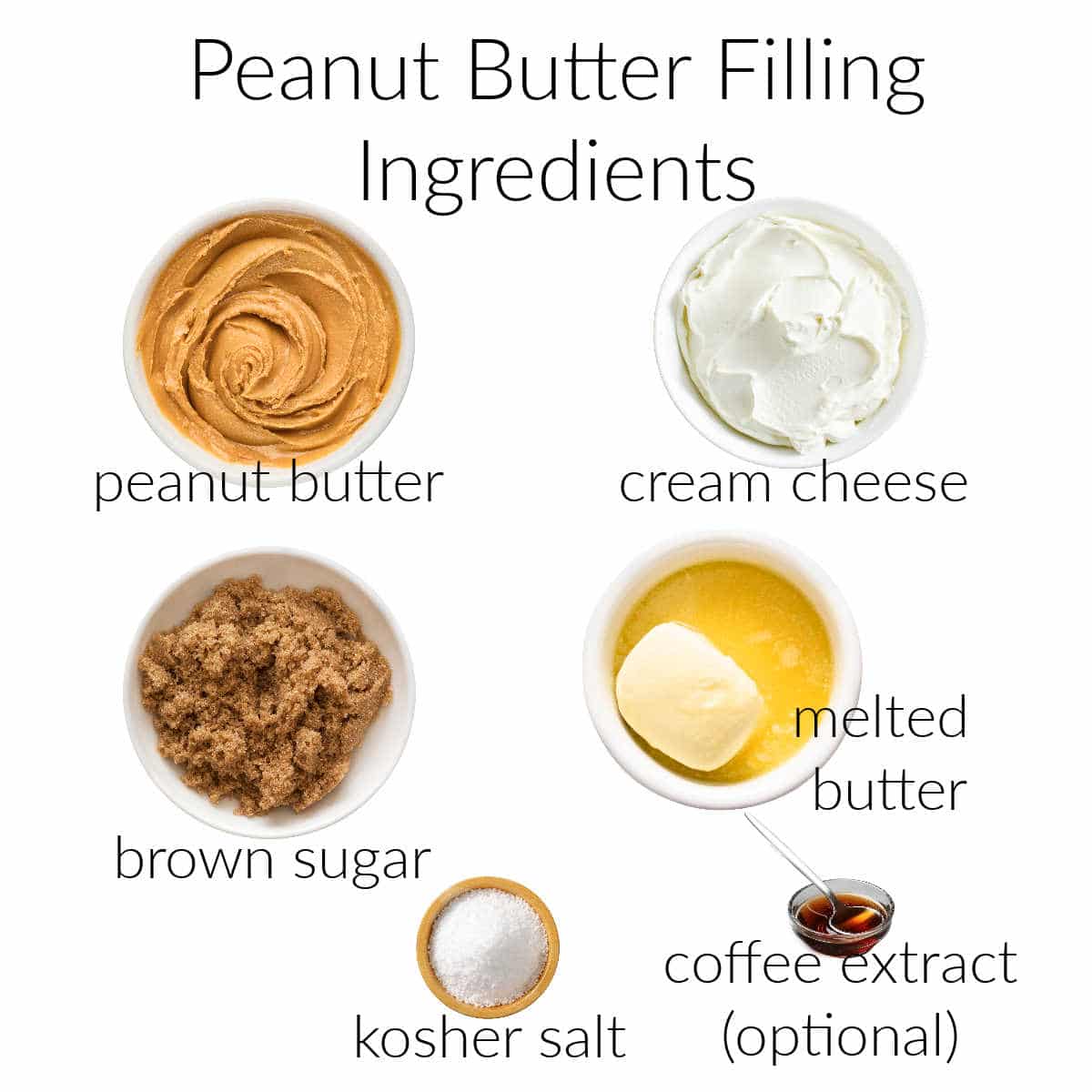 peanut butter: you can use smooth or crunchy, although the smooth kind will make your filling easier to spread on your dough.
cream cheese: I use it for bulk and for subtle tang. And with cream cheese, you could also get away with calling these guys peanut butter cheesecake sweet rolls. Sort of.
brown sugar: provides just enough sweetness to the filling. There's plenty of sweet going on in the glaze and streusel, so the filling doesn't have to be super sweet. You can also use regular granulated sugar if you prefer
melted butter: provides some richness and makes spreading the filling a bit easier
kosher salt: even though there is salt in the peanut butter, it gets diluted by all the other ingredients, so the salt is there to bring out the nuttiness in the filling
coffee extract (optional): if you want to add an additional layer of coffee flavor, coffee extract is the way to go here. You can also use vanilla extract or leave it out entirely.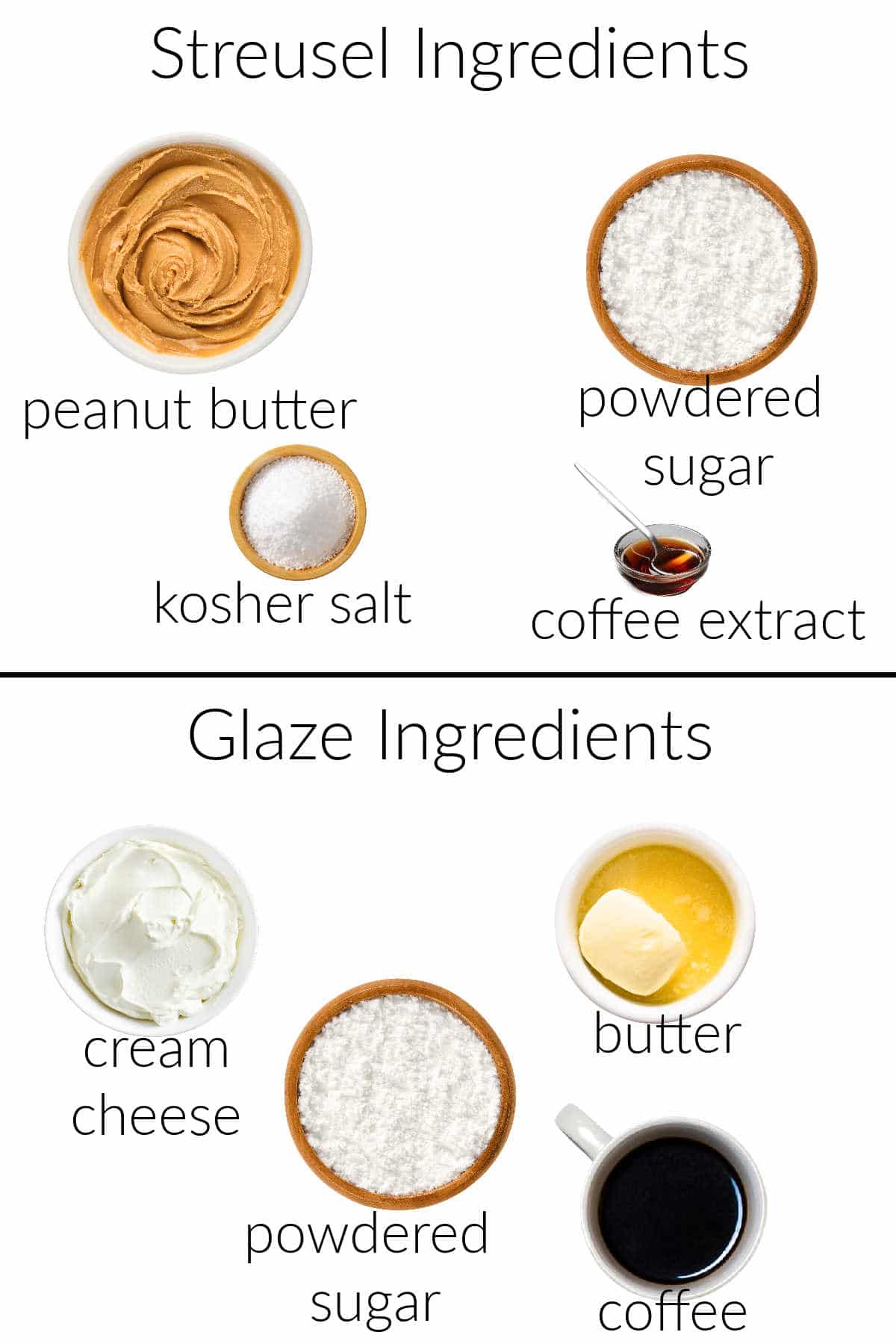 Streusel
This is a very delicate streusel. Most streusel is made with flour, and this one only uses powdered sugar for the dry ingredients.
That means that it bakes up into melting little pillows of peanut buttery goodness and not crunchy pebbles. You're really going to like it, I think!
peanut butter: again, smooth or crunchy is fine. Crunchy will give you a bit of extra textural contrast.
powdered sugar: for sweetness and also to allow the peanut butter to magically turn into little crumbles for sprinkling
salt: again, the salt really is necessary to bring out the nutty flavor. You don't need much, I promise.
coffee extract: optional, but this does give you another way to add coffee flavor
Glaze
At this point, it might be obvious to you that you don't really need glaze.
If you don't find that obvious, you are my kind of person! I mean, what self-respecting sweet roll doesn't have glaze, right?
Now that we have that out of the way, here's what you'll need:
cream cheese
butter: I like to use a combination of cream cheese and butter for the fat in my glazes. Glazes without fat seem fairly flat tasting to me, since they're really only made up of powdered sugar and a liquid. The butter gives it richness and the cream cheese adds a subtle tang
powdered sugar: adds bulk to your glaze as well as providing sweetness. There really is no sub for powdered sugar here.
strong coffee: this is really the only liquid in the glaze, so this is what will dictate the texture. If you like a thinner glaze, use a touch more coffee. If you like yours thick, you may only need 2 teaspoons or so
Making the Dough
This dough is a straight dough, which pretty much means that all the ingredients go into the pool at one time.
I do make a couple of concessions about the order I add things, though.
Yeast does not like salt, so I make sure to put the salt in first with some of the wet ingredients (eggs, egg yolks, and melted butter, in this instance), dump all the flour on top, and sprinkle the yeast on the flour before pouring in the coffee.
Yes, coffee. I usually like to use buttermilk in my sweet rolls, but this time, I used double strength coffee from one of our sponsors, Door County Coffee.
They have a ton of different flavors, and their "Peanut Butter Crunch" flavor inspired me to make what was going to be cinnamon rolls into peanut butter sweet rolls!
At any rate, just add all the ingredients to your mixer in the order I specify, and you will be good to go. Promise!
Rising and Rolling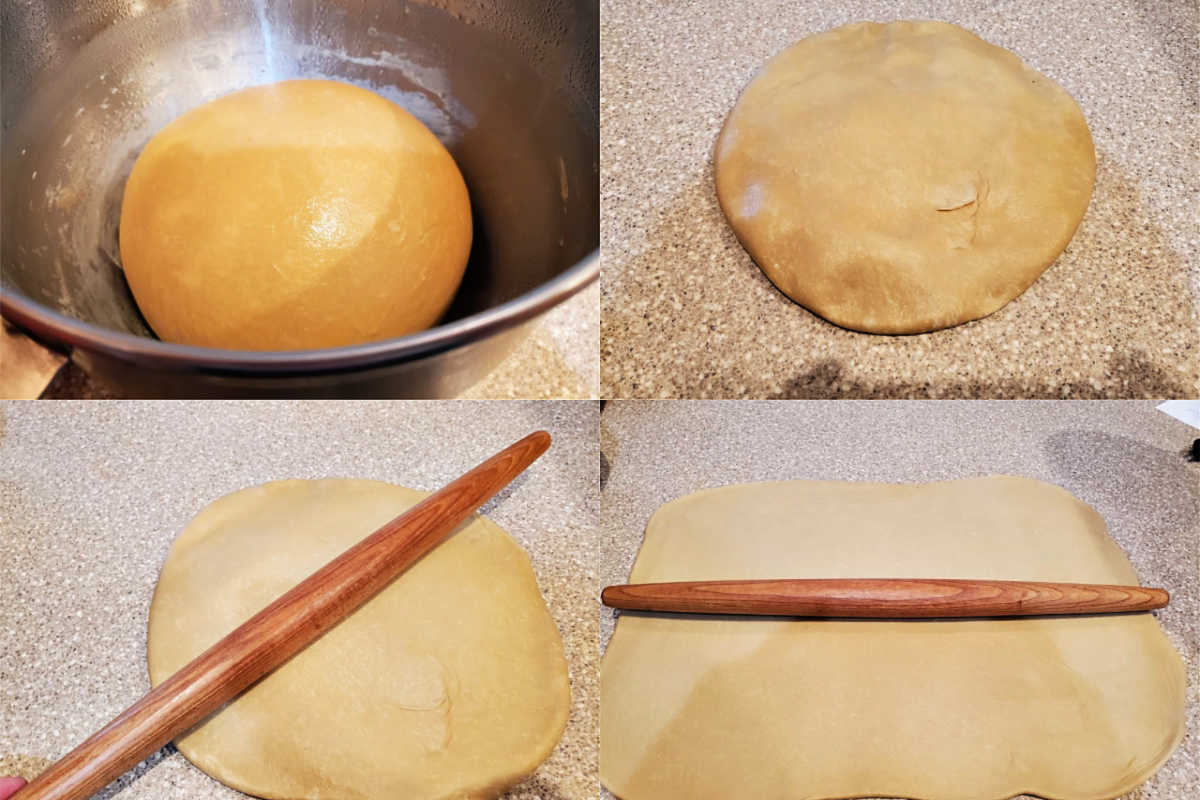 Once you have your sweet dough all beautifully made and kneaded, form it into a ball, spray the top, cover it, and let it rise very slowly in the fridge for at least 8 and up to 24 hours.
It will have gotten noticeably bigger, but it might not be doubled in size.
In the photo above, you can see the risen dough, and then the next three steps:
turning out the dough onto a clean work surface and pressing out all the gases (otherwise known as "punching down.")
starting to roll out the dough into a rectangular shape, and
the finished rectangle, about 18″ long and maybe 14-16″ tall.
How to Mix And Spread the Filling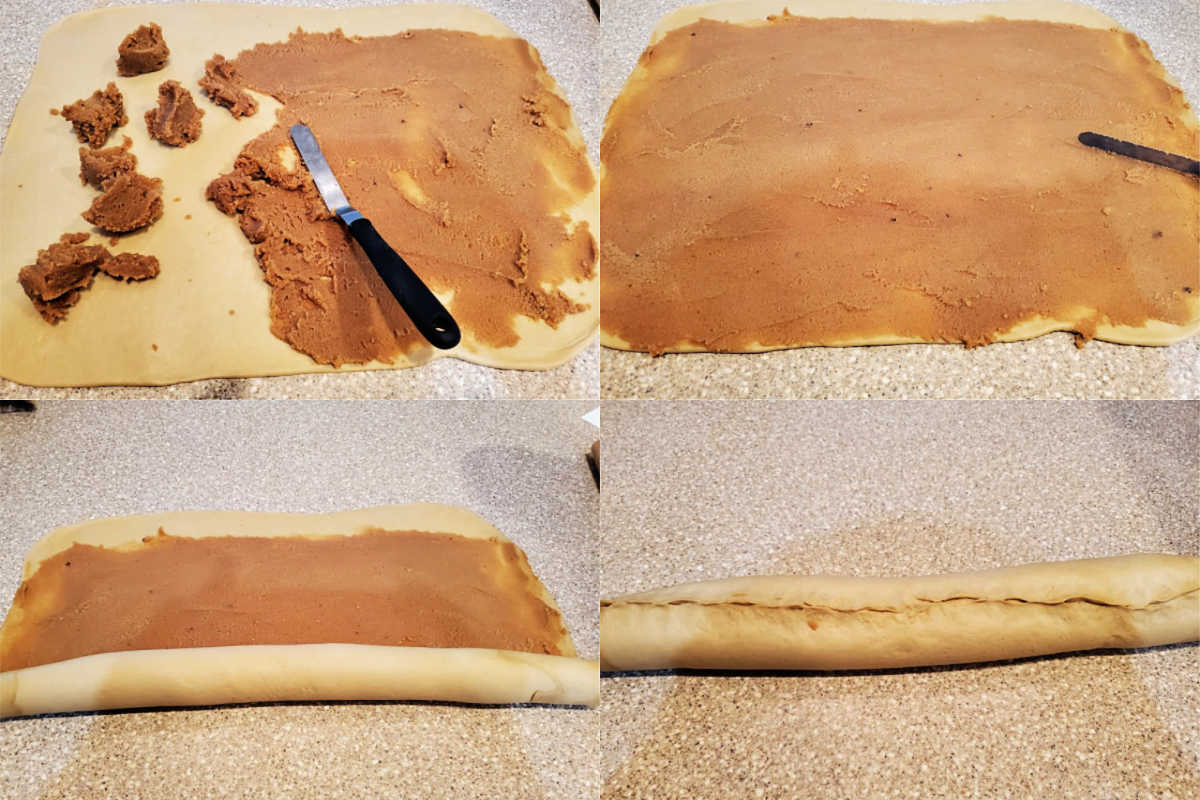 The filling is very easy to make. Just mix all the ingredients together until evenly combined.
That's peanut butter, brown sugar, softened cream cheese, melted butter, a pinch of salt and some optional coffee extract.
You can see how I just dotted the surface of the dough with the filling and then spread it out from edge to edge, keeping about 1 1/2″ clear at the far end.
After rolling the dough up, just pinch the seam together as well as you can.
Don't worry if it doesn't completely seal. They won't unroll because all the rolls will press on each other as they rise and bake.
How to Cut Twelve Even Rolls
I have used both dental floss and a good serrated knife to cut cinnamon rolls and sweet rolls. Either will work.
This time, I used a serrated knife and was perfectly happy with the results. The chilled dough stands up well as long as you saw with the knife and don't press it straight down.
Here's how I cut mine to get the most even slices I can:
First, I cut off the two ends, which aren't very even.
Then I cut the log of dough in half, and the halves in half so I have 4 even pieces of dough.
Cut each quarter of the log into 3 even slices, and voila! 12 rolls!
Place them evenly in your non-stick pan. You do not have to grease the pan.
Secrets to a Good Rise
My favorite way to ensure the sweet rolls rise beautifully is to make them a cozy place in the microwave.


Here's how to do it:
fill a mug with water.
Bring it to a boil in the microwave.
Carefully move the mug over to the side, and then slide in your covered pan of rolls and close the door.
And that's how you make a homemade proof box!
If the second rise takes over an hour, you may have to remove your rolls for a minute so you can reheat the water to keep your proof box nice and warm and humid.
Streusel and Baking
The streusel was my friend Brandy's genius idea. She is the mind and cook behind Nutmeg Nanny, and her Amish Peanut Butter Pie uses little peanut butter and powdered sugar "nuggets."
She suggested I give it a try, and I was all in.
I really love the way the nuggets bake up into sweet, slightly crunchy, peanut butter streusel. They're much more delicate than regular streusel, which is made with sugar and flour.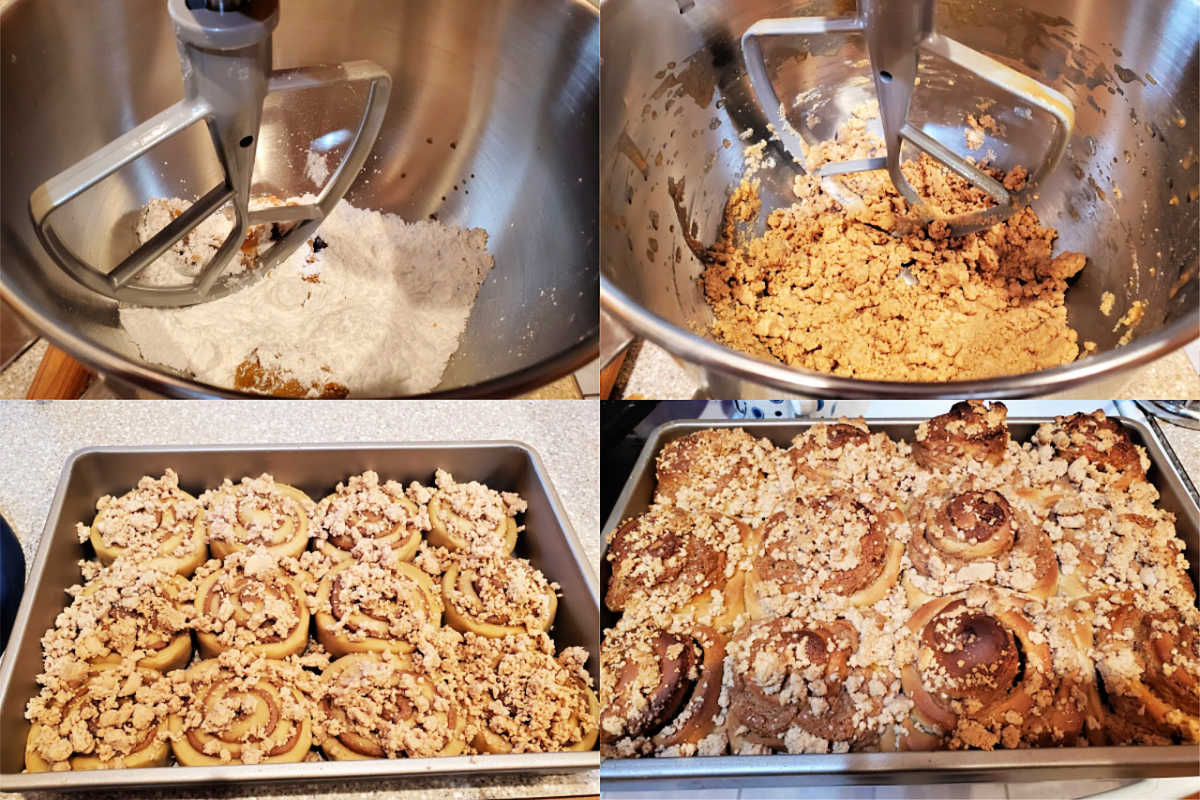 The peanut butter "streusel" is very easy to make in a mixer or with a hand mixer. Just mix up peanut butter, powdered sugar, a pinch of salt, and a tiny bit of (optional) coffee extract.
Sprinkle the sweet peanut buttery nuggets all over the tops of the rolls. If some falls down in between the rolls, that's completely okay.
Bake the rolls for about 35 minutes and just look how gorgeous they are and how much they rise in the oven!
Let them cool, and then glaze them. You can let the glaze set up for a couple of hours, but if you can't wait, I won't blame you. I mean, look y'all. If these aren't the perfect peanut butter sweet rolls, then maybe I'm in the wrong business:
Q & A
Can I turn these into peanut butter cinnamon rolls?
Absolutely. Just add a tablespoon or so of cinnamon to your filling. You may need to add a touch extra butter to make it nice and spreadable.
Can I make these gluten free?
I've not tried to convert this particular recipe, but my friend Sandi from Fearless Dining can hook you up with some gluten free cinnamon rolls with a peanut butter glaze you're going to love.
Do these freeze well?
Yes, they do. Wrap them individually in double layers of plastic wrap and put them in freezer bags. Be sure to press out as much air from the bags as you can before closing them. Defrost/thaw at room temperature and then warm them in the oven or in the microwave, or put them in the microwave to thaw and heat up.
How long will these last at room temperature?
Like most homemade sweet yeast breads, these guys really are best the day you make them. You can get another day out of them as long as you rewarm them to serve. Beyond that, freeze them for longer storage.
A Note About Measurements
For convenience, consistency, and accuracy, almost all my recipes are written by weight, either in ounces and/or grams, even the liquids.
I strongly encourage you to purchase a kitchen scale and learn to use it.
This is the one I used for years. I love it and highly recommend it:
Best for Home Use
Escali Primo Digital Food Scale
Don't let its small price and small size fool you. The Escali Primo is an accurate and easy-to-use food scale that I have used for years. It's easy to store, easy to use, has a tare function, and easily switches between grams and ounces/pounds for accurate measurements.
This is an affiliate link which means I earn from qualifying purchases. Your price is unaffected.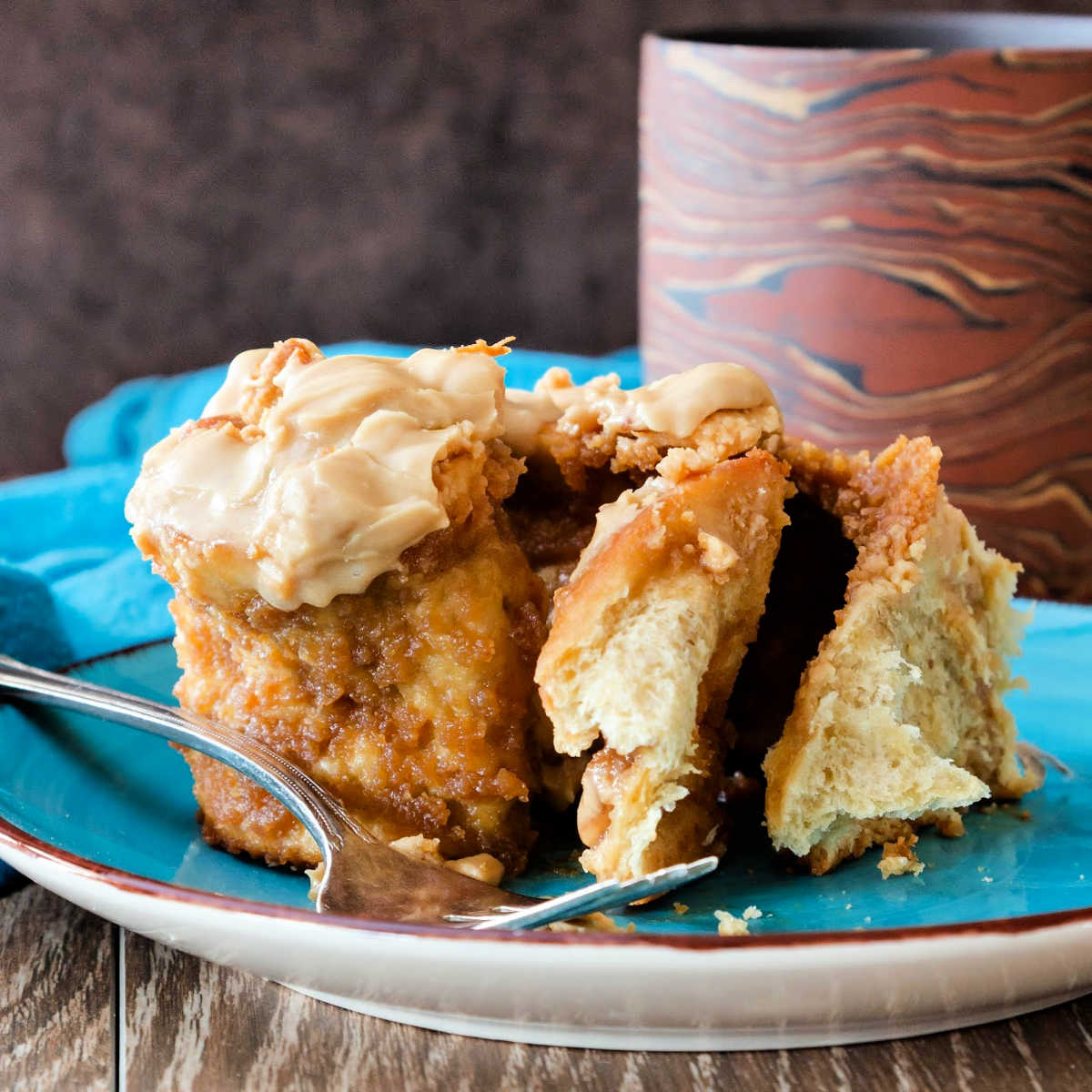 It would be so helpful to me and to other readers that, when you make a recipe, you rate it and leave a comment. Whether it's a recipe or an informational post, your feedback helps others decide if the post is helpful or if the recipe works as advertised.

If you could leave a star rating, that would be very helpful. Thank you for being here!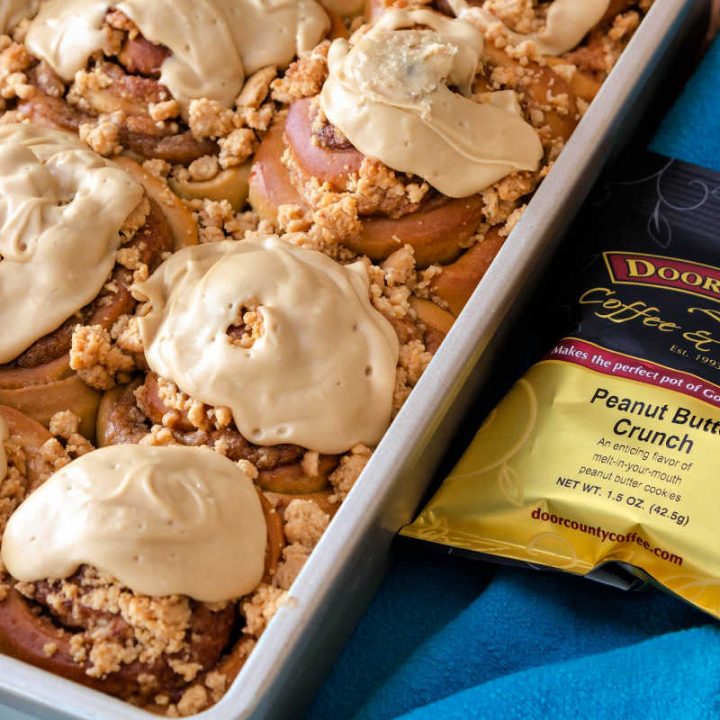 Peanut Butter Sweet Rolls Recipe
These peanut butter sweet rolls are made with sponsor Door County Coffee in the dough and in the glaze. The filling is a gooey mixture of brown sugar, peanut butter, cream cheese, and melted butter. Feel free to add some cinnamon to your filling to make peanut butter cinnamon rolls. You'll love the sweet little nuggets of peanut buttery streusel on top, and you won't want to miss the cream cheese coffee glaze.
The long, slow overnight rise–which you can push to 24 hours if necessary–gives to plenty of down time to do other things. After you pull the dough from the fridge, roll it out, spread on the filling, roll, slice, add the streusel, bake, and then glaze.

All in all, these coffee peanut butter sweet rolls are rich, gooey, something a little bit different, and perfect to share for brunch or whenever a comforting peanut butter smackerel is necessary.
Ingredients
For the Dough
2

large eggs

2

egg yolks

2

oz

brown sugar

4

oz

unsalted butter

melted and cooled to warm

1 ¼

teaspoon

kosher salt

I use Morton's

20

oz

bread flour

2

teaspoons

instant yeast

6

oz

double strength coffee

cooled to warm (I used Door County in Peanut Butter Crunch)
For the Filling
¾

cup

peanut butter

creamy or crunchy

1

cup

brown sugar

heavy pinch of salt

2

oz

cream cheese at room temperature

1/4 block

2

oz

butter

melted (1/2 stick)

½

teaspoon

coffee extract

optional
For the Peanut Butter Streusel
½

cup

peanut butter

1

cup

powdered sugar

pinch

of salt

¼

teaspoon

coffee extract
For the Glaze
2

oz

cream cheese at room temperature

1/4 block

1

oz

butter at room temperature

2 Tablespoons

1 ½

cups

powdered sugar

2-4

teaspoons

double strength coffee

or enough to make a glaze the consistency you like
Instructions
For the Dough

Place the eggs, yolks, brown sugar, melted butter, and salt in the bowl of your stand mixer and whisk by hand until combined.

Dump in all the flour followed by the yeast.

Pour on the cooled coffee.

Fit your mixer with the dough hook and mix on low until the dough comes together, about 2 minutes.

Increase the speed to medium and knead until the dough is soft and smooth and very stretchy, about 8-10 minutes.

Form the dough into a smooth ball, place it back in the bowl, and spray the exposed dough with pan spray.

Cover the bowl with plastic wrap or a lint-free kitchen towel and refrigerate for 8 hours and up to 24 hours.

To Shape and Bake

Pull the dough out of the fridge, turn it out onto a clean work surface, and press out all the gases.

Use a rolling pin to roll it into a rectangle about 18 inches on the long side and 12-14" on the short. Take your time.

Spread out the filling evenly on the dough, leaving about 1 1/2" of dough clear on the long end away from you.

Roll up the dough into a jelly roll. Use a bench knife for some help if you need it.

Pinch the seam together as best you can.

Cut off either end of the roll to even it up.

Slice the remaining dough log into equal pieces by first cutting the log in half, cutting the halves in half, and then cutting each piece into thirds.

Place in a 9 x 13 pan, 3 across the short way and 4 down.

Cover and let rise in a warm place for about 1 1/2 hours, or until nice and puffy and almost doubled.

During the last 30 minutes of the rise, preheat oven to 350F.

Once the rolls are nicely risen, sprinkle evenly with the peanut butter streusel.

Bake for 30=35 minutes until the rolls are deeply golden brown and well risen. The internal temperature in the center should be at least 195F.

Remove from the oven. Cool to barely warm before glazing.

Store at room temperature for up to 3 days. Microwave each roll for a few seconds before serving.


For the Filling

In a medium bowl, mix all the filling ingredients together until evenly combined.

For the Peanut Butter Streusel

Place all the ingredients together in the bowl of your stand mixer (or in a bowl and using a hand mixer) and mix with the paddle attachment (or your beaters if using a hand mixer) until you get soft crumbles.

For the Coffee Glaze

MIx the cream cheese, butter, and powdered sugar together until smooth.

Add the coffee, a bit at a time, and mix until you get a nice glaze consistency.

Did You Make Any Changes?
Notes
Can I Make a Half Recipe?
If you only want or need 6 rolls, feel free to half the recipe, especially if you have a smaller 4.5 quart mixer.
You'll be fine to simply cut each measurement in half, including the yeast.
Rising
Once you make the dough, you can refrigerate it for up to 24 hours if you need to. But give it at least 8 hours for a nice, cold rise.
Freezing
Cut the baked rolls apart and freeze on a sheet until firm. Then wrap each one individually in plastic wrap and foil and freeze for up to a month.
Thaw at room temperature overnight or in the microwave on medium power.
For best results, freeze them before glazing. Allow to come to room temperature before glazing. Let the glaze set up for about an hour and then heat each roll for a few seconds in the microwave.
Nutrition
Serving:
1
roll
Calories:
678
kcal
Carbohydrates:
86
g
Protein:
14
g
Fat:
32
g
Saturated Fat:
14
g
Polyunsaturated Fat:
15
g
Cholesterol:
107
mg
Sodium:
468
mg
Fiber:
3
g
Sugar:
46
g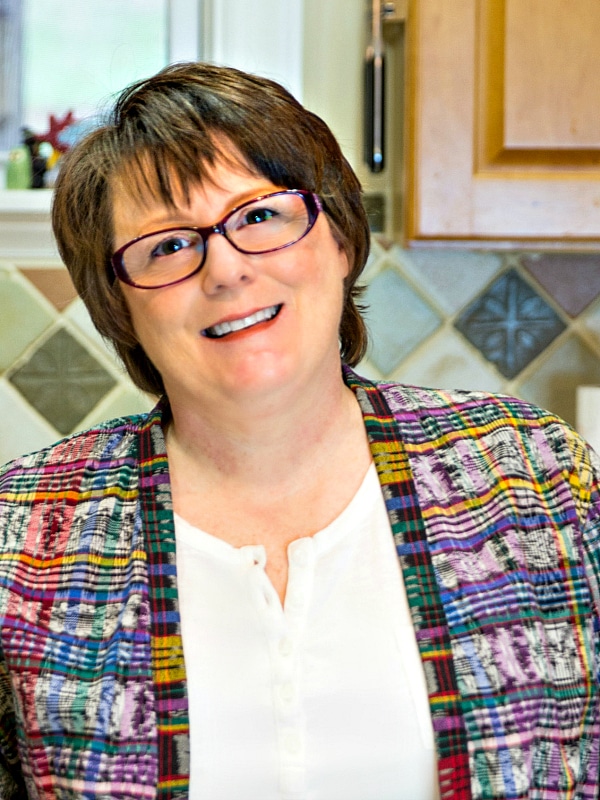 What are my qualifications to teach you baking and pastry? As a former working pastry chef and special educator, I marry my passions for both teaching and for baking into explaining techniques, methods, and developing the best possible recipes. For more info, you can read more about me.
If you'd like to receive new recipes and the occasional newsletter, I'd love for you to sign up for my Inbox Pastry Chef.
Thanks for being here today, friends. Enjoy the peanut butter cinnamon rolls, and have a lovely day.