I am really pleased to bring you this recipe for ermine frosting, friends. This has long been one of my favorite frosting recipes, and it's probably my favorite for chocolate cake.

Ermine icing is also arguably the original frosting for red velvet cake, and I urge you to try it over the more commonly made cream cheese frosting.

Another favorite is lemon ermine frosting.
For ease of browsing, you can find all my icing and frosting recipes in one place. Thanks for visiting!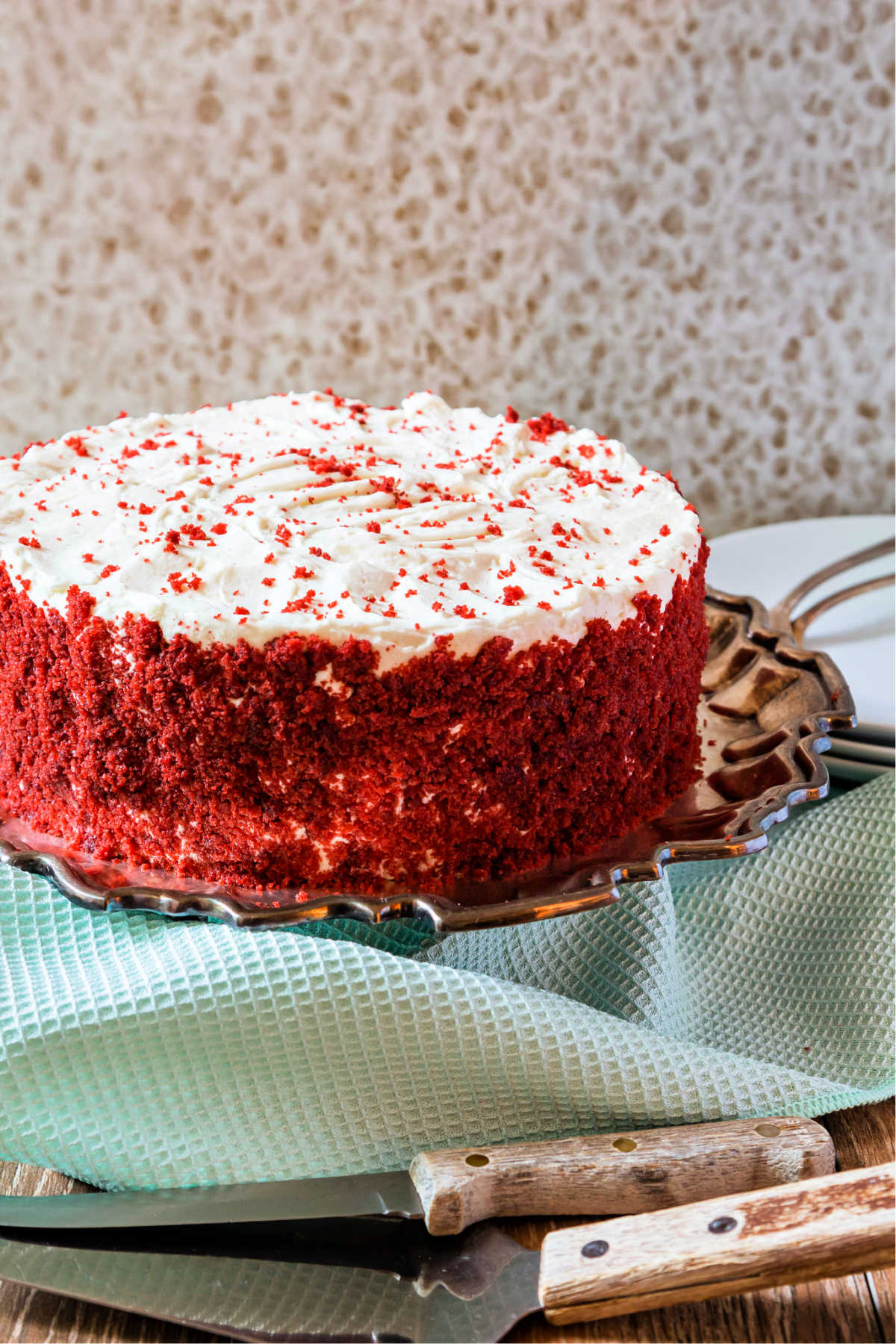 What is Ermine Buttercream, Anyway?
As far as I can tell, the origins of ermine frosting, or boiled milk frosting, are lost in the murky recesses of time. But it is made in the same manner that European buttercream is made in the sense that you
make a base
beat butter into that base until the whole is light and fluffy, impossibly smooth and perfectly spreadable.
In European buttercream, the base is generally either an egg/sugar syrup base as in French buttercream or an egg white/sugar syrup base as in Swiss buttercream and Italian buttercream.
Ermine's closest buttercream relative seems to be German buttercream, which is based on an egg-and-starch thickened custard base. Lose the eggs, and you end up with ermine!
My moderately educated guess is that someone or someones of German heritage moved over to the United States years and years ago, found themselves both in need of cake and with a shortage of eggs, so left the eggs out of their German Buttercream.
And Ermine Buttercream was born.
What Does It Taste Like?
Ermine frosting is buttery and smooth.
Just because there was a shortage of eggs doesn't mean there was also a shortage of butter.
This frosting, while containing less sugar than standard American powdered sugar buttercream (7 oz as compared to 10.67 oz), also happens to contain a lot more butter (8 oz in this recipe as opposed to 3 oz or 4 oz of butter for the same size batch of American buttercream).
Ermine frosting has a clean, neutral vanilla flavor that is just sweet enough.

It doesn't fight with the mild, slightly tangy flavor of red velvet, making it the perfect accompaniment.

It doesn't hurt that the white color also looks dramatic against dark-colored cakes, making it a natural for both chocolate cake and red velvet.
If you are used to pairing more assertive, tangy-in-its-own-right cream cheese frosting with your red velvet, give ermine a try. I think you will love the completely smooth texture and lovely mild vanilla flavor.
If you're interested in a chocolate version of ermine frosting, you can read about that in my recipe for 1234 Cake.
What's So Great About This Recipe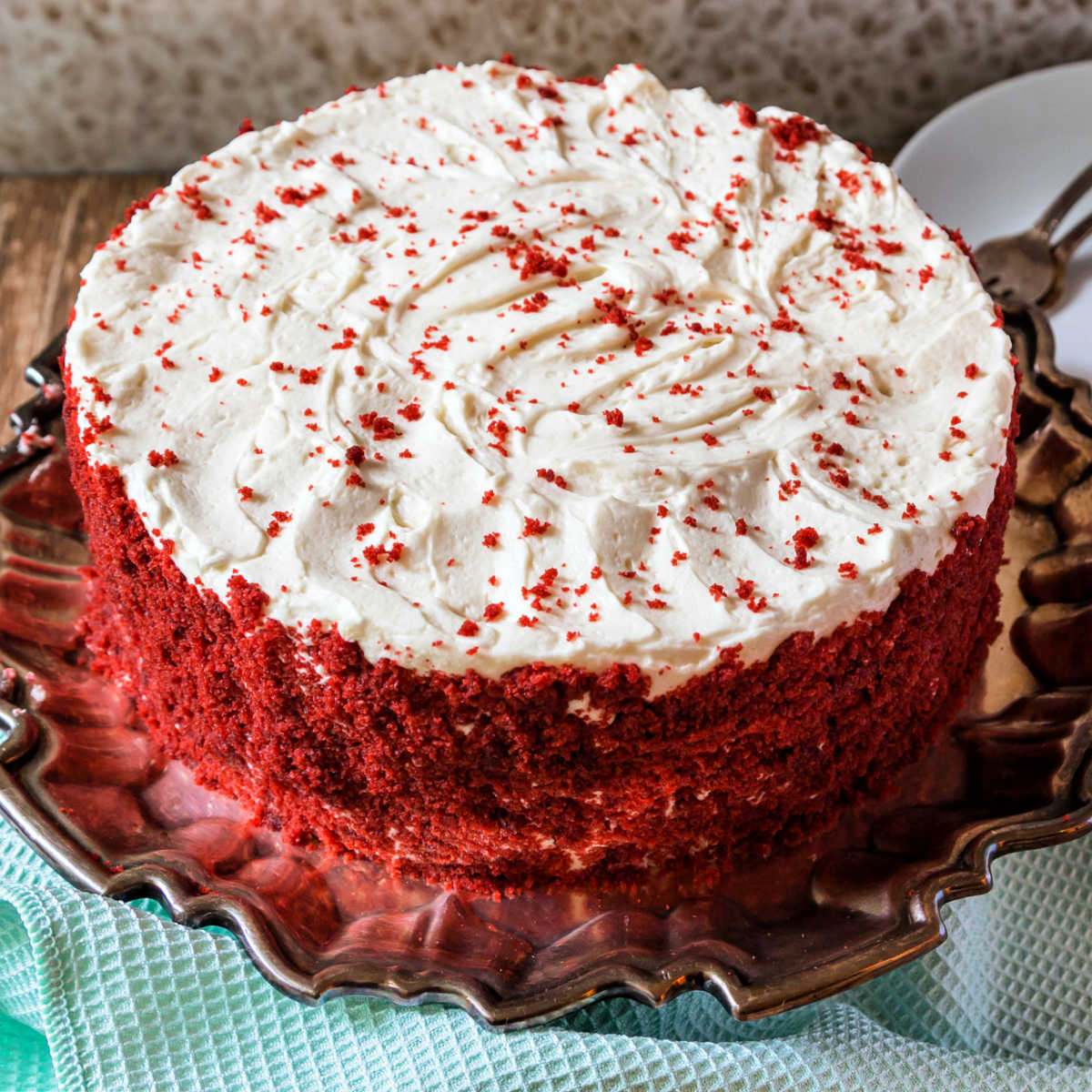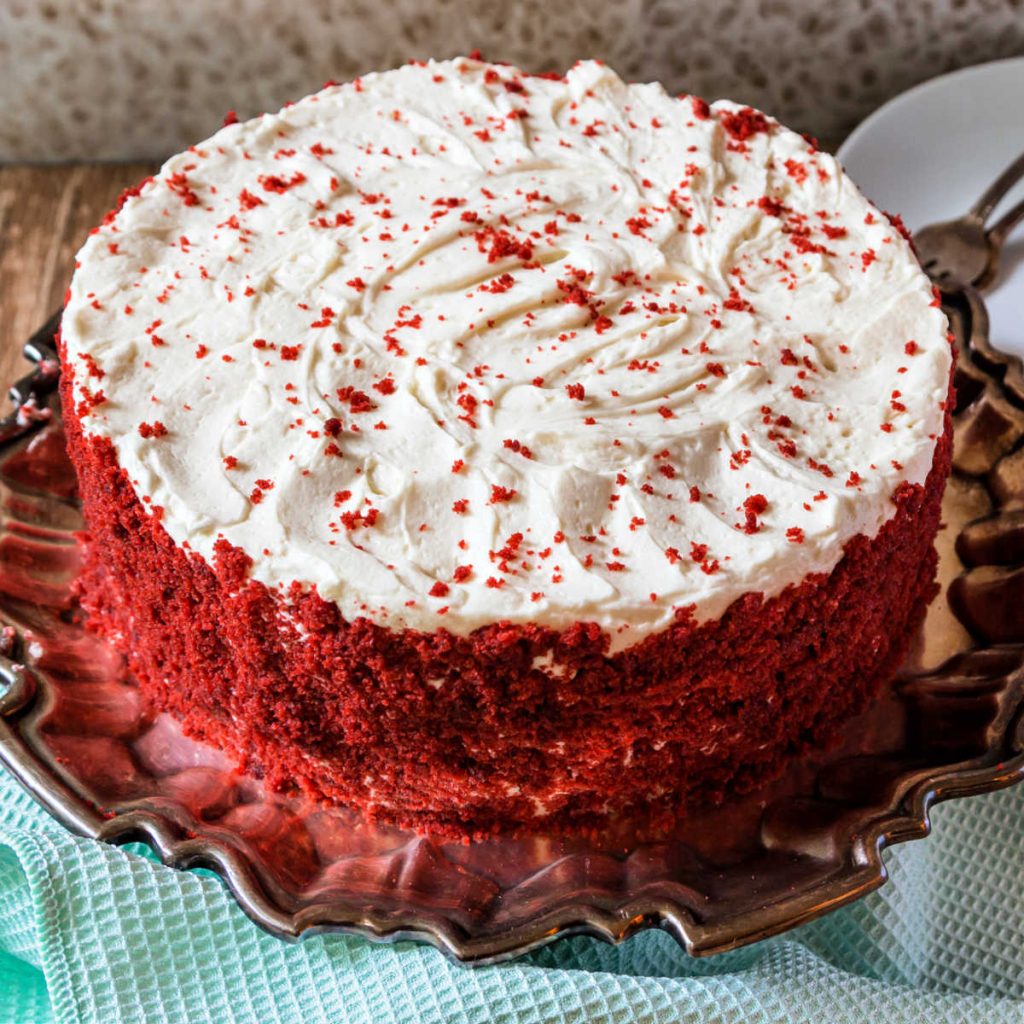 With a limited ingredient list, there are only so many ways to switch up this base recipe:
using more or less flour, sugar, or milk
varying the amount of butter
leaving the salt out
using more or less vanilla extract
In my version, I keep the frosting a touch less sweet and with enough butter so it whips up nice and thick in case you want to pipe it.
There is also enough salt in it to bring out the vanilla and butter flavor.
Technique-wise, there are a few ways to switch things up:
You can add the sugar after cooking the flour and milk or cook all three together.
You can whip the cooked base, a bit at a time, into butter.
You can add the butter, a bit at a time, into the base.
I have tried all the ways of making ermine, and since there is no difference in flavor or texture whether you cook the sugar in with the flour and butter or not, I choose to cook them all together.
That way, you don't have any risk of any little sugar crystals potentially making your frosting a little crunchy.
The mixture tends to come together better when whipping the butter into the base rather than the base into the butter, so that's what I stick with.
Follow the intructions, and this frosting is pretty foolproof.
How to Make
Ingredients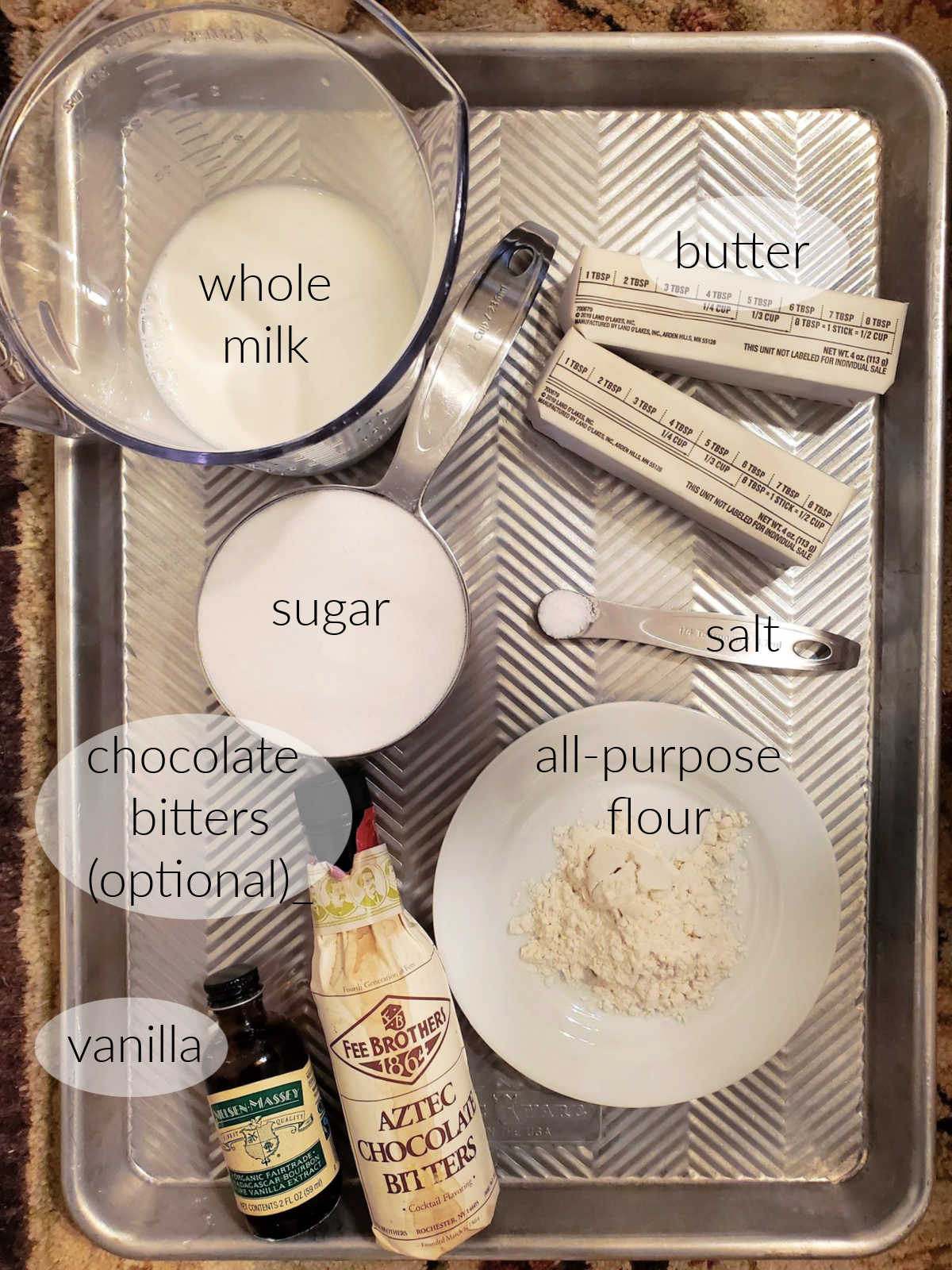 milk: I like whole milk for this. You can use 2% if you like or a plant-based milk
sugar: straight up granulated sugar for sweetness. You can add a touch more or less sugar than called for depending on how sweet you like things
flour: this is what brings body to the base. You can use cornstarch if you need your frosting to be gluten-free. If you do use cornstarch, boil the mixture for a full 2 minutes.
salt: brings out the flavor in the butter and the vanilla
vanilla: You could experiment with other extracts, but for red velvet, vanilla is the way to go.
chocolate bitters (optional): for frosting red velvet or chocolate cakes, I find that adding just a few shakes of chocolate bitters helps marry the frosting and the cake together. It is completely optional, so don't feel like you need to rush out to the store.
butter: provides fat to carry flavor, bulk, and texture, allowing the icing to whip up nice and light. You can also experiment with using a combination of shortening and butter for a more purely white frosting
Procedure
If you've made a European-style buttercream before, you'll find the technique pretty familiar:
Cook the base (flour, milk, sugar, and salt) until thickened
Cool and chill until about 60-65F
Cut the butter into pieces and allow to soften
Add vanilla and optional bitters to the base and whip in your stand mixer
Add butter, a piece at a time, until the frosting is smooth, fluffy and holds its shape
Look how fluffy and light the finished frosting is: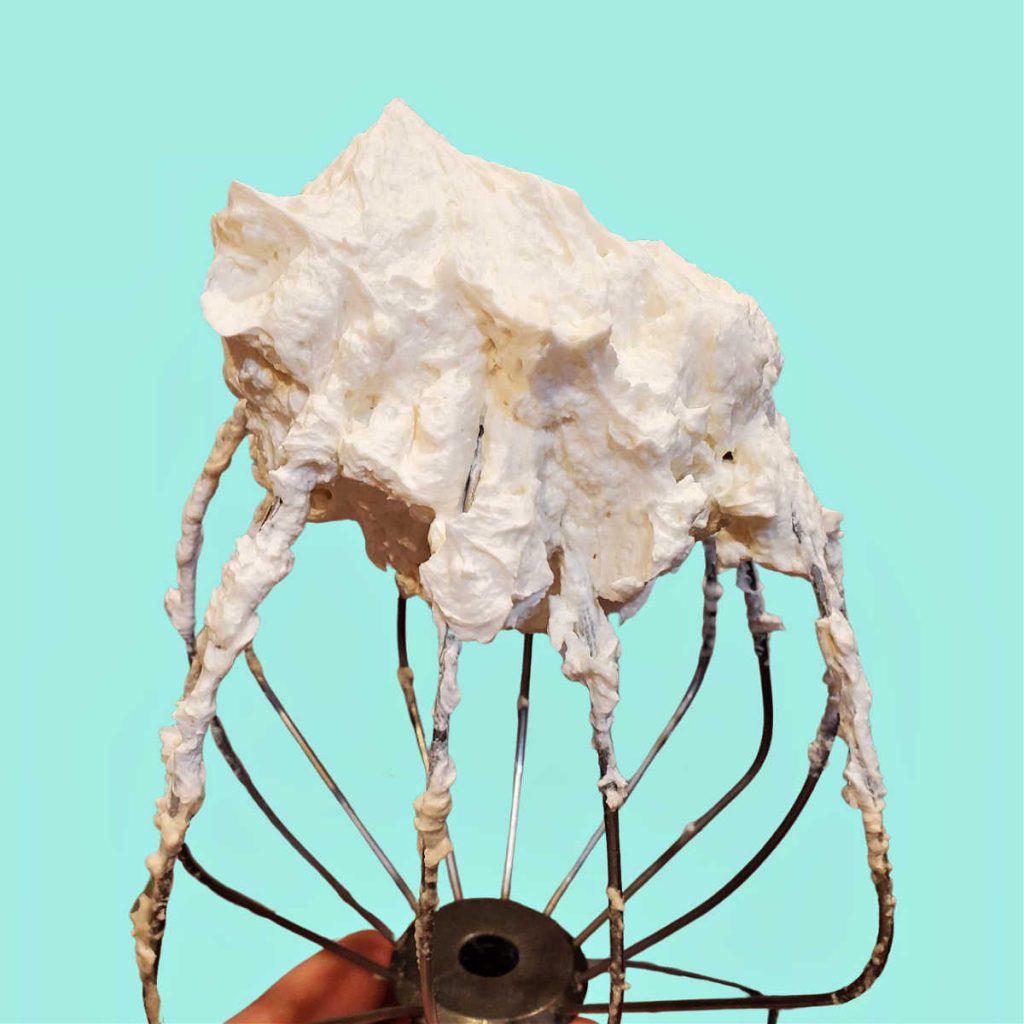 Tips and Tricks for Success
Make sure to take the time to allow the base to chill down to between 60-65F. If it's too warm, it will melt your butter and yield a thin frosting. If it's too cold, it won't allow the butter to whip in.
By the same token, allow your butter to sit out until it gets to about the same temperature–60-65F. Too warm, and your frosting will be too soft. Too cold, it won't combine well with the base.
If you've let your base get too warm and your frosting isn't whipping up well, refrigerate it for 20 minutes before continuing.
A Note About Measurements
For convenience, consistency, and accuracy, almost all my recipes are written by weight, either in ounces and/or grams, even the liquids.
I strongly encourage you to purchase a kitchen scale and learn to use it.
This is the one I used for years. I love it and highly recommend it:
Best for Home Use
Escali Primo Digital Food Scale
Don't let its small price and small size fool you. The Escali Primo is an accurate and easy-to-use food scale that I have used for years. It's easy to store, easy to use, has a tare function, and easily switches between grams and ounces/pounds for accurate measurements.
This is an affiliate link which means I earn from qualifying purchases. Your price is unaffected.
It would be so helpful to me and to other readers that, when you make a recipe, you rate it and leave a comment. Whether it's a recipe or an informational post, your feedback helps others decide if the post is helpful or if the recipe works as advertised.

If you could leave a star rating, that would be very helpful. Thank you for being here!
Ermine Frosting
Ermine frosting is smooth, silky, and pipeable. It's basically a cooked pudding without eggs that you cool and then beat softened butter into.

It's my hypothesis that this is a morphing of German buttercream, because one of the only differences between the two is that there is no egg in ermine icing.
It's also most likely the original frosting for red velvet cake, and I urge you to make it, because it really complements the delicate flavor of red velvet rather than masking it like cream cheese frosting does.
This recipe makes enough to generously frost and fill 3 6" layers or 2 8-9" layers.
Ingredients
8

oz

1 cup whole milk

7

oz

1 cup granulated sugar

4

Tablespoons

plus 2 teaspoons all purpose flour

1/4-1/2

teaspoon

kosher salt

to taste

2

teaspoons

vanilla

4-5

shakes of chocolate bitters

optional

2 ½

sticks butter at cool room temperature

cut into 1 Tablespoon pieces
Instructions
In a medium saucepan, whisk together the milk, sugar, flour, and salt.

Bring to a boil over medium to medium-high heat, whisking constantly.

Whisk and boil for 20 seconds, then strain the thickened mixture through a fine mesh strainer and into a bowl (preferably metal. It will cool more quickly in a metal bowl.)

Chill the base until cool, about 68-70F.

Scrape all of the base into the bowl of your stand mixer fitted with the whip attachment.

Add the vanilla and the optional bitters.

Whip until creamy, and then add the cool-yet-soft butter a piece at a time, letting the whip incorporate one addition before adding more.

The buttercream might look sloppy until your last couple of additions. If you like the texture of your frosting, you can leave out the last addition or two.

Whip until smooth, light, and fluffy.

If you refrigerate it, allow it to come back up to around 65F and rewhip until it's again light and fluffy.
Did You Make Any Changes?
Notes
Caution
Be careful when cooking the base that you don't scorch it. It can burn pretty easily and you'll end up with little browned bits in your frosting. Which is great for making gravy, but not so much when making icing. So moderate your heat and keep it moving, especially as it begins to boil.
Variations
To be honest, I have not tried a lot of variations of this frosting. Yet. As I experiment, I will add variations, so watch this space.
Storing
Since it is milk based, keep ermine frosting refrigerated (and the cake you frost it with). Allow slices of cake to sit at room temperature for 30 minutes or so before serving so the frosting has a chance to soften.
Freezing
You can successfully freeze this frosting in a freezer-safe container. Press plastic wrap directly onto the surface of the icing and then seal the container. It will be fine for up to 1 month.
To thaw it, place the entire container in the fridge for at least 24 hours and then allow it to sit, still out, covered, until it reaches 60-65F. Then rewhip to restore its texture.
Nutrition
Serving:
1
g
Calories:
259
kcal
Carbohydrates:
20
g
Protein:
1
g
Fat:
20
g
Saturated Fat:
12
g
Polyunsaturated Fat:
6
g
Trans Fat:
1
g
Cholesterol:
53
mg
Sodium:
204
mg
Sugar:
18
g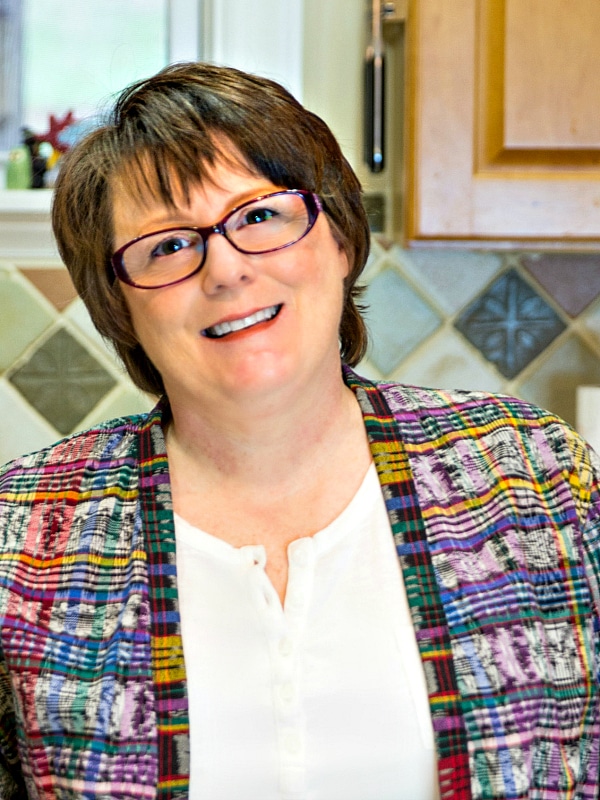 What are my qualifications to teach you baking and pastry? As a former working pastry chef and special educator, I marry my passions for both teaching and for baking into explaining techniques, methods, and developing the best possible recipes. For more info, you can read more about me.
If you'd like to receive new recipes and the occasional newsletter, I'd love for you to sign up for my Inbox Pastry Chef.
And there you have it, friends. I know you'll enjoy this ermine buttercream frosting.
Thanks for spending some time with me today. Take care, and have a lovely day.