This incredibly moist and rich rocky road cake is adapted from Jill O'Connor's wonderful cookbook, Cake, I Love You, and is based on her chocolate mayonnaise cake recipe. You're going to love how easy it is to make this chocolate sheet cake recipe, friends!

If you're not a fan of rocky road, you can leave out the marshmallows and nuts and enjoy this as an easy chocolate sheet cake "straight." Either way, use the melted chocolate bar frosting Jill created, because it is fantastic.

If you love the flavor of a mayonnaise cake, you may also enjoy my chocolate mint cake which is also based on Jill's recipe.

For ease of browsing, check out all my cake recipes here. Thanks for being here. Let's get to it!
See my chocolate mayonnaise cake web story here.
You'll Love This Cake If
Not all recipes are for everyone.
You'll want to try this rocky road cake if you:
love moist cake
like your chocolate flavor to be pretty intense
like a lot of different textures in one bite
think you've had the best chocolate frosting before (if you haven't made this one, you haven't. Trust me)
love the tang of sour cream (see "best chocolate frosting" above)
understand that mayonnaise is mostly oil and your cake isn't going to taste like a sandwich!
When you do make this recipe, it will help me and other readers if you:
✅Rate the recipes using the stars in the recipe card
✅Leave a review when prompted in the recipe card
✅Leave a comment on the post
Thank you! ❤️
Tasting Notes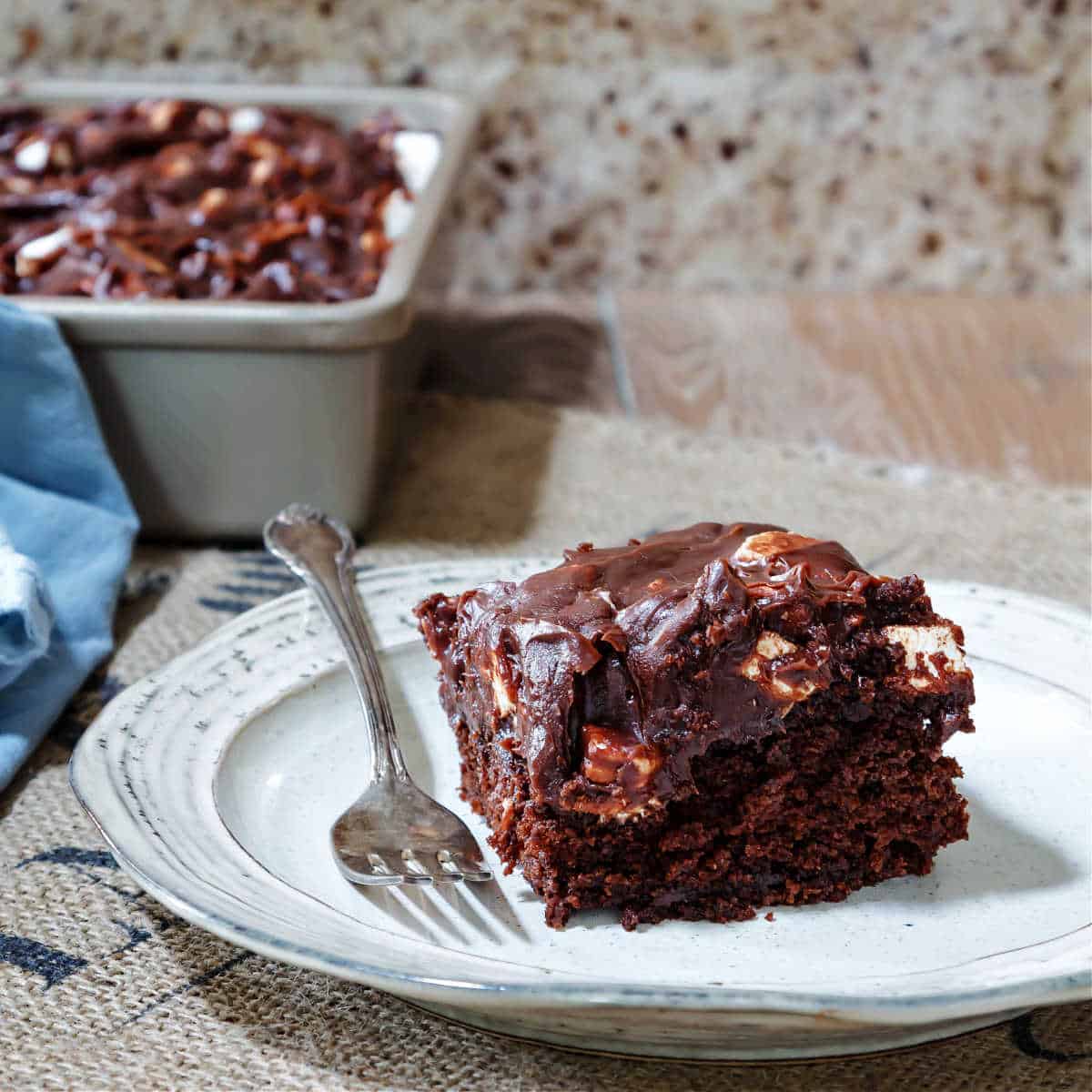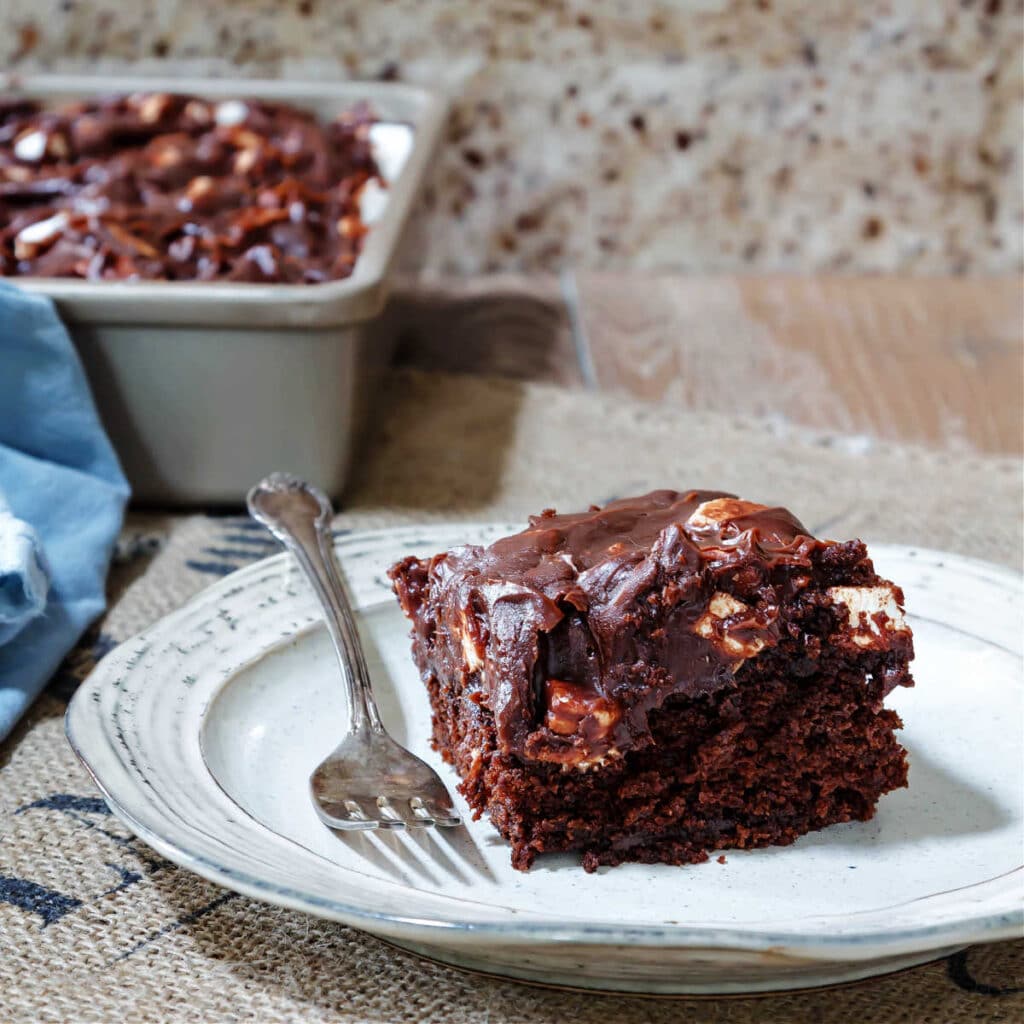 Texture: Moist, medium crumb. The frosting is smooth and dense with bites of airy/chewy marshmallow as well as the crunch of nuts.
Flavor: The cake is deeply chocolatey with background notes of coffee (you can control this by controlling how much instant coffee you use). The frosting is tangy from the sour cream, and that tempers the sweetness a bit, making it alarmingly easy to eat. The marshmallows and nuts add vanilla sweetness and some saltiness, depending on the bite you take.
Why Is There Mayonnaise In This Cake?
Much like old-fashioned pie recipes or "desperation pies," mayonnaise cake was born of the desperation of the Depression Era in the United States.
Butter was hard to come by, so ingenious bakers subbed in mayonnaise, which is pretty much just oil with a little egg, some vinegar, and salt.
Even mayonnaise companies jumped on the mayo cake bandwagon and started printing the recipe right on the jar. Today, Hellman's has a very fine chocolate mayonnaise recipe printed on their website.
PRO TIP: Check the salt level of the mayonnaise you are planning to use. If your mayonnaise is pretty salty, you may have to add minimal, if any, additional salt.
Let your palate be your guide, and know that this cake is incredibly moist, delicious, and easy to make.
How to Make This Cake
If you are not interested in the step-by-step instructions and tips, you can head straight to the recipe. You can always scroll back up if you need some clarification on anything.
Ingredients and Substitutions
For the Cake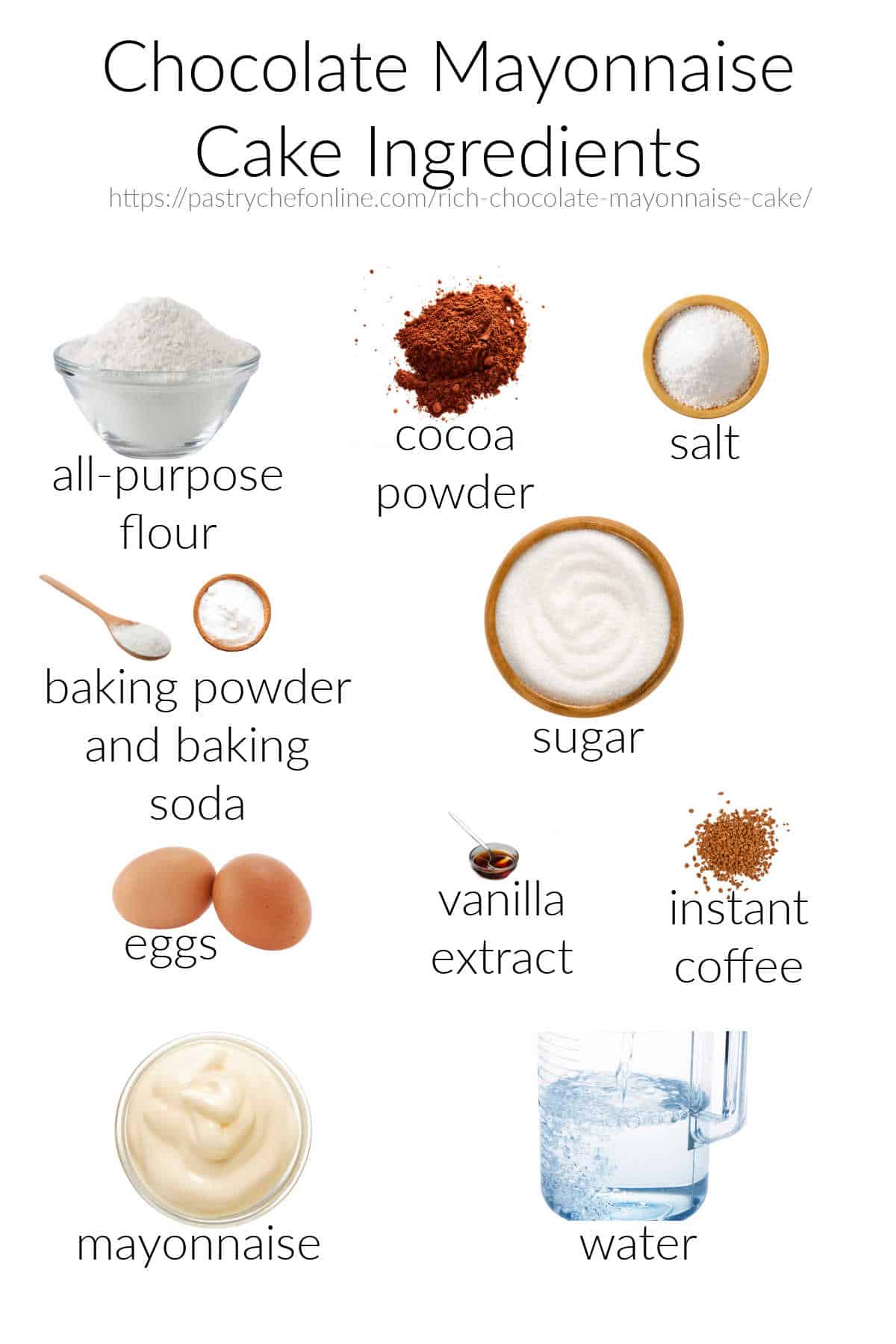 All-purpose flour: Provides the structure and bulk of the cake. I wouldn't bother trying to substitute with cake flour, because the cake is moist enough as it is and could fall apart with a lower-protein flour
Cocoa powder: Regular American (non-alkalized) cocoa powder works fine. I used Hershey's. If you have a favorite premium brand, by all means use that. If all you have is Dutch-process (alkalized), cut the amount of baking soda in half
Salt: Brings all the flavors into focus and counteracts any bitterness from the cocoa powder and instant coffee
Baking powder: Chemical leavening that provides rise
Baking soda: Assists with rising and also neutralizes some of the acid in the cocoa and coffee
Sugar: Lends sweetness and moisture and contributes to the tenderness of the cake
Eggs: Large eggs.
Vanilla extract: Rounds out the flavors
Instant coffee: Underscores and deepens the chocolate flavor without overpowering it or reading and "mocha."
Mayonnaise: Provides the bulk of the fat in the recipe, contributing to tenderness and moisture
Water: Boiling water. Mix the instant coffee with the water, or you can use hot coffee instead
For the Rocky Road Frosting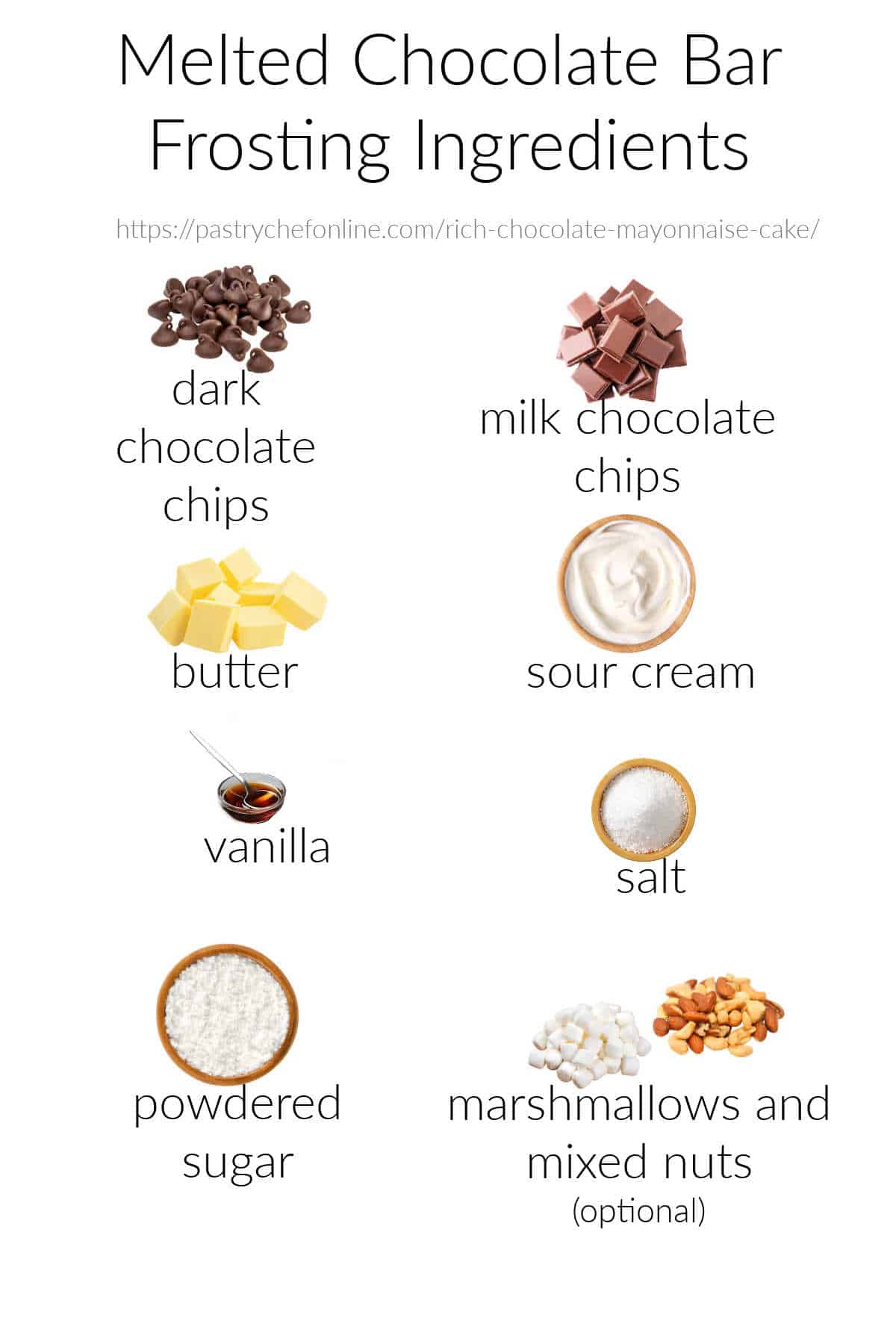 Dark chocolate chips: Or use chopped chocolate bars
Milk chocolate chips: Or chopped milk chocolate bars
Butter: Provides fat and flavor and lends to the spreadability and thickness of the frosting
Sour cream: Adds a simply irresistible tang and creamy dairy finish to the frosting. You could also substitute creme fraiche or Greek yogurt
Vanilla: Rounds out the chocolate flavor
Salt: Brings the flavors into focus and tempers the sweetness
Powdered sugar: Adds a bit more sweetness and some of the mouthfeel of a standard American butter frosting. (This frosting is smoother, though. And better. I said it)
Marshmallows: Homemade or storebought marshmallows. If using storebought, get minis, or cut up larger ones
Mixed nuts: Your favorite nuts. The nuts used in original rocky road ice cream were walnuts.* Use what you like, either all of one kind such as almonds, or use a mix of almonds, pecans, cashews, etc.
*Reference for original nuts here
Procedure
For the Cake
The mixing method for this cake is sort of a hybrid between the egg foam method (what you'd use to make a genoise) and the dissolved sugar method, which I use in the chocolate stout cake recipe.
Here's the procedure in a nutshell: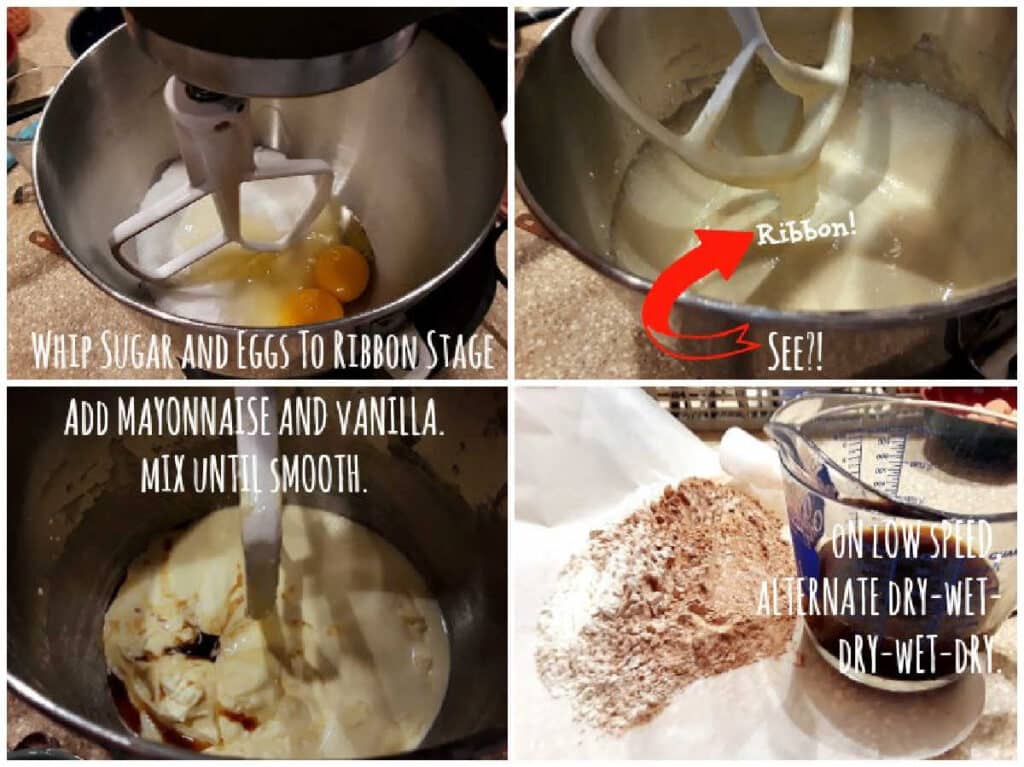 1-2. Beat the eggs and sugar together using the paddle attachment. Beat until the mixture is very pale and thick.
3. Blend in the mayonnaise and vanilla until smooth. Scrape the bowl as needed.
4. Sift flour, salt, leaveners, and cocoa powder together and alternate adding to the batter with the hot water/instant coffee mixture.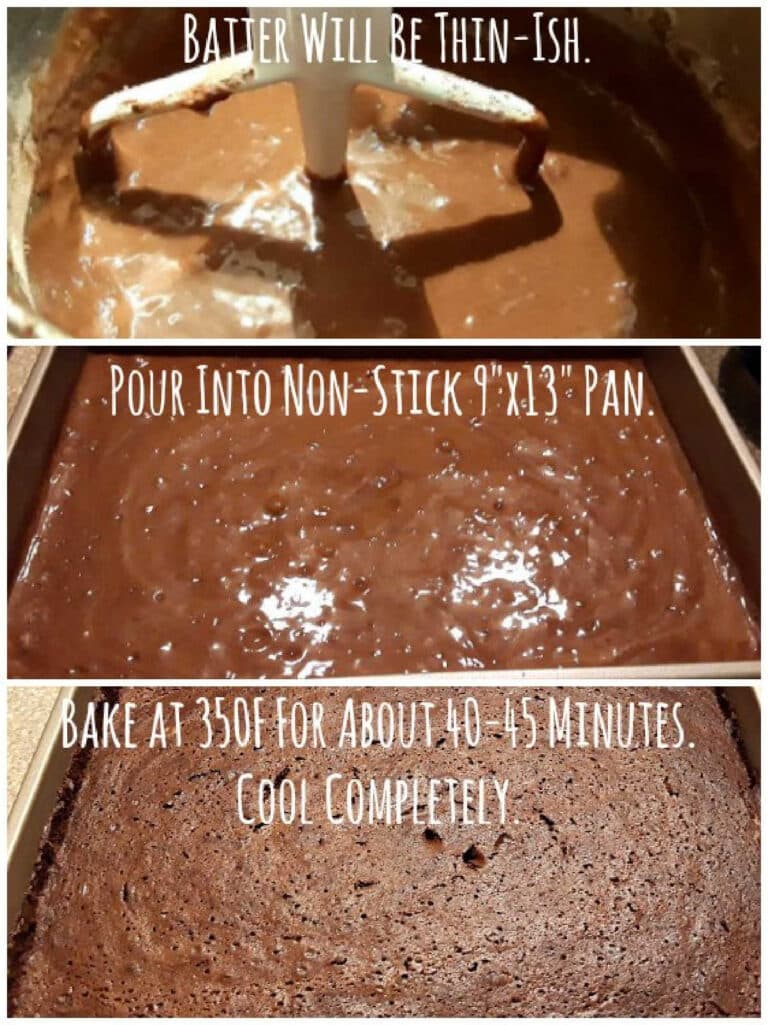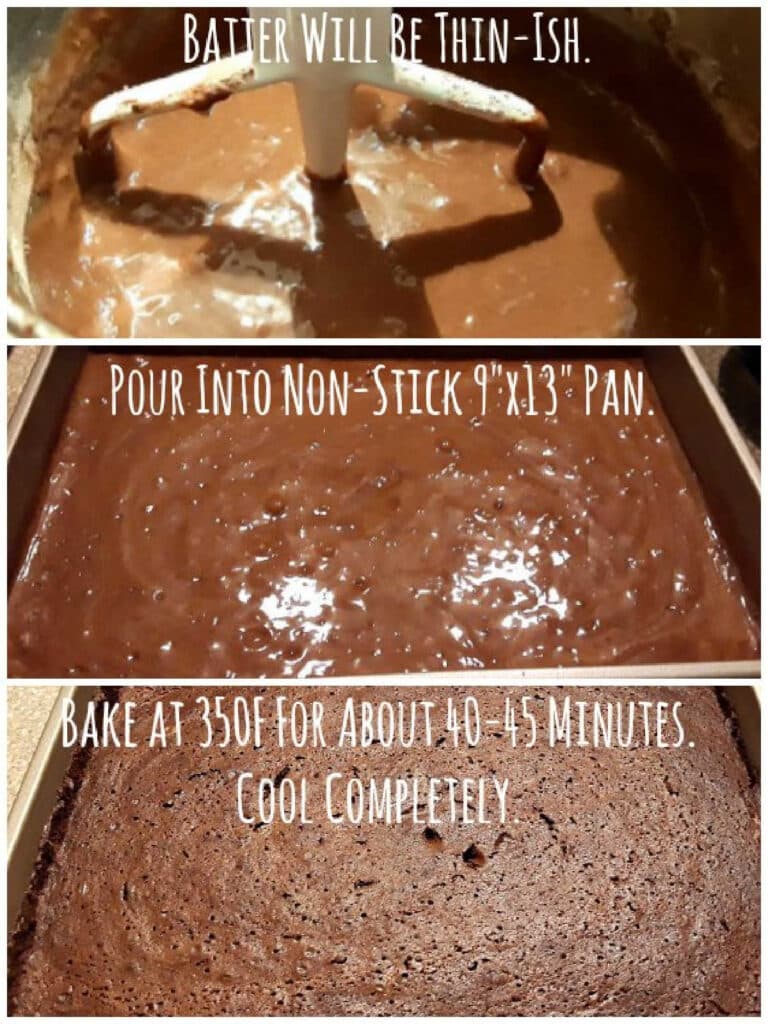 Scrape the batter into your prepared pan and bake until the cake bounces back when you press gently on top and the sides of the cake have just started to shrink away from the sides of the pan.
The cake will pull away further as it cools. Allow it to cool completely in the pan before frosting.
For the Frosting
The frosting is easy to make, and as a bonus, you don't need a mixer at all.
Put the milk and dark chocolate chips, along with the stick of butter, in a microwave-safe bowl.
Melt in bursts and then stir until completely smooth.
Whisk in room-temperature sour cream.
Keep whisking until the mixture is smooth.
Once you have the base made, all you have to do is thicken it up with some powdered sugar. If you want the frosting to be fluffy, use a stand mixer or hand mixer.
If you want it to be dense (I did!), just whisk it in by hand.
Then fold in about 2/3 of your marshmallows and mixed nuts.
Jenni Says: If you add all the marshmallows and nuts at one time, the frosting will be difficult to spread. Add them in two additions as outlined below.
Frosting the Cake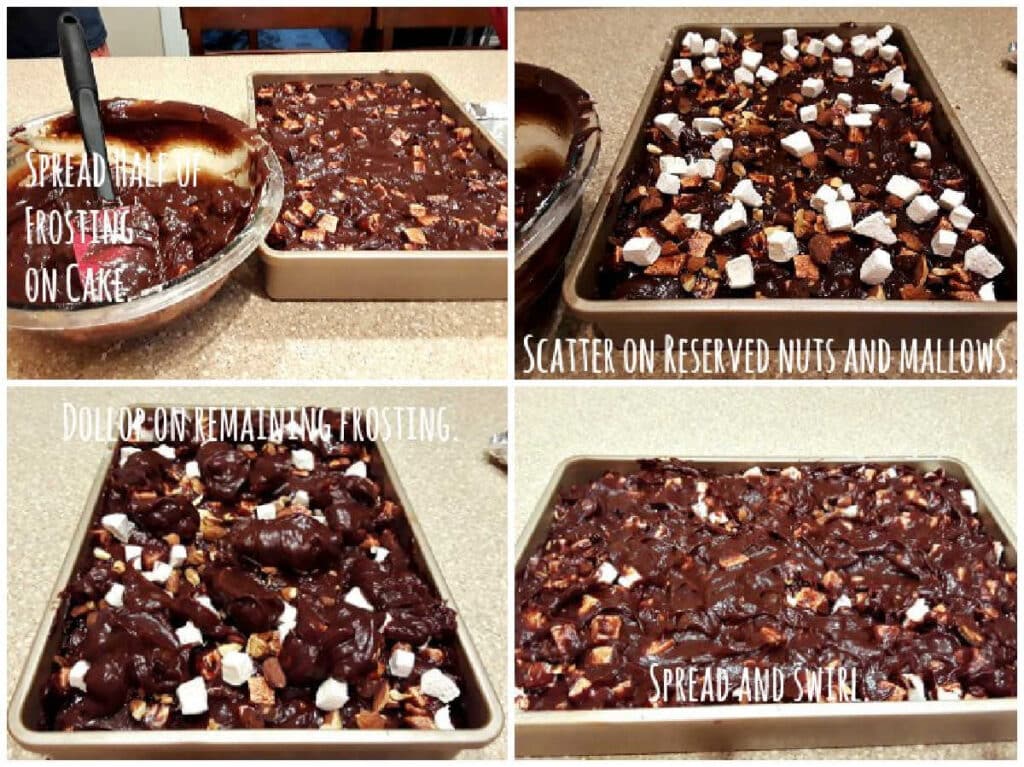 Spread half the frosting on the cake.
Scatter the reserved mini marshmallows and chopped nuts evenly over the cake.
Add the rest of the frosting in "blobs" evenly spaced over the mallows and nuts.
Spread/swirl. You want some mallows and nuts to still be showing.
NOTE: Store the cake in the refrigerator. It'll help firm up the frosting a bit and make the cake easier to slice. Slice the cake while chilled, but let the slices sit out for about 30-45 minutes before serving so they come back to room temperature.
Useful Cake-Making Equipment
I do recommend using a stand mixer to make this cake. It has more power than a hand mixer and can really whip the eggs and sugar to the ribbon stage that is needed.
Best Mixer for Home Bakers
KitchenAid Artisan Series 5-Qt. Stand Mixer with Pouring Shield
This is my pick for the best mixer for home bakers. Many people will recommend a bowl-lift mixer, and I have one myself, but for ease of adding ingredients, tilt head is the way to go. The Artisan looks great, comes in a bunch of colors, and is a workhorse for people who bake every day. It's more than sufficient for the occasional baker, and it should last you for years and years.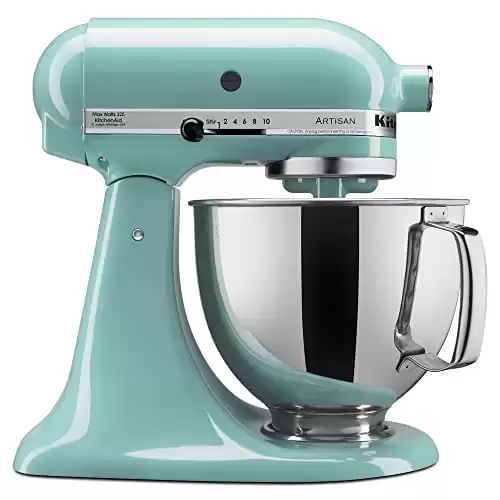 This is an affiliate link which means I earn from qualifying purchases. Your price is unaffected.
Bake the cake in a 9″ x 13″ cake pan. This is such a versatile size, and you'll use it for everything from baking brownies to lasagna.
And if you're feeling shoppy, you can find all my kitchen shopping recommendations in one place.
Frequently Asked Questions About This Cake
I don't have instant coffee or espresso powder, and I don't want to order it. What can I use instead? No problem. Just use hot brewed coffee, and you'll be fine.
Can I substitute sour cream for the mayonnaise? No. Sour cream is mainly dairy, and mayonnaise is mainly oil. You will not get good results using sour cream–there is not enough fat in it to make the cake nice and moist.
Can I make this into a layer cake? Yes! Jill's original recipe gives directions for making this cake in round pans.

Spray your 8 or 9″ cake pans and line the bottoms with parchment rounds
Divide the batter evenly between the two pans, and bake for 20-25 minutes.

Is the cake hard to slice with all those nuts in it? I would probably not make the rocky road frosting if making a layer cake. The cake is hard to slice cleanly when you hit a nut, so having nuts both in the filling between the layers, around the sides, and on the top is a recipe for a very messy slicing experience. If you still want to make the rocky road frosting, I'd slice the cake first and then just add the mallows and chopped nuts to the top of each slice.
More Cake Recipes to Enjoy
If you're a cake fan, you may consider trying some of my other cake recipes.
Butterscotch lovers, you will want to try my butterscotch sheet cake. The frosting on that one is inspired by Jill's frosting, at least in the way it's made. As deeply chocolatey as this frosting is, the frosting for the butterscotch cake is deeply butterscotchy and delicious.
For the opposite of the rocky road cake, vanilla fans will swoon over this whipping cream pound cake. With a tight, velvety crumb that almost melts in your mouth, it is quite delicious!
This Chocolate Espresso Pound Cake is fully mocha in flavor, so if that's your thing, you will love it.
And don't forget to take a look at Jill's wonderful Cake, I Love You.
This is an affiliate link which means I earn from qualifying purchases. Your price is unaffected.
Questions?
A Note About Measurements
For convenience, consistency, and accuracy, almost all my recipes are written by weight, either in ounces and/or grams, even the liquids.
I strongly encourage you to purchase a kitchen scale and learn to use it.
This is the one I used for years. I love it and highly recommend it:
Best for Home Use
Escali Primo Digital Food Scale
Don't let its small price and small size fool you. The Escali Primo is an accurate and easy-to-use food scale that I have used for years. It's easy to store, easy to use, has a tare function, and easily switches between grams and ounces/pounds for accurate measurements.
This is an affiliate link which means I earn from qualifying purchases. Your price is unaffected.
It would be so helpful to me and to other readers that, when you make a recipe, you rate it and leave a comment. Whether it's a recipe or an informational post, your feedback helps others decide if the post is helpful or if the recipe works as advertised.

If you could leave a star rating, that would be very helpful. Thank you for being here!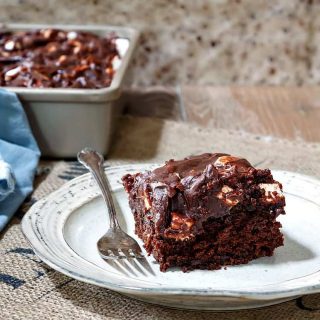 Rocky Road Cake Recipe
This moist and rich rocky road cake boasts a thick layer of chocolate sour cream frosting with "rocky road" mix-ins–homemade mini marshmallows and chopped nuts. This is a great cake for a picnic, a pot luck, or to serve for dessert on any day. Easy dessert recipe to make, and even easier to eat! Find the original recipe for chocolate mayonnaise cake with melted chocolate bar frosting in Jill O'Connor's wonderful (affiliate) Cake, I Love You.
Ingredients
For the Chocolate Sheet Cake
280

grams

all-purpose flour

(2 cups)

60

grams

American cocoa powder

(3/4 cup)

1

teaspoon

baking powder

¾

teaspoon

baking soda

¾

teaspoon

kosher salt

400

grams

granulated sugar

(2 cups)

2

large eggs

240

grams

full fat mayonnaise

(1 cup)

2

teaspoons

vanilla extract

2

teaspoons

espresso powder

320

milliliters

boiling water

(1 1/3 cup)
For the Rocky Road Frosting
180

grams

semisweet chocolate chips

(1 cup)

180

grams

milk chocolate chips

(1 cup)

110

grams

unsalted butter

(1 stick)

240

grams

sour cream

(1 cup)

1

teaspoon

vanilla extract

¼

teaspoon

kosher salt

240

grams

confectioners' sugar

(2 cups)

1

cup

mini marshmallows

(homemade or store bought)

1

cup

toasted mixed nuts

(coarsely chopped)
Instructions
For the Cake
Position your oven rack in the center of the oven. Preheat to 350F. Spray a 9″x13″ rectangular cake pan with pan spray. Set aside.

Sift together the flour, cocoa powder, baking powder, baking soda, and salt. Set aside.

Stir the espresso powder into the boiling water.

In the bowl of your stand mixer fitted with the paddle attachment, beat the sugar and eggs on medium high speed until they reach the ribbon stage, about 5 minutes.

Add the mayonnaise and vanilla and beat until smooth, scraping the bowl as necessary.

With the mixer on low speed, alternate adding the sifted dry ingredients in three additions with the coffee in two additions. Begin and end with the dry ingredients. Scrape bowl as necessary.

Scrape the batter into the prepared pan and bake for 40-45 minutes or until the cake springs back when pressed in the center, the edges are just starting to shrink from the sides of the pan, and the internal temperature of the cake is between 190F and 200F.

Remove to a rack to cool completely.
To Make the Rocky Road Frosting
Measure out the sour cream and allow to warm up from refrigerator temperature to cool room temperature, about an hour.

Put the semisweet chips, milk chocolate chips, and butter in a microwave safe bowl. Microwave on full power for 1 minute. Stir the chocolate and butter until completely smooth. If it's not all melted evenly, heat in 15 second bursts, stirring in between, until completely smooth.

Whisk in the sour cream until completely incorporated and smooth. Whisk in the salt and vanilla.

Put the confectioners' sugar in a fine mesh strainer and sift it onto the chocolate mixture. Whisk until smooth and shiny.

Fold in about 2/3 of the chopped nuts and mini marshmallows.
To Frost and Finish the Cake
With an offset spatula, evenly spread about half the frosting onto the cooled cake.

Scatter the remaining toasted nuts and mini marshmallows evenly over the frosting.

Dollop on the rest of the frosting. Then use your spatula to swirl and spread the frosting over the nuts and mallows, leaving some of them showing.

Refrigerate the cake until serving time, at least 2 hours. Slice the cake and let slices come to room temperature before serving. Store leftover cake, covered, in the fridge for up to 3 days.
Did You Make Any Changes?
Notes
To make this a "plain" chocolate sheet cake, leave out the marshmallows and nuts and beat the frosting with a hand mixer or a stand mixer to lighten the texture.
Storing:
Store the cake, covered at room temperature, for 3 days. You can also store it in the fridge. Just allow the cake slices to come to room temperature before serving. Freeze slices for longer storage.
Freezing:
Freeze individual slices, or the whole cake if you'd like. Freeze slices until firm, and then wrap in plastic wrap and foil. To freeze the whole cake, it will be easiest to freeze it in the pan you baked it in. Wrap well with plastic wrap and foil. You can freeze it frosted or unfrosted. If you freeze it unfrosted, bring the cake back to room temperature before frosting.
Nutrition
Serving:
1
piece
Calories:
401
kcal
Carbohydrates:
50
g
Protein:
5
g
Fat:
21
g
Saturated Fat:
8
g
Polyunsaturated Fat:
12
g
Cholesterol:
37
mg
Sodium:
250
mg
Fiber:
2
g
Sugar:
36
g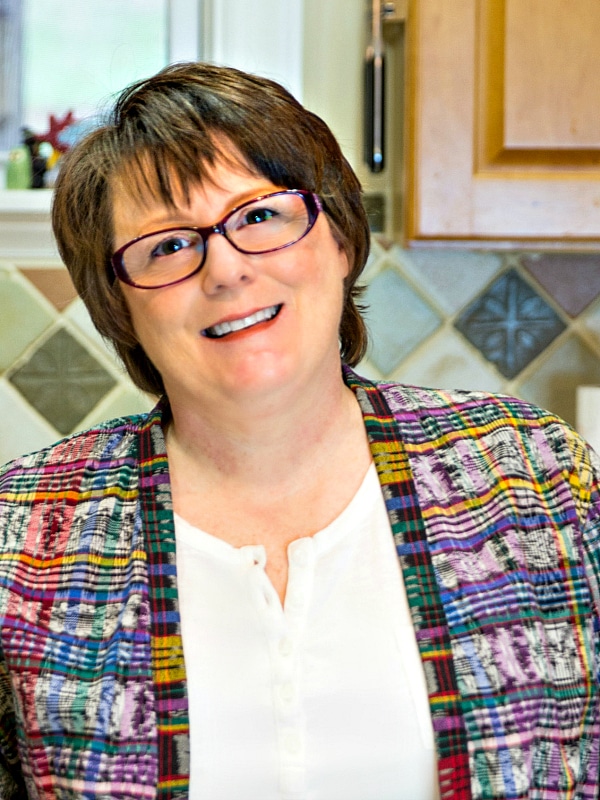 What are my qualifications to teach you baking and pastry? As a former working pastry chef and special educator, I marry my passions for both teaching and for baking into explaining techniques, methods, and developing the best possible recipes. For more info, you can read more about me.
If you'd like to receive new recipes and the occasional newsletter, I'd love for you to sign up for my Inbox Pastry Chef.
And there you have it, a rich, moist, and crowd-pleasing rocky road cake. You're going to love this cake. I promise.
Thanks for spending some time with me today. And I really do love hearing from you, so please leave a comment, rate the recipe, and/or ask a question. I'm happy to help.
Take care, and have a lovely day.