This Tuna Macaroni Salad was one of the very early recipes I posted on the blog, and for good reason. It is one of my all-time favorite comfort foods, a retro pasta salad that is hard to beat.

Easy to make and even easier to eat, you can also customize it with additional vegetables if you'd like. But for me, the way mom used to make it–with shell pasta and with tuna and Parmesan cheese–is still my favorite way. Try it. I hope you love it as much as we do!

If you like your macaroni salad a little on the spicy side, give my chipotle ranch pasta salad or check out my Green Goddess pasta salad.

For ease of browsing, here are all of my pasta recipes in one place. Thanks for being here. Let's make this!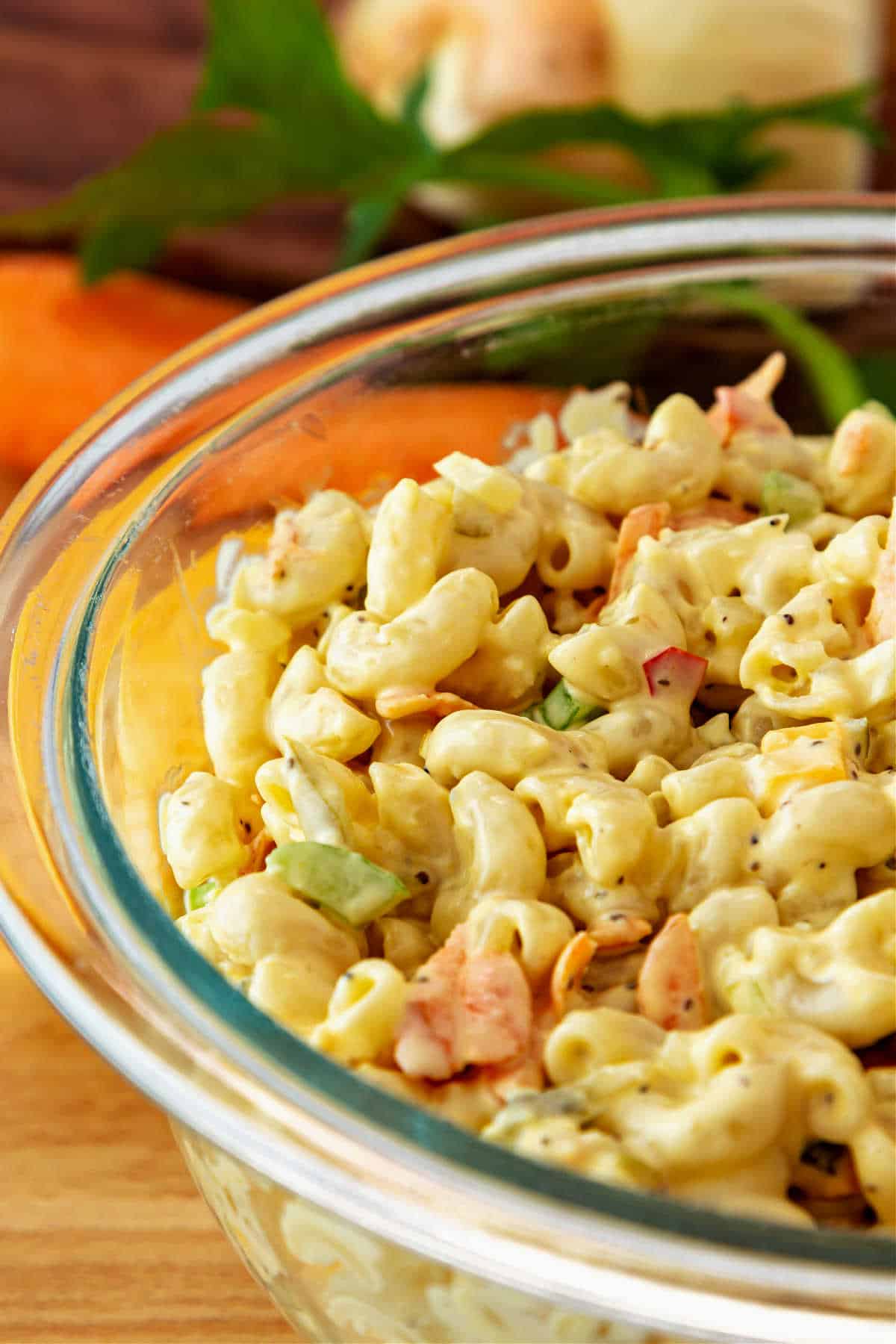 Watch my "mom's best tuna macaroni salad web story" here.
The Difference Between Macaroni Salad and Pasta Salad
I do enjoy a good pasta salad (see my Mediterranean couscous salad): crisp, blanched vegetables and yummy al dente pasta shapes all drenched in a homemade vinaigrette and spiked with whatever herbs and spices strike my fancy.
Macaroni salad or retro pasta salad is the less fancy version of modern pasta salad.
Classic, workhorse pasta shapes like shells or elbows are the order of the day here, and maybe rotini if you're feeling fancy. The dressing is usually mayonnaise-based and not vinaigrette based.
When trying to decide whether a dish is pasta salad or macaroni salad, ask yourself these questions, which are admittedly subjective, but it's my list, s there you go:
Are there tons of vegetables in it? (It's probably pasta salad)
Do I see any black olives? (It's definitely pasta salad)
Is all the pasta slathered in creamy, mayo-based sauce? (It's probably macaroni salad)
Is there pickle juice in the dressing? (It's probably macaroni salad)
Is there cheese in it?

Is it feta cheese? (It's probably pasta salad)
Is it Parmesan cheese from a can? (It's probably macaroni salad)
Is it Velveeta or American cheese or maybe cheddar? (It's probably macaroni salad)
So maybe some of those questions are broad generalizations and are based on my own personal preferences. Maybe.
My Mom's Macaroni Salad
My mom's macaroni salad is definitely not pasta salad.
This is the macaroni that you take to the covered dish Wednesday night supper.
The one that you make for the little league end-of-season party. The Dish of Choice for the swim team party, the block party, the I'm-sorry-your-aunt-died get-together.
I grew up eating this stuff, and when I make it for myself, I stay pretty true to Mom's way of making it. And now, I'm going to share it with you.
Use this as a basic recipe template, and feel free to add/substitute to your Heart's Content. But do try it The Original Way at least once. Especially if you are a fan of celery seed and tuna. You won't be sorry.
When you do make this recipe, it will help me and other readers if you:
✅Rate the recipes using the stars in the recipe card
✅Leave a review when prompted in the recipe card
✅Leave a comment on the post
Thank you! ❤️
Ingredients and Equipment for This Recipe
Here's what you'll need to make mom's tuna macaroni salad (and yes, you can leave out the tuna if you don't like it).
If you don't need the rundown, you can jump straight to the recipe.
Here's what you need to make the dressing:
Duke's mayonnaise (or a half-and-half mixture of mayo and sour cream if I'm feeling righteous)
yellow mustard
sweet pickle juice or apple cider vinegar and a touch of sugar
sweet or dill pickle relish (mom always used sweet)
Parmesan cheese (green can here is just fine)
salt & pepper
celery seed
Here are the Mix-Ins:
Medium shell pasta, or use another short shape such as pipette or regular elbow macaroni
sweet onion
celery
shredded carrot (my mom uses it, but I generally don't because I am not a Carrot Fan)
canned tuna
little cubes of cheddar cheese, about 1/4″ dice
Why Cubes of Cheese?
Why cubes? Because I add the cheese while the pasta is still somewhat warm. If you use shredded cheese, it could melt.
While that's not the worst thing, I like to find little bites of cheese in my macaroni salad, so even if the outsides of the little cubes melt some, they generally stay intact.
And who doesn't like to bite into a substantial cube of cheese every once in a while? Or in every bite?
Jenni Says: Don't buy already cubed cheese because those cubes are too big and you'll just need to cut each of those into 8 smaller cubes.
Equipment Recommendations
As with most mom-style recipes, you don't need a lot of fancy equipment or ingredients to make a retro pasta salad. Here's a checklist to make sure you have what you need (and you probably do):
a colander or strainer (I use my over-the-sink strainer all the time)
a large bowl for mixing up the salad
a large spatula for folding everything together without smashing the macaroni
And if you're feeling shoppy, you can check out all my kitchen shopping recommendations.
How to Make Macaroni Salad
There are plenty of ways to make macaroni salad, and probably no one right way, but this is how I do it.
Mix up all the dressing ingredients in a bowl.
Cook the pasta, drain well, and rinse so it's not boiling hot.
Mix the dressing with the still-warm pasta so it can soak in.
Chop/mince up additional ingredients.
Fold them into the salad with a spatula.
Macaroni Salad Q & A
Can I make it gluten-free?
The only ingredient that has gluten is the pasta itself, so use your favorite gluten-free pasta shape in place of macaroni made with semolina.
How long can I keep it in the fridge?
For best flavor and texture, try to eat your mac salad within 5 days. While it technically won't spoil for a bit longer, the noodles will get flabby.
How can I veganize it?
Use a vegan mayo such as Just Mayo and leave out the Parmesan or replace with some nutritional yeast. And obviously leave out the tuna. You can up the protein content by adding some beans. Cannelini beans would work well here.
Make It a Meal
Wondering what to serve with mom's macaroni salad? It makes a great side dish for an old-fashioned burger like a Double Polar Burger with Everything (from Grease!) or a smashed bacon double cheeseburger.
Since the macaroni salad is already pretty carby, you could also choose to serve it with this chicken with mushrooms and thyme. Or you can stick with the salads theme and serve it with coronation chicken salad.
And of course, round out your meal with a retro classic double chocolate cheesecake. You've earned it!
More Family Recipes
I love the recipes my mom made as I was growing up back in the 70s, so I have quite a few on the blog.
If you're a fan of easy, mom-style retro recipes, you may like some of the following:
My favorite casserole, beefy and tomato-y and creamy Hamburger Macaroni Casserole Supreme
My favorite Christmas cookie, the perfect pecan slices or Angel Slices. These have a shortbread-type crust, coconut pecan filling, and thin, crunchy lemon glaze. They are perfect.
My family's English trifle is the one we grew up eating from the time we were little. It was always an option for Thanksgiving and Christmas dessert, and the simple combination of pound cake, raspberry jam, a little cream sherry, and homemade vanilla custard is still my favorite.
Questions?
It would be so helpful to me and to other readers that, when you make a recipe, you rate it and leave a comment. Whether it's a recipe or an informational post, your feedback helps others decide if the post is helpful or if the recipe works as advertised.

If you could leave a star rating, that would be very helpful. Thank you for being here!
Tuna Macaroni Salad Like Mom Made
My mom's tuna macaroni salad, which is my favorite ever, may also end up being your favorite. It serves a crowd and is filling with chunks of cheese and tuna throughout.
Ingredients
For the Dressing
2

cups

mayonnaise

4

Tablespoons

yellow or spicy mustard

5

Tablespoons

vinegar or sweet pickle juice

salt

to taste

pepper

to taste

2

teaspoon

celery seed

1

Tablespoon

sugar or honey

(optional and only if using vinegar rather than sweet pickle juice)

½

cup

"green can" Parmesan cheese

optional but nice
For the Macaroni
1

pound

macaroni–shells

elbows or rotini

1

medium sweet onion

diced (as much or as little as you like)

2

ribs celery

small dice (ditto)

2

carrots

peeled and shredded on a box grater

¾

cup

pickle relish

sweet or dill

12

oz

canned tuna

drained and pressed (about 2 small cans)

½

cup

cheddar cheese cut into 1/4″ cubes
Instructions
For the Dressing
Mix together all the dressing ingredients in a large bowl. It should be pretty yellow, so decide if you want to add a bit more mustard or not.
For the Macaroni
Cook the macaroni until it is done to your liking, and drain well. Rinse with cool water just to keep it from being boiling hot.

Add the drained macaroni to the bowl with the dressing in it.

Stir in the onion, celery, relish, and tuna until it is all nicely Mixed Up. I do this one ingredient at a time, just to give the macaroni time to cool off some before adding the cheese.

Add the cheese cubes last and fold them in gently so they're evenly distributed

Refrigerate until cold.

Put in your face.
Did You Make Any Changes?
Notes
Remember, you can add additional vegetables if you would like. You can also leave out anything in the ingredient list that you don't like and substitute for ingredients you enjoy.
It's mom-style macaroni salad, so make it the way your mom would make it (if she is a macaroni salad maker)
Nutrition
Serving:
1
g
Calories:
607
kcal
Carbohydrates:
70.5
g
Protein:
21.8
g
Fat:
26.8
g
Saturated Fat:
5.3
g
Cholesterol:
36
mg
Sodium:
782
mg
Fiber:
3.2
g
Sugar:
15.7
g
I really hope you love my mom's tuna macaroni salad, friends.
It's one of my favorites, and it's so comforting and filling and delicious.
Thanks for spending some time with me today.
Take care, and have a lovely day.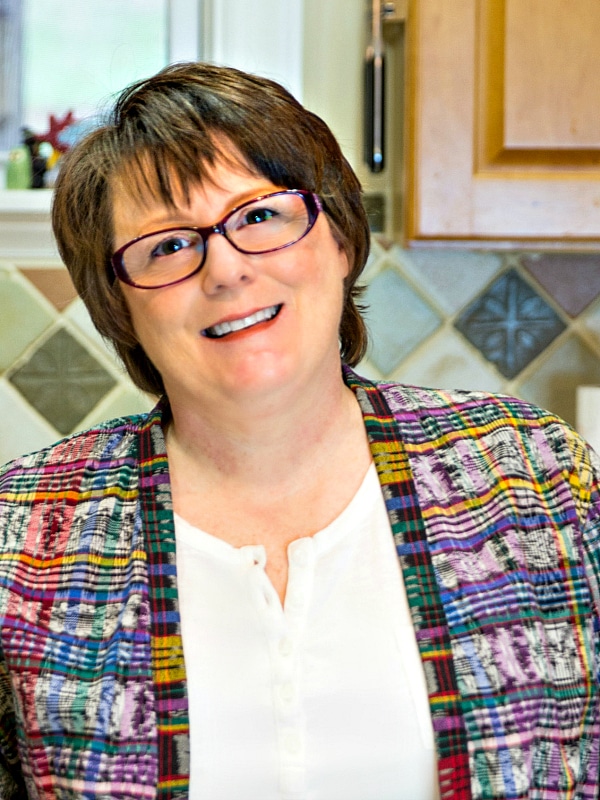 What are my qualifications to teach you baking and pastry? As a former working pastry chef and special educator, I marry my passions for both teaching and for baking into explaining techniques, methods, and developing the best possible recipes. For more info, you can read more about me.
If you'd like to receive new recipes and the occasional newsletter, I'd love for you to sign up for my Inbox Pastry Chef.