If you're a fan of the movie Grease, I know you've heard about the Double Polar Burger with Everything. Ordered by our favorite Thunderbird, Danny Zuko!

Another great one is my Got to Be NC Burger recipe.

I love a great burger recipe, and you can find more epic burger recipes on my site. Enjoy!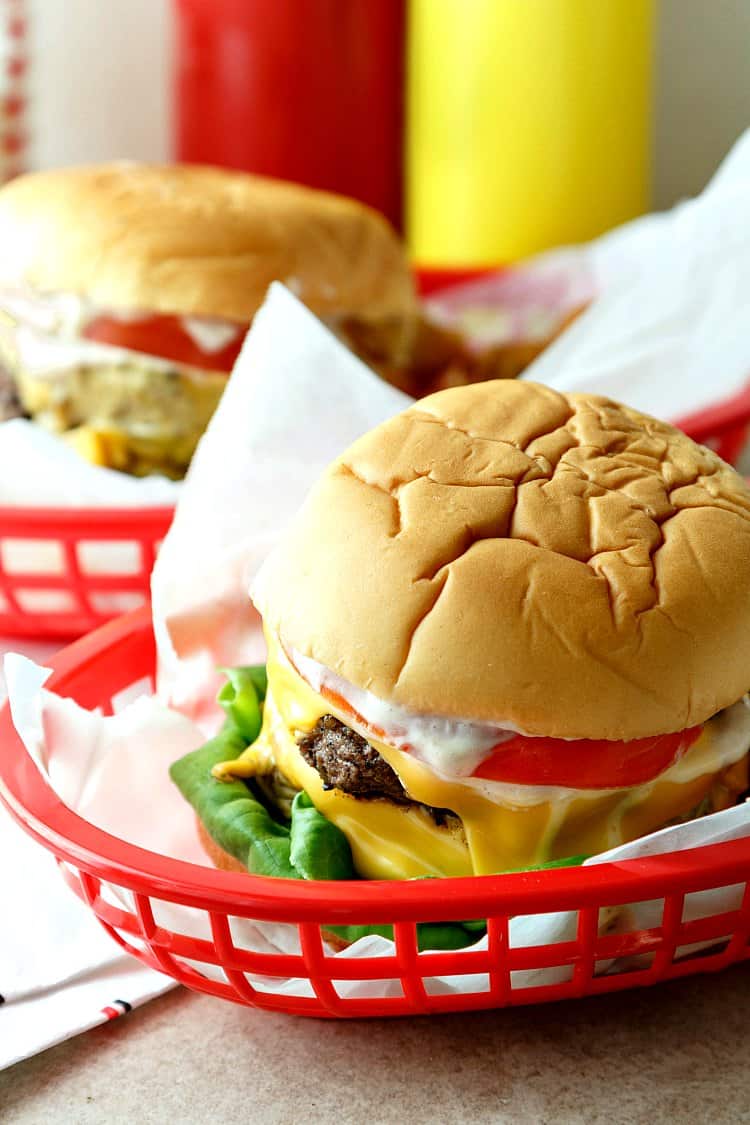 I fell in love with Danny Zuko the moment he turned around, face as big as the screen, with a cigarette dangling from those kissable lips, his bright blue eyes promising…well, I was barely on the cusp of teenagerdom, so I had no idea what those eyes were promising. All I know is when he ordered a Double Polar Burger with Everything (and a cherry soda with chocolate ice cream), I wanted one too. Just like Sandy. "Ooh, that sounds good. I'll have the same!"
When Coleen from The Redhead Baker chose this month's Progressive Eats theme, food inspired by movies or television, I had so many ideas. There was the obvious: a timpano from Big Night, perhaps one of the best food movies ever made. Ratatouille from, well, Ratatouille (technically, Confit Byaldi, but that is sort of splitting hairs). I also considered making some food inspired by the movie Elf, but that way lies madness. Candy. Candy Canes. Candy Corns. And Syrup.
And then. Then I remembered Danny Zuko. And those eyes. And that T-Birds leather jacket. And that dimpled chin. And the Double Polar Burger with Everything, and I realized that all I ever wanted to do was to devour that burger with the bad boy of the school.
The Double Polar Burger with Everything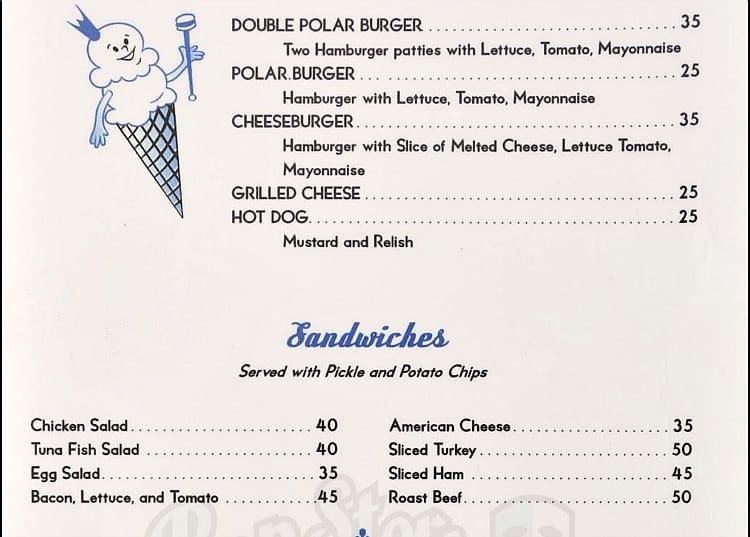 We never really get to hear what is on a Double Polar Burger with Everything, but I did some digging and I found an original menu from the live television version for sale at auction. And here, printed in black on an off-white and totally fake menu, lies the answer. A Double Polar Burger with Everything is two beef patties with lettuce, tomato, and mayonnaise. In what world does "everything" consist of 3 items, none of which is cheese? In fake 1959 Frosty Palace world, that's where. So I added cheese to my copycat double polar burger with everything. Because I'm sure the intern who was tasked with getting these menus printed up just left off the cheese.
If you're interested in seeing the full menu, check it out here. It's going for $60.
Progressive Eats

Welcome to Progressive Eats, our virtual version of a Progressive Dinner Party. Our menu this month features a cocktail and dishes perfect for your 4th of July bash! We've got a great mix from appetizer to desserts; and yes, we have multiple desserts perfect for this summer holiday! Hosting this month is Coleen from The Redhead Baker.
If you're unfamiliar with the concept, a progressive dinner involves going from house to house, enjoying a different course at each location. With Progressive Eats, a theme is chosen each month, members share recipes suitable for a delicious meal or party, and you can hop from blog to blog to check them out.
Before we get to my ode to Grease, the copycat Double Polar Burger with Everything (and Cheese), please visit our other wonderfully creative Progressive Eats members to see what movie or television show inspired them.
Dishes Inspired by Movies or TV
Appetizers
Main Courses
Side Dishes
Desserts
My Copycat Double Polar Burger with Everything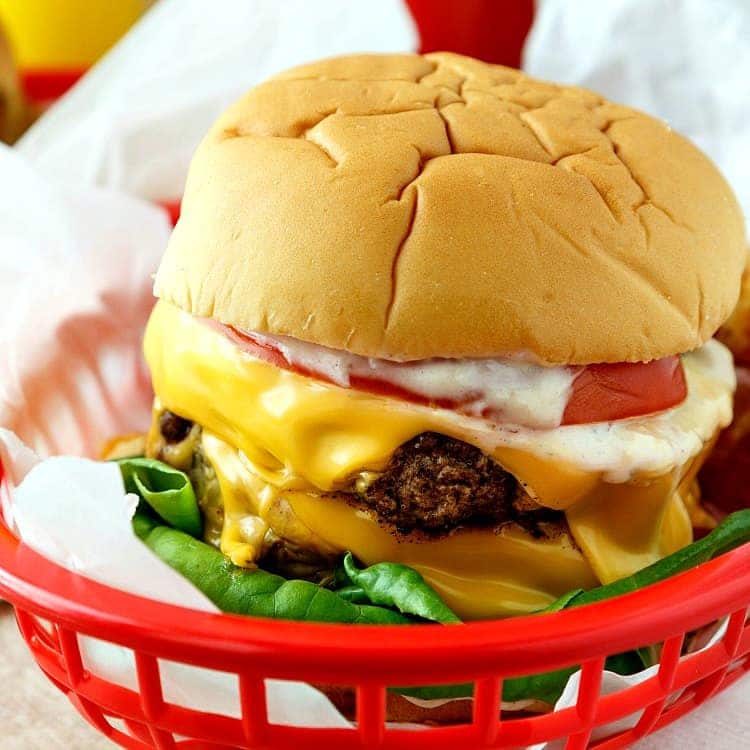 Aside from the cheese (ahem), I pretty much stayed true to the prop menu. To up the beefiness factor, I liberally seasoned both sides of the burgers with steak seasoning, and I added some garlic paste, a bit of salt, freshly ground black pepper, and some A1 steak sauce to the mayonnaise. And after that, it was just a matter of artfully stacking everything together on a potato bun.
For photographic purposes, I made 4 oz patties, but honestly for "real eating," I would either make the patties smaller and smash them, or I'd just have a single. Unless you want to use a knife and fork, in which case, go for it. Just know that if I had tried to pick up these particular burgers and eat them, I would have made a big fat mess. After picture time, I took one patty off of each burger to have tomorrow.
But Danny? He'd have handled that burger.
I'm writing the recipe to reflect 2 2-oz patties, for a total of 1/4 pound per double burger. Feel free to make them larger, but please do not send me your dry cleaning bill.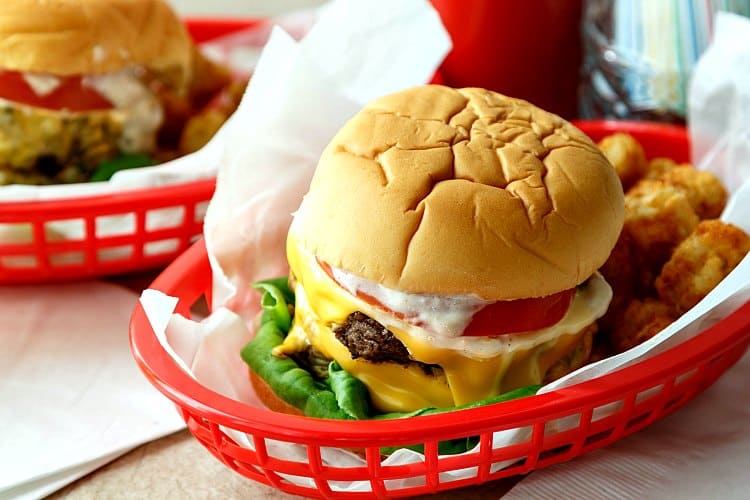 For convenience, consistency, and accuracy, almost all my recipes are written by weight, either in ounces and/or grams, even the liquids.
I strongly encourage you to purchase a kitchen scale and learn to use it.
This is the one I used for years. I love it and highly recommend it:
Best for Home Use
Escali Primo Digital Food Scale
Don't let its small price and small size fool you. The Escali Primo is an accurate and easy-to-use food scale that I have used for years. It's easy to store, easy to use, has a tare function, and easily switches between grams and ounces/pounds for accurate measurements.
This is an affiliate link which means I earn from qualifying purchases. Your price is unaffected.
It would be so helpful to me and to other readers that, when you make a recipe, you rate it and leave a comment. Whether it's a recipe or an informational post, your feedback helps others decide if the post is helpful or if the recipe works as advertised.

If you could leave a star rating, that would be very helpful. Thank you for being here!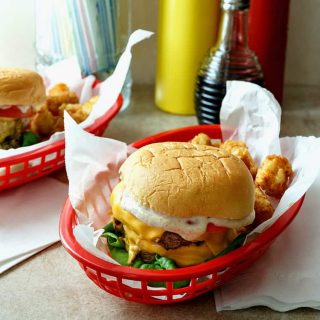 Double Polar Burger with Everything from Grease
My version of a double polar burger with everything includes some doctored mayo, well-seasoned beef, leaf lettuce, a large slice of ripe tomato, and melted cheese. American, of course.
Ingredients
1

pound

ground beef

I used 85/15

your favorite steak seasoning

I used House Seasoning from The Butcher's Market

4

slices

American cheese

½

cup

mayonnaise

I used Duke's

1

teaspoon

Gourmet Gardens garlic paste

or 1-2 cloves minced garlic

1

Tablespoon

A1 steak sauce

or your favorite

pinch

kosher salt

several grindings fresh black pepper

8

leaves

Bibb lettuce

or your favorite lettuce

4

slices

ripe tomato

8

potato buns

toasting optional
Instructions
Form the beef into 8 thin patties. Set aside to come to room temperature. Season the top sides liberally with your favorite steak seasoning.

Stir together the mayonnaise, garlic paste, A1, salt and pepper. Set aside.

Fry the burgers, seasoned side down, for 2 minutes. While the burgers are frying, season the other sides. Flip and cook until done, another 2 minutes. If frying in batches, keep cooked burgers wrapped in foil in a warm oven.

Once all the burgers are cooked, place a slice of cheese on each one and heat just until the cheese droops down the sides of the burger.

Spread a tablespoon of the seasoned mayonnaise on the bottom bun. Top with 2 leaves of Bibb lettuce and then 2 of the cheese-covered patties.

Place a slice of tomato on top of the stack of goodness you have going, spread top buns with another tablespoon of the seasoned mayo, and place them jauntily on top of your burgers.

Serve with tater tots or fries, a cherry soda with chocolate ice cream, and consider a Dog Sled Delight with four spoons for dessert. Enjoy!
Did You Make Any Changes?
I hope this copycat Double Polar Burger with Everything has transported you to your childhood. That it brings back wonderful memories of summer nights at the beach, dates with your sweetie at the local diner, cruising on Friday and Saturday nights, and having sleepovers with your best girlfriends.
Want more burgers? Okay.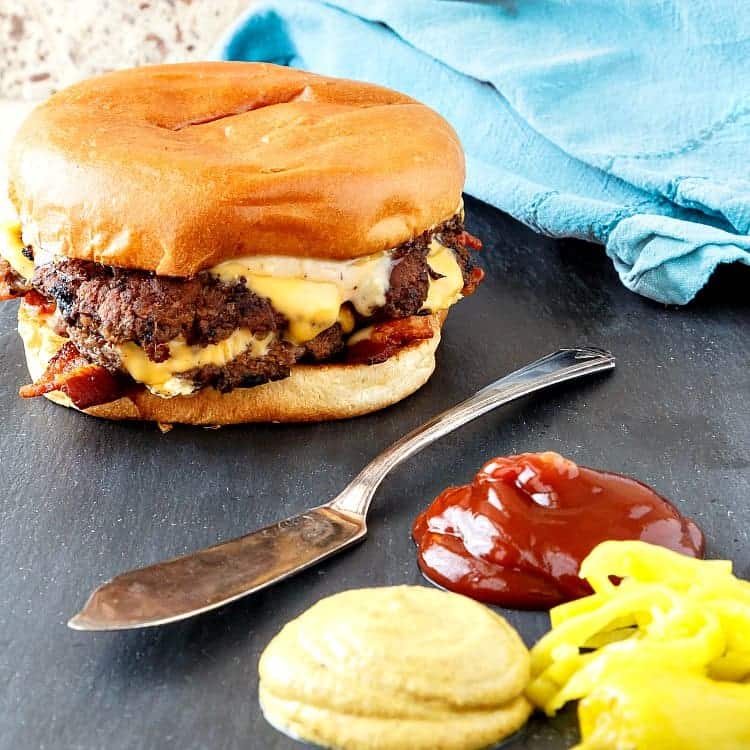 Smashed Bacon Double Cheeseburger
Thank you for spending some time with the Progressive Eats gang today. Enjoy the burger with everything, take care, and have a lovely day.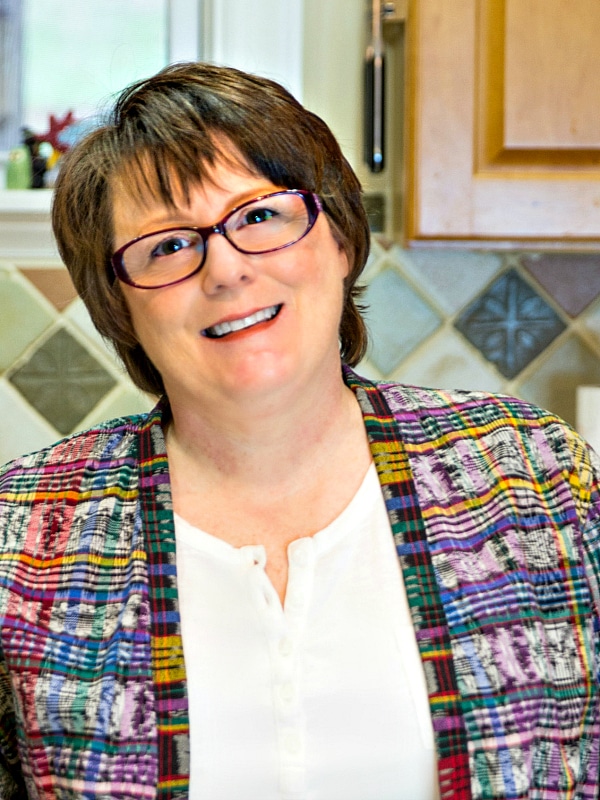 What are my qualifications to teach you baking and pastry? As a former working pastry chef and special educator, I marry my passions for both teaching and for baking into explaining techniques, methods, and developing the best possible recipes. For more info, you can read more about me.
If you'd like to receive new recipes and the occasional newsletter, I'd love for you to sign up for my Inbox Pastry Chef.