I am excited to be able to share with you what I think is the best English trifle recipe.

This classic trifle was always a part of the dessert spread for Christmas, and my Auntie Ev always made it the same way.

She served it cut into elegant squares that held their shape, but you could also assemble it in a large trifle bowl or make individual trifles.

I will show you how. For another Christmas classic, you may like my husband's fruitcake recipe.

For ease of browsing, you can find all my custard and pudding recipes in one place. Thank you for visiting!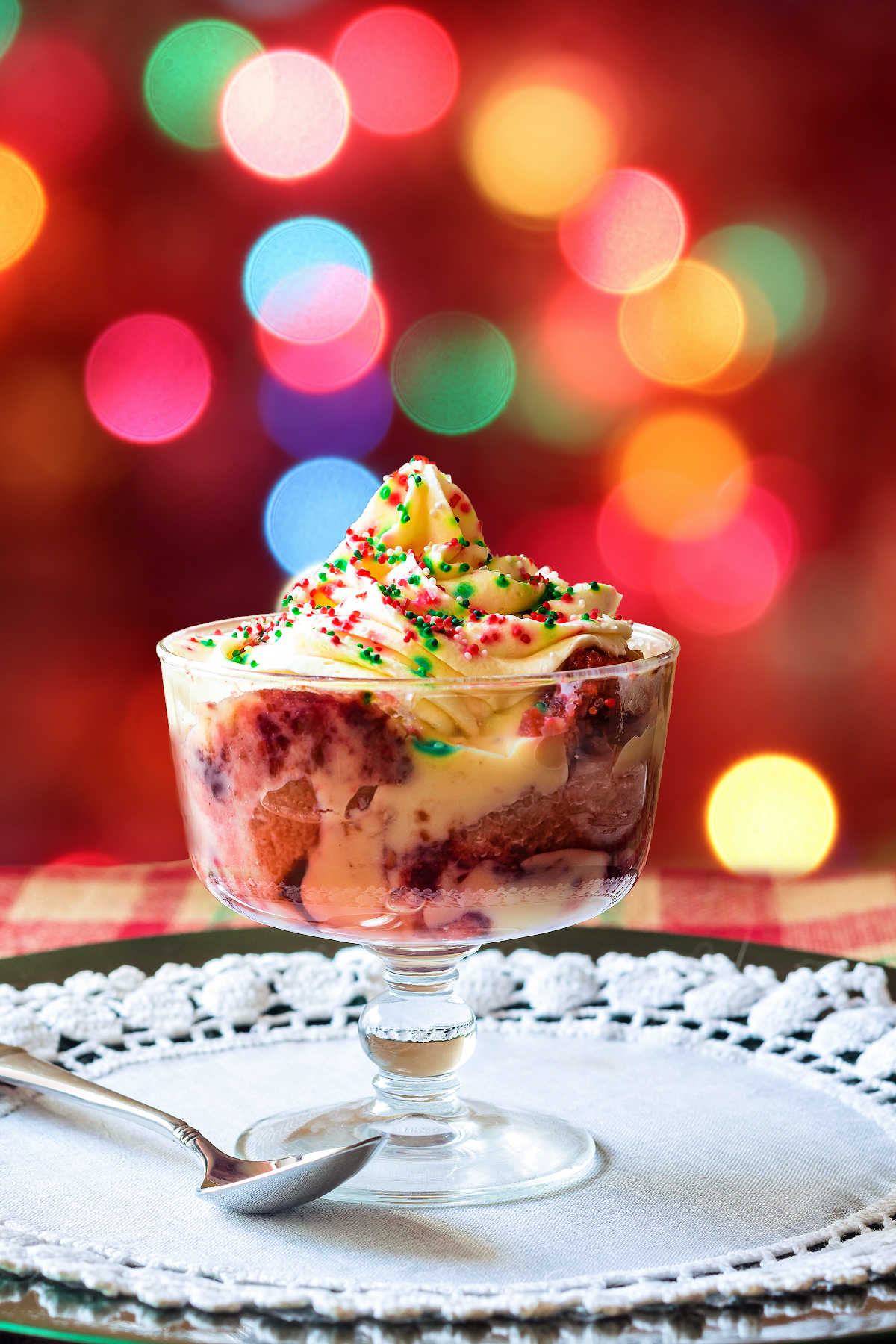 Watch my English Christmas trifle recipe web story here.
What is a Trifle
Trifle is a dessert dish made from thick (or often solidified) custard, fruit, sponge cake, fruit juice or jelly, and whipped cream. These ingredients are usually arranged in layers. –Wikipedia.org
Why You Should Make This Trifle Recipe
For me, it's the combination of flavors that make this particular English trifle work so well.
Layers of sherry-soaked lemon pound cake drizzled, brushed, or splashed with cream sherry all topped with a homemade vanilla pudding and then a layer of hand-whipped cream.
Unlike many trifle recipes, my Auntie Ev made hers in a 9 x 13 Pyrex dish, fitting layers of pound cake together evenly so that it could be sliced rather than scooped into a bowl.
Since that's how I grew up with trifle, that's how I make it now.
It's much prettier to look at, honestly. No matter how beautiful a trifle looks in a huge trifle bowl, it looks a bit of a wreck once you start scooping it out for serving!
No scoops here (unless that's your preference). Just pretty squares of custard-and-whipped-cream-topped boozy cake and jam.
How to Make Auntie Ev's Trifle
Here's what you'll need.
Note that I'll give you substitutions for almost all the components. Just because this is our favorite version, and I do hope you'll try the original, I also realize everyone has different tastes and different dietary restrictions.
Ingredients and Substitutions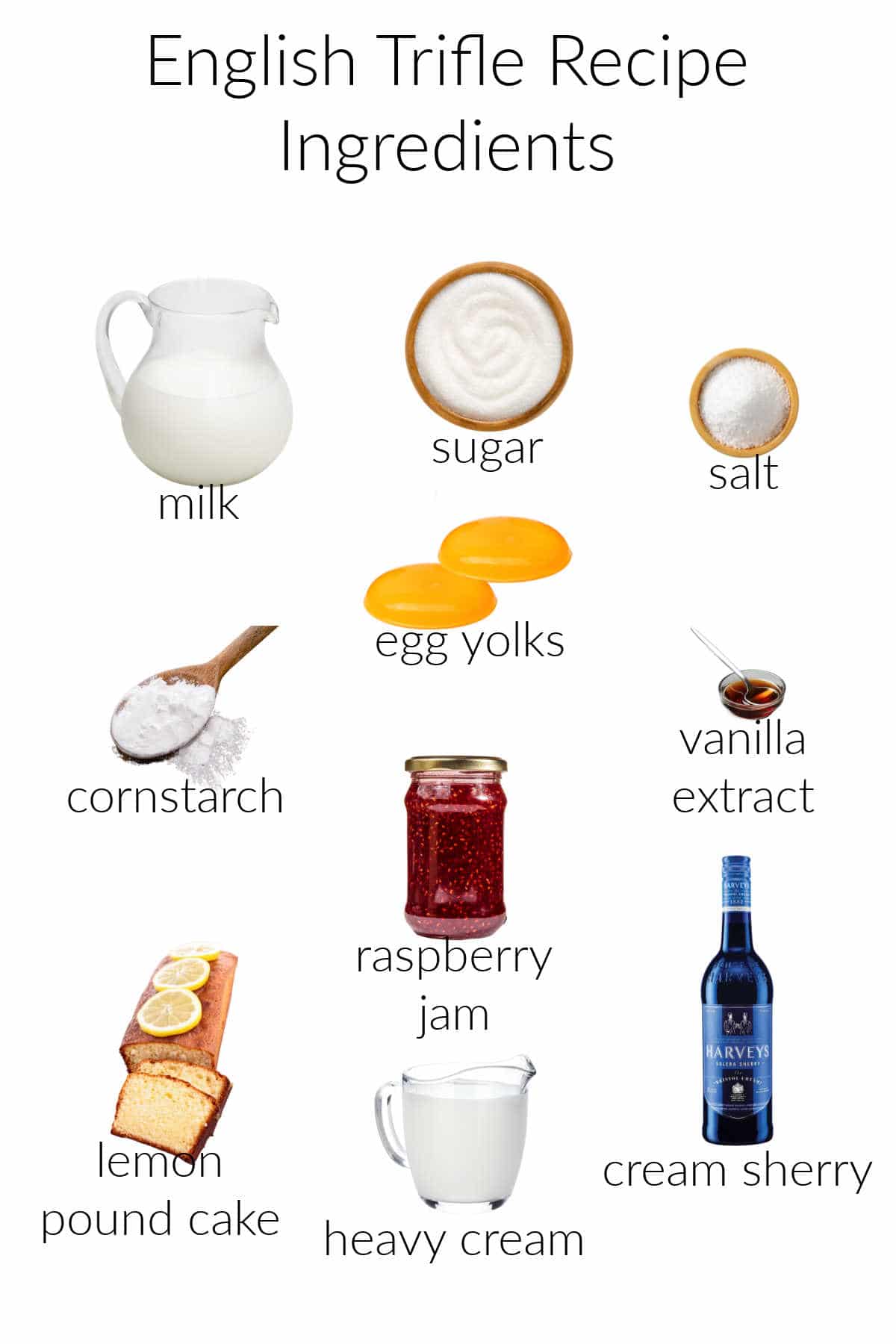 For the Custard
Milk: I use whole milk. You could also use half and half for a richer custard or 2% for a leaner custard (less fatty). Feel free to substitute your favorite plant-based milk that doensn't curdle when boiled.
Sugar: I use plain granulated sugar. Use your favorite sugar substitute that doesn't crystallize when boiled (so no erithritol-based sweeteners.
Salt: I use 1 full teaspoon of Morton's kosher salt for the custard (1/4 teaspoon per cup of milk). If using Diamond Crystal, you will have to use a bit more. If using fine table salt, use less, to taste.
Cornstarch: This provides the thickening power. You can also substitute plain all-purpose flour.
Egg yolks: Adds some richness and the traditional pale yellow custard color. If you can't have eggs, leave them out and increase the cornstarch by an additional Tablespoon.
Vanilla: I use vanilla extract. You could also use vanilla paste or a completely different extract. For example, a little rosewater would bring a Middle Eastern flavor and would be lovely paired with the raspberry jam. You could also make lemon pudding. It's your call.
For the Rest
Pound Cake: Auntie Ev used lemon pound cake, so that's what I use. If you are short on time, I have enjoyed many a trifle made with Sara Lee Pound Cake from the freezer aisle. You can also make a whipping cream pound cake or an almond pound cake.
Jam: I like raspberry jam with seeds, because that's what I grew up having. Feel free to use seedless raspberry jam or substitute mixed berry jam, plum jam, or your favorite jam. For example, if you decide to go with lemon pudding, you could use blueberry jam. That would be a great combination
Cream Sherry: Even the kids in the family enjoyed trifle made with the layers of pound cake soaked with a light (or not-so-light) sprinkle of cream sherry. If you don't drink alcohol, you could make simple syrup and add some rum extract or sherry extract. Or just use a plain simple syrup to brush or sprinkle on the cake.
Whipped Cream: I whip my cream with a little sugar, a pinch of salt, and some vanilla extract. Whip it to stiff peaks and then spread in an even layer on top of a whole 9 x 13 trifle or pipe it decoratively on top of individual trifles. Or use Reddi Whip or Cool Whip if that's what you like!
Procedure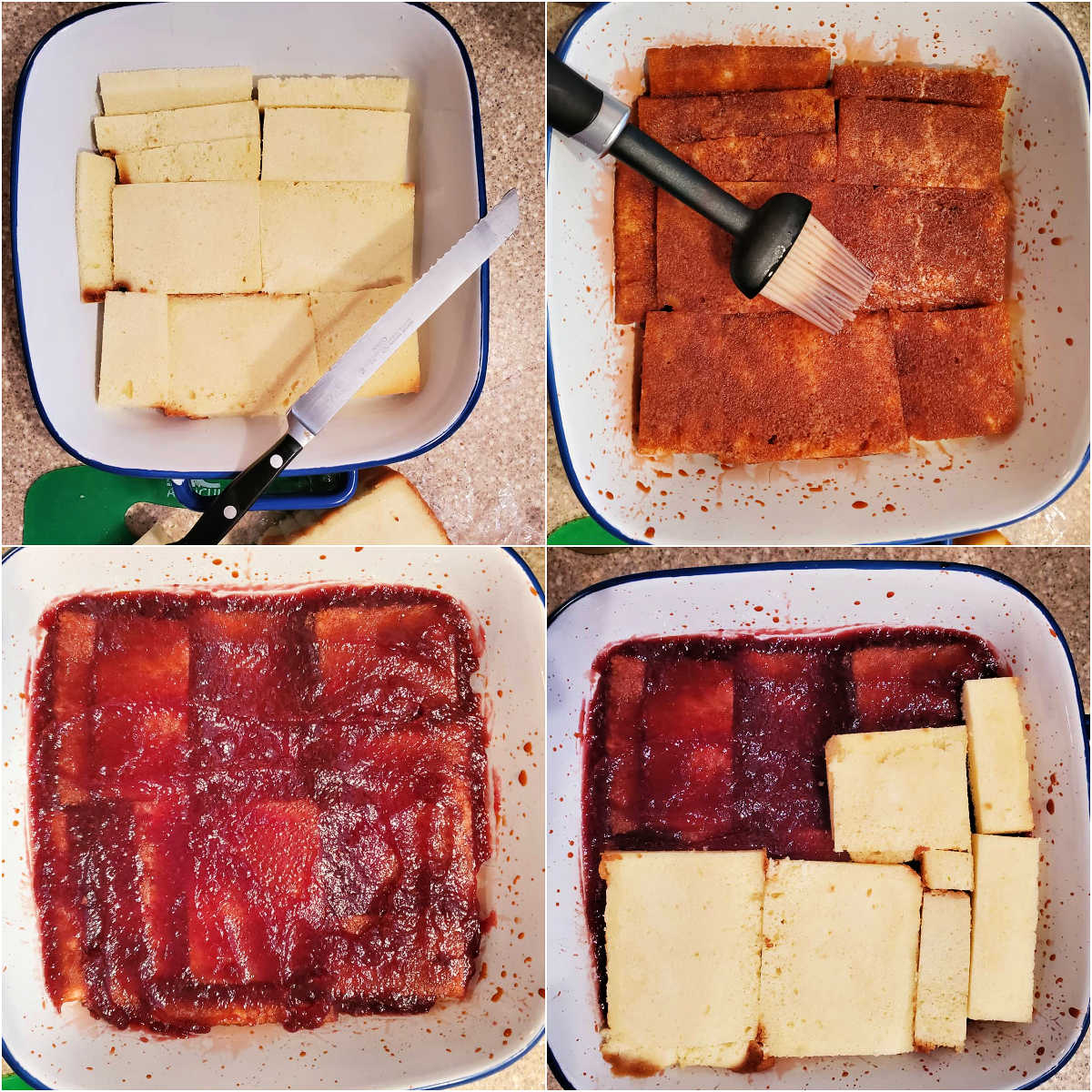 This is a layered dessert, so think of it like a dessert lasagna more than a dump-everything-in-a-bowl recipe.
Here's how to make it:
Slice the pound cake and fit it snugly in a single layer in a 9 x 13″ pan.
Sprinkle with cream sherry or one of the suggested substitutes. (Note in this photo, my cake sprinkle is simple syrup with sherry and lemon extracts in it)
Spread with about 15 oz of raspberry jam, or one of the substitutes.
Repeat layers one more time, ending with the jam. You should have about 3/4″-1″ of space left in your pan.
Make the custard:

Whisk together milk, sugar, salt, egg yolks, and cornstarch in a heavy-bottomed pan.
Switch to a wooden spoon and bring to a boil over medium to medium-high heat, stirring constantly.
Adjust heat to keep at a low boil for 2 minutes.
Strain custard through a fine-mesh strainer into a bowl or large pitcher. Stir in the vanilla extract.

Pour the custard evenly over the jam layer. You should have about 1/2″ of space left in the pan.
Chill for several hours or overnight to make sure pudding is fully set.
Top with an even layer of whipped cream, or spoon or pipe cream onto individual pieces.
Tips for Success
This is a pretty straightforward dessert to make, but there are always ways to refine it.
To make the slices look really pretty, cut all the crust off the cake pieces. Yes, you can and should eat them as a snack.
Since this dessert is chilled and is based on butter cake, it tends to get a little firm in the refrigerator.
For best presentation, slice the trifle straight from the fridge. For best texture, allow the slices to sit for 20-30 minutes before serving.
If you want to make your trifle just like Auntie Ev did, you'll spread a smooth layer of whipped cream on top of the chilled custard layer.
Then, make score marks for cutting 16 slices (4 x 4 in the pan) and placing half a drained marachino cherry in the center of each scored slice.
You can also decoratively pipe the cream however you like, or just dollop some on after slicing and serving.
Variations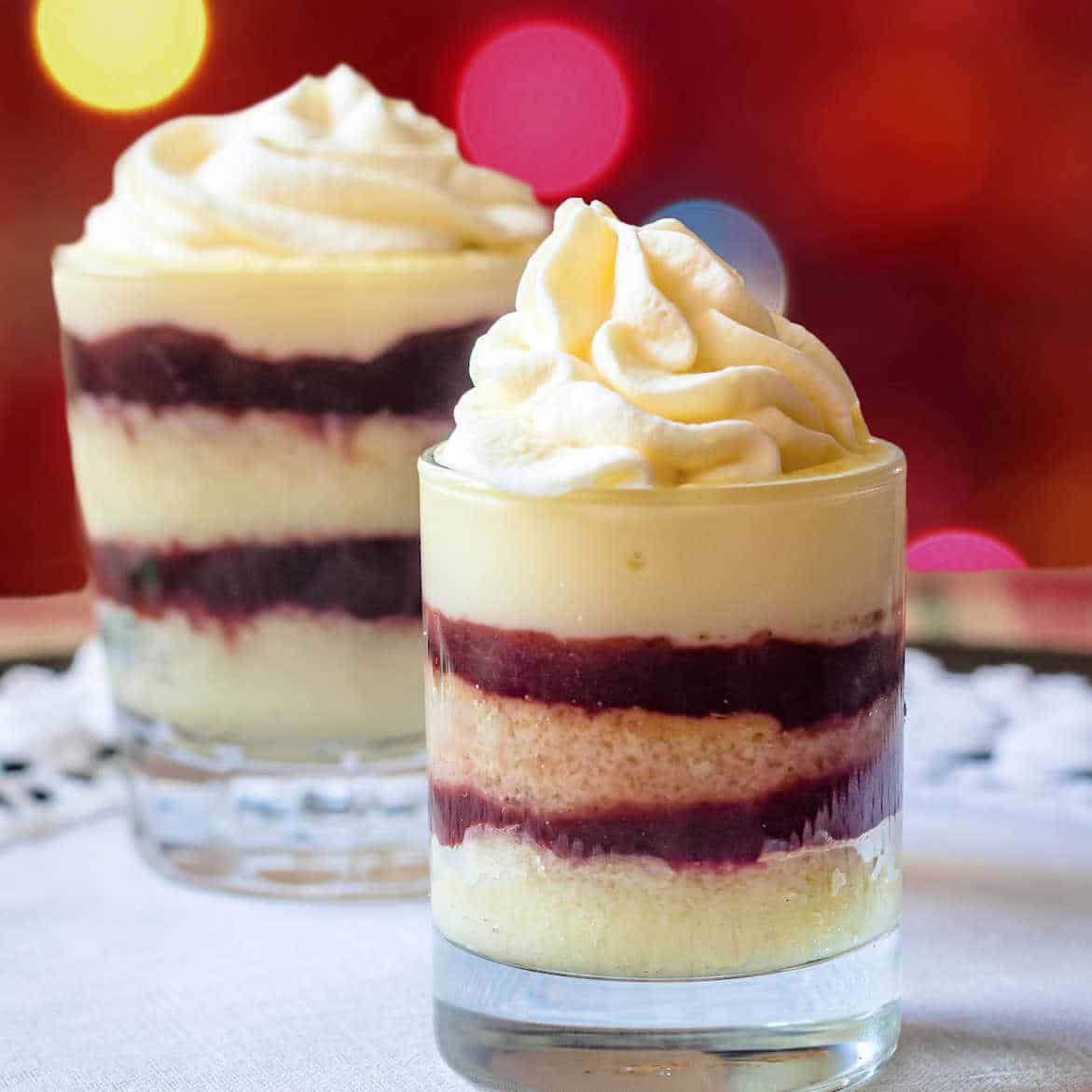 If you like, you can make individual trifles in small glasses. Use a round cutter to cut the cake and layer in with sherry and jam before pouring on some custard.
Once the custard sets up, pipe a "pouf" of whipped cream on top of each one. Consider using stabilized whipped cream, especially if your trifle is going to sit for a few hours or if you want to make it 2-3 days ahead.
This is a bit more fussy than making a large trifle that you can cut and serve, but for a fancy dinner, sometimes it's nice to go the extra mile and make individual desserts.
You can even make trifle shooters in shot glasses. This would work well on a dessert buffet or even a cookie board.
Then people could have a little bite of trifle and still enjoy an angel slice or chocolate peppermint crinkle cookie or two!
Englsih Trifle Q & A
During which holiday are trifles traditionally served?
In my family, the big "trifle holiday" has always been Christmas. We even called it "Christmas trifle" sometimes.
Can I make trifle ahead of time?
Yes! It's a great dessert for a big holiday because you can make it up to three days ahead, letting it hang out in the fridge, covered, until you plan on serving. If waiting for three days, though, I'd wait on adding the whipped cream layer until earlier in the day you plan to serve it. Trifle definitely benefits from being refrigerated for several hours at least so the sherry and the juices from the jam can soak into the cake. And in this slice-able version, the pieces will hold together much better if they are refrigerated overnight.
How much sherry is in a trifle?
I have had a trifle with so much sherry soaking the cake that it's almost soggy. I've also had it with just a little bit of sherry drizzled on the layers. I don't think there is any right way. Consider the people you are serving, their tolerance for alcohol, and also the texture of the final dessert. I tend to fall somewhere in the middle–all the cake should definitely be brushed generously with sherry, but it doesn't have to be so much that it soaks all the way through the layers. I would say that 1 cup per 9 x 13 layer would be more than sufficient, or about 2 cups for a whole 9 x 13 trifle. That sounds like a lot, but if you cut your trifle into 16 pieces, each piece will only have about 2 Tablespoons (1 ounce) of sherry.
Can I use lady fingers?
Absolutely. If that's what you want to use as your cake layer, go for it.
Should I soak cake pieces or lady finger pieces before adding them to the pan?
I find it's easier, and less messy, to add the cake or lady fingers to the pan and then generously brush the sherry on. Kind of like mopping barbecue sauce on–a generous amount, but not so much that the cake gets soggy.
What else can I use for the cake layers?
Angel food cake or sponge cake would make great substitutions. And since they both contain less fat than pound cake, your trifle will be softer even straight from the fridge. I like using pound cake because it's what I grew up with, but you make the kind of cake you like.
Can I use brandy instead of sherry?
Yes, you can. I find brandy, which is fortified, a bit strong for my taste, but if that is your preference, go for it.
Can I make English trifle without alcohol?
Absolutely. You can brush the cake layers with simple syrup or flavored simple syrup. You can also add some sherry or rum extract to simple syrup to have a non-alcoholic trifle that is reminscent of the high octane versions.
Is there beef in trifle?
Only if you are Rachel Green from Friends.
Questions?
It would be so helpful to me and to other readers that, when you make a recipe, you rate it and leave a comment. Whether it's a recipe or an informational post, your feedback helps others decide if the post is helpful or if the recipe works as advertised.

If you could leave a star rating, that would be very helpful. Thank you for being here!
Traditional Trifle Recipe
There is no rule that says you can't make these in individual glasses. I did this year along with a small-ish 7″x11″ Pyrex baking dish. The custard is just my good old reliable scale-able vanilla pudding made extra silky by leaving out the butter.
Ingredients
For the Custard
4

cups

whole milk

4

Tablespoons

corn starch

(or similar)

4

egg yolks

1

cup

of sugar

(you may need a little more–I just do it to taste)

½

teaspoon

salt

(again, to taste. You might want a bit more or less, just please don't leave it out)

4

teaspoons

vanilla extract
Items for Assembly
16

slices

lemon pound cake

about 1/2″ thick

½

cup

cream sherry

more or less

30

oz

raspberry jam

1 ½

cups

heavy cream whipped with 4 Tablespoons sugar

a pinch of salt, and 1 teaspoon vanilla extract
Instructions
For the Custard
I would hold off making the custard until you have the rest of the layers constructed.

Place the vanilla in a large bowl. Set a fine mesh strainer over the top and set aside.

In a large sauce pan, combine the milk, corn starch, yolks, sugar and salt.

Over medium to medium-high heat, bring this to a boil, whisking constantly.

Before it gets too hot, give it a taste and see if you need to add a bit more sugar and/or salt for your taste.

Once the custard comes to a boil, turn the heat down to medium-low and cook another 30-45 seconds. Continue to whisk madly.

Remove the pan from the heat and strain the custard into the bowl with the vanilla. You may need to use your spatula to force it all through.

Stir the custard and vanilla together thoroughly.
To Assemble
Cut rectangles of pound cake about 1/2″ thick and fit them in the bottom of a 9″x13″ glass baking dish. It's okay to leave a little space between the slices at the edges of the pan, but the rest of the slices should pretty much be touching.

Even drizzle as much or as little sherry over the layers as you like. This is entirely dependent on who you're feeding, so use your good judgement. I usually use about 1/4-1/3 cup per layer. I don't measure either. I just stick my thumb over the mouth of the bottle and shake on as much as seems Prudent.

Evenly spread on a layer of raspberry jam about 1/8″-3/16″ thick.

Add another layer of pound cake.

Sprinkle with more sherry.

Spread on another layer of jam.

Pour the custard evenly over the top of the trifle, making sure that it runs down into any gaps between the cake and the sides of the pan. I usually stick a knife in in a few places to allow the custard to spread. You want about a 1/2″ layer of custard, so if you seem to have a bit extra, save it for yourself and don't tell anyone.

You should still have about 1/2″ of space between the top of the custard and the top of the pan. This is where you'll spread your whipped cream.

Cover the trifle with plastic wrap (don't worry about pressing it to the surface of the custard) and chill thoroughly.

Once chilled, spread the whipped cream evenly over the top of the trifle.

Serve in whatever size slices you'd like, and place a completely optional maraschino cherry in the very center of each slice before serving.
Did You Make Any Changes?
Nutrition
Serving:
1
g
Calories:
721
kcal
Carbohydrates:
94
g
Protein:
8
g
Fat:
35
g
Saturated Fat:
21
g
Polyunsaturated Fat:
11
g
Trans Fat:
1
g
Cholesterol:
212
mg
Sodium:
489
mg
Fiber:
1
g
Sugar:
66
g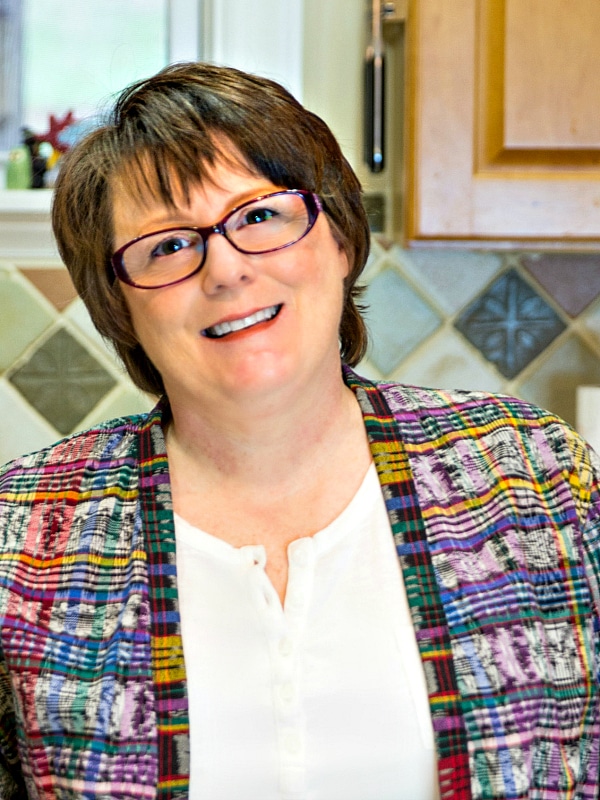 What are my qualifications to teach you baking and pastry? As a former working pastry chef and special educator, I marry my passions for both teaching and for baking into explaining techniques, methods, and developing the best possible recipes. For more info, you can read more about me.
If you'd like to receive new recipes and the occasional newsletter, I'd love for you to sign up for my Inbox Pastry Chef.