If you love curry and a sweet-salty combination, you are going to love this coronation chicken salad recipe. This curried chicken salad has British colonial roots and, with all the flavors and textures, it's hard to stop eating!

And if you're a fan of chicken in general, you may also like this chicken with mushrooms and thyme.
For ease of browsing, take a look at all my poultry recipes.

NOTE: I added some new images and process shots on 7/26/2020.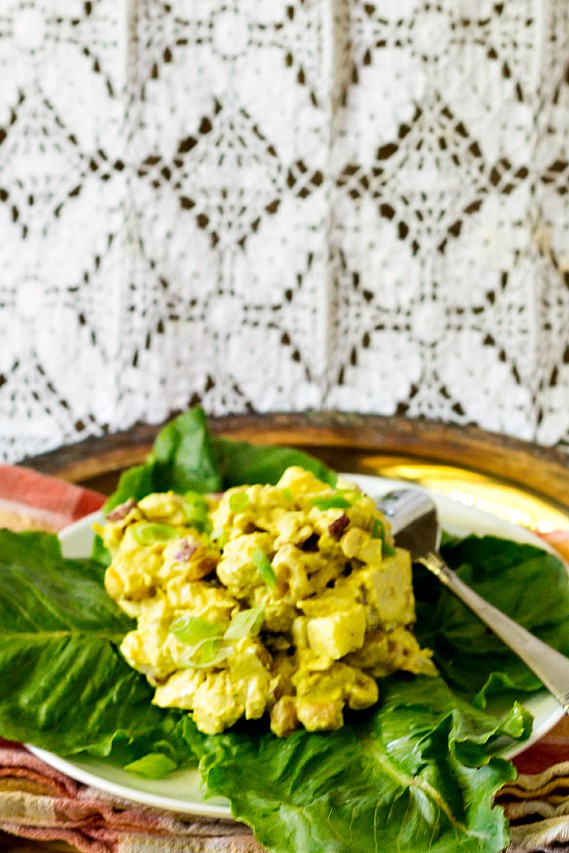 My Accidental Coronation Chicken Salad
Let me introduce you to my new favorite salad: coronation chicken salad, or curried chicken salad.
I didn't refer to a recipe when I made this. I just made it up, adding some curry-ish ingredients and made a dressing spiked with curry powder.
It was delicious, so I decided to write it up. As a teaser, I shared a photograph of it, and my friend Deon from Food Jam asked if it was like Coronation Chicken Salad.
This was the first time I'd ever heard of Coronation Chicken, so I went and looked it up on The Google.
Chicken, fruit, curried dressing. I told him that it was indeed more or less the same thing as Coronation Chicken, and then I started doing some research into the dish.
Origins of the Dish
As you can guess, Coronation Chicken (really just a schmancy curried chicken salad) was invented in celebration of Queen Elizabeth II's coronation.
The dish was developed by Constance Spry and Rosemary Hume, both of Le Cordon Bleu culinary school in London.
This dish not so subtly paid homage to the contracting British Empire, borrowing some flavors from India, the "crown jewel of the British Empire" until 1947.
Over the ensuing years, it seems that Coronation Chicken lost some of its luster, ending up in soggy sandwiches on buffet lines and being made fun of in the way that Spam is made fun of in the US. Except in Hawaii.
It became something of a wink and a nod recipe. I imagine British hipsters eating it ironically.
Why This Recipe?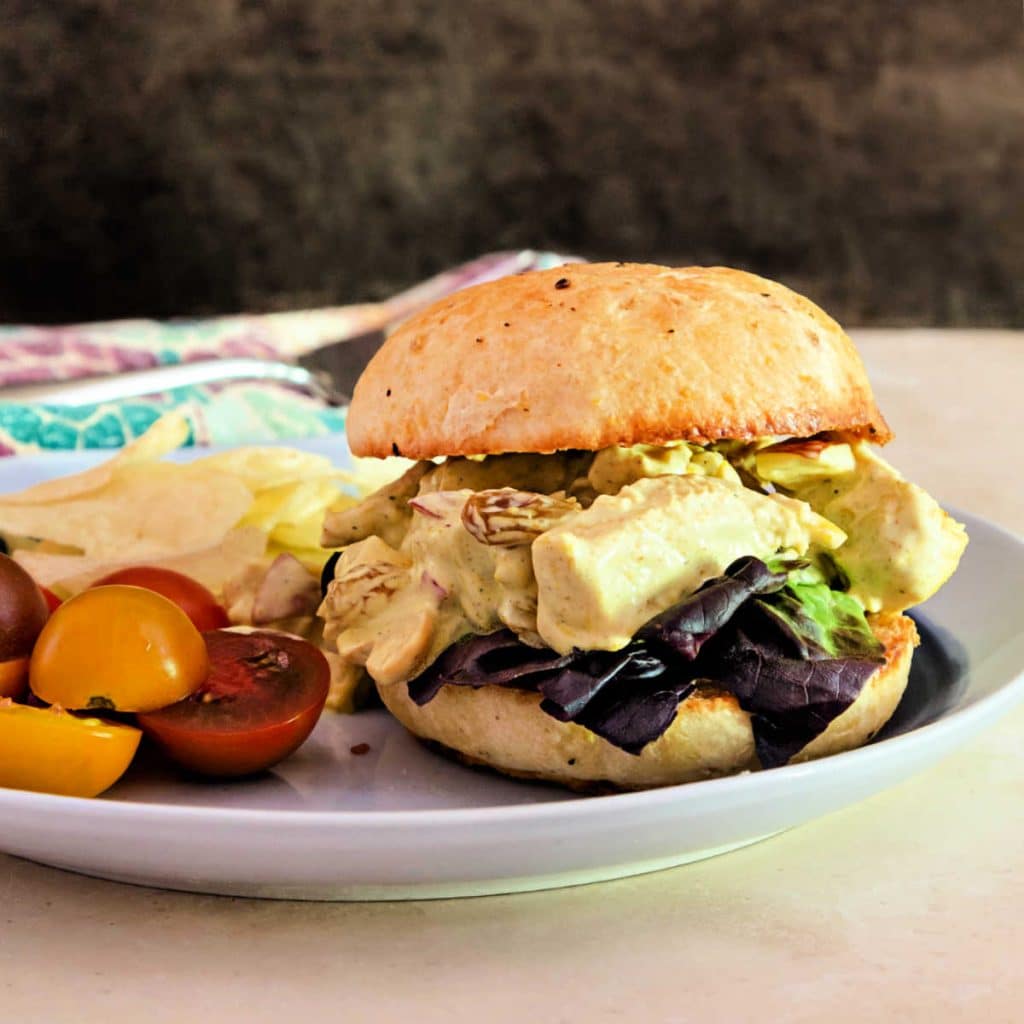 A good curried chicken salad made with mild, juicy chicken punctuated by pops of chewy fruit and bathed in a silken saffron-hued dressing is a beautiful thing.
The British seem to think so, too. The dish seems to be making a comeback in the UK, getting updates in both the cooking method and ingredient list.
It has also been kept alive with updates called "Jubilee Chicken," commemorating Elizabeth's fifty and now sixty years (and counting–sorry, Charles) on the throne.
What makes this version so good is that, if you're like me, you'll have most of what you need on hand.
You can also mix up the fruit and nut mix-ins to suit your own taste. Same goes for the dressing: if you like it sweeter, add more honey. Spicier? Use a hot curry powder.
This is a very easy recipe to make. Poach the chicken one day, chill it in its juices so it doesn't dry out, and then whip up this easy chicken salad in just a few minutes.
And while it will taste better if you let it hang out in the fridge for a few hours, it's also really good right out of the gate.
How to Make It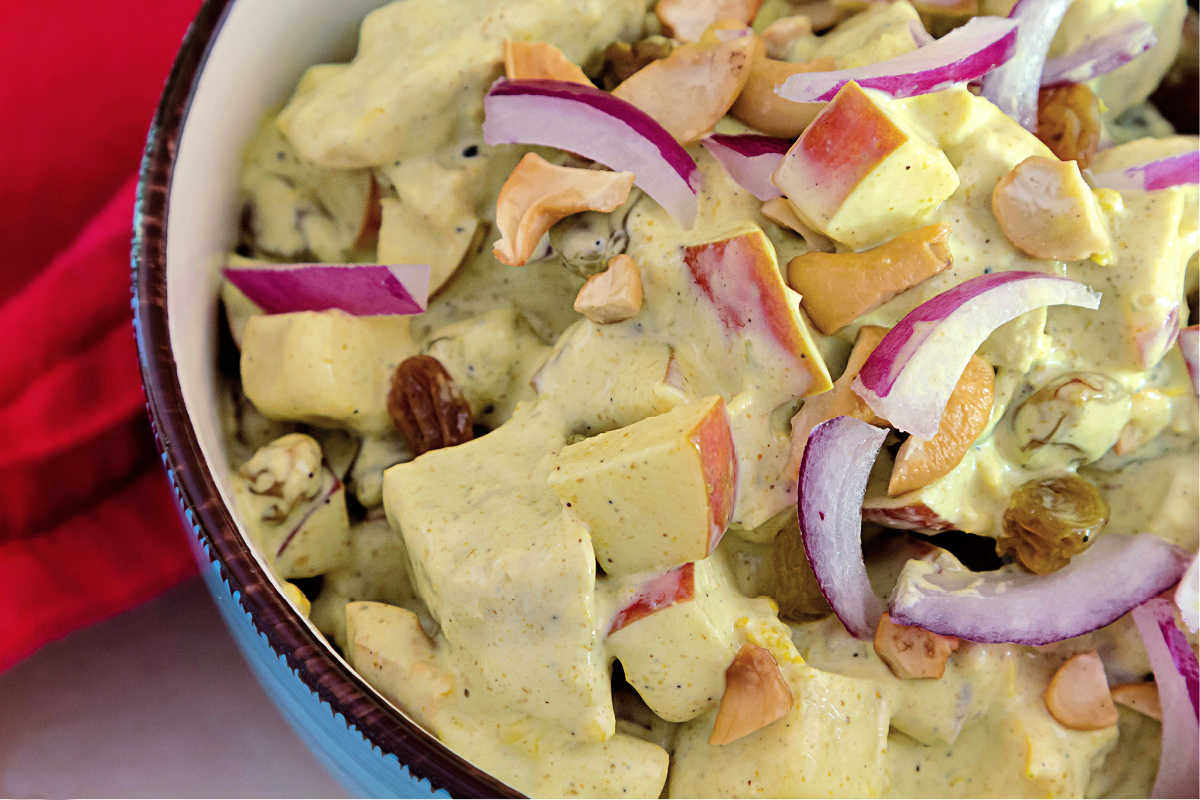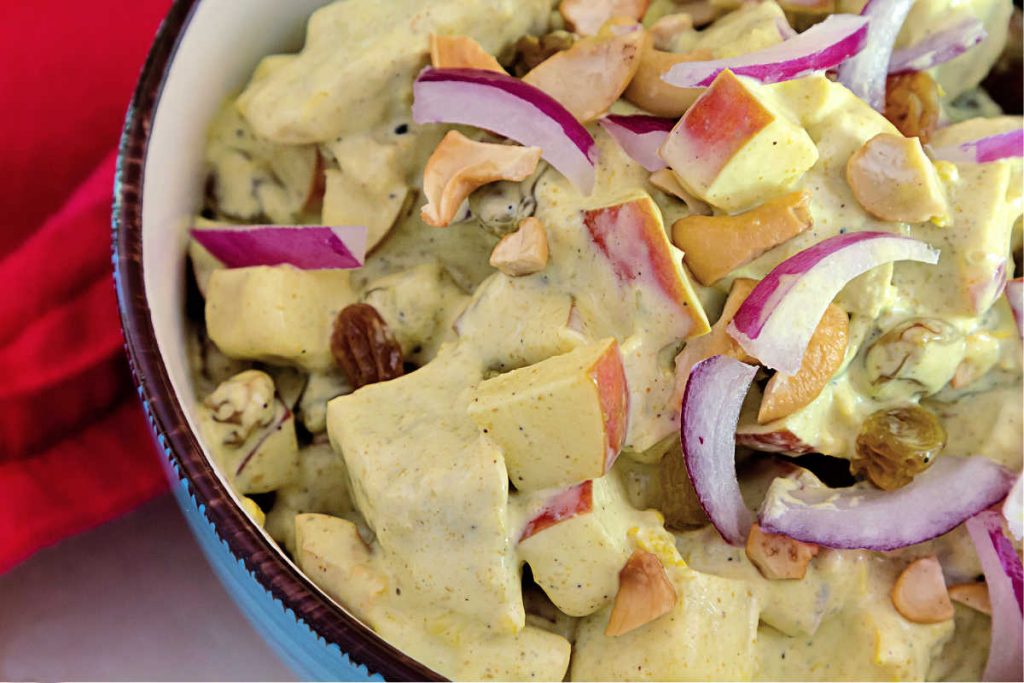 The components to any great chicken salad are:
moist chicken (generally white meat)
a mixture of crunchy, fruity, and chewy mix-ins
a creamy dressing
For my version of this British classic, here are the components:
for the chicken: chicken breast poached in chicken stock with turmeric
mixins: roasted cashews, raisins, red onion, apple (add snipped dried apricots too if you have them. They are super traditional)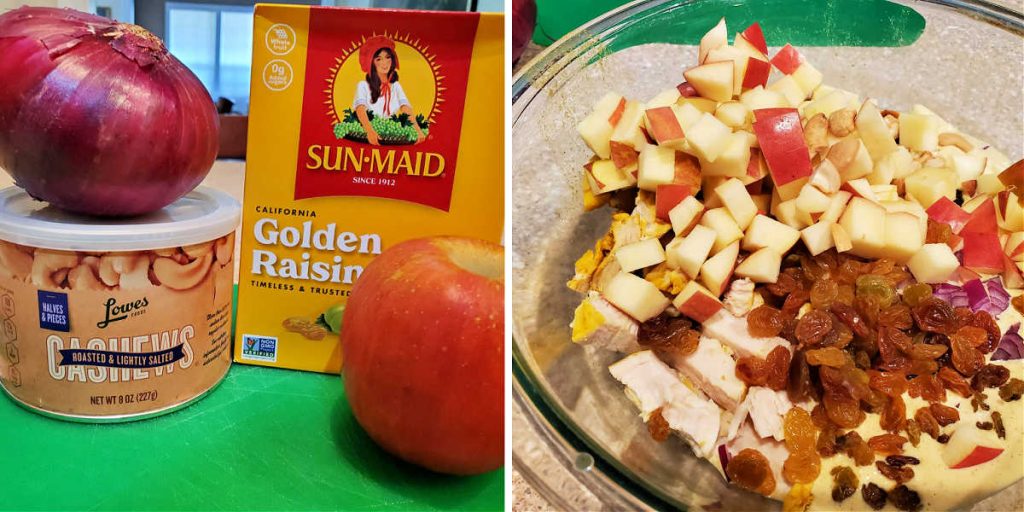 dressing: mayo, cider vinegar, honey, curry powder, salt & pepper
Time-Saving Tip
To save time (and to not have to turn on the stove at all) substitute chopped rotisserie chicken for the chicken breasts.
Q & A
You may have a few questions about how to make this dish or about substitutions for ingredients.
I'll try to address all that here.
Could I make this with turkey?
Sure. This would be a great way to use up leftover turkey from Thanksgiving. If you do use turkey, you could also add some dried cranberries to the mix.
I don't like mayonnaise. What can I use instead?
Feel free to substitute Greek yogurt or sour cream for the mayonnaise.
How do I store this?
Keep your chicken salad, covered, in the fridge for up to a week. Don't freeze it–just eat it! It will be best the second day as the flavors will have a chance to mingle and get to know each other.
Can I use rotisserie chicken?
Absolutely. I prefer the "all soft" texture of poached chicken, but rotisserie chicken would be a great, no-fuss substitution.
Give me some other mix-in ideas, please.
Snipped apricots are traditional in coronation chicken, so you can't go wrong there. You could also add dried currants or other dried berries such as blueberries or cherries. If you don't like cashews or have an allergy, use chopped toasted almonds, walnuts, or pecans. Or go outside the box and use toasted pepitas or even sunflower seeds.
It would be so helpful to me and to other readers that, when you make a recipe, you rate it and leave a comment. Whether it's a recipe or an informational post, your feedback helps others decide if the post is helpful or if the recipe works as advertised.

If you could leave a star rating, that would be very helpful. Thank you for being here!
Coronation Chicken Salad
Savory and sweet, coronation chicken salad is punctuated with bites of crisp apples, chewy raisins and crunchy/creamy cashews all bathed in a mild, sunny yellow curry sauce.
Ingredients
For the Chicken
1 ½

pounds

chicken breasts

boneless, skinless

2

cups

chicken stock

2

teaspoons

kosher salt

black pepper

to taste

2

teaspoons

turmeric
For the Dressing
1 ½

cups

mayonnaise

(See Notes Below)

¼

cup

apple cider vinegar

2-3

Tablespoons

honey

2-3

teaspoons

mild curry powder

salt and pepper

to taste
For the Mix-Ins (cup measurements are approximate)
1

apple

cut into bite-sized pieces. Peeled or not–your call

⅓

cup

golden raisins

(or "regular" raisins)

¼

cup

cashews

(chopped. I used roasted and salted cashews)

¼

cup

red onion

finely chopped
Instructions
For the Chicken
Whisk the stock, salt, pepper and turmeric together in a pot just large enough to hold the chicken.

Place the chicken in the pot. Cover and bring to a simmer.

Keep the chicken at a low simmer until the internal temperature of the breasts is 165F. You may need to flip the chicken with tongs a couple of times to make sure it cooks evenly.

Allow the chicken to cool in broth and then chill until cold.

Cut into bite-sized pieces and set aside.
For the Dressing
Whisk all the ingredients together. You may need to adjust the salt, sweetness, acidity and/or spice, so taste and adjust accordingly.

Thoroughly fold the dressing together with the chicken and all the mix-ins. Taste and adjust seasonings if necessary.

Refrigerate for at least a couple of hours or overnight to let the flavors meld.

Serve on lettuce/mixed greens as a salad or on a sandwich. Enjoy!
Did You Make Any Changes?
Notes
If you are not a mayonnaise fan, substitute all or part of the mayo with Greek yogurt or sour cream.
I didn't do this, and I didn't see any other recipes that did either, but I think this chicken salad would be excellent made with some of the thick "cream" from full-fat coconut milk substituted for some of the mayonnaise.
Nutrition
Serving:
1
g
Calories:
521
kcal
Carbohydrates:
17
g
Protein:
30
g
Fat:
37
g
Saturated Fat:
6
g
Polyunsaturated Fat:
29
g
Cholesterol:
91
mg
Sodium:
1006
mg
Fiber:
1
g
Sugar:
12
g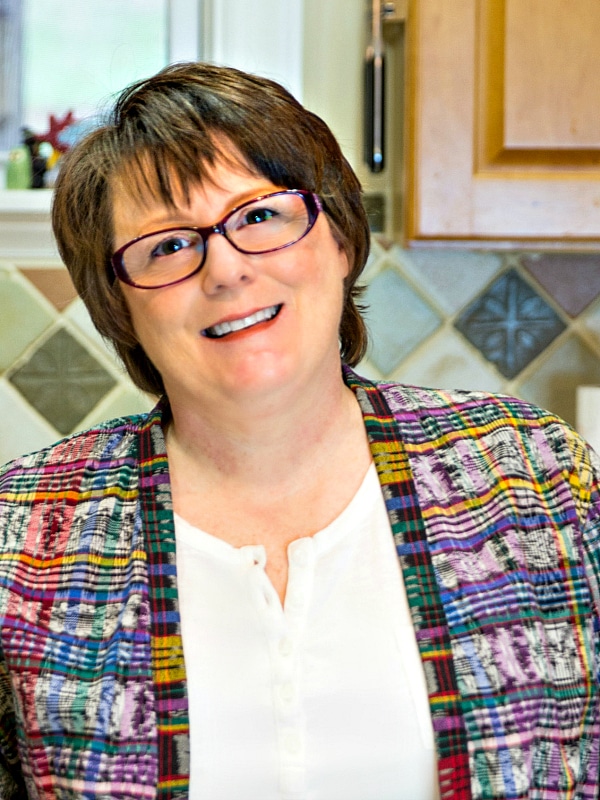 What are my qualifications to teach you baking and pastry? As a former working pastry chef and special educator, I marry my passions for both teaching and for baking into explaining techniques, methods, and developing the best possible recipes. For more info, you can read more about me.
If you'd like to receive new recipes and the occasional newsletter, I'd love for you to sign up for my Inbox Pastry Chef.
Thanks for spending some time with me today. Take care, and have a lovely day.