Pecan Angel Slices are seriously the best cookie, for Christmas or whenever. Sandy shortbread-type cookie base, chewy, butterscotchy pecan-coconut filling, and a crisp, sharp lemon glaze all come together in cookie perfection!

If you're a pecan fan, you may also enjoy my coffee pecan tart recipe.

For ease of browsing, check out all of my cookie and bar recipes here. Thanks so much for visiting.
Watch my pecan angel slices recipe web story here.
Why You Need to Make These Cookies
They are perfect.
For a non-chocolate cookie, they are the best.
They are not hard to make at all, although they do take a bit of time.
You most likely have most, if not all, the ingredients on hand.
Everyone I've ever made them for has loved them, and that includes people who say they don't like pecans.
The combination of flavors and textures makes the name Angel Slices truly appropriate for this otherwise unassuming little cookie.
The Anatomy of an Angel Slice
This Paragon of Pecaniness comes to us in the form of a bar cookie, angel slices, which consists of three layers:
a sable dough-type crust
pecan-coconut filling and
tart lemon glaze
Ingredients
Here are the ingredients you'll need to make magical angel slice cookies.
Some of these ingredients will show up in more than one component.
butter: In the crust. Butter carries flavor, assists in browning, and makes for a tender crust. I generally use unsalted butter, but you can use salted if you prefer. Just cut back on the additional salt in the crust
sugar: In the crust. Sugar provides sweetness, tenderness, moisture, and assists in browning.
eggs: In the crust and filling. Eggs provide structure, setting power, fat, emulsifiers, and water (in the whites)
flour: In the crust and filling: Flour provides bulk and structure, and just a touch is in the filling to thicken it.
salt: In the crust and filling. Salt snaps all the flavors into focus. Please don't leave it out, because the coconut and nuts especially need it to bring out dimension. The bars will read as too sweet and "flat-tasting" without salt.
vanilla extract: In the crust and filling: Vanilla rounds out the flavors and provides some floral and woody notes.
brown sugar: In the filling. Brown sugar provides all the sweetness in the filling and lends some deeper, molasses notes to it. You can use dark or light. I generally use dark.
pecans: In the filling. I always toast my nuts before using in recipes. Pecans can be expensive, so if you want to buy pieces rather than halves, go ahead and do that. You'll be chopping them up anyway.
coconut: In the filling. Coconut is the other major "mix-in" in the filling. The pecan-coconut combination is really delicious. If you don't like coconut or are allergic to it, just use all pecans.
baking powder: In the filling. Provides just a little bit of lift to the filling, allowing to to lighten a bit.
powdered sugar: In the glaze. For sweetness, and it also sets up into a thin, crisp layer. Lovely.
lemon juice and zest: The zest is technically optional, but I like to use some zest along with juice to get the essential oils in the zest. That way the lemon flavor is more well-rounded, juice + zest.
The original recipe comes from Joy of Cooking and has been in print at least since 1962, which is when my copy was printed.
My Auntie Ev made them every year.
She cut them in wee squares, and they were perfect.
My mother makes them every year too. She cuts them in bigger squares which makes them perfect-er.
And when I make them, I cut them As Needed. Plus, I use a bit more salt in mine.
The Angel Slices Recipe in Joy of Cooking Has Changed Over the Years
Here is the recipe, as printed in my venerable copy of Joy:
Do you see down at the bottom of the first column where it says, and I quote, "Many a copy of the "Joy" has been sold on the strength of this recipe."
So, guess what they did when they put out their 1997 edition? They changed it! And guess what else? Two things:
It's not as good, and
It still says, "Many a copy of…" in the recipe introduction!
Well, I call shenanigans, but that's another post. For now, suffice to say, use the old recipe for pecan slices. If you're not sure which you have, if the glaze calls for anything other than lemon juice and powdered sugar, you have the new and inferior recipe.
Use the recipe printed here to be Absolutely Sure. (I'm also using my salt measurements. You do what you want. As for me and my house, we will use salt).
Decorating Pecan Slices to Make Them Look Christmassy
I am sure you can tell that angel slices are basically shades of brown, beige, and white.
In good news, some people will overlook them as not flashy enough.
If, however, you want them to stand out on your Christmas cookie platter, you may have to use some Christmas sprinkles or even color the glaze red and green.
What Do They Taste Like?
Angel slices are just sweet enough, especially if you use unsweetened coconut.
The pecans and the coconut complement each other nicely, although if you are not a Coconut Fan, you could sub more pecans for the 1/2 cup of coconut.
The lemon glaze crackles when you bite into it, the filling is firm-yet-a-little-chewy, and the base is crumbly.
It is a delightful combination of sandy cookie, chewy nutty goodness, and crackly glaze. Perfection!
More Christmas Cookie Recipes
Bar cookies just seem like less work than individual cookies, but they're every bit as tasty. If you like angel slice bar cookies, you might try these others as well:
Step-by-Step Instructions
Angel slices are by no means hard to make, but since they consist of three layers, it is a bit of a process. Here are some step by step photo collages and some tips to help you make these cookies for you and your family to enjoy!
Making the Sable Dough
Sable means sandy. This is a lovely, not-too-sweet dough that bakes up crunchy and crumbly.
No stand-mixer needed, either! And if it came down to it, you could make the dough with no problem in a bowl with a wooden spoon, as long as your butter is really soft.
Cream butter, sugar, salt, and vanilla. It doesn't have to be light and fluffy–you just want a pretty smooth mixture with no pieces of butter.
Mix in the egg. Your dough will look a little curdled, but it will be fine once you add the flour.
Mix in the flour until just blended. You can finish mixing by hand using a spoon or a spatula.
Baking the Sable Base
The dough is slightly sticky so be prepared: oil your hands with pan spray to make the dough easier to pat into the pan without sticking to your hands.
Use oiled hands to press the dough into the pan. You'll end up with a thin layer somewhere between 1/8″ and 3/16″.
Go slowly and press and press until you finesse the dough into all the corners in as even a layer as you can.
Bake at 350F for about 12-15 minutes until the dough is just beginning to color around the edges.
The recipe makes enough dough to cover the bottom of a 9″ x 13″ pan by about 1/8″ or so. It will take some DOING to spread it out. Keep at it, using your fingers or a small roller that will fit inside the pan. It will cover the whole bottom of the pan, I promise.
For the money, I think USA Pans are the best. Buy it once, take good care of it and wash it by hand, and it will most likely last you forever.
Jenni's Pick
USA Pan Bakeware, 9 x 13 inch, Nonstick & Quick Release Coating, Made in the USA
With straight sides and sharp corners, this pan delivers edge-to-edge and corner-to-corner slices that won't fall over or that won't feel like a ripoff if you end up with a corner piece. With a textured bottom for airflow and an excellent non-stick coating, if you hand-wash this guy, he'll last you for years and years.
This is an affiliate link which means I earn from qualifying purchases. Your price is unaffected.
Making the Pecan-Coconut Filling
This part is super straightforward. Plop all the ingredients in a bowl and whisk to combine. See? Easy!
Mixing the filling for angel slices. If you don't like coconut, substitute extra pecans.</em
Once you've mixed up the filling, pour it on top of the hot sable base.
Spread it out evenly with an offset spatula. This layer will be just slightly thicker than your sable base. Maybe about 1/4″-1/3″ of filling.
Bake at 350F for 18-20 minutes and cool completely.
Glazing the Pecan Angel Slices
This is another easy step.
Tip: To keep the glaze as white as possible, don't spread it onto your bars until they have completely cooled. I sometimes even chill them in the fridge to make sure.
Whisk powdered sugar, lemon zest (if using), and lemon juice into a thin-ish glaze.
Pour onto cooled bars.
Spread in a very thin layer with a small offset spatula.
Notice the glaze is so thin you can see through to the bars in some places. Resist the urge to make more glaze. If your glaze is too thick, the lemon could overpower the other flavors.
Making the Cleanest Cuts
I recently got a comment from Andrea saying that, while her angel slices were delicious, they were messy because the icing didn't cut cleanly and she didn't want to give them as gifts.
I understand that, and there is a bit of an art to slicing these since you're cutting through a thin, hard layer into a slightly chewy layer.
Here's how to get the cleanest cuts possible.
Make sure the bars are completely cool before glazing. Refrigerate them for an hour or so if you're not sure.
Spread the glaze thinly from side to side and top to bottom. It will be a very thin layer, so just keep working at it with your offset spatula until it's as thin and even as you can get it.
Allow the glaze to set completely. Do not rush this. Letting them set up overnight is a very good plan.
Once the glaze is completely hard, use a very sharp knife to make your cuts.
Alternate Method
For folks who don't want to worry about making cuts through a thin glaze that is prone to shattering, go ahead and slice them before glazing.
Put them on a cooling rack with just a tiny bit of space between them.
Add glaze to a piping bag fitted with a #1 or #2 tip or put it in a zip top bag with a very tiny corner snipped off.
Apply the glaze quickly in a back-and-forth motion, allowing some of the glaze to drip down the sides of the bars.
Allow them to set up for at least an hour, and then loosely cover to dry completely.
More Christmas Cookies
Other popular Christmas cookies that would be right at home on a holiday cookie tray include traditional Linzer cookies, chocolate peppermint crinkle cookies, snickerdoodles, and peanut butter cookies.
Also consider some homemade candies such as peanut butter fudge or penuche.
Questions?
For convenience, consistency, and accuracy, almost all my recipes are written by weight, either in ounces and/or grams, even the liquids.
I strongly encourage you to purchase a kitchen scale and learn to use it.
This is the one I used for years. I love it and highly recommend it:
Best for Home Use
Escali Primo Digital Food Scale
Don't let its small price and small size fool you. The Escali Primo is an accurate and easy-to-use food scale that I have used for years. It's easy to store, easy to use, has a tare function, and easily switches between grams and ounces/pounds for accurate measurements.
This is an affiliate link which means I earn from qualifying purchases. Your price is unaffected.
It would be so helpful to me and to other readers that, when you make a recipe, you rate it and leave a comment. Whether it's a recipe or an informational post, your feedback helps others decide if the post is helpful or if the recipe works as advertised.

If you could leave a star rating, that would be very helpful. Thank you for being here!
Okay. Now we're ready for the recipe!
Angel Slices or Pecan Slices
Angel slices or pecan slices are my favorite Christmas cookie. They may well become your favorite too. A crumbly sable dough topped with chewy, butterscotchy pecan and coconut goodness all topped off with a very thin layer of tart lemon glaze. Perfection!
Ingredients
For the Sable Base
4

oz

unsalted butter

1 stick

¼

c

sugar

optional, it says, but I use it

1

whole egg

1 ¼

cups

all purpose flour

¼

teaspoon

kosher salt

½

teaspoon

vanilla
For the Pecan Coconut Layer
2

whole eggs

1 ½

cups

packed brown sugar

1

cup

chopped

toasted pecans

½

cup

flaked coconut

unsweetened preferred. These bars are plenty sweet enough on their own

2

Tablespoons

all purpose flour

½

teaspoon

baking powder

¾

teaspoon

kosher salt

1

teaspoon

vanilla
For the Glaze
2

cups

powdered sugar

zest of 1/2 lemon

optional

2-3

Tablespoons

freshly squeeze lemon juice
Instructions
!For the Sable Base




Set a rack in the center of your oven and preheat to 350F.

Have ready a 9″x13″ baking pan, preferably nonstick.

Using a hand or stand mixer, cream butter, sugar, vanilla and salt until smooth and creamy.

Mix in the egg and then, on low speed, mix in the flour until mostly incorporated. Finish folding the dough together by hand.

Press into the bottom of your pan and bake at 350F on the middle rack for 12-15 minutes, or until just beginning to color and firm.

Remove from oven and top with the pecan coconut layer.

!For the Pecan Coconut Layer




Place all the filling ingredients in a large bowl and whisk together until evenly combined.

Pour onto the baked base layer and spread out evenly with an offset spatula.

Bake for 18-20 minutes until the filling is a little puffy, no longer shiny, and firm-ish around the edges (even if it's still a little gooey in the center)

Remove from oven and let cool completely before glazing.

!For the Lemon Glaze




In a small bowl, mix together the powdered sugar, zest, if using, and enough freshly squeezed lemon juice to make a glaze about the consistency of Elmer's glue.

Once the Bars are completely cool, pour the glaze on top of the bars and spread evenly with an offset spatula. The glaze layer will be very thin. Resist the urge to make extra glaze because it will overpower the pecan coconut layer.

Allow the glaze to set up until it crusts on top, about an hour or so, and then cut into bars to make 48 small bars (6 rows across the short side of the pan and 8 down the long side. Let the glaze set up completely before serving, another 3 hours or so. If you can wait that long.

Share. Or not. It's totally up to you.
Did You Make Any Changes?
Notes
You can easily convert this to a gluten-free recipe by substituting your favorite gluten free baking mix in both the cookie base and in the pecan-coconut layer.
If you do not like coconut or are allergic, you can leave it out and substitute an additional 1/2 cup of chopped pecans.
Do not overbake. The original recipe calls for baking for 25 minutes. I think this is too long. You want the pecan layer to have a nice bit of chew to contrast with the crumbly base and the crunchy glaze.
To get the sprinkles to stick to the hard glaze, I used a small dot of corn syrup. You can also add sprinkles while the glaze is still wet, if you prefer.
Nutrition
Serving:
1
bar
Calories:
97
kcal
Carbohydrates:
13.8
g
Protein:
1
g
Fat:
4.5
g
Saturated Fat:
1.7
g
Cholesterol:
15
mg
Sodium:
70
mg
Fiber:
0.4
g
Sugar:
10.6
g
I really hope that you make some pecan slices for yourself, and I hope that you love them as much as I do.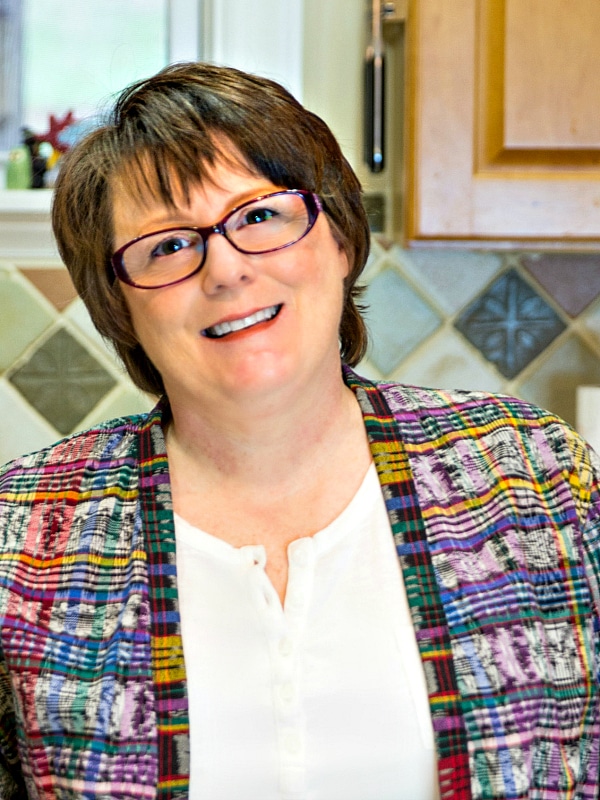 What are my qualifications to teach you baking and pastry? As a former working pastry chef and special educator, I marry my passions for both teaching and for baking into explaining techniques, methods, and developing the best possible recipes. For more info, you can read more about me.
If you'd like to receive new recipes and the occasional newsletter, I'd love for you to sign up for my Inbox Pastry Chef.
I wish you all the very best Christmas and the happiest of holiday seasons!
Take care, and have a lovely day.