I think you will love this recipe for chicken with mushrooms and thyme, friends. It's an easy skillet meal that's ready fast, so you can make it on any weeknight. And as a bonus, it has eye-healthy ingredients as do all the recipes from Eat Right for Your Sight!

Consider serving it like I did, with my flaky cheddar biscuits.

For ease of browsing, here are all of my poultry recipes and bread and roll recipes. Thanks for stopping by!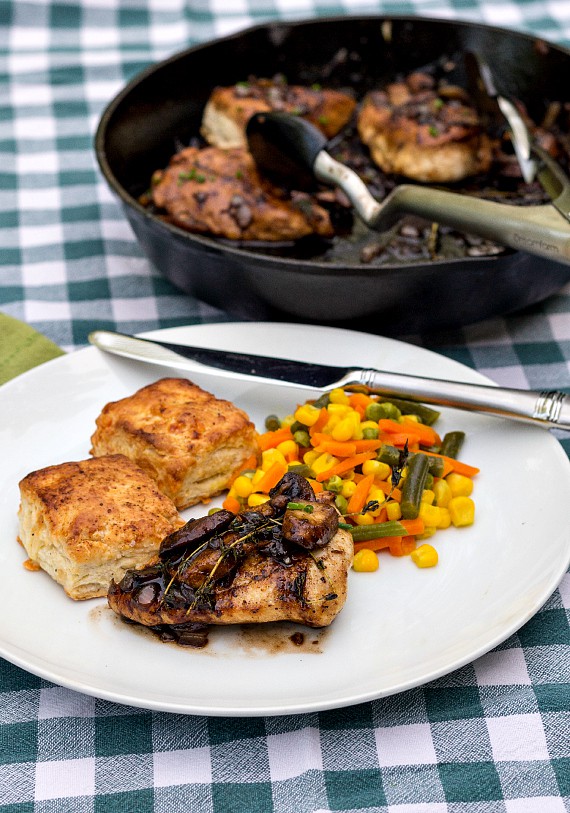 I received a complimentary copy of Eat Right for Your Sight. All opinions are my own.

Macular Degeneration
It seems I have always known the term "macular degeneration." It was one of those Big Words that I could be proud of knowing, like antidisestablishmentarianism.
Auntie Ev lived with macular degeneration for decades. As I understood it, macular degeneration meant you couldn't see in the middle. Glaucoma meant that you couldn't see around the edges. I knew in my child's head that having both conditions would mean you couldn't see at all.
My maternal grandfather suffered from glaucoma which eventually robbed him of his vision entirely, so I have always been particularly careful to go to the eye doctor every year both for in the middle and around the edges. It also doesn't hurt that I am about as farsighted as a person can be and have worn glasses since I was six.
When I got an email asking if I would review the new cookbook, Eat Right for Your Sight, is was a natural fit. Coming as I do from a family who has dealt with a variety of eye problems, owning a cookbook with recipes geared toward optimal eye health is a very good idea indeed.
Eat Right For Your Sight Cookbook
Eat Right for Your Sight by Jennifer Trainer Thompson and Johanna M. Seddon is a project of the American Macular Degeneration Foundation and contains recipes based on the foods foundation founder and current president of the AMDF board of trustees Chip Goehring, along with a team of food professionals, known to help slow the progression of his condition.
One of the wonderful things about these recipes is that anyone can make and enjoy them and know that they are taking care of their eyes, whether they have macular degeneration (or any other eye disease) or not. As Goehring states in his introduction, this cookbook is literally a feast for the eyes.
Fortunately for us, nutrients beneficial to eye health live in delicious foods, and Eat Right for Your Sight offers a wide array of choices, from appetizers to desserts.
Our eyes (and the rest of us) benefit from the vitamin C, beta-carotene and other carotenoids in Three-Pepper Quesadillas. Thai Winter Squash Stew and Spicy Udon Noodles are both packed with vitamin A, beta carotene and lutein. Okra and Tomatoes is a dish rich in lycopene and the combination of fruits in the Pear-Raspberry Galette both promote eye health and protect us from free radicals. Medicine never was so colorful and never tasted so good.
Combining Ingredients for Maximum Impact
Eat Right for Your Sight also teaches that, while some foods are good for the eyes, they can turn into powerhouses when combined with other ingredients.
For example, vitamin C aids in iron absorption, so eating foods rich in vitamin C in conjunction with foods rich in iron makes sense.
We need vitamin D in order to absorb calcium. Hello, fortified milk and salmon. And don't forget that vitamins A, D, E and K are all fat soluble, so eat them with healthy fats to aid absorption.
Chicken with Mushrooms and Thyme
While I generally like to stick with dessert or baked goods on the blog, I will branch out because as much as I would like it, I can't eat only dessert and bread.
So rather than go with a dessert recipe from Eat Right for Your Sight, I made the Chicken with Mushrooms and Thyme. This simple to prepare and flavorful dish is packed with protein and niacin from the chicken as well as flavanoids from onions.
Flavanoids may promote blood flow to the retina and they also fight free radicals. Again: tasty, tasty medicine.
Recipes from Eat Right For Your Sight: Simple Tasty Recipes That Help Reduce the Risk of Vision Loss from Macular Degeneration, copyright © American Macular Degeneration Foundation, 2014. Reprinted by permission of the publisher, The Experiment. Available wherever books are sold.
There are over 85 recipes in Eat Right for Your Sight. All of them appear easy to make and bursting with fresh vegetables, healthy fats and proteins. There are vegetarian and vegan options as well, and those who are adept at making vegetarian or vegan substitutions should have no problem "veganizing" most of the recipes.
If you suffer from macular degeneration or have a family history, and if you just want to keep your eyes and the rest of you as healthy as possible, Eat Right for Your Sight honestly is the book for you. Start with that chicken with mushrooms and thyme too. So good!
It would be so helpful to me and to other readers that, when you make a recipe, you rate it and leave a comment. Whether it's a recipe or an informational post, your feedback helps others decide if the post is helpful or if the recipe works as advertised.

If you could leave a star rating, that would be very helpful. Thank you for being here!
Chicken with Mushrooms and Thyme
Chicken with mushrooms and thyme is a dish dense in niacin, as well as vitamin B—which is good for energy metabolism—and phosphorus, an essential mineral for maintaining healthy teeth and bones.
NOTE: I used thighs rather than breasts for this recipe, and they worked beautifully. Feel free to use either breasts or thighs, or a combination of both.
Ingredients
1

tablespoon

unsalted butter

2

tablespoons

olive oil

4

boneless

skinless chicken breast halves (about 1 ½ to 2 pounds)

¼

teaspoon

sea salt

¼

teaspoon

freshly ground black pepper

⅓

cup

chopped yellow onion

2

garlic cloves

minced

1

cup

cremini mushrooms

sliced

¼

cup

balsamic vinegar

1

teaspoon

freshly chopped thyme

(I just used whole sprigs because I like the flavor and the rustic look)

1

tablespoon

freshly chopped chives
Instructions
Preheat the oven to 350°F.

Heat the butter and olive oil over high heat in a heavy saucepan or skillet large enough to hold the chicken breasts in one layer. When the oil smokes, add the chicken breasts and season them with the salt and pepper.

Sauté until golden brown, about 3 minutes on each side.

Transfer to an oven-safe dish and bake until the juices run clear when pierced with a knife, about 25 minutes.

Remove to a plate and keep warm.

Add the onion, garlic, and mushrooms to the drippings in the pan and cook for about 1 minute over high heat.

Add the vinegar and thyme and continue cooking for about 1 minute.

Add ½ cup of water and cook until the liquid is reduced by half. Season to taste.

To serve, slice each breast in half crosswise on the diagonal. Coat the chicken with the sauce and sprinkle with chives.
Did You Make Any Changes?
Notes
The only changes I made to the original recipe were to increase the onions by quite a lot (I didn't measure) and to use chicken stock rather than the called-for water in the sauce.
I also browned my chicken in a cast iron skillet so it could go directly from the stove and into the oven. My chicken was done after a total cooking time of about 20 minutes.
The results: a winner in both my and The Beloved's book. Full of flavor and just delicious. Plus, so easy to make!
Nutrition
Serving:
1
g
Calories:
313
kcal
Carbohydrates:
6
g
Protein:
38
g
Fat:
14
g
Saturated Fat:
4
g
Polyunsaturated Fat:
9
g
Cholesterol:
110
mg
Sodium:
227
mg
Sugar:
4
g
Thank you for spending some time with me today.
Have a lovely day.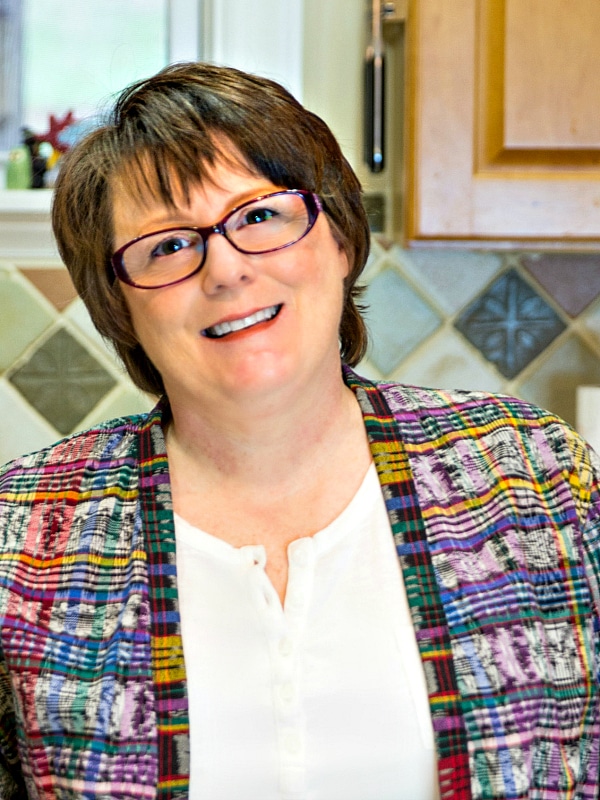 What are my qualifications to teach you baking and pastry? As a former working pastry chef and special educator, I marry my passions for both teaching and for baking into explaining techniques, methods, and developing the best possible recipes. For more info, you can read more about me.
If you'd like to receive new recipes and the occasional newsletter, I'd love for you to sign up for my Inbox Pastry Chef.