Most Recent Update: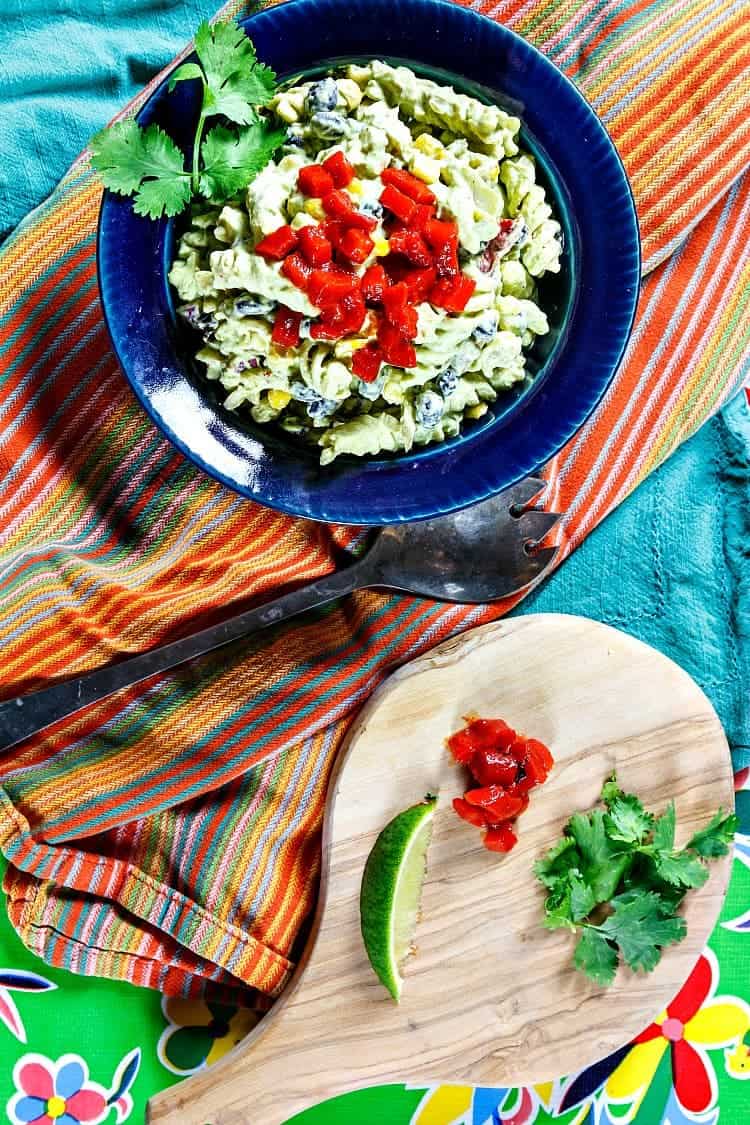 When I found out that this month's Progressive Eats theme was Herbs, I immediately thought of Green Goddess dressing. And then I thought some more and came up with a dish I'm calling Mexican Pasta Salad with Green Goddess dressing. Once I came up with the name, I had to figure out how to make it, and figure it out I did. It is most delicious–herbaceous, tangy, crunchy, creamy, a little spicy, and easily veganized as well. I'll tell you how I made it at the end of the post, but first, let's take a look at what our intrepid Progressive Eats band of bloggers got up to this month.
Progressive Eats

Welcome to Progressive Eats, our virtual version of a Progressive Dinner Party. Our menu this month features all dishes that include our favorite herbs! We've got a great mix from a cocktail to desserts; all recipes showing just how versatile these garden favorites can be! Hosting this month is Laura from Mother Would Know.
If you're unfamiliar with the concept, a progressive dinner involves going from house to house, enjoying a different course at each location. With Progressive Eats, a theme is chosen each month, members share recipes suitable for a delicious meal or party, and you can hop from blog to blog to check them out.
Summer Herbs Every Which Way
Cocktail
Appetizer
Main Course
Side Dishes
Dessert
It all sounds pretty great, right? We have an enormous rosemary bush growing outside in our garden, so I'm all over the lemon rosemary combinations, and as a cilantro fan, I say hooray for chimichurri sauce and cilantro vinaigrette!
Mexican Pasta Salad with Green Goddess Dressing
Once I'd landed on what sounded like a good idea to me, I went forth onto the Internet to see a)how to make traditional Green Goddess dressing, and b)to see if folks had made a Mexican version. Of course they had. The third item I wanted to check on was if anyone had a vegan version of Green Goddess dressing. And yes, that's out there, too.
I also remember making the supremely delicious Avocado Tomatillo Taco Truck Sauce from my friend Sandra Gutierrez's wonderful book Latin American Street Food, so I decided to add some tomatillo into the mix as a nod to Sandra.
You could absolutely use the resulting dressing on a green salad, but wow is it great with the pasta. Customize your add ins as you like, and if you're not vegan, add cheese and/or meat to make this a main course pasta salad, but do make this. I am here to tell you that this pasta salad needs to happen at your house at your earliest possible convenience. I think you are really going to love it.
Love the sound of this recipe? Please consider rating and/or commenting. I love hearing from readers! And if you make this, and I hope you do, please share a photo with me on instagram by tagging @onlinepastrychef and using hashtag #pcorecipe or share on the Pastry Chef Online Facebook Group. I can't wait to see your version!
Enjoy the Mexican pasta salad, friends! Thanks for spending some time with me today. Take care, and have a lovely day.