Oatmeal raisin bars are the perfect lunchbox treat. Mom made hers with all raisins. I often use a combination of dried fruits. In this photo, I used a mix of golden raisins, dried cranberries, and dried tart cherries.

An easy bar cookie recipe, they turn out a little bit sweet, a little bit tart, and a little bit chewy.

Make a simple cinnamon glaze, or leave them plain. They are delicious little squares of chewy fruit baked between two layers of an easy, egg-free oatmeal dough.

If you're a bar cookie fan, don't miss my angel slices. And for ease of browsing, find all of my cookies and bar recipes in one place. Thank you for visiting!
Why You Need to Make Mom's Oatmeal Raisin Bars
If you love chewy fruity goodness and oatmeal cookies, this bar cookie is for you!
An easy oatmeal dough, made without eggs, plus simmered dried fruits in a sticky, thick sweet syrup. Hard to resist!
These bars are also very easy to make, plus they are just as tasty whether you add the cinnamon glaze or not.
One thing I really appreciate about this recipe is the dough is divided: 2/3 gets pressed into the bottom of a 9″ x 13″ pan, and the other 1/3 gets a bit extra water mixed in so it clumps together in blobs that are the perfect size for sprinkling over the fruit.
Pick your favorite dried fruit, or stick with the original and go with all raisins. No matter how you make them, raisin bars are hard to beat!
How to Make Them
You may use each ingredient in more than one of the components: the dough, the filling, and the glaze, but this is all you need.
The ingredient list features staples from a well-stocked pantry, so you will almost always have what you need on hand.
For the Oatmeal Dough
butter: Carries flavor, assists in browning, prevents too much gluten from forming. If you made these without butter, they'd be more like thick crackers than chewy bars
brown sugar: You can use white, light brown, or dark brown. Or a combo of all three. Provides sweetness, assists in browning, tenderizes the dough and keeps them moist
salt: Brings all the flavors into focus. Don't leave it out. I use Morton's kosher salt in all my baking
vanilla: Rounds out the flavors and brings some complex, floral notes to the dough
cinnamon: The main flavoring for the dough. Feel free to use your favorite baking spice mix in place of cinnamon. Apple pie spice, pumpkin pie spice, etc will work as well.
all-purpose flour: Gives the dough bulk and provides gluten for structure. If you need gluten-free raisin bars, substitute your favorite gluten-free flour blend, preferably a cup-for-cup variety
baking soda: Adds a little lift and neutralizes the acidity in the brown sugar. If you use all granulated sugar, use 1 1/2 teaspoons of baking powder instead of 1/2 teaspoon of baking soda.
dry oatmeal: Also adds bulk as well as mellow oat flavor and texture.
water: Helps the dough hold together.
For the Fruit Filling
raisins: The recipe calls for 2 cups total. You can make up that 2 cups with all raisins or a mixture of your favorite dried fruits
brown sugar: I prefer the bolder flavor of dark brown sugar, so that's what I use in this recipe. Since you're just making a syrup and plumping the dried fruit, use whatever sugar is your favorite
water: You can also use a fruit juice like apple or grape. Note you will probably need to reduce the amount of sugar if you use juice instead of water
salt: Brings the flavors into focus. Please don't leave it out
cornstarch: Thickens the mixture into a thick syrup so your dough doesn't get soggy.
vanilla extract: Rounds out the flavors. Optional, especially if you don't have much vanilla in your house
For the Optional Glaze
powdered sugar: For sweetness and body. Also, using powdered sugar allows the glaze to set up firmly so the bars are not messy to eat
salt: Brings out the flavor and adds dimension. As always, don't leave it out
cinnamon: Brings some warm spice to the glaze
vanilla: Rounds out the flavor. Not strictly necessary here, but lovely if you have it
milk: Thins the glaze to drizzling consistency. Use any milk, whether full fat, non-fat, or any plant-based milk
Procedure
Mix the dough ingredients.
Simmer the fruit filling and allow it to cool for about 15 minutes.
Press 2/3 of the dough into a pan-sprayed 9″ x 13″ pan.
Spread the fruit filling on in a thin, even layer. The goal is to get a 1-fruit thickness all over the entire surface of the dough, so it will take some patience. See the "more fruit filling" variation if you'd like a bit thicker filling.
Add a touch more water to the remaining dough and sprinkle it in little blobs all over the fruit filling.
Bake and let cool completely.
Whisk up glaze ingredients and drizzle onto the cooled bars.
Visual How-To
The first image shows the dough before adding a Tablespoon of water. Truly, it's all you need for the base.
You'll pour 2/3 of your dough into a 9″ x 13″ pan and save out 1/3, mixing in 1 additional Tablespoon of water to that.
The dough is very easy to press evenly into the pan with either your fingers or the bottom of a glass.
The fruit mixture will look cloudy and odd until it comes to a boil.
This is because the cornstarch will make the liquid opaque until it gelatinizes, thickening the fruit mixture.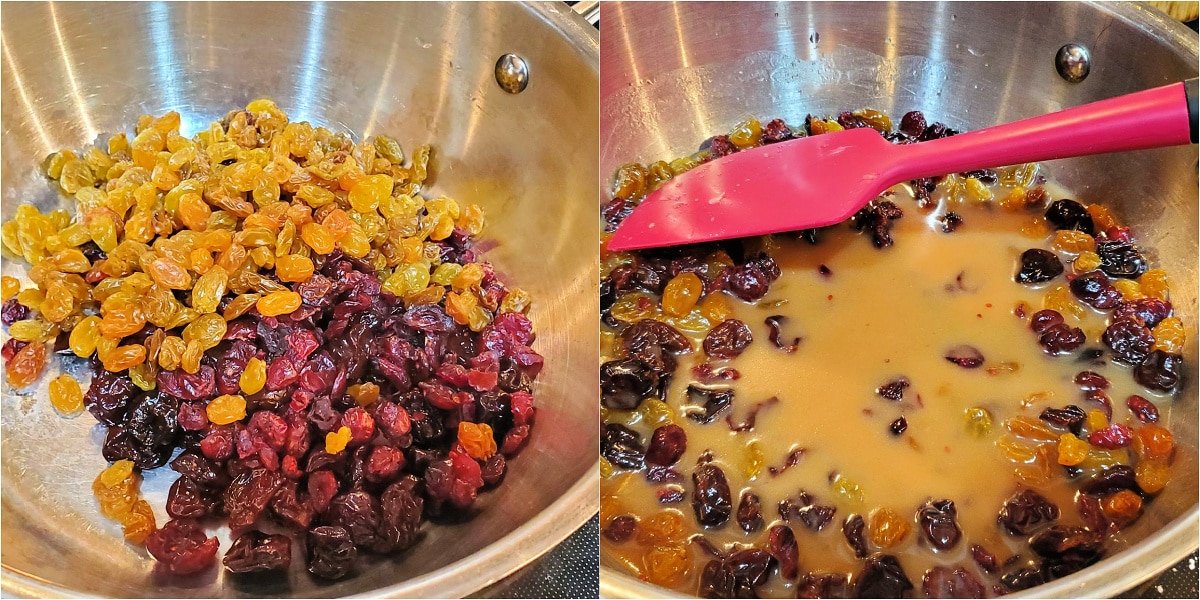 Note that 2 cups of fruit will yield a thin layer of fruit across the whole crust.
If you want a thicker layer of fruit, please see "variations," below.
Note in the upper left how I'm pushing the fruit filling towards the sides of the pan. This is because the bottom of the pan is hottest, and the filling will cool more quickly when pushed to the sides.
You can also pour it into a cold metal bowl to assist with more rapid cooling.
In the top right photo, note that you are trying to achieve a 1-piece-of-fruit thickness of filling all across the bottom crust.
Best Way to Slice Raisin Bars
You can cut raisin bars with a plain dinner knife right in your baking pan.
That's what mom did.
But if you want cleaner slices–raisins are pretty hard to cut in half cleanly!–here's what I do.
After the glaze sets (if you're glazing them), use a pizza cutter to cut the slab of cookies into 6 to 8 equal pieces. Finish the cuts towards the edges of the pan with a knife.
Lift each section out onto a cutting board.
Cut each section in 4-6 equal slices. Again, I find a pizza cutter to be the best tool for the job, although if you're good at making straight cuts. a sharp knife works well too.
Depending on how many cuts you make, you can make as many as 48 small raisin bars or 24 larger ones. It's totally your call.
Equipment You May Need
You can bake these in a 9″ x 13″ pan or in a 9″ x 9″ pan. NOTE I handwash these pans just to be safe. They are fantastic pans.
After baking, let the bars cool in the pan on a cooling rack.
Slice them with a pizza cutter or a pastry wheel. NOTE If you make thicker bars, you'll want to use a pizza wheel.
Store at room temperature in an airtight container for up to 5 days.
Variations
For thicker bars: No substitutions needed, and no math. Just make these in a 9″ x 9″ square pan. Bake them at 325F rather than 350F for about 40 minutes, or until the top is golden brown all over the fruit makes little bubbling noises.
For more fruit filling: Bake in a 9″ x 13″ pan but increase all fruit filling ingredients by 1/2, so you'll need 3 cups of fruit, 1 1/2 cups water, about 1/3 cup water, 1 1/2 Tablespoons cornstarch, about 1/4 teaspoon of salt, and 1/2 teaspoon vanilla.
Citrus-Scented: Rather than using cinnamon, you can introduce bright citrus flavors by adding the zest of either a lemon or 1/2 orange to both the dough and the fruit filling. If you choose to glaze them, leave out the cinnamon, and use either orange juice or lemon juice (or a combination) rather than milk for the liquid in the glaze.
Oatmeal (Any) Fruit Bars: You are by no means limited to just using raisins. The photos in the post are of a version I made with 1/2 golden raisins and 1/2 a mixture of dried cranberries and tart cherries. Other dried fruit options to consider: currants, apricots (snipped so the bits are about the size of raisins), figs, dates, blueberries, apples, etc.
Brown Butter (Any) Fruit Bars: Up the flavor ante by browning and cooling the butter called for in the dough. You will need to add a total of 2 1/2 Tablespoons (7 1/2 teaspoons) water when making the base dough. Add the called-for 1 Tablespoon of additional water to the portion of dough reserved for the topping.
Tips for Success
Make sure your butter is very soft before you make your dough. Pull a stick of butter out of the fridge a good hour or even an hour and a half before baking. If you forget, soften in the microwave on power level 2 10 seconds at a time.
No need to line your baking pan with parchment. A quick spray with pan spray works, and once cut, your bars will lift out cleanly using a small spatula.
Oatmeal Raisin Bar Q & A
Can I make these bars vegan?
Yes! Make sure you're using vegan sugar, and substitute your favorite plant-based butter for the butter called for in the recipe.
Can I make them gluten-free?
Yes. Substitute a cup-for-cup gluten-free flour blend for the all-purpose flour called for. You may need to increase the water by a bit, so if the dough is too dry and crumbly to hold together when you squeeze it, add water, a teaspoon at a time, until it holds together.
Can I freeze them?
Yes. It's best to freeze them before glazing. Wrap them tightly in plastic wrap and foil and freeze for up to 2 months. You can also freeze them in zip-top freezer bags. Make sure to press out as much air as possible before sealing and freezing. Thaw at room temperature before unsealing.
Serving Suggestions
Consider cutting these into large squares. Heat them up, and serve them topped with some store-bought or homemade vanilla ice cream. Top them with some butterscotch sauce or white chocolate sauce. Hello!
Serve them as part of a cookie tray for Christmas or any get-together, really.
Pair them with some angel slices, some brown butter chocolate chip cookies, and maybe some chocolate peppermint crinkle cookies.
A Note About Measurements
For convenience, consistency, and accuracy, almost all my recipes are written by weight, either in ounces and/or grams, even the liquids.
I strongly encourage you to purchase a kitchen scale and learn to use it.
This is the one I used for years. I love it and highly recommend it:
Best for Home Use
Escali Primo Digital Food Scale
Don't let its small price and small size fool you. The Escali Primo is an accurate and easy-to-use food scale that I have used for years. It's easy to store, easy to use, has a tare function, and easily switches between grams and ounces/pounds for accurate measurements.
This is an affiliate link which means I earn from qualifying purchases. Your price is unaffected.
Questions
Popular Posts from Pastry Chef Online
It would be so helpful to me and to other readers that, when you make a recipe, you rate it and leave a comment. Whether it's a recipe or an informational post, your feedback helps others decide if the post is helpful or if the recipe works as advertised.

If you could leave a star rating, that would be very helpful. Thank you for being here!
Cranberry Raisin Bars
My mom called these bars "cinnamon raisin bars." Feel free to make them with your favorite dried fruit or a mixture of dried fruits.
These little raisin bars make the perfect lunchbox snack or after-school snack. They are a little sweet and a little tart and are a bit chewy.
Whether or not you glaze them, they are lovely with a cup of tea or a glass of milk. These cookie bars are a treat for the whole family.
Ingredients
For the Oatmeal Dough
4

oz

1 stick unsalted butter, softened

6.6-7

oz

1 cup, packed brown sugar

½

teaspoon

cinnamon

1

teaspoon

vanilla

½

teaspoon

salt

7

oz

about 1 1/2 cups all purpose flour

½

teaspoon

baking soda

1 ½

cups

rolled oats

(I just used a measuring cup)

2

Tablespoons

water

divided
For the Fruit
1.75

oz

brown sugar

(about 1/4 cup, lightly packed)

8

oz

1 cup water (you could also use apple juice, cranberry juice or whatever sounds good for the water, but you might have to adjust the sugar)

1

Tablespoons

cornstarch

2

cups

total dried fruit

raisins, dried cranberries, cherries, apricots, etc

heavy pinch of salt

¼

teaspoon

vanilla
Instructions
Preheat your oven to 350F.

Spray a 9"x13" baking pan with pan spray. Set aside.
For the Crust
Combine butter, sugar, cinnamon, vanilla and salt in the bowl of a stand mixer.

Mix on medium-low speed until you no longer see pieces of butter and the mixture is nice and smooth.

Beat in 1 Tablespoon of the water.

Whisk together the flour, baking soda and oats.

Dump into the mixer and mix on low speed until well combined. Scrape the bowl as necessary.
For the Fruit
Combine all the ingredients except the vanilla in a medium sauce pan.

Bring to a boil, then reduce the heat and simmer for about ten minutes.

Remove from heat and, stir in the vanilla.

Let the mixture cool for about fifteen minutes, stirring occasionally.
To Assemble and Bake
Press about 2/3 of the crust mixture into your pan in an even layer. It should be about 1/4" thick.

Spread on the fruit in an even layer. Make sure to take it all the way to the edges.

Add the remaining 1 Tablespoon of water to the remaining crust mixture and mix well. Drop small "nuggets" of crust mixture all over the top of the fruit layer. You want to see some fruit peeking through, but make sure you get a nice even layer of crumbs.

Bake for 30-35 minutes, or until the top is firm and deeply golden brown.

Let cool on a rack until room temperature.

Glaze and let set up before slicing. If you're not going to glaze them, go ahead and slice them. These keep well at room temperature for 4-5 days.

Freeze for longer storage.
Did You Make Any Changes?
Notes
GENERAL NOTES:
If you want thicker bars, use a 9"x9" pan. Bake for half an hour, and then turn the heat down to 325F. Continue baking until the crust is a lovely deep golden brown.
Glaze them as you see fit, but they are fantastic naked, too.
You could always heat these up (or serve straight from the oven) as a kind of dried fruit crisp. In this case, ice cream is advisable.
Glaze Ingredients
If you'd like to drizzle your bars with glaze, here's how to make it:
Whisk together:
1 cup powdered sugar
heavy pinch of salt
1/2 teaspoon cinnamon (or as much as you like)
2-3 Tablespoons milk. Start with 2 Tablespoons and add a bit more as needed to make a nice drizzling consistency
1/4 teaspoon vanilla extract
Use a fork to drizzle the glaze on. Allow it to set up until it is hard before cutting.
Cutting the Bars
These bars are fairly thin and can be a bit of a pain to get out of the pan.
I cut them into 6-8 large sections with a dinner knife right in the pan.
Then, I remove each section with a spatula and them on a cutting board.
Slice each section into 4-6 smaller pieces. I like to use a pizza wheel for this. It makes nice, clean cuts.
Variations
In the photos, I used 1 cup golden raisins, 1/2 cup dried cranberries, and 1/2 cup tart cherries. This is a lovely combination, but you can use any combination of dried fruits you like.
apricots (snip them so the pieces are "raisin sized")
blueberries
raspberries
tart cherries
golden raisins
"regular" raisins
prunes (again, snip so the pieces are raisin-sized)
figs
dates
etc
Storage
Store in a tightly-covered container at room temperature for up to 5 days. Freeze (unglazed works best) in heavy-duty zip-top freezer bags. Press out as much air as possible before sealing. They will keep just fine for up to 2 months. Thaw in the sealed bag at room temperature for several hours or overnight.
Nutrition information is based on slicing into 30 pieces without glaze. Values will increase with larger slices and decrease for smaller sizes.
Nutrition
Serving:
1
g
Calories:
180
kcal
Carbohydrates:
37
g
Protein:
4
g
Fat:
2
g
Saturated Fat:
1
g
Polyunsaturated Fat:
1
g
Cholesterol:
4
mg
Sodium:
79
mg
Fiber:
2
g
Sugar:
10
g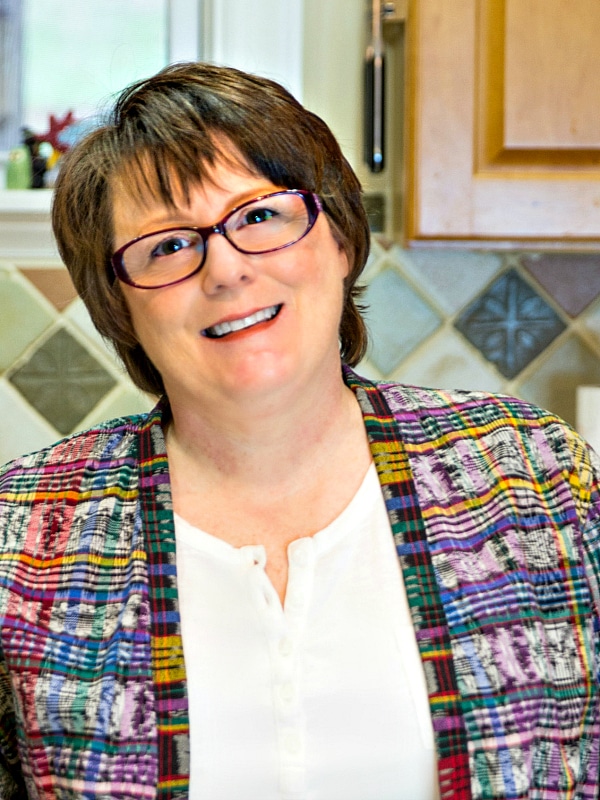 What are my qualifications to teach you baking and pastry? As a former working pastry chef and special educator, I marry my passions for both teaching and for baking into explaining techniques, methods, and developing the best possible recipes. For more info, you can read more about me.
If you'd like to receive new recipes and the occasional newsletter, I'd love for you to sign up for my Inbox Pastry Chef.
You will love these cranberry raisin bars. I promise. Enjoy them, and thank my mom next time you see her.
Take care, thanks for reading, and have a lovely day.