Most Recent Update:
This chocolate yule log or buche de noel is the perfect centerpiece for your Christmas table. It's filled with cranberry-raspberry filling and coated with ganache that looks like bark. After your meal, you will So enjoy eating it! This post contains Amazon affiliate links. As an affiliate, I will make a few cents on every dollar you spend through one of my links. Your price is unaffected.
A Brief History of the Yule Log
The Yule log originally comes from Nordic tradition and was an entire tree that was burned during the winter solstice. And since some Scandinavians were Vikings who traveled far and wide to trade and to raid and eventually to settle down and farm, the Yule log tradition traveled with them.
The history of the actual yule log cake–or buche de Noel in French–is a bit murky, but since hearths where the Yule log was burned was also used for baking, some enterprising and fanciful baker decided to make a cake to mark the Solstice. The French really elevated the form to the rolled sponge around cream fillings that we know today.
How My Yule Log Became a Yule Stump
I have not always been a good baker. I was, for a long time, a barely competent baker who knew just enough to get in trouble. One who would follow a recipe down to the sixteenth teaspoon of fairy tears called for. I would search high and low for fairy tears, and if I couldn't find them, I'd try and find a reasonable substitute. One time I needed 1/4 cup of creme fraiche for something or other. These days, I'd either make my own or not sweat it and use cream or sour cream. Or yogurt. But back then, I pounded up and down the linoleum tiles in front of the dairy section searching for the stuff until I wore a groove in the floor. I finally asked a grown up wearing an official shirt about what to use as a substitute. He conferred with another grown up, and they decided that my best bet was to combine cream cheese, cream and sour cream. So I bought those items so I could use about a tablespoon of each. Lord.
Years ago, when I still lived in a little crack house duplex, I decided I would make a chocolate yule log for our family's Christmas dessert. Of course, I knew we'd also be having plum pudding and trifle, but I wanted to contribute, and I thought I knew what I was doing.
I was wrong.
Two crumbled chocolate "jelly roll" cakes later, I decided to throw in the towel and just make a Yule Stump with regular layers. This posed another problem. The cake recipe told me to use what I now know to be the two-stage mixing method. I did a terrible job with the mixing, partly because I didn't understand how the method worked and sort of thought that the folks who wrote it needed a good smack for not having me "cream together butter and sugar until light and fluffy." Two peaked, stupid chocolate rounds later, I found a different recipe that asked me to cream things together and made that.
At around 3am on Christmas day. I iced that bad boy with some chocolate frosting and drew some of it out on the serving tray to look like roots, spread custard on the top for the wood part and made a thin spiral of chocolate for the rings. I tucked in some plastic holly and some cocoa-dusted meringue mushrooms and slapped it defiantly on our Christmas table. I swear I looked like I had lived through The Lost Weekend. The cake tasted like desperation, but it looked Damned Festive.
The Parts of a Yule Log Cake
After my trial by fire, I have come here today to tell you that you can make a chocolate yule log. A lovely, lighter-than-air chocolate buche de Noel is well within your reach. Honestly, I have made the mistakes for you so you won't have to make them yourself.
You're welcome.
The traditional components of a Buche de Noel or Yule Log are:
a sponge cake of some sort
a creamy filling of some sort
usually chocolate frosting or glaze to mimic bark
traditional decorations such as meringue mushrooms, leaves and nuts made of marzipan or molded chocolate
The components of this particular chocolate yule log include:
a flourless chocolate sponge cake (gluten free, y'all!), given structure from the cocoa solids in the chocolate and the egg whites, and tenderness from both the yolks and the cocoa butter in the chocolate
sweetened whipped cream and mascarpone cheese blended with cranberry sauce and chopped raspberries
a simple two-ingredient ganache (just chocolate and cream)
the decoration which is nothing more than whipped cream applied with a spoon to approximate snow (I didn't want to pipe it and have it look too "perfect") with some sugared cranberries and plain raspberries tucked in.
Equipment for Making a Chocolate Yule Log Cake
You will definitely want a stand mixer for mixing up the gluten-free sponge cake. You'll also need either a jelly roll pan or a half-sheet pan to bake your cake, parchment for lining the pan, and a good offset spatula for spreading out the batter and the filling. Here are my recommendations.


Can I Buy Decorations for My Yule Log?
Yes you can. You can also make them too. Easy decorations include freshly whipped cream (or Cool Whip if you must), nuts (in the shell and out), food-safe leaves, berries, or flowers.
If you would like to buy decorations for your buche de Noel, here are some ideas for you. Note some of these decorations are edible and some are not. And while you can get all of them on Amazon. some are not available via Prime so leave plenty of time for ordering!


How to Make a Gluten-Free Chocolate Sponge Cake
The most challenging part of this guy is the cake part. This is a Rose Levy Beranbaum recipe, and here's how you make it:
whip yolks and sugar until super, super thick and poofy.
Mix in melted and cooled chocolate and set aside.
whip whites and some more sugar until you get to medium-stiff peaks.
Stir some of the whites into the yolks (which are extremely dense at this point, almost like marshmallow cream) to lighten them up and then fold the lightened yolk mixture in with the rest of the whites.
Spread in jelly roll pan lined with parchment and bake at 350F until puffy and set, about 13-15 minutes or so.
Let cool covered with a barely damp cloth. Cake will deflate some while cooling, but that's okay.
How To Make a Chocolate Yule Log
For visual learners, here's how to bake the flourless chocolate cake base for your yule log:
Prepare the pan with parchment lining, pan spray, and a good dusting of cocoa powder.
Whip up the eggs and sugar.
Fold in the chocolate with a large spatula.
Whip the whites and fold into the batter. NOT PICTURED: Bake the cake, roll up in a tea towel to cool. When thoroughly cool, unroll.
Spread the filling on the unrolled cake leaving about 1 1/2 inches at one short end bare of filling.
Roll up from the other short end.
Slice one end of the cake off at an angle and then use icing to "glue" it to the larger piece of cake so it looks like a cut branch..
Spread with a thin coat of ganache and use a fork to make marks in it to look like bark.
Decorate with whipped cream, sugared cranberries and raspberries.
I have a sneaking suspicion that I could whip whole eggs with sugar and then mix in the chocolate and be just fine, but since I haven't tried it yet, I won't make you do it first. I'll let you know what happens though. Promise.
Love this recipe? Please consider rating and/or commenting. I love to hear from readers!
Chocolate Yule Log with Cran-Raspberry Mascarpone Filling
Yield: 12 servings

Prep Time: 40 minutes

Cook Time: 8 minutes

Decorating Time: 30 minutes

Total Time: 1 hour 18 minutes

This Chocolate Yule Log is not only a beautiful centerpiece for your Christmas table, it's also completely delicious and a totally doable project. Just follow my directions, and you'll be fine. Or should I say YULE be fine?! (Sorry)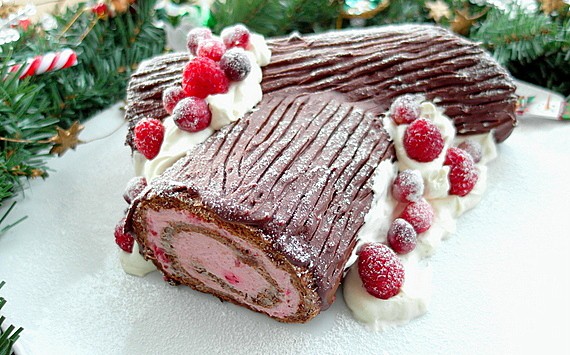 Once you get the hang of rolling the cake, the filling and decorating options are only limited by your imagination. Give a chocolate yule log a shot this year–it makes a really great centerpiece for the meal, and once you're finished eating, you can cut that bad boy up and eat him! Take photos first though, because I want to see!
Other Fantastic Festive Christmas Dessert Recipes
Still not ready to try your hand at a Yule Log? Or maybe you just want a bountiful dessert table? Either way, here are some other delicious Christmas dessert recipes for you to try.
Share your photos with me on instagram tagging @onlinepastrychef and using hashtag #pcorecipe, share in the Pastry Chef Online Facebook group, or just leave a comment letting me know how you enjoyed your yule log!
Thanks so much for spending some time with me today. Have a wonderful day!