This chocolate yule log or buche de noel recipe is the perfect centerpiece for your Christmas table. It's filled with cranberry-raspberry filling and coated with ganache that looks like tree bark.

After your meal, you will So enjoy eating it, and so will all your guests. As a bonus, it is also a gluten-free Christmas dessert!
Another option for Christmas is my vegan chocolate Christmas cake.

For ease of browsing, here are all my cake recipes in one place. Thanks for stopping by!
Watch my chocolate yule log web story here.
A Brief History of the Yule Log
The Yule log originally comes from Nordic tradition and was an entire tree that was burned during the winter solstice.
And since some Scandinavians were Vikings who traveled far and wide to trade and to raid and eventually to settle down and farm, the Yule log tradition traveled with them.
The history of the actual yule log cake–or buche de Noel in French–is a bit murky, but since hearths where the Yule log was burned were also used for baking, some enterprising and fanciful baker decided to make a cake to mark the Solstice.
The French really elevated the form to the rolled sponge around cream fillings that we know today.
How to Make Yule Log Cake
I am here today to tell you that you can make a chocolate yule log. A lovely, lighter-than-air chocolate buche de Noel is well within your reach.
Honestly, I have made the mistakes for you so you won't have to make them yourself.
The traditional components of a Buche de Noel or Yule Log are:
a sponge cake of some sort
a creamy filling of some sort
usually chocolate frosting or glaze to mimic bark
traditional decorations such as meringue mushrooms, leaves and nuts made of marzipan or molded chocolate
The components of this particular chocolate yule log include:
a flourless chocolate sponge cake (gluten free, y'all!), given structure from the cocoa solids in the chocolate and the egg whites, and tenderness from both the yolks and the cocoa butter in the chocolate
sweetened whipped cream and mascarpone cheese blended with cranberry sauce and chopped raspberries
a simple two-ingredient ganache (just chocolate and cream)
the decoration which is nothing more than whipped cream applied with a spoon to approximate snow (I didn't want to pipe it and have it look too "perfect") with some sugared cranberries and plain raspberries tucked in.
Equipment for Making a Chocolate Yule Log Cake
You will definitely want a stand mixer for mixing up the gluten-free sponge cake. You'll also need either a jelly roll pan or a half-sheet pan to bake your cake, parchment for lining the pan, and a good offset spatula for spreading out the batter and the filling. Here are my recommendations.

How to Make a Gluten-Free Chocolate Sponge Cake
The most challenging part of this guy is the cake part. This is a Rose Levy Beranbaum recipe, and here's how you make it:
whip yolks and sugar until super, super thick and poofy.
Mix in melted and cooled chocolate and set aside.
whip egg whites and some more sugar until you get to medium-stiff peaks.
Stir some of the whites into the yolks (which are extremely dense at this point, almost like marshmallow cream) to lighten them up and then
Fold the lightened yolk mixture in with the rest of the whites.
Spread in jelly roll pan lined with parchment and bake at 350F until puffy and set, about 13-15 minutes or so.
Let cool covered with a barely damp cloth. Cake will deflate some while cooling, but that's okay.
Pro Tip
Line your baking pan with parchment. Spray with pan spray, and then liberally dust with cocoa powder. This will help keep your cake from sticking to the parchment.
How To Make a Chocolate Yule Log
For visual learners, here's how to bake the flourless chocolate cake base for your yule log:
Prepare the pan with parchment lining, pan spray, and a good dusting of cocoa powder.
Whip up the eggs and sugar.
Fold in the chocolate with a large spatula.
Whip the whites and fold into the batter. NOT PICTURED: Bake the cake, roll up in a tea towel to cool. When thoroughly cool, unroll.
Spread the filling on the unrolled cake leaving about 1 1/2 inches at one short end bare of filling.
Roll up from the other short end.
Slice one end of the cake off at an angle and then use icing to "glue" it to the larger piece of cake so it looks like a cut branch.
Spread with a thin coat of ganache and use a fork to make marks in it to look like bark.
Decorate with whipped cream, sugared cranberries and raspberries.
Once you get the hang of rolling the cake, the filling and decorating options are only limited by your imagination.
Give a chocolate yule log a shot this year–it makes a really great centerpiece for the meal, and once you're finished eating, you can cut that bad boy up and eat him! Take photos first though, because I want to see!
Reader Renditions
A reader on Pinterest made a beautiful version of this Christmas dessert, so I thought I would share with you so you can see someone else's version.
As you can see, Simone added some awesome little meringue mushrooms along with whipped cream and raspberries. She did such a great job, and I am so happy she decided to make this guy for her family!
Another pinner made this gorgeous version and chose to decorate it with strawberries and sugared cranberries. Here's what she sad about it:
This was a huge hit with the family…yum.

Pinner Lady Oftheonering
Other Fantastic Festive Christmas Dessert Recipes
Still not ready to try your hand at a Yule Log? Or maybe you just want a bountiful dessert table? Either way, here are some other delicious Christmas dessert recipes for you to try.
It would be so helpful to me and to other readers that, when you make a recipe, you rate it and leave a comment. Whether it's a recipe or an informational post, your feedback helps others decide if the post is helpful or if the recipe works as advertised.

If you could leave a star rating, that would be very helpful. Thank you for being here!
Chocolate Yule Log with Cran-Raspberry Mascarpone Filling
This Chocolate Yule Log is not only a beautiful centerpiece for your Christmas table, it's also completely delicious and a totally doable project. Just follow my directions, and you'll be fine. Or should I say YULE be fine?! (Sorry)
Ingredients
For the Chocolate Sponge
6

large eggs

separated

4

ounces

120 grams semisweet chocolate, chopped

¼

cup

50 grams plus 2 tablespoons (30 grams) granulated white sugar

1

teaspoon

pure vanilla extract

¾

teaspoon

cream of tartar

heavy pinch of salt
For the Cran-Raspberry Mascarpone Cream
6

oz

. heavy cream

2-3

Tablespoons

granulated sugar

pinch

of salt

6

oz

cold mascarpone cheese

6

oz

pureed cranberry sauce

(your favorite–if you need to use canned, puree the whole-berry kind)

2

oz

chopped fresh raspberries
For the Ganache
3

oz

good quality semi-sweet or bittersweet chocolate

finely chopped

3

oz

heavy cream
For the Garnish
whipped cream

raspberries

sugared cranberries
Instructions
Follow the directions on Joy of Baking to the letter. They are as follows, and I paraphrase:
Preheat oven to 350Fwith a rack in the center.

Spray with a nonstick vegetable spray, a half-sheet pan or jelly roll pan.

Line the pan with parchment paper and then spray the paper and liberally dust cocoa powder all over the parchment. This will help keep your cake from sticking.

While the eggs are still cold, separate the eggs, placing the whites in one bowl and the yolks in another. Cover with plastic wrap and bring to room temperature before using (takes about 30 minutes).

Meanwhile melt the chocolate on medium heat in a microwave oven, stirring after every 30-second burst. Let the chocolate cool to room temperature.

In the bowl of your electric mixer (or with a hand mixer) place the egg yolks, heavy pinch of salt, and half of the sugar until it is thick and billowy, about 5 minutes. Make sure it gets to the "ribbon stage" where the batter sits on the surface for a few seconds before sinking back in. Beat in the vanilla extract.

Add the melted chocolate and fold to combine evenly. Set aside while you beat the egg whites.

In a clean mixing bowl, with the whisk attachment, beat the egg whites until foamy. Add the cream of tartar and beat at medium-high speed until soft peaks form. Beat in the rest of the sugar and take the whites to stiff peaks.

Gently

fold

a small amount of the egg whites into the egg yolk mixture using a rubber spatula or whisk to lighten the batter.

Fold

in the remaining whites just until incorporated. Fold gently so you don't deflate the batter. Spread the batter evenly into the prepared pan with an offset spatula. Bake until the cake is puffed, has lost its shine, and springs back when gently pressed, about 15 – 17 minutes. Remove from oven and place on wire rack to cool. Cover the cake with a clean, slightly damp towel.
For the Cran-Raspberry Mascarpone Cream
Whip the heavy cream along with sugar (to taste) and a pinch of salt until thickened.

Whip in the mascarpone cheese. Just plop it in there. If you're using the whip attachment on your stand mixer, I promise it will all come together. If you're using a hand mixer, plop the beaters right on top of the blob of cheese to break it up and then mix away.

Your cream and cheese mixture will whip up quickly at this point, so be careful not to overwhip. The cheese can turn grainy and gross, so just take it to medium peaks.

Plop in the cranberry sauce and chopped raspberries and whip for 2-3 seconds to get it going, then fold in by hand so there are no streaks.
To Assemble the Roll
Leave your cooled cake in the pan and remove the towel.

Spread the filling evenly over the cake, from edge to edge. Leave about 1 1/2" plain at one short end, but cover the rest with an even coat. Reserve about 3 Tablespoons of the filling.

Using the parchment to help you, roll the cake up starting from the short end and rolling towards the end that you left plain. Carefully peel back the parchment as you roll. That initial roll may very well crack, but it's in the middle, so don't worry too much about it. Mine cracked about 1 1/2" in, but whatever. Keep rolling and peeling back the parchment until he's all rolled up. Move the roll to a cutting board, seam side down. Have your Presentation Platter ready too. Cover it with some strips of waxed paper so you don't make a mess on the platter. You'll carefully pull those pieces out before the final garnishing.

Trim one end of your jelly roll at an angle. You can make this piece as large or as small as you want, but for aesthetics, I wouldn't make it any more than 1/2 of the length of the remaining roll. Set that guy aside for a moment.

Place the longer part of your roll on the serving platter. Slather the remaining filling mixture on the angled end of the piece you just cut off and then stick it to the roll wherever you want. The reserved mixture will act as glue, so press it together fairly well without squishing your cake.

Cover loosely with plastic wrap and refrigerate.
For the Ganache
Bring the cream just to a boil and then remove from the heat.

Pour in the chopped chocolate all at once and stir until emulsified–rich, thick, dark and shiny.

Refrigerate until it's the consistency of frosting. You don't want it to be runny.
To Make the "Bark"
Once the ganache is at spreading consistency, remove the cake from the fridge.

Using a small offset spatula (because it's easy to use, but use what you have), spread a thin coat of ganache all over the roll and down to the waxed paper. Try not to leave any of the roll naked. But if you have to, cover it with whipped cream later!

Once the ganache is spread evenly. Drag the tines of a fork back and forth over it until it looks as barkish as you want.

Refrigerate until the ganache is set. You'll be able to tell because it will no longer be shiny.
To Garnish
Using a serrated knife, carefully trim off the very ends of your jelly roll so there's no sloppy filling sticking out.

Carefully remove the strips of waxed paper from around the cake roll. You may have to hold the cake in place with a spatula while you pull. Just go slowly and get rid of all the waxed paper.

Liberally dust the cake with powdered sugar. Some of it will dissolve as it sits, so use more than you think you need.

Whip your cream to stiff peaks (I use cream, a touch of sugar, a pinch of salt and a little bit of vanilla). I think I whipped about 3/4 cup to garnish mine. Make as much or as little as you want.

Apply your whipped cream artfully around your Yule Log.

Press sugared cranberries and raspberries wherever you think they should go.

Some edible (or at least non-toxic) greenery would be lovely as well.

Before presenting, dust the entire thing–platter and all–with some more powdered sugar.
Did You Make Any Changes?
Notes
Nutritional information based on 12 servings of cake
Nutrition
Calories:
307
kcal
Carbohydrates:
27
g
Protein:
4
g
Saturated Fat:
11
g
Cholesterol:
124
mg
Sodium:
68
mg
Fiber:
1
g
Sugar:
20
g
Thanks so much for spending some time with me today. Have a wonderful day!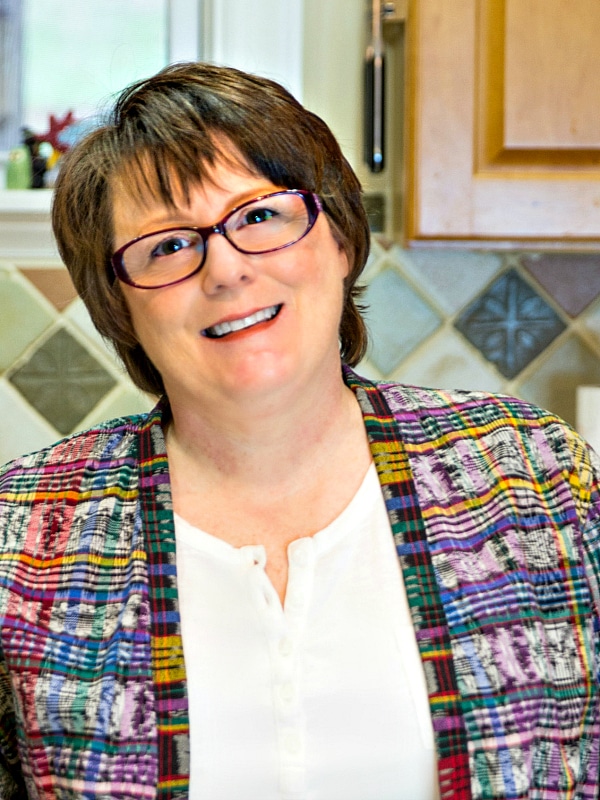 What are my qualifications to teach you baking and pastry? As a former working pastry chef and special educator, I marry my passions for both teaching and for baking into explaining techniques, methods, and developing the best possible recipes. For more info, you can read more about me.
If you'd like to receive new recipes and the occasional newsletter, I'd love for you to sign up for my Inbox Pastry Chef.