Most Recent Update:
I'm honored to be partnering with Dover Publications to bring you this review of the re-release of Cocolat, Alice Medrich's seminal 1990 cookbook that broadened Americans' definition of "cake." We are celebrating with a review, a giveaway and discount code (don't miss either!), and a recipe for this luscious Chestnut Chocolate Torte!
Do you guys remember the cookbook clubs you could enter back in the late 80's? They'd send you a Thing in the mail and let you buy 8 cookbooks for a penny. When their mailing to Resident of the little blue house near the airport hit my hot little hands, they had found their target market.
Keep in mind I was not a cook or a baker at the time. But I loved an oversized, glossy-paged cookbook full of sumptuous photographs and rules for making their dreamy subjects. Originally published in 1990, Cocolat hit all the marks for my cookbook addition. Oversized? Check. Glossy pages? Check. Sumptuous photographs? Check. And rules and guidelines and knowledge. What a treasure.
Alice Medrich opened the first of her chain of boutique chocolate shops, Cocolat, in 1976. Think about that. In 1976, I used to stand in front of the window at the Federal Bake Shop at Park Road Shopping Center watching the white-aproned decorators work their magic, seemingly at the speed of light. Swoopy roses, lush leaves, swirls of white, billowy frosting. Cakes were tall and lavishly decorated.
And then Alice came along and showed us all that low, sleek discs of meltingly rich chocolate, shiny with glaze were also cakes. And cakes that packed so much richness and flavor that just a small slice would satisfy.
She taught us to make traditional European tortes, how to make truffles and individual desserts. From her, we learned the rarefied skills of tempering chocolate, making chocolate ruffles and cigarettes, and of using stencils for decorating. Alice wanted us to know that icing could be smooth and shiny, that the star tip is not the be all end all of decorating, that by learning a few solid formulas for different dessert components, we could choose to combine them however we wished.
Alice changed the game.
And now, with this new edition of Cocolat, published by Dover Publications, not only do we get to experience the mix of food porn and solid pastry education that was the original, Alice Medrich has updated the book with new front matter with a detailed introduction, notes on ingredients, and most importantly The Chocolate Chart.
When Cocolat was originally published, Americans were extremely limited in the types of chocolate available for baking. Baker's unsweetened, semi-sweet, and bittersweet were pretty much the only game in town, and it was anyone's guess what percentage of cocoa mass they contained. Today, there is a vast array of fine chocolates we can use, and most these days give the cocoa percentages. Medrich went through every recipe from the original, noting what type of chocolate was used in the original, what types of chocolate available today will yield the best results, and noting any additional information we might find useful.
I have no idea how long it took her to compile all this information, but I'm so glad she did.
When you get (or win) your copy, please do not disregard this chart. Find a recipe you want to make and read the ingredient list. Then flip to The Chocolate Chart, find the recipe (they are listed in alphabetical order) and confirm the type of chocolate you need to ensure the best results.
For example, I made the Chestnut Chocolate Torte, and it called for chocolate with a cocoa mass between 55% and 60% and not to use chocolate more than 66%. I was able to find 70% chocolate and a lovely Italian 51%, and I used half of each for an average of 60.5%. The resulting cake is perfection.
What You'll Find in This Post
hide
Chestnut Chocolate Torte
Look at that sleek piece of goodness up there!
My wonderful friend Jamie who writes Life's a Feast gifted me a can of chestnut puree from The France. It had been sitting in my pantry for longer than I care to admit, waiting for the perfect recipe to come along. And when I was searching through the chapter on Chocolate Tortes, I came across the Chestnut Chocolate Torte, and I called the can out of the pantry and into service.
Even though I love the song, I had never eaten chestnuts roasted on an open fire, or chestnuts in any form, so I really didn't know what to expect from the canned, sweetened puree. The puree is a deep reddish-caramel color that tastes mildly nutty and very fruity. A lovely complement to the chocolate.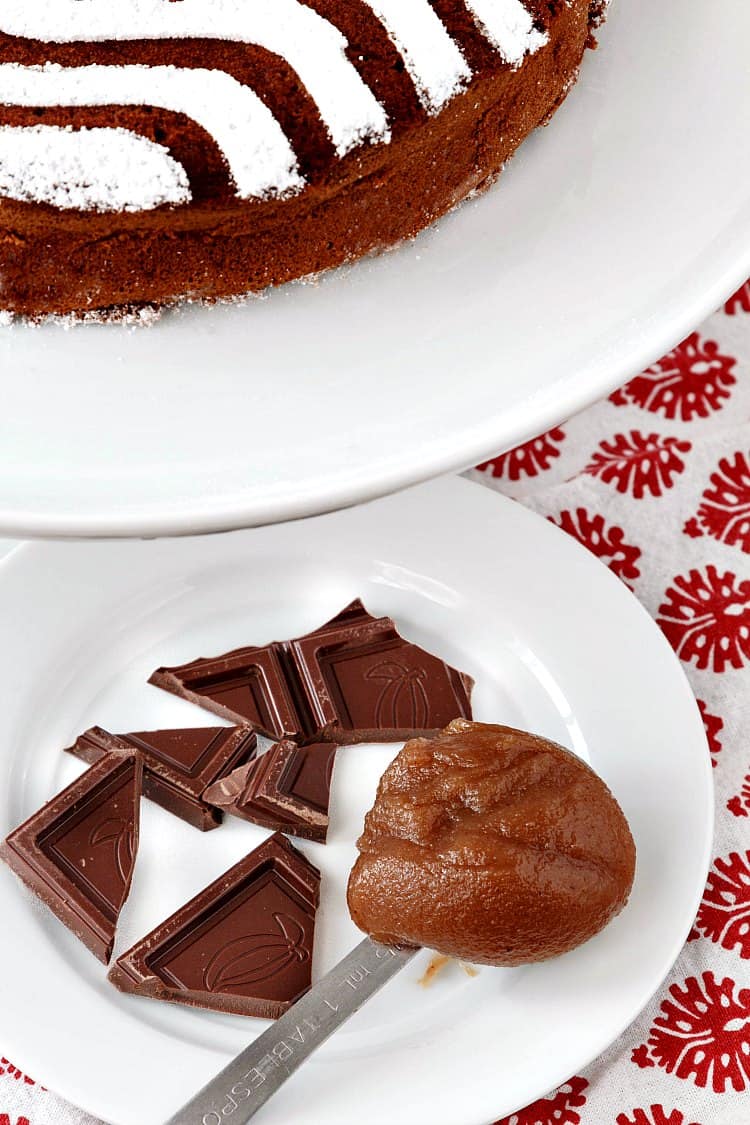 Dover Publications Discount Code
Dover Publications is generously offering a 25% discount on all their cookbooks now through the end of the year! All you have to do to enjoy the discount is use This Link to Dover's Cookbook Collection and use code WRBL at check out! Thank you, Dover, for giving my readers a discount. You guys rock!
Read on to enter the giveaway for a copy of the brand new edition of Cocolat by Alice Medrich.
The following section contains affiliate links. If you make a purchase through one of my links, I will earn a percentage of the sale. Your cost will not be affected.
Can I Make This Cake?
Yes you can. Once you get your hands on chestnut puree, whipping up the batter requires just a handful of ingredients and simple techniques. As a matter of fact, I made the chocolate chestnut torte using only 2 bowls, a broad silicone spatula, and my hand mixer. That's right. I didn't even have to bust out the stand mixer.
How Long Will It Take?
Let's see. Maybe 2 minutes to melt the butter and chocolate together in the microwave, another 4-5 minutes to whip the whites into a glossy meringue, and another few seconds to fold everything together and bake. Honestly, even if you're a little concerned about making a chestnut chocolate torte, Alice Medrich's instructions are very clear, and you should have the batter together and in the oven in no more than maybe 15 minutes. Baking time is about 40 minutes.
How Did You Make Those Stripes?
If you're a crafty person, you're going to be in heaven. I made a stencil using the detailed instructions on pages 186-188 of Cocolat! I got to use an Xacto knife and Everything. Actually, I used a razor knife/box cutter deal, and it worked out just fine. If you're super crafty, you can even go to town with your Silhouette Machine and make All The Stencils.
How Do I Keep My Husband Occupied While I'm Baking?
Let him cut the stencil for you. As a matter of fact, come up with a bunch of stencil ideas and ask him to make them happen. That should keep him busy so you can lick the bowl in peace.
Speaking of bowls, get them out and let's make this Chestnut Chocolate Torte!
**Note, I am copying the text exactly as Alice Medrich wrote it.
And now it's giveaway time, friends! The giveaway runs through October 30, 2017 and is open to everyone living in the US and Canada as long as you're at least 18 years old. Good luck, and thank you for reading! (Don't forget to use that coupon code WRBL on all your Dover Publications cookbook purchases now through the end of 2017!)