So many people ask what is the difference between butterscotch and caramel that I thought I'd write a post about it. Butterscotch is a distinctly different flavor than caramel, but people often confuse the two or even think they are interchangeable.

Read on to find out the similarities and differences between caramel and butterscotch.

Find all my butterscotch recipes in one place here.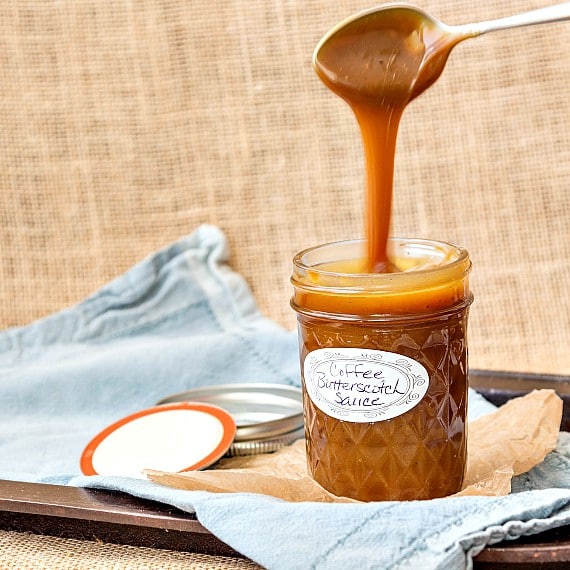 Before we look at the difference between butterscotch and caramel, I'll take a minute to define butterscotch and caramel. Feel free to use the table of contents to jump down to sections you are most interested in.
What is Butterscotch?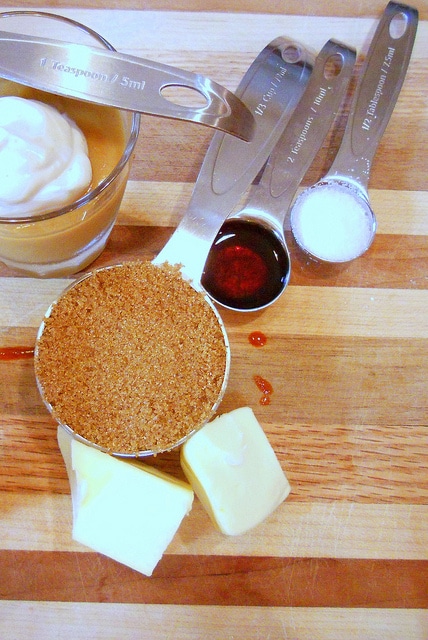 Butterscotch in its purest form–candy–is similar to caramel but differs in three main ways.
It does not have contain dairy (except for the small amount of milk solids in butter),
it contains more butter than caramel does, which strictly speaking doesn't need any butter,
and it also contains some syrups that are the by-products of sugar manufacturing. Back in The Day, it was treacle or molasses, and today it usually means dark brown sugar (since today's brown sugar is nothing more than refined white sugar with some molasses mixed back in).
I found reference to a recipe written in 1848 for Doncaster butterscotch calling for a pound each of sugar and butter and a quarter pound of treacle.
I cooked it up as a soft candy (although technically an old-school butterscotch would be hard candy. And I added salt. Quite a bit, actually.
You can find that recipe for authentic butterscotch candy at this link.
True butterscotch should have a bit of a salty edge to help round out the mellow butter and sweet sugar as well as to cut any bitterness from the molasses (which is pretty much just a dark treacle).
Plus, since butterscotch contains so much butter (traditionally equal to the weight of the sugar), and old school butter was salted, it stands to reason that there'd be plenty of salt in butterscotch.
I consider salt an integral part of the flavor profile.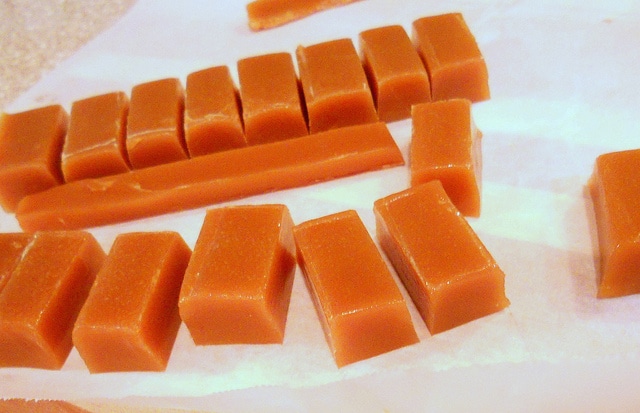 It is not necessary to caramelize the sugar in soft butterscotch candy.
The ingredients are cooked together to between 248F-265F, depending on how firm-but-chewy you want the texture, and sugar doesn't caramelize until well over 300F.
I should note that while it's not a necessary step, in order to get the most intense butterscotch flavor, it is ideal to cook the butterscotch mixture (butter and dark brown sugar) together until the sugar caramelizes.
If you are making a butterscotch sauce or butterscotch hard candy, you'll cook the butter and brown sugar together until the sugar caramelizes and the butter browns.
That's what gives you the base "butterscotch" flavor.
That bears repeating:
TO MAKE BUTTERSCOTCH: Cook butter and dark brown sugar together until the butter browns and the sugar caramelizes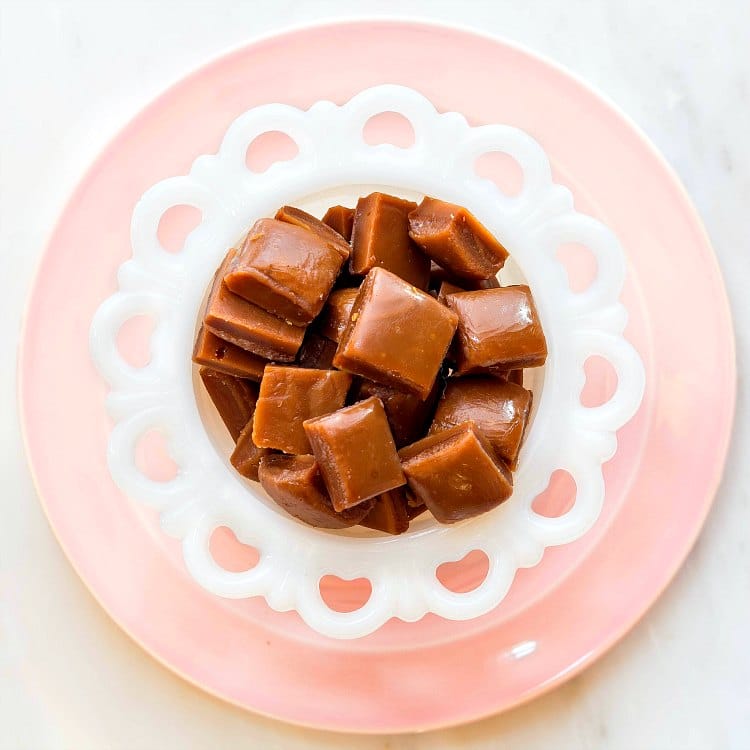 What Is Caramel?
Caramel contains white sugar that has been taken to the caramel stage.
It can contain dairy, but you can also make caramel with other liquids such as wine or fruit juice.
It may or may not contain butter, vanilla or salt. (But it should contain salt).
The distinctive caramel flavor comes not only through caramelization of the sugar but also some complex Maillard reactions between the sugars and the milk proteins over a broad range of temperatures (as the caramel heats and cooks).
What is the Difference Between Butterscotch and Caramel?
The main difference between butterscotch and caramel is that butterscotch is made with dark brown sugar (white sugar + molasses) and a high proportion of butter, and caramel is made with white sugar and a relatively small proportion of butter (and you don't have to add any butter at all if you don't want to).
Butterscotch = dark brown sugar + butter + salt
Caramel = caramelized granulated sugar
Butterscotch is also saltier than caramel, simply because it contains more butter, and "back in the day," almost all butter was salted to extend its shelf life. More butter equals more salt.
Stuff You'll Need to Make Butterscotch or Caramel
If you are interested in making a lot of caramel and butterscotch–or any candy, really–there's some equipment you'll need to make your life easier. Here are my recommendations for equipment and a couple of books to help you make delicious candy.
I cannot recommend strongly enough that you purchase a kitchen scale if you don't already have one. I have an Escali Primo I've used for years and it has never failed me. It's reasonably priced too, which is nice.
I also think an instant read thermometer is vital, and not just for making candy. I use my instant read for everything from checking the temperature of oil for frying to testing to see if cheesecakes are done (165F) or even regular cakes (195-200F).
For all candy making, a heavy-bottomed saucepan is pretty vital. They cook evenly and won't warp at high heat.
Get a 3 quart model with straight sides, because when you add dairy or other liquids to super hot sugar, it bubbles up.
You want to make sure your pot is large enough that you won't have any spill-overs.
Butterscotch vs Caramel
Okay, as definitive as I can be:
The flavor of butterscotch is characterized by a mixture of browned butter, caramelized sugar + molasses (or dark brown sugar in modern versions) and salt.
The flavor of caramel is characterized by caramelized sugar independent of molasses, butter or even salt.
Butterscotch sauce is made with dark brown sugar, butter, salt, and some cream.
Caramel sauce does not have to include butter, but butter is an integral part of butterscotch.
Both butterscotch and caramel can come in sauce form, candy form, pudding form, cake form, etc.
Why Does Store-Bought Butterscotch Pudding and Ice Cream Topping Taste So Awful?
Remember, we're looking for these ingredients: butter, brown sugar and salt. Vanilla works too. Just Take a Gander at these ingredient lists and then I'm pretty sure you'll understand why the store-bought stuff tastes nasty:
Smucker's Butterscotch Flavored Topping: Corn Syrup, High Fructose Corn Syrup, Nonfat Milk, Contains 2% Or Less Of: Modified Corn Starch, Salt, Natural Flavor (From Milk), Sodium Alginate, Sodium Citrate, Sodium Phosphate, Yellow 5, Yellow 6
Thank You Brand Butterscotch Pudding: Skim Milk, Water, Sugar, Partially Hydrogenated Soybean Oil and/Or Canola Oil, Corn Starch, Mono- and Diglycerides, Salt, Artificial Flavoring, Sodium Phosphate, Sodium Stearoyl Lactylate, Artificial Coloring (Yellow 5, Yellow 6, Red 3, and Green 3).
Jell-o Cook and Serve Butterscotch Pudding: Sugar, Dextrose (From Corn), Cornstarch, Cornstarch Modified, Contains less than 2% of Natural Flavor, Artificial Flavor, Salt, Calcium Carrageenan (Thickener), Polysorbate 60 (Prevents Scorching), Butter, Yellow 5, Red 40, Blue 1. (and add 2 cups milk when you cook it)
Can You Show Me How to Make Butterscotch?
Please watch the video in this post. It's the recipe for butterscotch creme brulee, and in it, I show you how to make butterscotch for the base of the recipe.
Again, and in a nutshell, you cook butter and dark brown sugar together until the butter has browned and the sugar has caramelized.
Do You Have Any Other Butterscotch Recipes?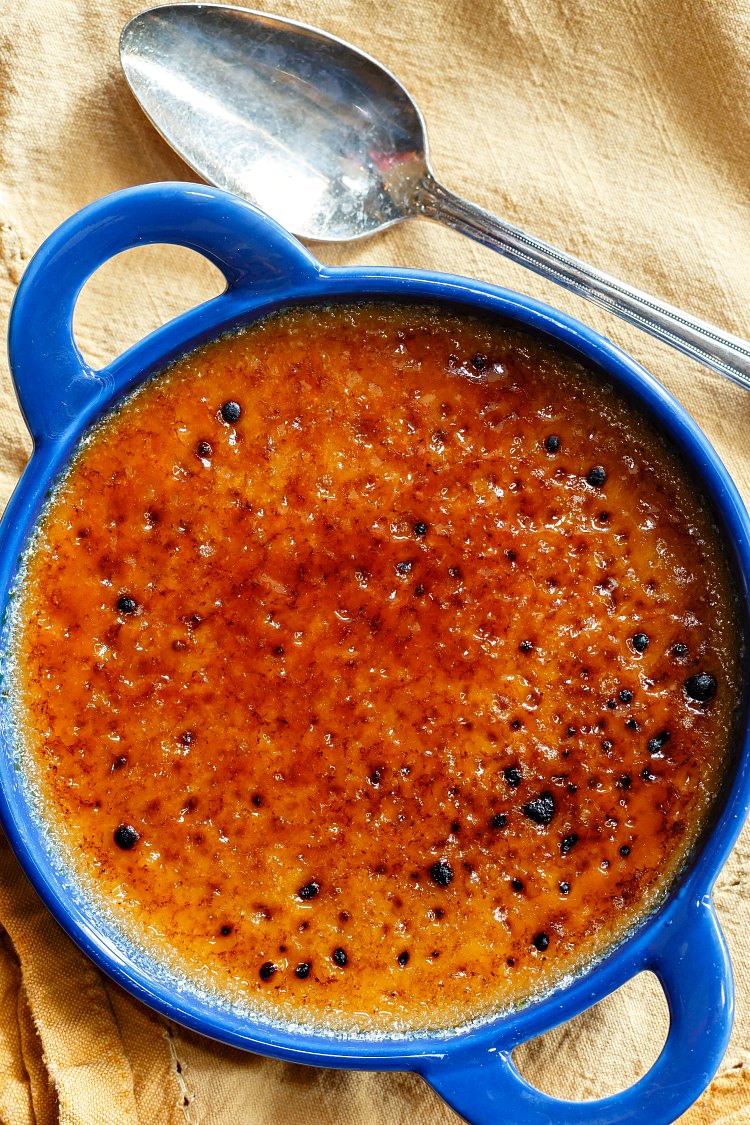 I do! I have a page where I am collecting all my butterscotch recipes, so check back frequently. Since it's my favorite flavor, I'm always adding more!
It would be so helpful to me and to other readers that, when you make a recipe, you rate it and leave a comment. Whether it's a recipe or an informational post, your feedback helps others decide if the post is helpful or if the recipe works as advertised.

If you could leave a star rating, that would be very helpful. Thank you for being here!
If you have any other questions about butterscotch versus caramel or about any baking or pastry question, please let me know. I'm only an email away, and I'm happy to help.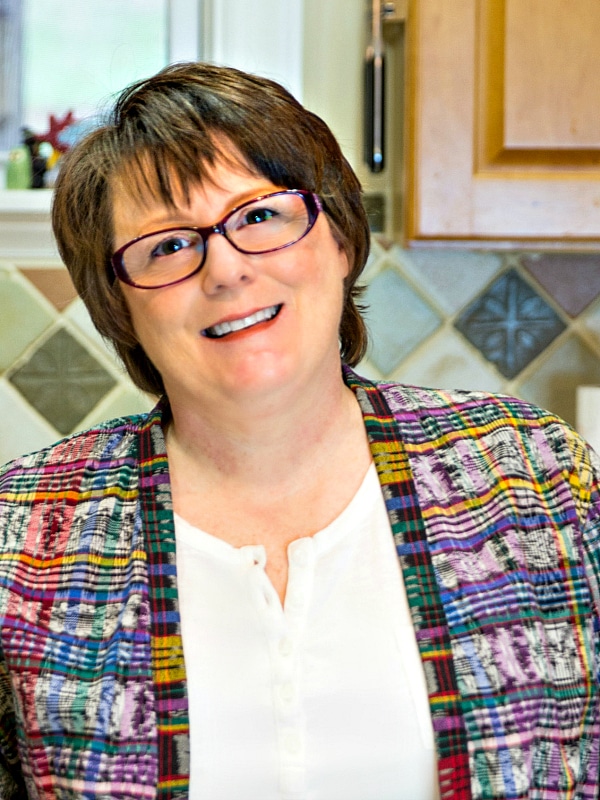 What are my qualifications to teach you baking and pastry? As a former working pastry chef and special educator, I marry my passions for both teaching and for baking into explaining techniques, methods, and developing the best possible recipes. For more info, you can read more about me.
If you'd like to receive new recipes and the occasional newsletter, I'd love for you to sign up for my Inbox Pastry Chef.