For those of you who 100% cranberry anything is a little…much, this cranberry raspberry jam is just for you. With cranberries and raspberries plus apple juice, it tastes like my favorite Cran-Raspberry juice but in jam form.

Very easy to make, this jam is perfect to serve at your Thanksgiving table, either in place of or in addition to your favorite cranberry sauce.

For ease of browsing, you can find all my condiment and jam recipes in one place. Now let's get to it.
If you love cranberries, you may also enjoy my cranberry ketchup, cranberry fool recipe, and no-bake orange cranberry cheesecake parfaits.
Cranberry Raspberry Jam, At a Glance
✔️Skill Level: Beginner
✔️Skills: Boiling and Mashing Fruit
✔️Type: Jam
✔️Number of Ingredients: 8
✔️Prep Time: 5 minutes
✔️Cook Time: 10-15 minutes
✔️Yield: 20 oz of jam, or 2 8 oz jars and 1 4 oz jar

Jump Straight to the Recipe
What Makes This Jam So Good?
The ratio of three parts cranberries to one part raspberries makes this jam decidedly cranberry-y, but the raspberry also comes through really nicely on the back end. There is enough sugar to sweeten the mix without taking away the tart goodness that is cranberry jam.
The hint of cinnamon speaks of the holidays while the lime juice and vanilla add a little acid and a sweet, creamy finish, respectively.
Using apple juice as the liquid not only lends more fruity flavor and some natural sugars, but the combination of cranberry, raspberry, and apple is reminiscent of my favorite Ocean Spray drink: Cran-Raspberry.
This jam tastes like that drink but in jam form.
If I've convinced you and you're ready to make this jam, I have a favor to ask:
When you do make this recipe, it will help me and other readers if you:
✅Rate the recipes using the stars in the recipe card⭐⭐⭐⭐⭐
✅Leave a review when prompted in the recipe card✍️
✅Leave a comment on the post📝
Thank you!😘
How to Make Cran-Raspberry Jam
This is a straightforward jam to make. If you don't need any help with the instructions, you can jump straight to the recipe.
Otherwise, read on, and I'll go over all the ingredients and give substitutions where appropriate.
Ingredients and Substitutions
cranberries: Fresh cranberries are the main ingredient. Wash them well and get rid of any weird, wrinkled ones. No need to dry them off
raspberries: You can leave the raspberries out and use all cranberry or replace the raspberries with strawberries, blueberries, or even pomegranate arils
apple juice: This is the liquid for cooking the fruit in. I chose it because it's also the base for cran-raspberry juice, which I love. It also adds a bit of sugar and sweet, apple flavor. You can substitute orange juice or even plain water
granulated sugar: Cranberries and raspberries are both pretty tart, so this recipe requires a fair amount of sugar. Even so, it's not as sweet as some recipes that can call for equal parts sugar to fruit. Granulated sugar provides sweetness and also goes into solution with the fruit juices to lend body
brown sugar: You can use all granulated sugar if you like. I love brown sugar, though, so it needed to make an appearance in this jam. The molasses lends a tiny bit of flavor, but if you don't have any brown sugar, no need to make a special trip to the store
cinnamon stick: Provides some warm, sweet spice in the background. The recipe doesn't call for a lot, but season to taste. You could also add star anise, whole allspice and/or a couple of cloves, depending on what spices you enjoy. I used 2 whole cinnamon sticks, but my cinnamon is from the Pleistocene era and doesn't have a ton of flavor. If you have freshly bought cinnamon sticks, use 1/2-1 stick of cinnamon
lime juice: A little acid helps to balance out a fruit jam. Honestly, the fruit is so tart, it might not strictly be necessary for this particular jam, but a little citrus is always welcome. I prefer to use lime for red and purple fruit and lemon for yellow and orange fruit
vanilla extract: Added off the heat, the vanilla adds a creamy warmth to the finish of the jam. You could also use a touch of almond or hazelnut extract if you have it and/or if you prefer
Procedure
Making jam is a pretty straightforward process.
Since cranberries are literally packed with pectin, there is no need to add extra.
If you only cook your fruit for a few minutes, until the berries pop, you'll have a beautiful cranberry sauce. Keep cooking to concentrate all that pectin, and you'll have a perfect jam after only about 10-12 minutes of cooking.
Put all the ingredients except for the vanilla in a medium-sized, heavy-bottomed saucepan.
Bring everything to a boil and skim off any weird foamy stuff that rises to the surface. That foamy stuff is just a bunch of air bubbles caught in proteins, and skimming them off allows the jam to keep longer (by limiting oxygen) and to have a better texture
If you want, mash the berries with a potato masher to make a smoother texture
You'll know your jam is done when it slides off the spoon in sheets rather than drips. If you have an instant-read thermometer, you're shooting for about 220F.
Jenni Says: For a smoother jam, when it's done cooking, run it through a food mill with the medium die in place. that will get rid of most of the seeds and the peels from the cranberries. NOTE you will end up with less jam, but it will be smooth.
This is the food mill I have, use often, and really love.
My Favorite Food Mill
OXO Good Grips Food Mill
The OXO food mill is well-made, easy to use, easy to clean, and dishwasher safe (I wash all the parts in the dishwasher except the grinding discs). Speaking of, it comes with 3 discs for fine, medium and coarse. There is no better tool for getting a consistent texture and also removing skins and seeds without having to peel or core anything before hand.
This is an affiliate link which means I earn from qualifying purchases. Your price is unaffected.
Serving Suggestions
You should 100% serve this jam at your holiday table. I think it would be lovely to set a 2 oz jar at everyone's place. That way nobody is waiting for jam or has to yell, "Pass the cranberries!"
Add a few dollops to your turkey shepherd's pie and serve it alongside potato stuffing waffles.
Of course, it's great spread on dinner rolls, biscuits, or croissants or as a condiment for your leftover turkey sandwich.
Cran-Raspberry Jam Q & A
Can I add pectin?
There really is no need. There is plenty of pectin in cranberries, and your jam will set up beautifully. Cook for only 5 minutes for a sauce consistency, or cook for up to 12-15 minutes for a firmer, more concentrated jam.
How long will the jam keep?
In the fridge, this jam will keep for about 4 weeks. It may not last that long though.
Can I can this in a water bath?
I am not a canner, but if you are, this jam should be safe to can. To be extra safe, you may want to increase the sugar by an ounce as well as add a bit more lime juice. Check the Ball Blue Book for safety guidelines.
Other Tasty Jam Recipes
If you're a fan of jam I have sweet and savory jams you may enjoy.
For a lovely summer jam, it's hard to beat the combination of strawberries, raspberries, and blueberries in my mixed berry jam.
Figs make a lovely jam, and I have a sweet vanilla fig jam as well as a more savory fig jam you might really love.
Or veering into the super savory side of things, try my bacon jam and onion jam recipes.
For another gorgeous cranberry jam, try my friend Beth's cranberry orange jam. It's lovely.
Questions?
If you have a question about this post and it is not time-sensitive, you can leave your question in the comments section here under the post.
If your question is more time-sensitive, the best way to reach me is by email. I will get back to you in under four hours unless I'm sleeping.
To email, simply click the button below:
A Note About Measurements
For convenience, consistency, and accuracy, almost all my recipes are written by weight, either in ounces and/or grams, even the liquids.
I strongly encourage you to purchase a kitchen scale and learn to use it.
This is the one I used for years. I love it and highly recommend it:
Best for Home Use
Escali Primo Digital Food Scale
Don't let its small price and small size fool you. The Escali Primo is an accurate and easy-to-use food scale that I have used for years. It's easy to store, easy to use, has a tare function, and easily switches between grams and ounces/pounds for accurate measurements.
This is an affiliate link which means I earn from qualifying purchases. Your price is unaffected.
It would be so helpful to me and to other readers that, when you make a recipe, you rate it and leave a comment. Whether it's a recipe or an informational post, your feedback helps others decide if the post is helpful or if the recipe works as advertised.

If you could leave a star rating, that would be very helpful. Thank you for being here!
Cran-Raspberry Jam Recipe
Take advantage of the high-pectin content of cranberries to make this delicious cranberry-raspberry jam that calls to mind my favorite cranberry drink: Cran-Raspberry by Ocean Spray. Serve this jam along with your Thanksgiving meal, or use it as you would any jam. The tart-sweet combination is hard to beat!
Ingredients
12

oz

cranberries

340 grams or 3 cups

4

oz

raspberries

113 grams or 1 cup

8

oz

apple juice

227 grams or 1 cup

4

oz

brown sugar

113 grams or 1/2 cup, well-packed

6

oz

granulated sugar

170 grams or about 3/4 cup

1

cinnamon stick

1

Tablespoon

lime juice

14 grams

1

teaspoon

vanilla extract
Instructions
Place all the ingredients except the vanilla in a medium-sized, heavy-bottomed saucepan, and slowly bring to a boil over medium heat.

Keep the jam at a slow boil, and skim off any of the foam that bubbles up.

Once the cranberries have softened and popped, use a potato masher to smash the berries right in the pan.

Continue to cook for a total of 10-15 minutes, until the mixture falls off a spoon in a sheet rather than in drips or streams. Stir in the vanilla extract off the heat.

Pour into a clean jar or jars and put lids on. Allow to cool to room temperature before storing in the fridge. This recipe makes enough to fill 2 8-oz jars and 1 4 oz jar.
Did You Make Any Changes?
Notes
This recipe can do double duty as both a sauce or a jam. It all depends on how long you cook it. Boil for 5 minutes for sauce and up to 15 minutes for a jam that sets very firmly.
Yield
You will end up with about 3 8-oz jars if you boil long enough to make sauce. If you boil it longer for jam, you'll get 2 8-oz jars plus another 4 oz jar. Nutritional information is based on 2 Tablespoons of jam and not sauce.
Storing
Keep in the fridge and use within a month.
Nutrition
Serving:
1
oz
Calories:
71
kcal
Carbohydrates:
18
g
Protein:
0.2
g
Fat:
0.1
g
Saturated Fat:
0.01
g
Polyunsaturated Fat:
0.04
g
Monounsaturated Fat:
0.01
g
Sodium:
3
mg
Potassium:
43
mg
Fiber:
1
g
Sugar:
16
g
Vitamin A:
13
IU
Vitamin C:
4
mg
Calcium:
10
mg
Iron:
0.2
mg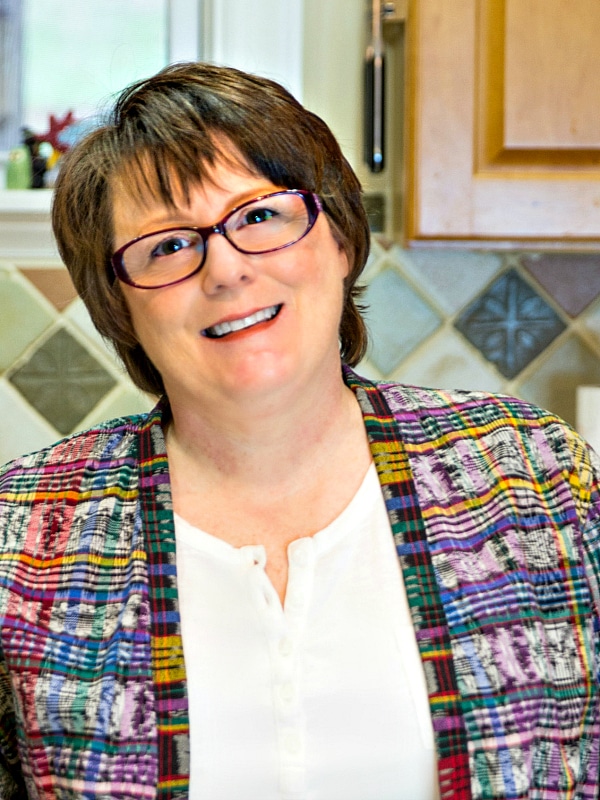 What are my qualifications to teach you baking and pastry? As a former working pastry chef and special educator, I marry my passions for both teaching and for baking into explaining techniques, methods, and developing the best possible recipes. For more info, you can read more about me.
If you'd like to receive new recipes and the occasional newsletter, I'd love for you to sign up for my Inbox Pastry Chef.
Thanks so much for spending some time with me today.
I hope you enjoy the cran-raspberry jam, friends.
Take care, and have a lovely day.