Every year, the Beloved makes fruitcake, specifically Alton Brown's fruitcake, which he has tweaked until it is perfect. This recipe doesn't contain any candied fruits, so if that is what has been stopping you from making fruitcake, maybe you'll give this one a try!

It's so good. Honest!

For ease of browsing, here are all of my muffin and quick bread recipes in one place.
See my Alton Brown fruit cake web story here.
Fruitcake, At a Glance
✔️Skill Level: Beginner
✔️Skills: Macerating (soaking) fruit, Simmering, Mixing
✔️Type: Christmas Cake
✔️Number of Ingredients: 26, many of which are dried fruits and spices
✔️Prep Time: 1 hour
✔️Cook Time: 50 minutes-1 hr
✔️Yield: 1 9 x 5 loaf or 4-5 6″ x 2 1/2″ loaves

Related Recipes: Fruitcake Overnight Baked Oats
Jump Straight to the Recipe
Fruitcake from The Beloved
Several years ago, I wrote a post about how The Beloved started making Christmas fruit cake one year and how I thought he had lost his mind.
Now, he has been making slight variations on the recipe for years, and he makes dozens.
He uses Alton Brown's standard recipe for Free Range Fruitcake, but over the years, he has put a bit of his own spin on it by changing the spicing a little. And he generally also leaves out the nuts.
It is the best fruitcake recipe ever.
I went from being an avowed fruitcake mocker to looking forward to the start of his baking season.
And, if I have been pleasant, I get to lick the pot after he scrapes the batter out into the pans.
What Dried Fruits You'll Need
No glaceed cherries or weird, rubbery peel in this stuff, friends. You will need a variety of dried fruits as well as some crystallized ginger.
This fruitcake is made without candied fruit.
Here are the players:
tart cherries: you could certainly substitute dried sweet cherries here as well
cranberries: my husband buys unsweetened dried cranberries, but you could also use the Craisin® brand from the grocery store that are lightly sweetened
blueberries: a little something different. Dried blueberries are fairly mellow, so you can punch up the flavor of your fruitcake by substituting the same amount of either dried cranberries or cherries
apricots: If you're not a huge fan of apricots, you can sub in dried mango, or again, add the same amount of one of the other dried fruits
currants: raisins work here as well
crystallized ginger: adds a little zip to the whole production. As with the rest, leave it out if you don't like it, or you can even add more if you're a huge ginger fan.
PRO TIP: You will need a total of four cups of dried fruit (this includes the golden raisins, which for me are non-negotiable), and this can be made up of any of your favorites. You do not have to stick to the proportions in the recipe as long as you use a total of 4 cups.
Other Dried Fruits That Will Work
Don't limit yourself to just thes fruits Jeffrey uses. The "master recipe" calls for one cup of currants (or raisins) and a total of 2 additional cups of dried fruits.
You can use any sort of dried fruits you prefer.
Here are some other choices for you:
dried plums (prunes), snipped into pieces
dried pineapple (as long as it's pliable and not hard)
figs
dried peaches or nectarines (use in place of the apricots or in addition to)
dried pear
dried apple
Do not substitute freeze-dried fruits for dried fruit or you will throw the moisture content off and your fruitcake will end up sad and dry.
Jenni Says: Do not wait until the last minute to make any kind of fruitcake. They will be at their best after 4-6 weeks of aging and being sprayed with brandy.
How to Make Jeffrey's Fruitcake
One of the great things about this moist fruit cake is that you don't need a mixer to make it. You need a big old pot, a wooden spoon, your ingredients of course, and some pans to bake in.
Although the ingredient list is long, the procedure is simple.
Macerate (fancy word for soak) a ton of dried–not candied and weird–fruits and citrus zest in golden rum for a few days.
Plop all of that into a pot with some apple cider, sugar, and spices and simmer for a while.
Let the fruit mixture cool then stir in eggs, dry ingredients and then bake. No mixer needed, and the house smells amazing.
Put the cakes in airtight containers and brush or spray them with brandy every couple of days for at least four to six weeks.
No Alcohol Variation
Rather than plumping the fruit and zest in rum, macerate in 7 ouncjes of water and 1 whole ounce (2 Tablespoons) of rum extract. (For a total of 1 cup liquid)
After soaking, just scrape fruit and any liquid that hasn't been absorbed into the cooking pot and proceed with the recipe as written.
Instead of brushing the fruitcake with brandy, wrap them well and store them in a cool, dark place.
I can attest that they are Incredibly Good! I actually like this version better than the alcoholic version.
Fruitcake Spices
If you're asking yourself if you need to have the whole versions of all the spices called for, the answer is not necessarily.
Generally speaking, whole spices have stronger, fresher flavor than the ground versions, but do not let not having whole spices deter you from making this most delicious of fruitcakes.
Here are the whole spices Jeffrey uses:
whole cloves
whole allspice berries
black peppercorns
He grinds these three together using a mortar and pestle, but you could also use a spice grinder.
And these are ones he uses already ground:
The nutmeg he grates separately with either a Microplane or a Microplane Spice Mill, which works shockingly well.
Serving Suggestions
We visited the Claxton Fruitcake factory once, and they suggested we serve their fruitcake sliced very thin and straight from the fridge.
With this fruitcake, heating it up really brings out the spices. We always cut fairly thick slabs and toast them in our toaster oven. Spread with cream cheese, it really doesn't get much better.
You could also spread it with some salted butter and maybe some seasonal jam like this cranberry orange jam.
Where To Get The Paper Baking Pans
Jeffrey has tried several sizes as well as baking full-sized fruitcake in loaf pans.
The ones he has settled on for gift-giving are 6″ x 2 1/2″, and we think they make the most beautiful loaves.
If you use this size, you can get 5 lovely little fruit cakes from one batch of batter.
Jeffrey's Pick
This is an affiliate link which means I earn from qualifying purchases. Your price is unaffected.
Other Christmas Dessert Recipes
I have a lot of Christmas-themed recipes on my site–cookies, cakes, etc–but I have a couple of favorites.
First, my Auntie Ev's Trifle, which is one of our family's traditional Christmas desserts that her family brought with them from England.
And I cannot forget angel slices, which are my favorite Christmas cookies ever. Another legacy of Auntie Ev, via the Joy of Cooking.
If you like gooey pecan and coconut filling baked on a shortbread crust and then glazed with a crackling thin lemon glaze, angel slices are for you!
Free Printable Christmas Recipe Card
And here are the printable recipe cards for this recipe. The .pdf has both on one page, and both are linked to it. Click either picture to open and save the recipe, or you can right-click each picture and save them that way if you prefer. Get all my free Christmas recipe cards if you like!
I have 3 different templates for printable recipe cards for Christmas/winter holidays, so take a look and download them all. They're free!
Questions
If you have a question about this post and it is not time-sensitive, you can leave your question in the comments section here under the post.
If your question is more time-sensitive, the best way to reach me is by email. I will get back to you in under four hours unless I'm sleeping.
To email, simply click the button below:
A Note About Measurements
The vast majority of the recipes on my site are written by weight and not volume, even the liquids unless otherwise specified.
I strongly encourage you to buy and use a kitchen scale to make sure you achieve accurate and consistent results.
This is the scale that I used for years, love, and recommend, both because it is accurate and because the price will not break the bank.
Best for Home Use
Escali Primo Digital Food Scale
Don't let its small price and small size fool you. The Escali Primo is an accurate and easy-to-use food scale that I have used for years. It's easy to store, easy to use, has a tare function, and easily switches between grams and ounces/pounds for accurate measurements.
This is an affiliate link which means I earn from qualifying purchases. Your price is unaffected.
It would be so helpful to me and to other readers that, when you make a recipe, you rate it and leave a comment. Whether it's a recipe or an informational post, your feedback helps others decide if the post is helpful or if the recipe works as advertised.

If you could leave a star rating, that would be very helpful. Thank you for being here!
Christmas Fruitcake
The Beloved's Alton Brown fruit cake is boozy with rum and brandy, spiced with all the Christmas spices and is positively brimming with intensely flavored dried fruit. This stuff will make you rethink your fruitcake skepticism.
Ingredients
1

cup

golden raisins

1

cup

currants

(or prunes snipped into tiny pieces)

½

cup

each dried cranberries

blueberries, cherries and apricots (chop the apricots into pieces) or a total of 2 cups dried fruit

zest of one lemon

(Microplaned)

zest of 1 orange

¼

cup

minced crystallized ginger

1

cup

gold rum

NON-ALCOHOLIC VERSION: 1 oz (2 Tablespoons rum extract and 7 oz water)

1

cup

granulated sugar

5

oz

unsalted butter

(1 1/4 sticks)

1

cup

unfiltered apple juice

(orange juice works well here too)

4

whole cloves

ground (or 1/8-1/4 teaspoon ground)

6

allspice berries

ground (or 1/4 teaspoon ground)

10

peppercorns

ground fresh (or 1/4 teaspoon ground)

1

teaspoon

ground cinnamon

1

teaspoon

ground ginger

several gratings fresh nutmeg

or 1/4 teaspoon ground

2

teaspoons

kosher salt

1 ¾

cups

all purpose flour

1

teaspoon

baking soda

1

teaspoon

baking powder

2

large eggs

1/4-1/2

cup

pecan halves

(optional)

brandy for basting/spraying

OMIT for Non-Alcoholic version. Just wrap the cake while still warm to keep it moist and store in the fridge until you're ready to eat it/gift it
Instructions
At least a day before, soak the raisins, the rest of the dried fruit, the crystallized ginger and the zests in golden rum (or water and rum extract). You can do this in a zip-top bag if you want. Shake the bag occasionally.

When you're ready to bake, preheat the oven to 325F and then dump the contents of the zip-top bag, including any liquid, into a 3 1/2 quart saucepan (or similar size. Don't go buy a new pan).

Add the sugar, butter, juice, and spices (The Beloved grinds the cloves, allspice, pepper and salt together with a mortar and pestle. He wanted me to tell you that) and bring to a boil. Turn the heat down and simmer for 10 minutes.

Remove the pan from the heat and let it cool for 30-45 minutes.

Whisk the flour, baking soda and baking powder into the fruit mixture, combining it quickly with a wooden spoon.

Stir in the eggs thoroughly, one at a time.

Pour/scrape the batter into your prepared pan/pans, smooth the top and press on the optional pecans (in a design or not).

Bake until a toothpick inserted in the center comes out clean. You're looking for an internal temperature of 200F. This will take about an hour or a bit longer, so test at a hour and go from there.

Remove cake from oven and liberally brush the top with brandy.

Once the cake has cooled completely, turn it out of the pan and put it in an airtight container. Brush or spray it well with brandy every 2 or 3 days and let it age for at least 2 weeks or up to pretty much forever.

Enjoy toasted and spread with cream cheese as we do. So delicious!
Did You Make Any Changes?
Notes
This recipe makes 1 9″ x 5″ loaf of fruit cake. You can also divide it evenly among decorative, giftable paper pans as The Beloved does. The ones pictured here are about 6″ x 2 1/2″ or so. If you use the 6″ x 2 1/2″ pans, you will get 4-5 small, beautiful loaves from 1 recipe.
When baking small cakes, baking time will be about 50 minutes.
The Beloved has also made these as really mini loaves and as muffins. This recipe works no matter the shape or size of the pan, you just have to monitor them because smaller ones bake in less time.
We always line metal pans with parchment even if Alton didn't tell us to. Just for insurance.
Nutritional Information calculated on 1/10 of the entire recipe.
Try this fruit cake toasted and spread with cream cheese. Lord, it's amazing!
Nutrition
Serving:
1
/10 cake
Calories:
562
kcal
Carbohydrates:
85
g
Protein:
5
g
Saturated Fat:
7
g
Cholesterol:
63
mg
Sodium:
598
mg
Fiber:
5
g
Sugar:
58
g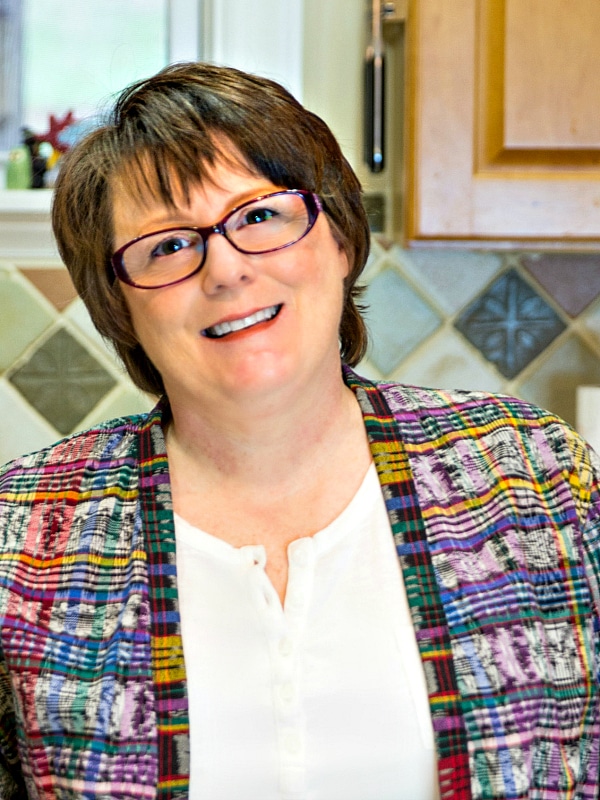 What are my qualifications to teach you baking and pastry? As a former working pastry chef and special educator, I marry my passions for both teaching and for baking into explaining techniques, methods, and developing the best possible recipes. For more info, you can read more about me.
If you'd like to receive new recipes and the occasional newsletter, I'd love for you to sign up for my Inbox Pastry Chef.