Hi, friends! Today I have made you some chocolate peppermint crinkle cookies! They're gluten-free, rich and fudgy, just pepperminty enough, and filled with tiny pieces of Ghirardelli Dark Chocolate Peppermint Bark. Let's talk a bit about how I made them and then get on with the recipe.

If you are all about chocolate and peppermint, you may enjoy my chocolate peppermint brownie brittle or peppermint bark brownie recipes.

And if you dig chocolate but want to skip the mint, you may love this chocolate chocolate chip shortbread.

For ease of browsing, here are all of my cookie and bar recipes. Thanks for stopping by!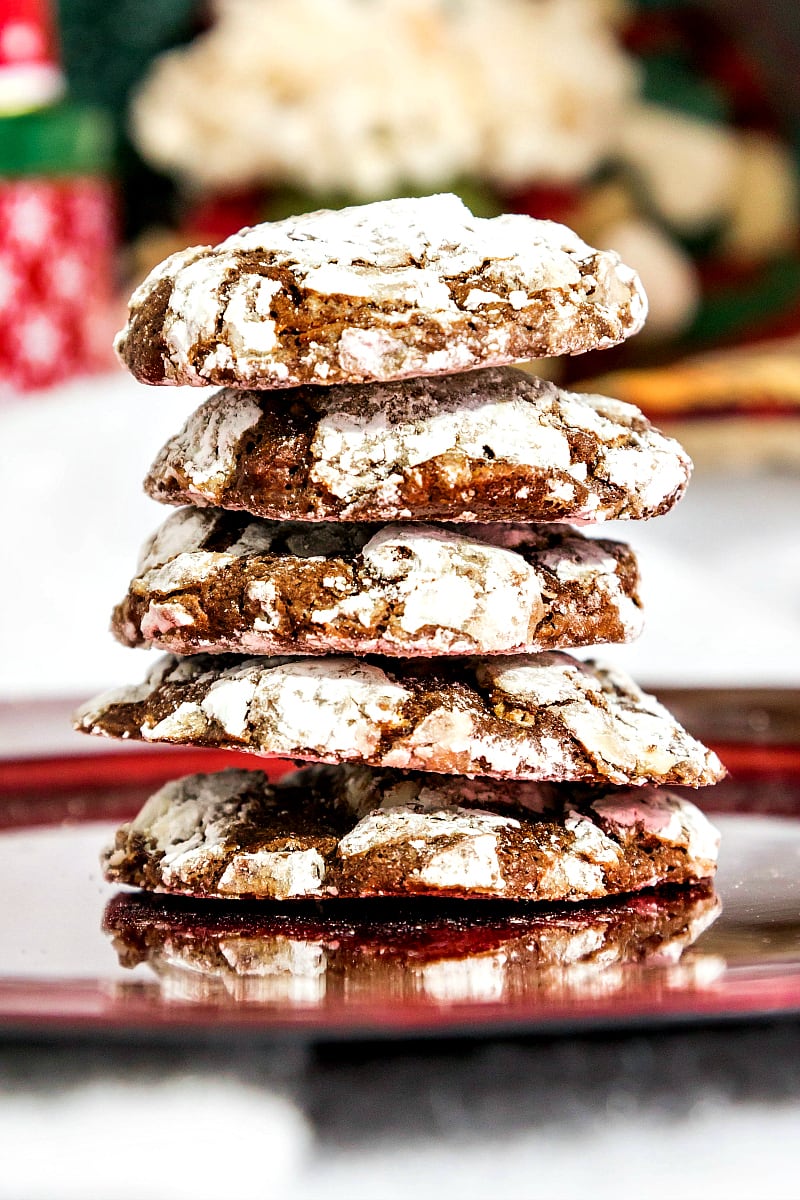 What Makes These The Best?
I researched a lot of crinkle cookie recipes while developing this one.
I wasn't concerned about the peppermint portion since all I needed for that was peppermint oil and my inspiration in the first place: the bars of Ghirardelli Dark Chocolate Peppermint Bark I bought at the store the other day.
I think I've hit on the perfect formula, too. Here's what's so great about these:
They contain zero wheat flour which not only keeps them gluten free, but also ensures deep, fudgy flavor
They have a combination of melted bittersweet chocolate and cocoa powder for intense chocolate flavor that is not too sweet
They are nice and moist with no hint of dryness. So good
Almond flour yields a gluten-free cookie that has zero chalkiness or grittiness
Peppermint oil yields plenty of peppermint flavor without overpowering the chocolate
biting into little pockets of peppermint bark takes these cookies over the top, especially when served slightly warm
double-rolled in powdered sugar to ensure lovely contrast between the deep, chocolatey cracks and the white coating
How to Make These Guys
These cookies truly are easy to make. There is a process of course, but it's all very straightforward.
Ingredients
Here's a quick rundown on the ingredients you'll need:
eggs: provides structure while the fat in the yolks adds to the gooey factor
granulated sugar
peppermint oil: you don't need much–measure it in drops, not teaspoons. You can use peppermint extract instead, but you will need more–maybe 1/2 teaspoon or so
kosher salt: counteracts any bitterness from the chocolate and cocoa powder and brings all the flavors into focus
bittersweet chocolate: adds flavor and fudginess
butter: carries flavor and is also a member of Team Fudgy. To make these dairy free, you can substitute vegetable oil
almond flour: provides bulk without gluten. Allows for a moist crumb and adds some richness
cocoa powder: intensifies and adds to the chocolate flavor
chopped peppermint bark: optional, but why leave it out? Biting into little pockets of chocolate peppermint goodness is a real treat! If you want, you could also substitute mini chocolate chips
powdered sugar: a double roll in powdered sugar gives the characteristic crinkle finish
Procedure
And here's an outline of the steps:
Melt chocolate and butter and allow to cool
Whisk together almond flour and cocoa powder
Stir those two mixtures together evenly
Whip eggs, sugar, peppermint oil and salt until billowy–you will want at least a hand mixer for this step if not a full-on stand mixer.
Fold egg mixture into the chocolate mixture
Chill dough: don't skip this step. Chilling the dough makes it much easier to work with since the butter and melted chocolate have a chance to firm up
Scoop, roll in powdered sugar, and bake
Tips and Tricks
As I said, these are pretty easy to make. Here are a couple of tips to make sure your cookies turn out as perfect as possible.
When melting the chocolate, slow is the name of the game. If using the microwave, melt on medium power in 30 second bursts. If melting on the stove top, do so in a double boiler.
Don't skip the chilling time. It will make the dough easier to work with. The good news is that you only need to chill the dough for about 45 minutes.
Use a cookie scoop to keep all your cookies a uniform size so they'll bake at the same rate.
When rolling the dough balls in powdered sugar, really pack it on to get the most contrast between the "crinkles" and the white surface of the cookies
Q & A
How do I know when my cookies are done?
Since they're chocolate cookies, you can't go by browning. Look for your cookies to spread to about 2″ in diameter, be nice and crackled look moist in the cracks but not wet. Don't overbake these guys so they don't dry out, so err on the side of underbaking if you are worried. Follow the timing in the recipe, and you should be just fine as long as your oven thermostat is accurate.
Why are my crinkle cookies flat?
Probably because the dough was not firm enough when you baked it and they spread. Don't skip the chilling time so your cookies hold their shape.
How do I store these at room temperature?
Store them in an airtight container for up to 5 days. Freeze for longer storage.
Can these be frozen?
Yes. You can freeze them in freezer bags, making sure to press out all the air possible before sealing. You can also wrap in plastic wrap and foil. Your cookies will be fine for a couple of months.
More Christmas Recipes
For a truly gorgeous Christmas cake, consider my vegan chocolate Christmas cake.
And a Yule Log is a traditional and stunning dessert. My version is gluten free with a cranberry-raspberry filling.
And I highly recommend Angel Slices, which are my favorite Christmas cookie in all the land. Note that these little bites of pecan-coconut goodness are not gluten free.
You may also enjoy these gluten-free Linzer cookies from my friend Sandi at Fearless Dining. Delicious, and also perfect for gifting!
A Note About Measurements
For convenience, consistency, and accuracy, almost all my recipes are written by weight, either in ounces and/or grams, even the liquids.
I strongly encourage you to purchase a kitchen scale and learn to use it.
This is the one I used for years. I love it and highly recommend it:
Best for Home Use
Escali Primo Digital Food Scale
Don't let its small price and small size fool you. The Escali Primo is an accurate and easy-to-use food scale that I have used for years. It's easy to store, easy to use, has a tare function, and easily switches between grams and ounces/pounds for accurate measurements.
This is an affiliate link which means I earn from qualifying purchases. Your price is unaffected.
It would be so helpful to me and to other readers that, when you make a recipe, you rate it and leave a comment. Whether it's a recipe or an informational post, your feedback helps others decide if the post is helpful or if the recipe works as advertised.

If you could leave a star rating, that would be very helpful. Thank you for being here!
Chocolate Peppermint Crinkle Cookies (Gluten-Free)
These chocolate peppermint crinkle cookies are rich and deeply chocolaty like truffles. Flavored with half a pound of dark chocolate and a tiny bit of peppermint oil, they are generously studded with Ghirardelli Dark Chocolate Peppermint Bark. I know they will be the gluten-free hit of your next cookie exchange!
Ingredients
8

ounces

bittersweet chocolate

(Use any good quality dark chocolate)

3

tablespoons

butter

2.6

ounces

Bob's Red Mill

(or similar) super fine almond flour

2

teaspoons

non-dutch processed cocoa powder

2

bars

(6 oz) chocolate peppermint candy, finely chopped (I used Ghirardelli Dark Chocolate Peppermint Bark)

2

large eggs

(at room temperature)

2.4

ounces

1/4 cup plus one tablespoon sugar

5

drops peppermint oil or 1/4-1/2 teaspoon peppermint extract

½

teaspoon

kosher salt

1 ½

cups

sifted powdered sugar

for coating
Instructions
Using a double boiler or the microwave on medium power in 30 second bursts, melt the chocolate and butter together. Stir until smooth and set aside to cool slightly.

Whisk together the almond flour and cocoa powder.

Stir the flour mixture into the chocolate mixture until evenly combined.

Stir in the finely chopped chocolate.

In the bowl of your stand mixer fitted with the whisk attachment, whip together the eggs, sugar, peppermint oil and salt until very light and fluffy and tripled in volume.

Whisk about 1/4 of the egg mixture together with the almond flour mixture.

Then gently but thoroughly fold in the rest of the eggs.

Cover and chill for 45 minutes.

While the dough is chilling, set a rack in the top and bottom thirds of your oven and preheat to 350F.

Line 2 cookie sheets with parchment paper.

Sift the powdered sugar into a bowl.
To Shape the Cookies
Using a 1 1/2 Tablespoon cookie scoop, scoop a level portion of dough and drop it into the powdered sugar.

Toss it lightly in the powdered sugar and then roll the dough into a ball, and then place on the cookie sheet.

Continue shaping and placing dough. You should end up with 24 cookies, 12 on each sheet.

Coat each cookie a second time in the powdered sugar and place back on the sheets. (See Notes)

Bake for 7 minutes, then rotate the sheets and switch them from top to bottom rack for even baking.

Bake an additional 6-7 minutes. Cookies will spread to about 2 inches or so and be all crackly on top. The dough will look moist but not wet.

Remove to cool on the sheets for 2-3 minutes. Then place the cookies on racks to cool completely.
Did You Make Any Changes?
Notes
After the initial shaping and placing on cookie sheets, you can choose to refrigerate the cookies for 45 minutes before coating in powdered sugar a second time. Your cookies will spread less if you chill them. My photos are of cookies I baked right after shaping and rolling in sugar twice. I didn't bother to chill them a second time. It's your call.
Nutrition
Serving:
1
cookie
Calories:
120
kcal
Carbohydrates:
10
g
Protein:
2
g
Fat:
8
g
Saturated Fat:
4
g
Polyunsaturated Fat:
3
g
Cholesterol:
20
mg
Sodium:
64
mg
Fiber:
2
g
Sugar:
7
g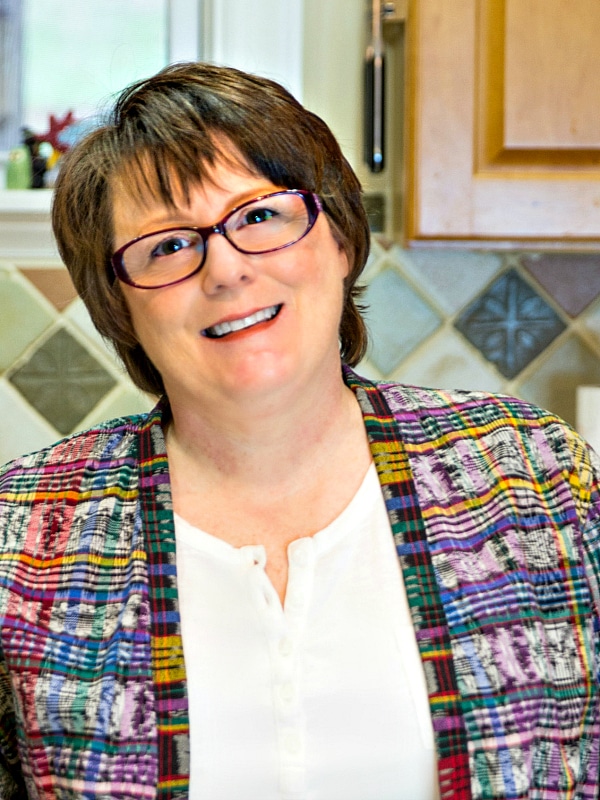 What are my qualifications to teach you baking and pastry? As a former working pastry chef and special educator, I marry my passions for both teaching and for baking into explaining techniques, methods, and developing the best possible recipes. For more info, you can read more about me.
If you'd like to receive new recipes and the occasional newsletter, I'd love for you to sign up for my Inbox Pastry Chef.
And there you have it.
Perfectly moist, fudgy chocolate peppermint crinkle cookies that also happen to be gluten free. Magic!