I hope you enjoy these printable recipe cards! Perfect for printing and attaching to homemade gifts or just to keep your favorite Christmas recipes in order!
Printable Recipe Cards for You!
Friends, I have some things for you. I've made three free printable Christmas recipe cards, and they're for you! Well, not just three, I mean three designs. You can download them onto card stock or just onto regular paper and write out your favorite recipes.
Right click on the design you like and click "Save Image As" to save to your computer. You are welcome to save all three or just choose one or two of them. They're my early Christmas present to you!
If you prefer a pdf to download and print out, I've got those for you too.
Printable Recipe Cards: Design 1
If you're a fan of Frozen (or your kid/s are) or you just don't want a traditional red and green design, this card is for you.
Design 2
I rather love the elegant font and the whimsical stockings and Christmas trees!
Design 3
I like the dark green of this design and the swanky retro ornaments.
If you'd just like to save the pdf to print, you're all set. If you'd like to learn to type your recipes up on these cards and save them in a "virtual cookbook" of files on your computer, read on to learn how.
Buy Christmas Recipe Cards
Of course, if you don't want to print your own, there are plenty of cute, seasonal recipe cards out there for you to buy. Here are a few designs for you to consider.


During the holidays, I am writing the recipes in my regular recipe editor, and I'm also typing them out on these free printable Christmas recipe cards and turning them into pdfs so you want to download them and save them or print them out.
PCO Recipes That Come With Printable Recipe Cards Ready To Print or Save
And if you are looking for a Printable Letter to Santa, I have one of those for you too!
After I got a few of these recipe cards under my belt, I thought that everyone might not know how to do it, and I figured I could help you out with a tutorial. That way, you have options.
You can just download my recipes on the Christmas recipe cards or download the templates, print them and then write them out by hand. You won't be limited to just my recipes; you can write up or print up family favorites. They'd also make a really cute recipe card to gift along with your famous banana bread or Amish friendship bread or What Have You.
Now that you have all three templates downloaded, or just your favorites, here's how to type your recipes onto them and then save them to your computer. You are free to email them to folks or print them or do whatever you'd like to with them. There are many programs that will let you add text to photos (which is basically what we're doing), but I use PicMonkey. It has a ton of options is easy to use, and it's free!
If you already know how to do this, huzzah! For those of you who aren't familiar with PicMonkey, let the learning begin!
How To Use PicMonkey for Printable Recipe Cards
Save the recipe card templates (or just your favorite) to a folder on your computer. Somewhere where you'll remember it's there!
When you want to write up a recipe, either one you find online, one you find in a magazine or one of your own family recipes, open up a photo editing program. I like to use PicMonkey. It's free and easy to use. You'll see a screen that looks something like this:
Click on Edit at the top of the PicMonkey Screen. A dialog box will pop open so you can choose what you're editing. Navigate to where you've saved your printable recipe cards, select the one you want to use, and then click "open." You can also just double click on the selected recipe card and open it that way. The file will magically open in the PicMonkey editor.
In the menu on the left, select the Text tool (Tt), then choose your font from the list that opens. Choose one that looks like handwriting and/or is easy to read. I use one called "Shadows Into Light Two." After you select your font style, click on "Add Text" at the top of the list of fonts.
A text box will open that says "Type your text here." With the text box, a style box will pop up as well. If using Shadows Into Light, click on "48" from the drop down menu in the style box. That size works well for writing the name of the recipe and filling out the "From" box. If the recipe title is really long, choose "36" or even "24." It's totally up to you. Resize the text box to fit the lines (make it longer), and then type in the recipe name. Hit "Enter" and type in who/where the recipe is from. Drag the text box and position it so the text fits on the lines. Click outside the box to deselect it. NOTE: If you use a different font, you may need to choose a different size. Play around to find the size that best fits on the lines in the card.
Select another Text Box in the same way (Step 4) and then choose "24" from the drop down menu in the style box. Size the text box so it will fit in the space for "What you need," then type in your ingredients, pressing "enter" after each one. There is space for 11 ingredients. If your recipe runneth over, you can type more than one ingredient on a line. Drag the box so the ingredient list fits neatly on the lines, then click outside the box to deselect.
Repeat the process for "What to do" and "Other Stuff to Know."
Click on "Save" at the top of the screen.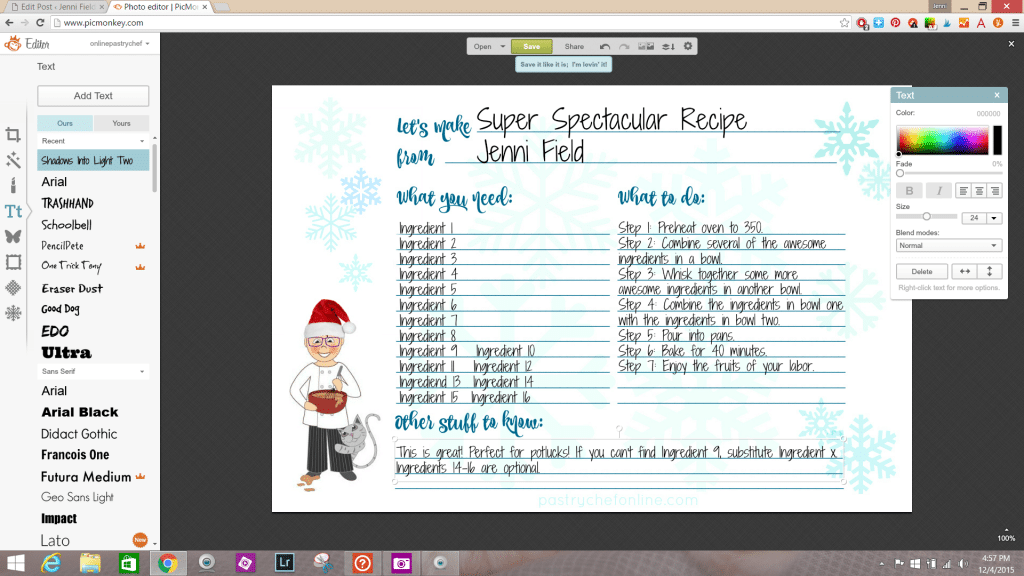 At the top of the screen, click on "Export." You can choose the resolution, and rename your template to the name of the recipe.
Choose the file where you are keeping your recipe templates. You can also make subfolders for further organization. For example, you could have a folder for Cake Recipes, Chicken Recipes, Pasta Recipes, etc. Once you choose where you're saving your recipe, click Save, and you're done!
Be sure to change the name of the recipe card to the name of the recipe (Change from "Recipe Card Template" to "Name of Recipe." If you forget, it's not the end of the world, because a box will pop up saying you're trying to save something with the same name and is that really what you want to do? That will prompt you to go back and make sure to change the name.
It seems like a lot of steps, but once you get the hang of it, it's pretty easy. PicMonkey also has a comprehensive Tutorial section, so if you get stuck, chances are you can find help there.
And just like that, you can build a recipe library and organize them however you want. Back them up on an external drive or suck them onto a thumb drive if you want. Tada!
Cute Recipe Boxes for All Your Recipe Cards
If you do decide to print out your recipes and you don't already have a recipe box, or if you want to start someone off with a recipe collection as a gift, here are some recipe boxes to check out.


I really hope you enjoy these free printable Christmas recipe cards. I had fun designing them! I'd love to hear from you in the comments. Would you be interested in PCO recipe cards for other holidays? How about a "generic" PCO card? Is it helpful to have the recipe available to print both from my regular recipe and from the "handwritten" recipe cards? I really want these cards to serve you, so if you love them and find them useful, I'll be sure to keep them coming.
It would be so helpful to me and to other readers that, when you make a recipe, you rate it and leave a comment. Whether it's a recipe or an informational post, your feedback helps others decide if the post is helpful or if the recipe works as advertised.

If you could leave a star rating, that would be very helpful. Thank you for being here!
Thanks so much for spending some time with me today. Take care, and have a lovely day.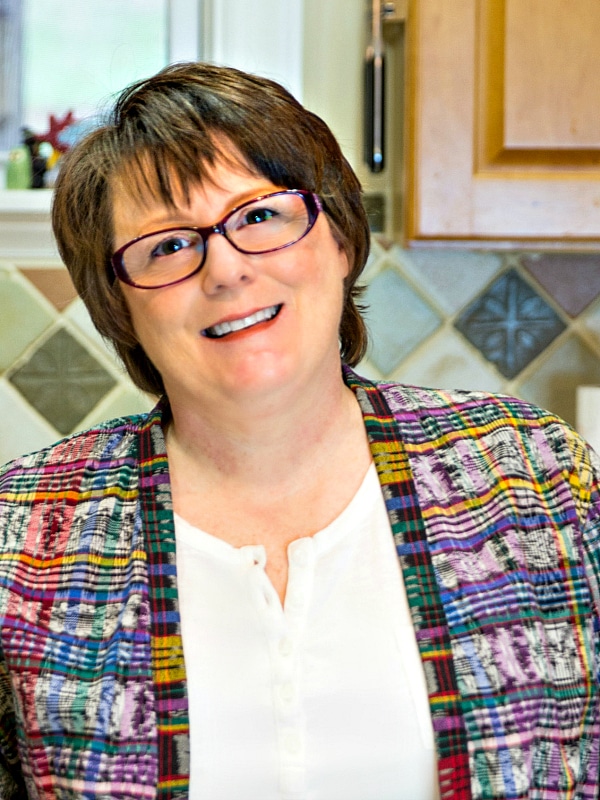 What are my qualifications to teach you baking and pastry? As a former working pastry chef and special educator, I marry my passions for both teaching and for baking into explaining techniques, methods, and developing the best possible recipes. For more info, you can read more about me.
If you'd like to receive new recipes and the occasional newsletter, I'd love for you to sign up for my Inbox Pastry Chef.