This homemade classic butterscotch pudding recipe is a nostalgic treat. If you think you don't like butterscotch, it's because you haven't had the real deal. I think you'll be pleasantly surprised by how delicious this pudding is, y'all.

No boxes of mix here. We're talking the marriage of caramelized sugar and browned butter with a dash of molasses. Real, homemade butterscotch pudding, friends!

Find the rest of my butterscotch recipes all in one place, and you may also want to check out my easy chocolate pudding recipe if you're in the mood for chocolate.

For ease of browsing, here are all of my custard and pudding recipes.
Watch my butterscotch pudding recipe web story here.
What Makes This Recipe So Great
If you look at a lot of recipes for butterscotch pudding, you'll find that most have you:
melt butter
add brown sugar
add the rest of the ingredients
cook until thickened
While I have made this version before, I contend this is not real butterscotch.
The real magic happens when you cook the butter and brown sugar together until the butter browns and the sugar caramelizes.
You'll know it's ready when it just barely starts to smoke and smell caramelized.
It's the magical combination of browned butter and caramelized sugar with an undercurrent of molasses that defines the flavor "butterscotch."
And you can't get it without cooking the butter and brown sugar together for a pretty long time.
What Does It Taste Like?
Old-fashioned butterscotch pudding has a deep and rich flavor. It is not too sweet, and it has just a bit of a bitter edge from the caramelized sugar and the molasses.
It contains enough salt to round out the flavor, although when you taste it, you don't think, "Hey, this pudding is salty!"
Butterscotch is the perfect blend of browned butter, caramelized sugar, a touch of molasses, and salt. Think toffee, but without any nuts in it.
If you want to explore that further, you can read my recipe for cashew toffee.
How to Make Butterscotch for the Pudding
The ingredients themselves are very simple and straightfoward. Making butterscotch is really all about the technique rather than using specialty ingredients.
Ingredients
brown sugar: since the flavor profile includes molasses, I prefer to use dark brown sugar. If all you have is light brown, you can also add an additional 2 teaspoons of molasses if you have it
butter: I like to use unsalted since it's easier to control the overall amount of salt when I add my own
salt: I generally use kosher salt. Salt plays a big role in the flavor of butterscotch, so don't skimp
egg yolks: provides richness and is what makes this a custard rather than "just" a pudding. For a bit less richness, you can go with 2 or even 1 yolk
cornstarch: provides thickening power and body. When using cornstarch, you have to boil it for 2 full minutes. You can substitute all purpose flour if you want. In that case, you only need to boil your mixture for about 20 seconds
milk: I prefer whole milk, but you can also use 2%.
vanilla extract: rounds out the flavors
A Note About the Video
The video I've chosen for this post is of me making butterscotch creme brulee, but the butterscotch making process is exactly the same.
Since making butterscotch is the most important part of making this pudding, please take a look so you know what to expect.
Making the Butterscotch
Keep in mind this is just one step in the process of making this recipe. But it is the most vital step.
But I'm breaking the "how to make it" part out so you can get a feel for it. Be sure to have the rest of your ingredients ready to go, because you'll continue making the pudding after you make the butterscotch.
Time needed: about 20 minutes.
Melt the butter together with the dark brown sugar and salt.
Heat to a boil, stirring constantly. At first, it will be hard to get the butter and sugar to blend together. Then all of a sudden, it'll be a smooth, boiling mixture. Keep cooking and stirring.
Continue cooking, stirring constantly, until the sugar caramelizes. Once your butterscotch is boiling, continue cooking. First the butter will separate out again and you think you will have messed up. But then it will come back together after a couple of minutes of cooking and stirring. Once it comes back together, that's when you add the milk. Hopefully these photos will come in handy.
Troubleshooting Butterscotch Pudding
A pinner left this comment over on Pinterest:
Made this 3x tonight. First time, it never broke like the recipe said it would. Used my judgement and added the milk before it burned. Second batch, waited longer to see if it broke and came back together… never did. Tasted horrible and burned. Threw it out. Made 3rd batch and added milk early again and it turned out great! Great flavor, but if you follow the recipe, you will burn it!

Pinner Karyn
Then, reader Hassan said this in a comment on the post:
Tried this and failed abjectly… I kept waiting for the butter to separate out but it never did and I scorched the sugar waiting. Final product looks like chocolate pudding and tastes… inedible. Maybe some indication of how long to cook the sugar would help idiots like me. Also I assumed the salt goes with the butter and sugar?

Reader Hassan
I thought I'd better address this so you don't run into the same issue.
Every time I have ever made butterscotch, the mixture has "broken" and then come back together before caramelizing.
I guess this is not always everyone's experience. So, here's what to look for before adding your cream:
✅The color of your mixture will darken
✅You will begin to smell caramelized sugar
✅You'll see just a couple of wisps of smoke coming off the mixture
Once you see/smell these signs, immediately remove your butterscotch from the heat and add the dairy.
NOTE: You can make this pudding before the color darkens, before the sugar starts to caramelize, and before it begins to smoke just a tiny bit like Karyn did, but the flavor will not be as intense or as deep.
To reiterate, the butterscotch making is the most important part of making this recipe.
Here's a reader's take on making their butterscotch for this pudding:
If you're concerned you may overshoot the mark, definitely err on the side of caution and add the milk sooner rather than later.
Once you get the hang of it, though, you'll be able to get the depth of flavor and slight smokiness that makes butterscotch such a complex flavor.

PS I also amended the recipe to indicate when to add the salt. Thanks for that catch, Hassan. Also, I sincerely doubt you are an idiot.
Pro Tip to Make Sure the Sugar Dissolves When You're Making Butterscotch
Butterscotch Tip: Add a bit of water to your brown sugar and butter mixture in the pan. The water will help ensure the sugar dissolves completely before everything starts to caramelize.
Making the Pudding, Step by Step
Mix the yolks and cornstarch together, and set aside.
Make the butterscotch (see the How-To above) and add the milk. Stir until smooth.
Once the butterscotch is all melted back into the milk and it is steaming hot, temper into the eggs.
Pour the egg mixture back into the pan and bring to a boil. Boil two minutes.
Pour the mixture through a fine mesh strainer into the bowl with the vanilla. Stir until combined.
How to Temper Eggs
Here's a quick how-to on tempering eggs. It's important that you raise the temperature of eggs slowly so they don't scramble. You can see the process in the first three images in the collage above.
Here's how to do it:
Whisk eggs well.
Pour a little of your hot liquid into the eggs, whisking all the time until combined.
Continue adding about half of the hot liquid in a steady stream, whisking and whisking, until the egg mixture is hot.
Pour the now-hot egg mixture back into the pan while continuously stirring.
Continue with the rest of your recipe.
Tips and Tricks
Get in the habit of always straining your pudding. The strainer will catch any little bits of egg or lumps of flour that may have gotten away from you.
Depending on the pudding texture you like, rich and dense or lighter and creamier, you can:
let the pudding set up in individual bowls and then top with whipped cream (or not),
or you can chill the pudding, whisk it smooth, and then fold whipped cream into it.
PRO TIP: When chilling the pudding, if you don't want a skin to form on top (I'm weird and like the skin), press plastic wrap directly onto the surface of the pudding while it cools.
For double butterscotchiness, you can serve your pudding with whipped cream sweetened with a couple of spoonfuls of homemade butterscotch sauce.
Q & A
Is butterscotch pudding gluten-free?
As written, yes. Just check your cornstarch to make sure it's labeled as gluten-free. If you are allergic to gluten or have celiac, make sure none of the ingredients are processed on a shared line with any wheat products.
Can I double this recipe?
Absolutely. Pudding doubles really well. If you don't want to be left with having to figure out what to do with 6 egg whites, use 4 yolks in a double batch instead.
What can I make with butterscotch pudding?
Aside from just eating it straight up, it would be fantastic when layered with gingersnaps or gingerbread for a trifle. You can also use it to fill a pie shell for butterscotch pie.
Can I make this for only 2 people?
If you ask me, this recipe is scaled for two, but if you're a normal person you can cut this recipe in half (use just 1 egg yolk) and will end up with the perfect batch for two people to split.
More Old-Fashioned Pudding Recipes
Pudding is the best. So creamy and comforting. Here are some more you might enjoy.
As far as I'm concerned it's never the wrong time for pudding, so I make this easy vanilla pudding often. It's rich, creamy, and easy to remember so I don't always have to run to the recipe when I need a pudding fix.
If you're feeling chocolatey, caramel chocolate pudding is rich and has a complex and wonderful flavor.
And if you're not feeling like caramelizing some sugar, make my easy chocolate pudding. It seriously is super easy to make, and oh, so satisfying!
A Note About Measurements
For convenience, consistency, and accuracy, almost all my recipes are written by weight, either in ounces and/or grams, even the liquids.
I strongly encourage you to purchase a kitchen scale and learn to use it.
This is the one I used for years. I love it and highly recommend it:
Best for Home Use
Escali Primo Digital Food Scale
Don't let its small price and small size fool you. The Escali Primo is an accurate and easy-to-use food scale that I have used for years. It's easy to store, easy to use, has a tare function, and easily switches between grams and ounces/pounds for accurate measurements.
This is an affiliate link which means I earn from qualifying purchases. Your price is unaffected.
It would be so helpful to me and to other readers that, when you make a recipe, you rate it and leave a comment. Whether it's a recipe or an informational post, your feedback helps others decide if the post is helpful or if the recipe works as advertised.

If you could leave a star rating, that would be very helpful. Thank you for being here!
Old Fashioned Butterscotch Pudding
This creamy old fashioned butterscotch pudding can be served as is or folded together with whipped cream for a lighter texture. Either way, the butterscotch flavor is intense and perfect.
Ingredients
3

egg yolks

1 1/2-2

Tablespoons

cornstarch

depending on how thick you like your pudding once it has set

4

oz

about 1/2 cup, packed dark brown sugar, by weight

3

oz

3/4 stick or 6 Tablespoons unsalted butter

⅜

teaspoon

kosher salt

I used Mortons

2

cups

whole milk

1

teaspoon

vanilla extract
Optional
½

cup

heavy cream

small pinch of salt

1

Tablespoon

dark brown sugar

packed
Instructions
In a medium bowl, whisk the yolks and cornstarch together. Mixture will be very thick. Set aside convenient to the stove.

Put the vanilla extract in another medium bowl and place a fine mesh strainer over the top. Set aside convenient to the stove.

In a heavy-bottomed saucepan, melt the butter.

Add the dark brown sugar and salt, and cook the two together over medium-high heat, stirring constantly with a wooden spoon or high-heat spatula. The mixture will look very creamy and bubbly, and then all of a sudden, the butter will separate out and the whole thing will look kind of sad and like a failure. Keep going. In another couple of minutes, the mixture will come back together again. Don't stop stirring.

As soon as the butterscotch comes back together, pour in the milk, all at one time and remove the pan from the heat. Do it carefully. The butterscotch will hiss and bubble and then turn into a hard mass. Carefully pry the hard mass off the bottom of the pan with your spoon or spatula and then return the pan to medium low heat.

Stir until all the butterscotch has melted back into the milk. This could take 4-5 minutes. Just be patient and stir and stir. You will most likely have butterscotch stuck to your spoon or spatula. That's okay. It will melt too. Just keep stirring.

Once the butterscotch milk is nice and smooth, continue to heat until the milk is steaming. Then, temper about half the butterscotch into the egg yolk mixture, whisking very well.

Pour the tempered yolks back into the pan and bring to a boil, stirring constantly. Allow the mixture to boil for 2 full minutes, whisking constantly..

Pour the pudding through the fine mesh strainer into the bowl with the vanilla. The mixture will be very thick, so use the pack of your spatula to press it through.

Stir until the vanilla is mixed in.

At this point, you can pour into small bowls or leave it in the large bowl and press plastic wrap down onto the surface of the pudding. Either way, refrigerate until cold, or you can eat it warm. I won't judge you.

See NOTES below for how to serve. Enjoy!
Did You Make Any Changes?
Notes
The video shows the recipe for creme brulee, but it also shows the butterscotch making process in "live action," which you may find more helpful than just the still, collage shots.
Whip together the whipped cream, salt, and brown sugar until it reaches medium peaks. You can either serve individual puddings topped with the whipped cream, or, if you want a lighter texture, remove the plastic wrap from the surface of the big bowl of pudding and:
Whisk the pudding well so it is smooth and creamy.
Whisk in a portion of the whipped cream to lighten the pudding.
Once incorporated, fold the rest of the whipped cream in until no streaks of white remain. Serve in individual bowls.
You can make more whipped cream to serve on top of the "butterscotch mousse" if you'd like. Your call.
Nutrition
Serving:
5
oz
Calories:
333
kcal
Carbohydrates:
17
g
Protein:
7
g
Fat:
27
g
Saturated Fat:
16
g
Polyunsaturated Fat:
9
g
Trans Fat:
1
g
Cholesterol:
207
mg
Sodium:
371
mg
Sugar:
13
g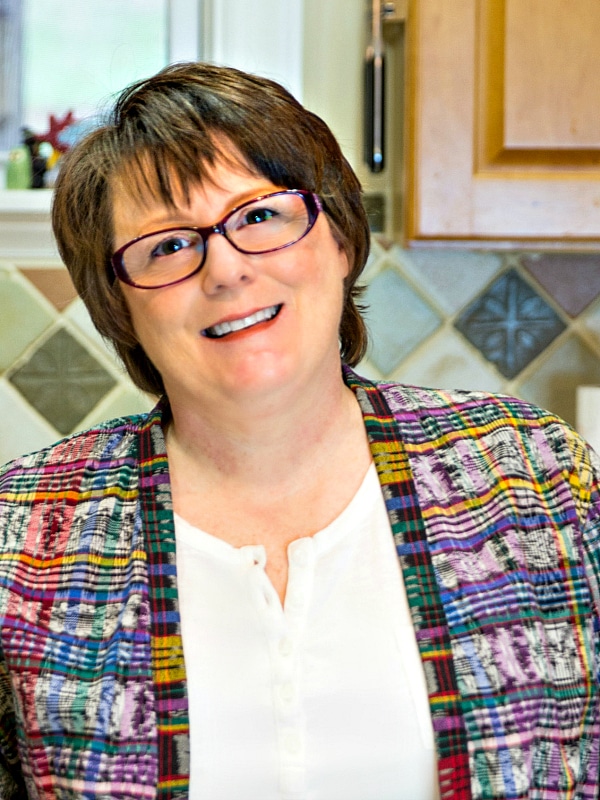 What are my qualifications to teach you baking and pastry? As a former working pastry chef and special educator, I marry my passions for both teaching and for baking into explaining techniques, methods, and developing the best possible recipes. For more info, you can read more about me.
If you'd like to receive new recipes and the occasional newsletter, I'd love for you to sign up for my Inbox Pastry Chef.
And there you have it friends, rich and comforting butterscotch pudding. Please give it a try, and then let me know how you like it!
Thank you for spending some time with me today. Take care, and have a lovely day.