Today I'm bringing you a wonderful recipe for the smoothest, silkiest, best mint Swiss meringue buttercream around.
Adding a touch of green food coloring and a few drops of peppermint oil to Swiss buttercream may be the best thing that ever happened to mint frosting!

Give it a try, and see if it is not the best! It goes perfectly as a frosting for this mint chocolate sheetcake, and if you love buttery minty goodness, you may love my easy buttermints recipe too.
For ease of browsing, here are all of my icing, frostings, and fillings. Thanks for stopping by!
Watch my best mint buttercream web story here.
Different Types of Buttercream
The buttercream many Americans are familiar with is American buttercream. This is butter-based and contains a lot of powdered sugar and some flavorings. Maybe a touch of additional liquid to achieve a nice spreading consistency.
French buttercream is made by cooking whole beaten eggs with a hot sugar syrup while whipping them. To that whipped base, you slowly add bits of softened butter until it comes together in a very rich, smooth, silky buttercream.
Italian buttercream is where you make an Italian meringue and then whip butter into that in the same way as described for French buttercream.
Swiss buttercream is identical to Italian buttercream except that you start with a Swiss meringue.
German buttercream is based on whipping cooled butter into pastry cream.
Ermine frosting, which is arguably the traditional frosting for red velvet cake, is made very similarly to German buttercream, except it does not contain eggs. It makes me wonder if the person/people who developed ermine frosting were German and just didn't have any eggs on hand.
I guess that is a post for another day!
If There are So Many Types of Buttercream, Why Choose Swiss?
I am an equal opportunity buttercream lover. I really am. I even like some of the grocery store bakery frostings.
So I'm not coming from any kind of place of snobbery when I say this.
Swiss buttercream is the sweet spot between light, buttery, and pipability. If that's a word.
French buttercream is pretty magical and has long been a favorite of mine, but there is no denying that it is super super rich from all the butter plus all the egg.
Another issue with French buttercream is it is harder to get pure flavors because the egg flavor is so distinct.
Any flavoring you add to French buttercream will get a little "muddied" because of the egg.
To an extent, the same can be said for German or custard buttercream.
For purest flavor, my vote is to leave the egg yolk out of the equation altogether.
And that leaves us with Swiss or Italian meringue.
Swiss and Italian buttercreams are super similar, but I come down on the side of Swiss because it's easier to make.
It's the difference between whisking your meringue over hot water (Swiss) versus cooking a sugar syrup and then beating that into whites (Italian).
What Temperature to Cook the Meringue?
Older recipes will tell you to whisk the sugar and whites over hot water just until the sugar all dissolves. We're talking maybe 115-120F.
If you have very fresh eggs and have no health concerns, you'll be fine.
But, if you are a bit concerned, there are two other temperatures to note.
Whisking your whites/sugar over hot water until they reach 140F gets them out of the temperature danger zone and will result in killing most bacteria that might be lurking.
I go one step further and whisk my meringue until it reaches 165F. This is the temperature at which eggs are cooked, and therefore your resulting buttercream will be that much more stable.
It's your choice. 120F, 140F, or 165F.
Ingredients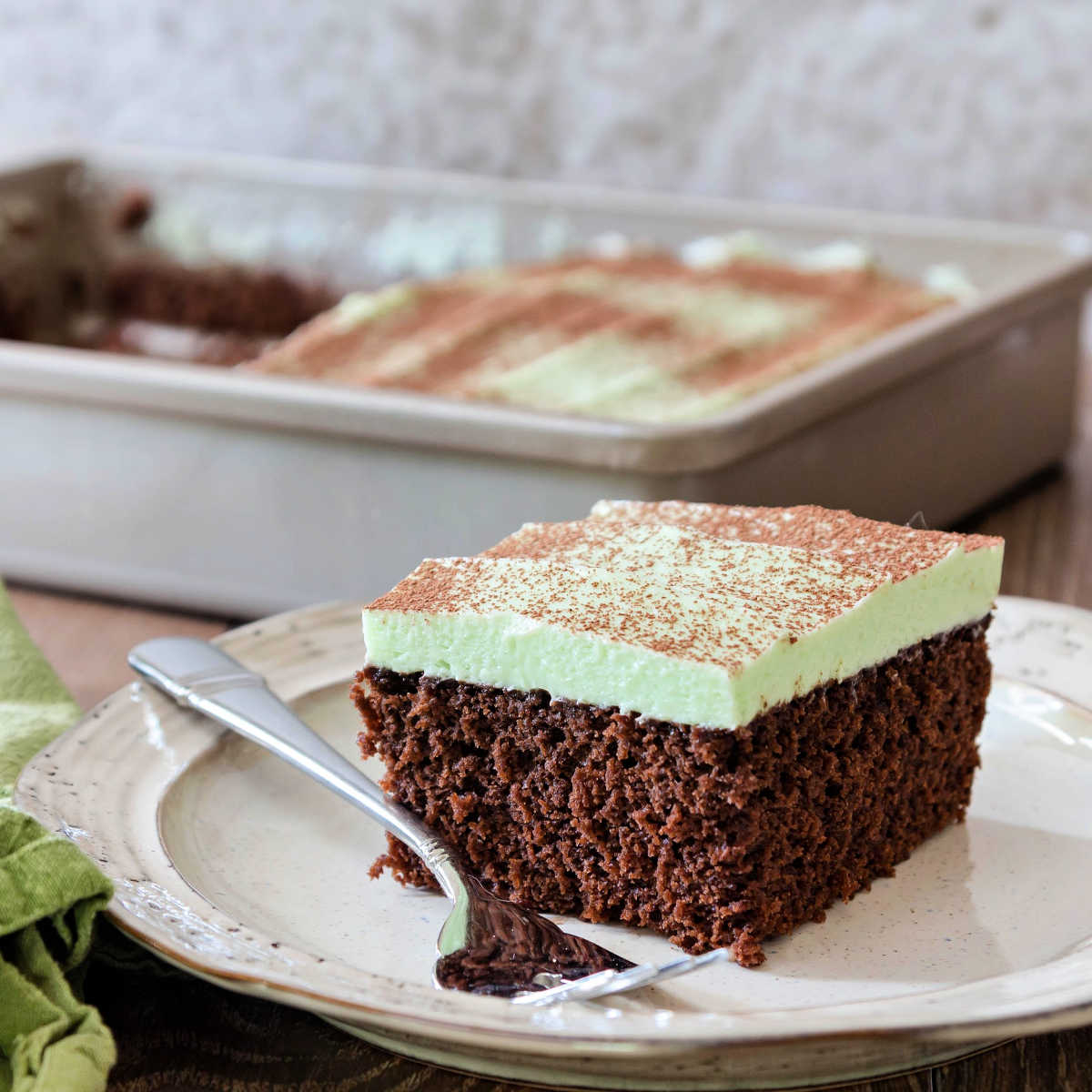 The ingredients for mint Swiss meringue buttercream are basic and you may already own everything you need: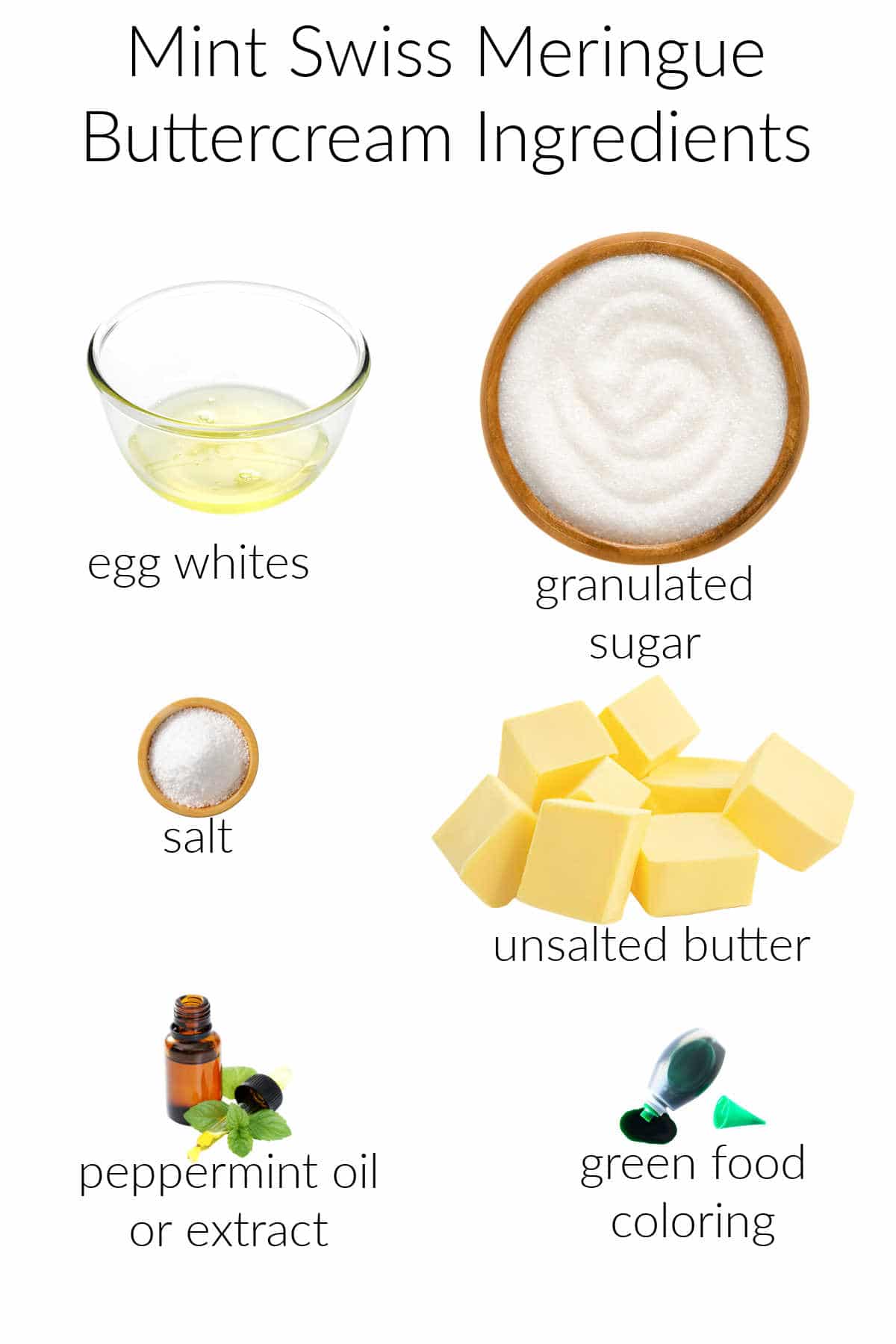 egg whites: provides the structure for the buttercream
salt: tempers the sweetness and brings out the butter flavor
sugar: sweetens and keeps whites from overwhipping
butter: provides body and mouthfeel; carries the flavor
flavorings (in this case, mint, but you can flavor it in all sorts of ways). Mint oil is much more concentrated than extract, so while you may only need a few drops of oil, you may need 1/2 to 1 teaspoon of mint extract. Add a tiny bit at a time until you're happy with the flavor
green food coloring: completely optional, but it visually reinforces the mint flavor
Procedure
The process of making Swiss buttercream takes some time, but it is straightforward.
I do strongly recommend that you not try to make Swiss or other classic European frostings without a stand mixer.
They really are the right tool for this job.
Whisk egg whites, sugar, and salt in your mixer bowl set inside a pot of water, making sure the bottom of your bowl doesn't touch the water itself.
Whisk and whisk until you reach your desired temperature (about 120F to dissolve all the sugar, 140F to get it out of the temperature danger zone, or 165F to ensure the egg whites are cooked)
Remove the bowl from the pot of water and attach it to the mixer fitted with the whisk attachment.
Whisk on medium high to high speed until the meringue is thick and billowy and at room temperature.
Add the soft but still cool butter, a piece at a time, whisking thoroughly between each addition.
Why Is My Butterceam Thinning Out? Did I Do Something Wrong?
You know how when they tell you fat is the enemy of meringue? Well, in small amounts, it is.
Fat will break down a beautiful, billowy meringue into a thinner mixture that won't hold peaks.
This is completely natural and how all European style buttercreams behave. Worry not.
The mixture will break down as you start adding the butter, and it may not come back together again until you add the last piece or two.
Don't worry, it will come back together into a light buttercream that holds its shape on the whisk.
Storing
You can immediately frost your cooled cake/s with the buttercream and all will be well.
If for some reason you can't get to that right away, you can store the buttercream at cool room temperature for 2 days.
You can also refrigerate the frosting for up to 2 weeks or freeze it for up to 3 months.
In any case, before frosting your cakes, bring the buttercream back to cool room temperature and then rewhip it to restore its consistency so it will spread smoothly.
If you try to rewhip it before it has warmed up enough, the frosting will sort fo look like cottage cheese when you rewhip it. If that happens, don't panic.
Just let the frosting continue to slowly warm up to about 68F before whipping and it will smooth back out.
Serving Suggestion
This is the buttercream I use to frost my chocolate mint sheet cake.
The two go together perfectly.
About the Video
The video for this recipe is a live video, and it's long. Almost an hour long.
It takes you through the whole process of whisking the whites over the hot water, whipping the meringue in the mixer, and adding the flavorings and all the butter.
While a "hands in pans" video is fun to watch and doesn't take up much of your time, I think a real-time video best shows how to make something, especially how the meringue breaks down and turns soupy while adding the butter.
If you do not want to watch the whole thing or don't need to, you can always skip forward.
If you have any questions about making this buttercream, watching the whole video will be helpful.
If you do have some questions after watching the video, I'm only an email away, and I will respond and help you. Promise.
A Note About Measurements
For convenience, consistency, and accuracy, almost all my recipes are written by weight, either in ounces and/or grams, even the liquids.
I strongly encourage you to purchase a kitchen scale and learn to use it.
This is the one I used for years. I love it and highly recommend it:
Best for Home Use
Escali Primo Digital Food Scale
Don't let its small price and small size fool you. The Escali Primo is an accurate and easy-to-use food scale that I have used for years. It's easy to store, easy to use, has a tare function, and easily switches between grams and ounces/pounds for accurate measurements.
This is an affiliate link which means I earn from qualifying purchases. Your price is unaffected.
It would be so helpful to me and to other readers that, when you make a recipe, you rate it and leave a comment. Whether it's a recipe or an informational post, your feedback helps others decide if the post is helpful or if the recipe works as advertised.

If you could leave a star rating, that would be very helpful. Thank you for being here!
Mint Swiss Meringue Buttercream Recipe
This mint Swiss buttercream tastes like a butter mint but in smooth, silky buttercream form. A wonderful frosting for almost any chocolate or mint cake, it goes especially well with my mint chocolate sheetcake recipe.
Ingredients
4

large egg whites

about 5 oz

1 ¼

cups

sugar

about 10 oz

¼

teaspoon

salt

6-8

drops mint oil

or 1/2-1 teaspoon of mint extract, to taste

1

pound

butter

soft but still cool

2-4

drops green food coloring

optional
Instructions
Combine egg whites, sugar, and salt in the bowl of your stand mixer.

Place it in a pan with about 1-1 1/2" water in it. The pan should be large enough that the bottom of the bowl fits in but small enough that the bottom of the bowl does not hit the water.

Heat over high heat until the water comes to a boil, whisking the mixture constantly.

Once the water boils, regulate the temperature to maintain a high simmer, and continue to whisk the whites until the sugar is completely dissolved and the mixture is at least 140F. You can continue to cook and whisk until the temperature gets as high as 180F. I like to whip mine to 165F, but as long as the sugar is completely dissolved, you are good to go.

Once your whites have reached the desired temperature, remove the bowl from the pot and fix it to your stand mixer, fitted with the whisk attachment.

Whip on medium high to high speed until room temperature.

Add the butter, about 1 tablespoon at a time, beating the mixture until the butter is completely incorporated before adding the next addition. (NOTE: Please watch the video. You don't want to rush this process. Also, the meringue will break down from the fat and get soupy. Don't worry. It will come together in a beautiful, silky buttercream that holds its shape by the time you add in all the butter.)

Beat in the peppermint oil and green food coloring (if using). Note that the color will intensify overnight, so to keep the green subtle, lean more towards less food coloring.
Did You Make Any Changes?
Notes
To Store:
Keep in a sealed container at cool room temperature for two days. Store in the fridge for up to a week. Freeze for up to 3 months.
In any case, bring to cool room temperature before rewhipping to restore the silky texture.
Once the cake is frosted, I store it in the fridge, allowing each slice to temper on the counter for 20 minutes or so before eating.
NOTE:
Nutritional information based on 24 servings.
Nutrition
Serving:
1
g
Calories:
187
kcal
Carbohydrates:
13
g
Protein:
1
g
Fat:
15
g
Saturated Fat:
10
g
Polyunsaturated Fat:
5
g
Trans Fat:
1
g
Cholesterol:
41
mg
Sodium:
154
mg
Sugar:
12
g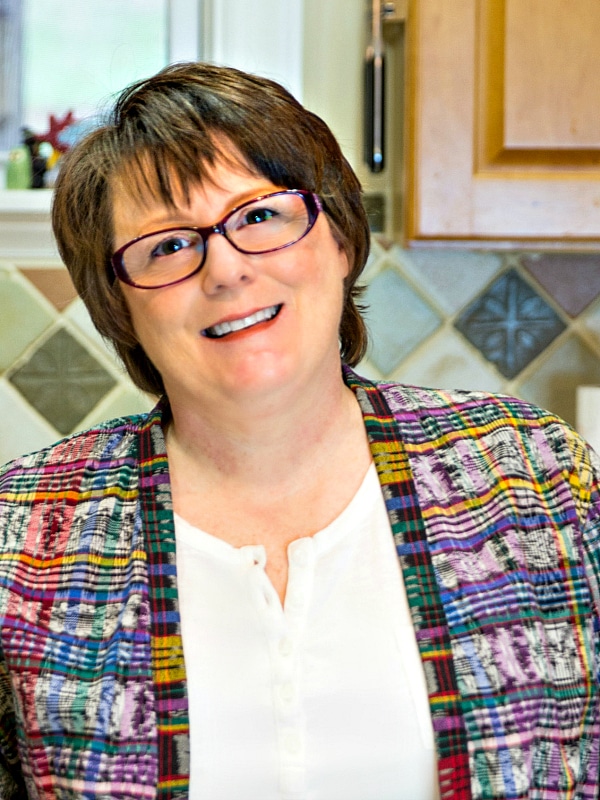 What are my qualifications to teach you baking and pastry? As a former working pastry chef and special educator, I marry my passions for both teaching and for baking into explaining techniques, methods, and developing the best possible recipes. For more info, you can read more about me.
If you'd like to receive new recipes and the occasional newsletter, I'd love for you to sign up for my Inbox Pastry Chef.
And there you have it! Enjoy the mint Swiss buttercream–I know you'll love it.
Thanks for spending some time with me today friends. Take care, and have a lovely day.