What's Great About Italian Meringue
Italian meringue is a bit trickier to make than French meringue or Swiss meringue, but Italian meringue is very stable.
Since it is made with sugar syrup that has been taken to the soft ball stage, it won't weep and deflate upon sitting like other meringues, which makes it Perfect for topping a pie.
You can use it straight-up as a nice airy cake frosting, top a pie (brown before serving), or use it as the base for Italian buttercream.
How to Make Italian Meringue
First, it's important to understand the ratio of egg whites to sugar so that you can make as much or as little meringue as you need.
The most stable meringue is made with a ratio of 1 part egg whites to 2 parts sugar.

To make a lighter meringue, use a ratio of 1 parts egg whites to 1.5 parts sugar.

EXAMPLE of 1:2 RATIO
4 oz egg whites plus 7 oz sugar and 1 oz corn syrup (7+1=8)

Example of a 1:1.5 RATIO
4 oz egg whites plus 5 oz sugar and 1 oz corn syrup (5+1=6)
That Sounds Like a Very Lot of Sugar!
Yes, it is. But I promise you, if you want a dense and marshmallowy meringue to swoop onto a pie, you need this amount of sugar.
Sugar is what helps to "cook" or denature the proteins in the whites, and if you don't use enough, your meringue will break down quickly and will most likely weep and get watery.
If you simply cannot stomach using a 1:2 ratio of egg white to sugar, please don't go below 1:1.5 ratio. Your meringue will suffer.
Ingredients and Substitutions
You'll need:
egg whites: Egg whites are composed of liquid and protein, and they provide the structure for the foam. Older whites whip more quickly, but fresher whites will be more stable
sugar: Provides sweetness and also enters into solution with the water in the egg whites to prevent weeping
corn syrup: a little corn syrup helps guard against crystallization when the sugar is cooking. You can leave it out, but you'll have to be more vigilant with your sugar syrup. If you do leave it out, keep your ratio of egg whites to sugar and 1:1 or 3:2, depending on how sturdy and stable you need your meringue to be
salt: Tempers the sweetness and brings out flavor. Don't leave it out, even if you just use a pinch or two
water: Helps dissolve the sugar at the beginning of the cooking process. Water boils at 100C/212F and, since the sugar is cooked to 118C/244F, the water boils away while the sugar cooks
vanilla: You can use other flavorings as well. Other extracts, citrus zest, ground spices like cinnamon or ginger, etc.
Procedure
Weigh your whites.
To generously top a pie, use 4-5 egg whites.
Weigh them, and then use double the amount of sugar and corn syrup, by weight.
Put whites along with a pinch of salt in your mixer bowl.
Add enough water to the sugar/corn syrup mixture to get things wet. Bring up to a boil. When it boils, cover to let any sugar crystals wash off the sides of the pan.
Once your sugar syrup has reached about 230F, start whipping your whites on medium-high speed to get them nice and foamy.
Your target temperature is 244F, so keep an eye on it. Once the syrup has reached about 242-3F, turn off the heat.
Pour your syrup into your beating egg whites in a steady stream. By the time you move your pan, your syrup will be at 244F, so don't be concerned that you're not Doing It Right.
Jenni Says: Make sure that you're pouring the syrup into the bowl between the side and the madly spinning whisk so it doesn't splatter all over the sides of the bowl.
Continue beating the whites until very light and fluffy.
You want your meringue to be very glossy and easily hold stiff peaks. Spread it on…whatever you're spreading it on…before it cools down as it will get lumpy if you start messing with it once it has cooled off. Use it while it is still nice and warm but not steaming.
Here's a collage of images to show you the basic steps of making Italian meringue. NOTE that I used organic sugar which is why the syrup has a bit of an amber cast to it.
Dissolve sugar and corn syrup in a bit of water.
Bring to a boil.
While the sugar syrup is heating, start whipping your whites. They should be at medium peaks before you start adding your cooked syrup.
Carefully stream the sugar syrup into the whites between the side of the bowl and the spinning whisk. Beat on high speed until very light and billowy and still warm.
Pro Tip
Store the filled biscuits back in the wrapper the rolls came in. They'll be fine in the fridge for up to a week.
Nothing burns like a sugar burn, friends. If it gets on you, resist the urge to put the burned part in your mouth. You'll just have a burned mouth, too. Hence, the ice water.
A Note About Measurements
For convenience, consistency, and accuracy, almost all my recipes are written by weight, either in ounces and/or grams, even the liquids.
I strongly encourage you to purchase a kitchen scale and learn to use it.
This is the one I used for years. I love it and highly recommend it:
Best for Home Use
Escali Primo Digital Food Scale
Don't let its small price and small size fool you. The Escali Primo is an accurate and easy-to-use food scale that I have used for years. It's easy to store, easy to use, has a tare function, and easily switches between grams and ounces/pounds for accurate measurements.
This is an affiliate link which means I earn from qualifying purchases. Your price is unaffected.
Questions?
It would be so helpful to me and to other readers that, when you make a recipe, you rate it and leave a comment. Whether it's a recipe or an informational post, your feedback helps others decide if the post is helpful or if the recipe works as advertised.

If you could leave a star rating, that would be very helpful. Thank you for being here!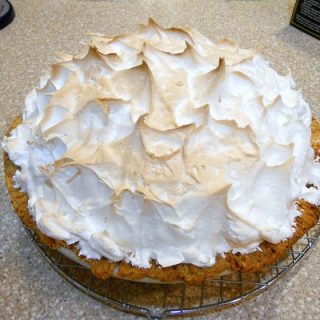 Italian Meringue
Since it is made with sugar syrup that has been taken to the soft ball stage, Italian meringue won't weep and deflate upon sitting like other meringues, which makes it Perfect for topping a pie.
NOTE: All proportions are based on weight and not volume.
Ingredients
1

part egg whites

1¾

parts sugar

¼

part corn syrup

(the corn syrup helps to keep your sugar syrup from crystallizing)

Water

heavy pinch

fine salt

flavoring

(vanilla, liqueur, etc)
Instructions
Put the whites and a pinch of salt in the bowl of a stand mixer fitted with the whip attachment.

Put the sugar, corn syrup and enough water to make things wet in a heavy-bottomed pot on the stove.

Stir to get things going, then bring the mixture to a boil. Cover the pot with a lid or a piece of plastic wrap and let boil for 2-3 minutes to clean the sides of the pan of any errant sugar crystals. Take off lid/carefully remove plastic wrap.

Plop in your candy thermometer. No more stirring. You're shooting for 244 degrees, F. (You can go to 240, but I'm partial to 244).

When the sugar syrup reaches about 230 degrees, start whipping your whites at medium speed and then increase to high speed once they get a little foamy. Ideally, they'll be at medium peaks when your sugar reaches 240-244. You might need to play around with this a little bit.

When the sugar mixture is about 2 degrees cooler than you want it, carefully remove from the stove, turn the burner off, and turn the mixer speed down to medium.

Steadily pour a thin stream of the sugar syrup down the inside of the bowl. Pour slowly enough that you don't splash syrup on the whisk, thereby shooting molten sugar all over the inside of the bowl and not into your meringue.

When all the syrup is in, turn the mixer back up to high speed and whip until cool. Add flavorings, and there you have it. Italian Meringue. Yay!
Did You Make Any Changes?
Notes
USES
frost a cake (use a torch to brown the meringue)
top a pie (again, a torch comes in handy here)
whip in extracts to flavor it
whip in sifted cocoa powder or some chocolate syrup, to taste, for a chocolate meringue
whip cool butter into the meringue, a bit at a time, to make Italian buttercream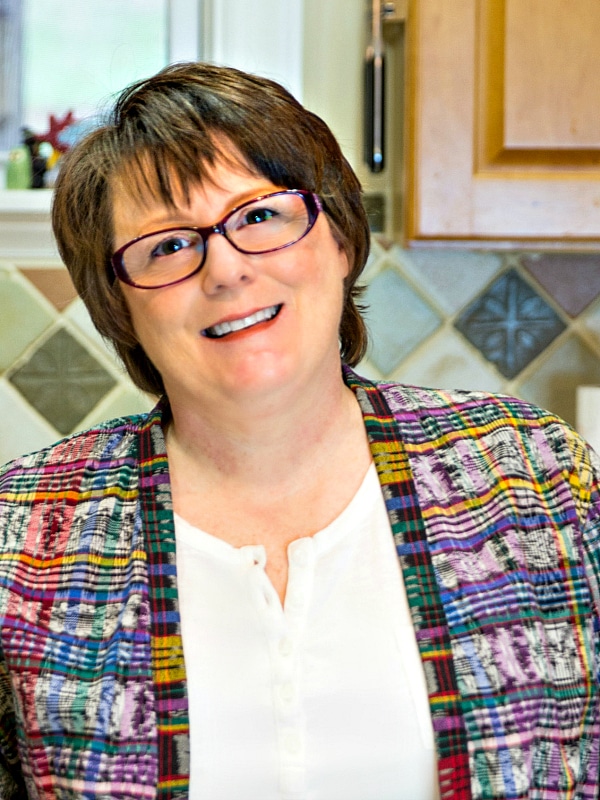 What are my qualifications to teach you baking and pastry? As a former working pastry chef and special educator, I marry my passions for both teaching and for baking into explaining techniques, methods, and developing the best possible recipes. For more info, you can read more about me.
If you'd like to receive new recipes and the occasional newsletter, I'd love for you to sign up for my Inbox Pastry Chef.