As much as I love classic vanilla creme brulee, I am going on record as saying I like this butterscotch creme brulee even more!

If you're interested in learning all about the ins and outs of making a classic creme brulee, I can help you there, too.

And if you're a butterscotch fan, you are in for a treat! You can find more of my butterscotch recipes here.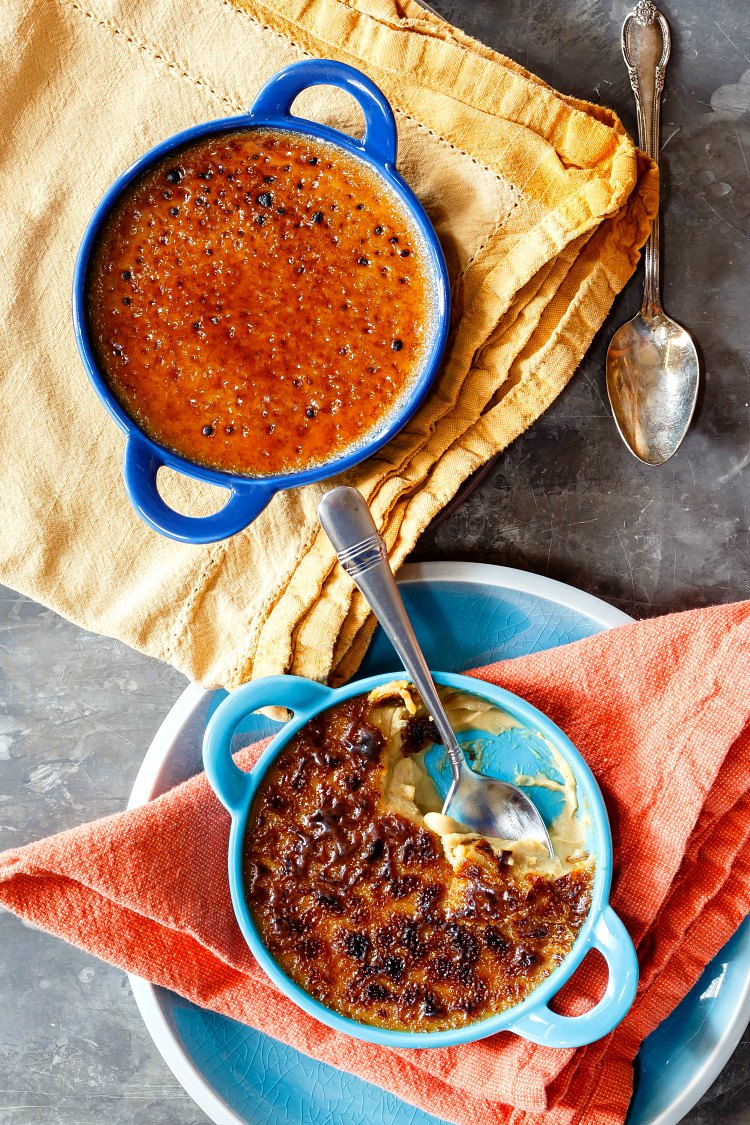 What Puts the Butterscotch in This Creme Brulee
Many people incorrectly assume that butterscotch actually contains Scotch whisky. There is no rule saying you can't add a shot of Scotch or rum or whatever alcohol you like to the mix, but it is not necessary to the flavor.
The origins of the word butterscotch are a little bit lost to the sands of time, so there are a couple of theories about where the name comes from.
One theory is that "scotch" meant to score something, as in to cut, but not all the way through. That is indeed how to shape butterscotch hard candy, breaking it apart on the score marks once it has cooled. But butterscotch flavor exists independently of the kind of treat you're making, whether it's hard candy, chewy candy, sauce, or what have you.
Another theory I've heard tossed about is that butterscotch is a shortened form of "scorch the butter." In other words, browning butter in order to get butterscotch flavor.
Of the two, this second one is the one I'm more likely to put my money on.

My own definition of butterscotch is the particular flavor you get when you cook butter, sugar and molasses (or butter and brown sugar, in modern terms) until the butter is browned and the sugar is caramelized. –Me
From there, you can add cream, milk, eggs, etc, depending on what kind of butterscotch treat you are making.
If your butterscotch smackerel doesn't contain butter and brown sugar that you cook together until caramelized, then it isn't truly butterscotch. Or not as deeply butterscotchy as it could be.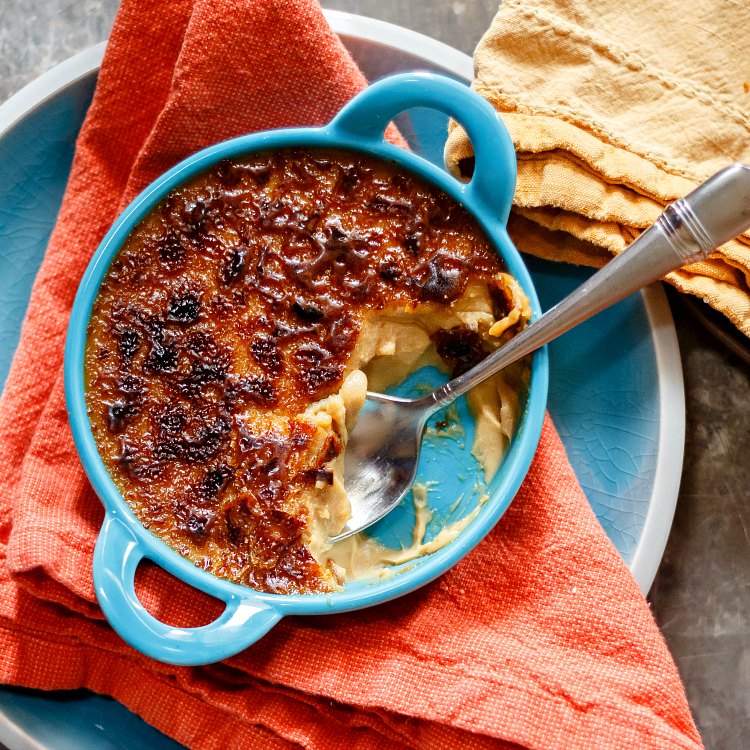 Making butterscotch creme brulee is a three step process, plus the brulee-ing.
Make butterscotch
Incorporate the butterscotch into the creme brulee mixture.
Bake until set but jiggly.
How to Make Butterscotch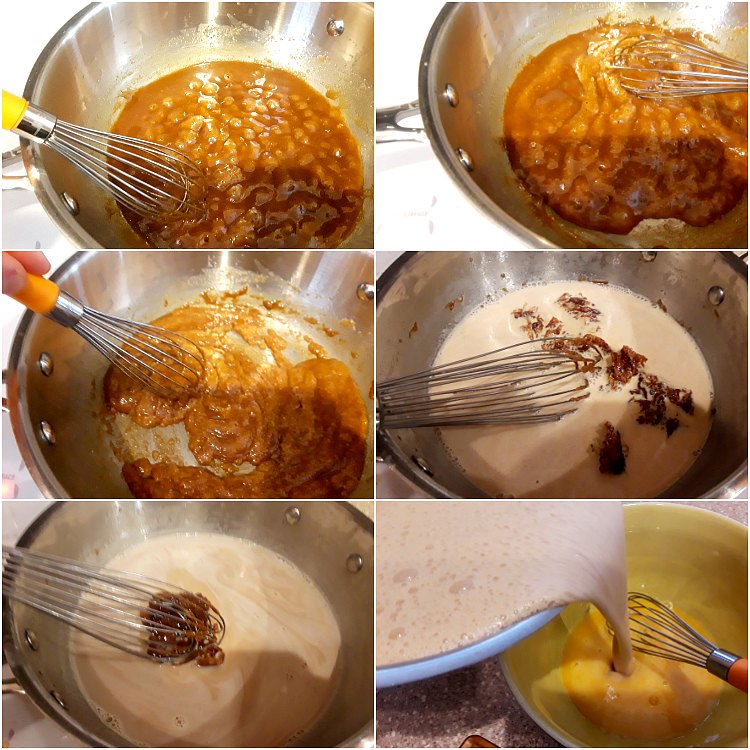 In the first photo, the mixture is nice and "together."
In the next two, you can see how sloppy the butterscotch looks–the butter separates out and it just looks messy. As soon as it comes back together, add the cream.
You can see the butterscotch will harden, but keep stirring over medium low heat and it will melt back into the cream.
The last photo shows pouring the hot butterscotch slowly into the eggs to temper them.
Melt the Butter
Use a heavy-bottomed saucepan to melt the butter over medium heat.
Cook the Butter and Brown Sugar Together
Cook the butter and brown sugar together until the sugar has caramelized and the butter has browned.
When you start cooking the two together, the melted butter and sugar will want to stay separate. When it comes to a boil, the two will come together.
Continue cooking, and the butter will separate out again. At this point, watch it carefully, stirring the whole while.
As soon as the butter and sugar come back together again smoothly, you will see it just barely beginning to smoke. You may also smell a bit of a burnt or caramelized sugar smell.
Immediately Add the Cream
Turn off the heat and begin adding the cream.
It will bubble and spit, and the butterscotch might harden if you add too much cold cream too quickly.
No problem. Just whisk and stir over medium heat until all the butterscotch has melted back into the cream.
How to Make Butterscotch Creme Brulee
Once you've made your butterscotch, it's time to turn it into some tasty creme brulee. Here are the other ingredients you'll need
salt
heavy cream
egg yolks
vanilla extract or paste
granulated sugar or more brown sugar for bruleeing
As you can see, the ingredient list is pretty short. There are more steps to making perfect creme brulee than there are ingredients.
Some of the steps are optional. I'll let you know which ones as we go through them.
Be sure to watch the video I made you guys so you can see some of these steps in action.
How to Make This Creme Brulee, Step by Step
Make the butterscotch. See the steps above. In short: cook butter and brown sugar together until the sugar has caramelized and the butter has browned.

(If the sugar is caramelized, rest assured the butter has browned since that happens at a lower temperature than caramelization). Stop the cooking by pouring in cold cream. Stir and cook gently until smooth.

Temper the butterscotch into the yolks. As in the last photograph above, slowly pour your hot butterscotch mixture into the egg yolks, whisking all the while. The raises the temperature of the yolks relatively slowly so they don't curdle and the mixture stays smooth.

Add the vanilla extract.

OPTIONAL: Refrigerate overnight. For the dreamiest texture, refrigerate your custard overnight. If you don't have time, continue making your creme brulee.

OPTIONAL: Strain the custard. I always strain my custard through a fine-mesh strainer into a large measuring cup with a spout.

Straining will catch any tiny bits of cooked egg or pieces of caramel that didn't completely smooth out. It is an optional step, but I recommend you do it. It takes 5 seconds and ensures your creme brulee is silky smooth.

Pour into ramekins.Use your spouted measuring cups to evenly divide the mixture among four wide, shallow ramekins.

OPTIONAL: Pop any bubbles on the surface of your custard with your torch. Sometimes you'll get little air bubbles in your custard. Passing your kitchen torch over the tops very briefly will pop those bubbles. While it's not strictly necessary, it's another step that will refine your final presentation. (See video)

Bake in a water bath.To get your custard into the oven and water in your large pan without making a mess, this is what I do (see the photo above):
—place a tea towel in the bottom of a half sheet pan. The towel is optional but provides an additional layer of protection from heat on the bottom of the pan
—fill the ramekins and place them on the towel. Put the tray into the preheated oven.
–carefully push the rack in all the way.
—pour boiling water into the half sheet pan to come halfway up the sides of the ramekins.

NOTE: pull edges of towel inside the tray so water doesn't drip down onto the oven floor during baking.

Cool and chill.Once the custards are set around the edges and just a bit jiggly in the centers (about 40 minutes at 275F if using wide, shallow ramekins), carefully remove them from the water bath (I use silicone tongs for this)–leave the water-filled tray in the oven to minimize the risk of spilling water everywhere.

Allow the custards to cool for an hour at room temperature. Chill them, uncovered, for at least 2 hours. Once they are at refrigerator temperature, you can cover them with plastic wrap or foil.

Brulee the tops and serve.Sprinkle each custard with about a tablespoon of granulated sugar and shake and tilt the ramekin to distribute it evenly.

If you decide to brulee with brown sugar (it makes sense since it's butterscotch), you'll have to pat it on in as thin and even a layer as you can since it doesn't flow like granulated sugar.

Turn on your torch and move it in small, even circles all over the surface of the custard, first melting the sugar and then caramelizing it.

Go slowly so you caramelize all the sugar and don't leave a layer of granulated sugar under the caramel. Pay special attention to the edges of the ramekin to make sure no sugar crystals hide there. You really want the entire surface to be glass-like caramel.

Give the custards about a minute to 90 seconds for the caramel to harden, and then serve.
Tips for Success
After making your custard, if you have time, refrigerate it overnight. This will give you the silkiest, creamiest texture once you bake your creme brulee.
For a smooth canvas for torching, use your kitchen torch to pop any bubbles on top of your creme brulee batter before baking.
What Kind of Sugar to Use for the Brulee
Generally speaking, I would recommend granulated sugar for making the caramelized topping for your creme brulee.
Since I made butterscotch and dark brown sugar is an integral part of the flavor, I used dark brown sugar on two of the custards and granulated on the other two.
The dark brown sugar is more difficult to work with since the impurities in the molasses tend to burn pretty easily.
If you have an adjustable torch, set the flame on low-ish so you can work to melt the sugar and then caramelize everything with a minimum of burning. The flavor will be much stronger than that of the granulated sugar.
I really rather like the more rustic look of the dark brown sugar brulee as well as the stronger flavor, but the granulated sugar is definitely easier to work with. So it's your call.
Either way, keep your torch moving all the time so you don't end up with unevenly bruleed creme brulee.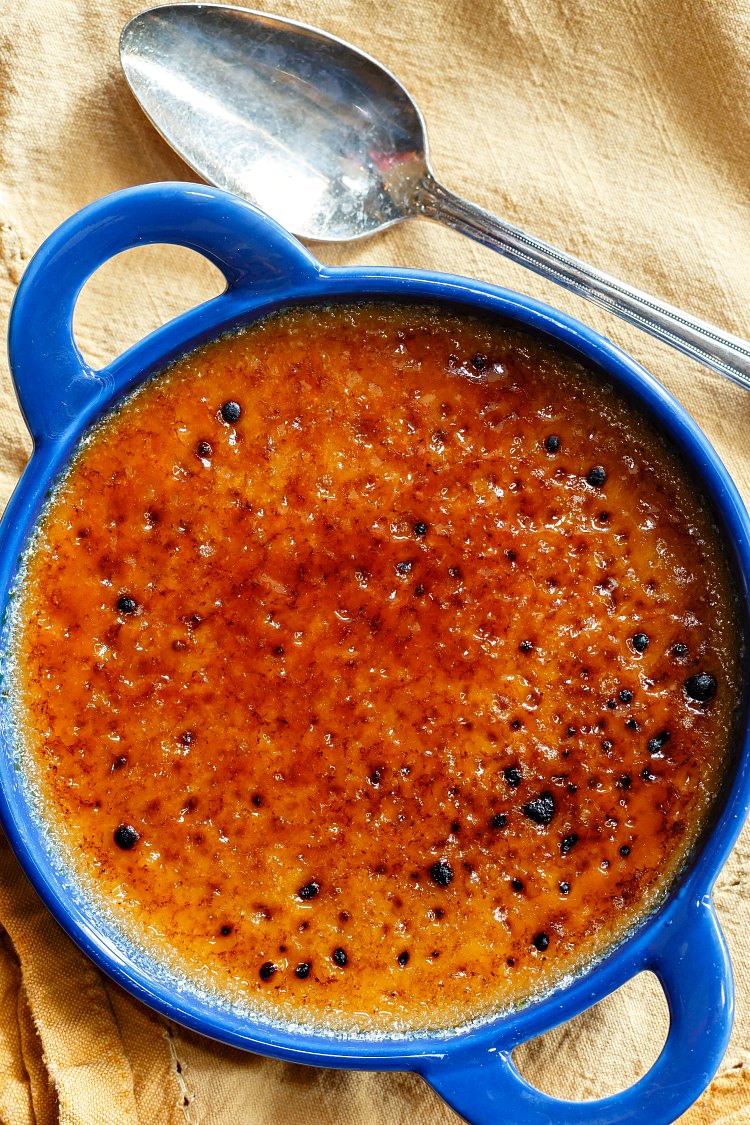 I have to say, it's hard to deny how pretty the granulated sugar topping is. For butterscotch creme brulee though, despite being a bit more difficult to deal with, I have to come down on the side of using dark brown sugar to reinforce the butterscotchy goodness of the custard.
Equipment for Making Creme Brulee
You will definitely need a couple of pieces of specialized equipment for making creme brulee.
Wide, shallow ramekins ensure an evenly baked custard with a broad expanse of surface area to brulee, allowing you a nice ratio of crunchy topping to silky custard in every bite.
The ones with handles make it especially easy to retrieve them from the water bath. I used two sets of silicone-coated tongs to pick them up by their handles and put them on cooling racks.
And of course, you'll need a kitchen torch. The one I use is a propane number with an adjustable flame. Butane torches also work well.
More Creme Brulee Recipes
If you'd like to learn to make classic creme brulee, I have you covered.
You may also enjoy these variations:
And do not miss my Cheesecake Creme Brulee. It is really decadent and lovely.
Other Butterscotch Posts on Pastry Chef Online
Wondering what butterscotch is? I can help.
And read on to find out what the difference is between butterscotch and caramel.
A Note About Measurements
For convenience, consistency, and accuracy, almost all my recipes are written by weight, either in ounces and/or grams, even the liquids.
I strongly encourage you to purchase a kitchen scale and learn to use it.
This is the one I used for years. I love it and highly recommend it:
Best for Home Use
Escali Primo Digital Food Scale
Don't let its small price and small size fool you. The Escali Primo is an accurate and easy-to-use food scale that I have used for years. It's easy to store, easy to use, has a tare function, and easily switches between grams and ounces/pounds for accurate measurements.
This is an affiliate link which means I earn from qualifying purchases. Your price is unaffected.
It would be so helpful to me and to other readers that, when you make a recipe, you rate it and leave a comment. Whether it's a recipe or an informational post, your feedback helps others decide if the post is helpful or if the recipe works as advertised.

If you could leave a star rating, that would be very helpful. Thank you for being here!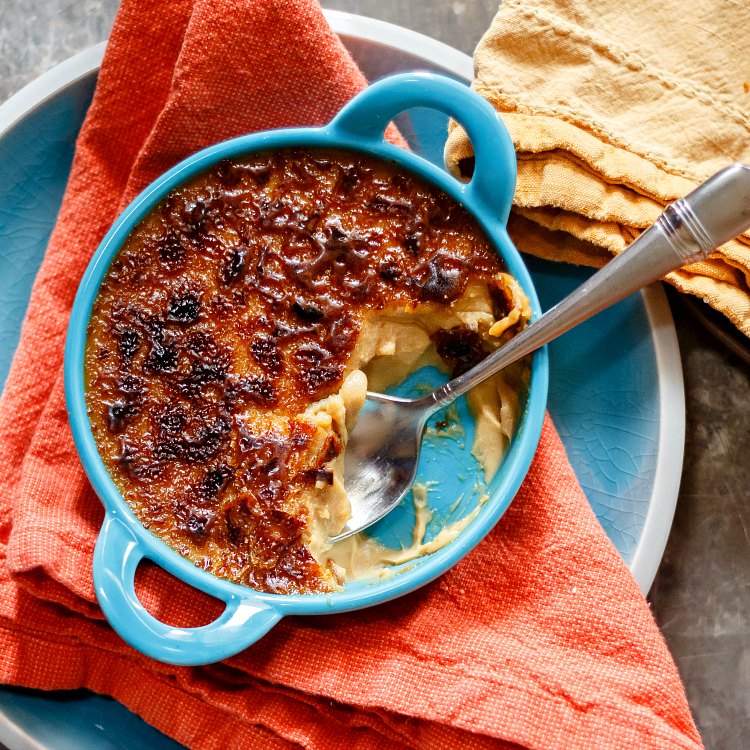 Butterscotch Creme Brulee
Rich, decadent butterscotch creme brulee is truly an indulgent treat. Super creamy custard with a thin, glass-like layer of caramelized sugar on top, you get a wonderful variation of textures and temperatures in every single bite.
Ingredients
100

grams

1/2 cup, packed dark brown sugar

56

grams

2 oz unsalted butter

⅜

teaspoon

kosher salt

I used Morton's

2

cups

heavy cream

3

egg yolks

1

teaspoon

vanilla extract

additional granulated or dark brown sugar for the brulee
Instructions
Make the butterscotch: melt the butter in a heavy-bottomed saucepan. Add the dark brown sugar and the salt can cook until the mixture comes to a boil. Stirring constantly, cook until the mixture breaks apart and then comes together again and just begins to smoke.

Immediately pour in the heavy cream. It will bubble and spit, so be careful, and the mixture may harden up. Just keep stirring over medium-low heat until all the butterscotch melts back into the cream.

Whisking constantly, temper the butterscotch mixture into the egg yolks.

Off the heat, stir in the vanilla extract.

(Optional Step)For creamiest results, refrigerate the custard overnight.

Preheat oven to 275F. Place a tea towel in the bottom of a half-sheet pan, folding the edges in so they don't hang over the rim of the pan. Bring a quart of water to a boil.

Strain custard through a fine mesh strainer into a spouted measuring cup.

Divide the custard evenly among four 5oz ramekins. Pass the flame of your kitchen torch over the surface of the custard to pop any bubbles.

Place the filled ramekins on the tray and put the tray in the oven.

Carefully pour the boiling water into the pan so it comes halfway up the sides of the ramekins. Take care not to splash any water into the custard.

Bake until custards are set around the edges and still a little jiggly in the centers, about 35-40 minutes, depending on your oven.

Remove the ramekins to a cooling rack. I use silicone tongs to grab them by the handles, leaving the water bath in the oven to clean up after it has cooled off.

Once the custards have cooled, chill for at least 2 hours. Cover once they have reached refrigerator temperature.

When ready to serve, remove the custards from the fridge. If there is any condensation on the surfaces, use the corner of a paper towel to wick it away.

Pour a generous spoonful of either dark brown or granulated sugar onto each custard. If using granulated sugar, tilt the ramekins to completely cover the tops of the custard. Pour off any excess sugar. If using dark brown sugar, use your fingers or an offset spatula to carefully spread a thin, even layer of sugar over each custard.

Use your kitchen torch to first melt and then evenly (as evenly as possible, anyway) caramelize the sugar.

Allow to cool off for maybe 1 1/2 minutes before serving. This allows the caramel to harden into a lovely sheet of edible glass. Use the side of your spoon to crack through and enjoy.
Did You Make Any Changes?
Notes
You can double this recipe with no problem to make 8 custards.
Leave any custards you aren't serving in the the fridge for up to 3 days. Torch the extras right before serving.
Nutrition
Serving:
4
oz
Calories:
443
kcal
Carbohydrates:
26.7
g
Protein:
3.4
g
Fat:
36.9
g
Saturated Fat:
22.2
g
Cholesterol:
270
mg
Sodium:
334
mg
Sugar:
24.4
g
And that's pretty much that. I know you'll love this butterscotchy, decadent custard.
Thanks so much for spending some time with me today. Take care, and have a lovely day.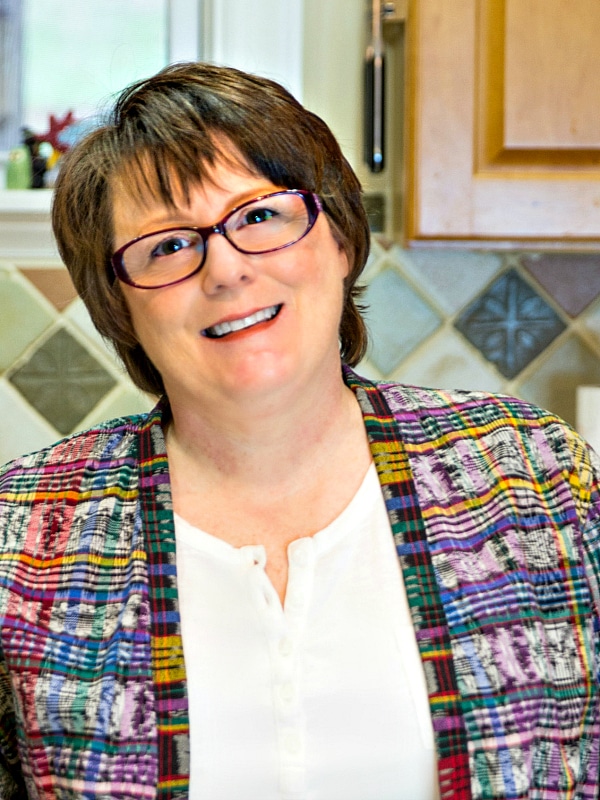 What are my qualifications to teach you baking and pastry? As a former working pastry chef and special educator, I marry my passions for both teaching and for baking into explaining techniques, methods, and developing the best possible recipes. For more info, you can read more about me.
If you'd like to receive new recipes and the occasional newsletter, I'd love for you to sign up for my Inbox Pastry Chef.