Today I'm sharing this fantastic and festive peppermint brownie brittle recipe. A copycat version of Brownie Brittle but with a Christmas makeover!

Everyone needs a fantastic brownie bark recipe in their life, and this minty version is holiday perfect. Make a ton, too, because it makes a great food gift!
Another delicious recipe to try is my chocolate peppermint crinkle cookies (that are gluten free!).

For ease of browsing, here are all of my cookie and bar recipes. Thanks for stopping by!
Watch my peppermint brownie bark web story here.
Peppermint Brownie Brittle, At a Glance
✔️Skill Level: Beginner
✔️Skills: separating eggs, Spreading batter out very thinly
✔️Type: Cookie Brittle
✔️Number of Ingredients: 11
✔️Prep Time: 10 minutes
✔️Cook Time: 35 minutes
✔️Yield: about 32 pieces of brittle

Jump Straight to the Recipe
This brittle turns out nice and crispy, and if crispy is your thing, you won't be able to stop eating it!
If this sounds like something you need in your life, I do have a favor to ask:
When you do make this recipe, it will help me and other readers if you:
✅Rate the recipes using the stars in the recipe card⭐⭐⭐⭐⭐
✅Leave a review when prompted in the recipe card✍️
✅Leave a comment on the post📝
Thank you!😘
Making Peppermint Brownie Brittle
This is a pretty straightforward recipe to follow
I'll go over the ingredients, the procedure, and give you some tips on how to make it nice and crispy.
If you just want to get in the kitchen and get going on your brownie brittle, you can jump straight to the recipe.
Ingredients
Here's what you'll need to make this recipe.
How to Make Crispy Brownie Brittle
I researched plenty of brownie brittle recipes, and some of them suggested you just take your favorite brownie recipe and spread it out really thinly before baking.
While I'm sure that will yield a passable brownie brittle, what you really want is a way to make your final product crispy and not crunchy/chewy. To do that you:
take out some of the fat by substituting egg whites for whole eggs–after all, what's crispier than thin sheets of baked meringue? Not much.
double the amount of flour you'd usually use and use cocoa powder as opposed to melted bittersweet or unsweetened chocolate.
Capping the amount of fat helps to keep things dry and crispy/crunchy since fat is a tenderizer.
As a base recipe, I turned to Alton Brown's Cocoa Brownies and performed this simple math on the formula: subtract the yolks (save for custard!) and divide the amount of all other ingredients, except for the flour, by two.
This worked out brilliantly and yielded a crispy/crunchy, deeply chocolatey base.
Since I wanted to use the rest of my Peppermint Bark, I added two drops of peppermint oil to the batter, but you could also leave that out since you'll get a lot of mintiness from the candy.
Other Rules for How to Make Your Brittle Nice and Crispy
Once you leave out the yolks and reduce the fat in your recipe, make sure you spread out your batter very thinly. I know that seems obvious, but you really want it to be about as thin as you can get it. The thinner it is, the crispier the end result.
I went to town with my small offset spatula until I got my batter about as thin as humanly possible.
Note, if you add mix-ins to the batter, it will be very difficult to spread it out super thin because the mixins will drag and leave lines in your batter. Trust me, I've been there.
It's a much better idea to leave mixins out of the batter, sticking just with extracts to alter the flavor, and then adding crushed toppings after your batter is all spread out.
You'll want to bake at a lower temperature for a longer time than for brownies. This ensures the center (even though the batter is thin) gets nice and dry without the outsides burning. Make your brownie brittle too thick, and you'll most likely end up with bendy brownie bark that's a little burned on the outside.
Don't add your candy toppings until the last few minutes of baking, especially if you're using peppermint bark like I did. The white chocolate will caramelize and won't be that lovely creamy-white color. It will taste great, but it won't be as pretty. You can see that in some of my photos. Learn from my mistakes and add delicate toppings during the last few minutes of baking.
Flavor Variations
Know that you can use this base recipe for whatever kind of brownie bark you'd like to make, so don't stop experimenting with this peppermint version.
Go on and make great copycat recipes for any of your favorite store-bought flavors. Or make up your own. Here are some ideas for you.
add toffee bits and sprinkle with some flaky finishing salt
sprinkle on mini chocolate chips towards the end of baking
sprinkle on some finely chopped white chocolate once they come out of the oven and the spread it out into a thin layer once it melts
add mini M&Ms to the top of your brownie bark
sprinkle on peanut butter chips (just like the white chocolate version except with peanut butter) and/or finely chopped nuts
add some espresso powder to the batter and top with crushed chocolate-covered espresso beans towards the end of baking time
Other Brownie Recipes You May Enjoy
I know you're here for brownie brittle, but these brownie flavors might inspire you in your experimentation. Enjoy!
Let's Get On with It, Shall We?
This recipe is a decadent and spot-on holiday copycat for store-bought Brownie Brittle. Use the base to make any flavor you can imagine.
Questions?
If you have a question about this post and it is not time-sensitive, you can leave your question in the comments section here under the post.
If your question is more time-sensitive, the best way to reach me is by email. I will get back to you in under four hours unless I'm sleeping.
To email, simply click the button below:
A Note About Measurements
For convenience, consistency, and accuracy, almost all my recipes are written by weight, either in ounces and/or grams, even the liquids.
I strongly encourage you to purchase a kitchen scale and learn to use it.
This is the one I used for years. I love it and highly recommend it:
Best for Home Use
Escali Primo Digital Food Scale
Don't let its small price and small size fool you. The Escali Primo is an accurate and easy-to-use food scale that I have used for years. It's easy to store, easy to use, has a tare function, and easily switches between grams and ounces/pounds for accurate measurements.
This is an affiliate link which means I earn from qualifying purchases. Your price is unaffected.
It would be so helpful to me and to other readers that, when you make a recipe, you rate it and leave a comment. Whether it's a recipe or an informational post, your feedback helps others decide if the post is helpful or if the recipe works as advertised.

If you could leave a star rating, that would be very helpful. Thank you for being here!
Peppermint Brownie Brittle Recipe
This peppermint brownie brittle recipe is crispy/crunchy, makes a ton, and is perfect to give to friends–or snack on yourself–for Christmas. And yes, you probably should dunk it in milk. NOTE: All measurements are by weight.
Ingredients
2

egg whites

3.5

oz

brown sugar

(dark or light) (1/2 cup)

3.5

oz

granulated sugar

1/2 cup

1/4-3/8

teaspoon

kosher salt

½

teaspoon

vanilla extract

2

drops peppermint oil

2

oz

about 2/3 cup cocoa powder

2.5

oz

about 1/2 cup all purpose flour

¼

teaspoon

baking soda

1

stick

(4 oz) unsalted butter, melted and cooled)

4-6

oz

peppermint bark

finely chopped
Instructions
Place a rack in the top and bottom thirds of your oven (or bake in 2 batches, setting a rack in the center of the oven).

Preheat oven to 300F.

Line two half sheet pans with Silpat. Set aside.

In the bowl of your stand mixer fitted with the whisk attachment, whip whites, brown sugar, granuated sugar, salt, vanilla, and peppermint extract until very light and thick, about 5 minutes. Stop the mixer.

Sift the flour, cocoa powder and baking soda together and add to the mixer bowl. Mix on low speed until incorporated, scraping the bowl thoroughly.

With the mixer running on medium speed, pour the butter in down the inside of the bowl and mix until well blended. Scrape bowl as necessary.

Plop half the batter on each of the prepared pans. Using an offset spatula, spread out as thinly as you can.

Sprinkle half of the peppermint bark evenly over each pan of batter.* (See Note)

Bake for 15 minutes, rotating pans and switching racks halfway through.

Remove the pans from the oven and score the peppermint bark brownie bark with a small pizza cutter or a knife. You can score it in whatever shapes you like.

Return to the oven for an additional 20 minutes, rotating pans and switching racks halfway through.

Allow the bark to cool in the pans for 5 minutes and then carefully remove the bark to racks to cool completely.

Bark might not be completely crisp when it's still hot, but it should crisp up nicely once cool. If any pieces–especially center pieces–seem less crisp that you'd like, just put them back in the oven for an additional 5 minutes or so.

Enjoy!
Did You Make Any Changes?
Notes
NOTE: All measurements are by weight. Please get a kitchen scale if you don't already have one. It will make your life so much easier, I promise!
*If you add the chopped bark now, the white chocolate will lightly caramelize while baking. I love the depth you get from caramelized white chocolate, but it's not as pretty as bright ivory white chocolate. To keep the color bright, wait to add the chopped bark to the top of the batter until the last 5 minutes in the oven. Once you remove the pans from the oven, rescore the brittle along the lines you already cut, just in case some of the bark has melted and will hold your pieces together once it cools. I'm sure there's a better way to say that, but that's all I've got right now.
Nutrition
Serving:
1
piece
Calories:
60
kcal
Carbohydrates:
8
g
Protein:
0.8
g
Fat:
3.1
g
Saturated Fat:
2
g
Cholesterol:
6
mg
Sodium:
36
mg
Fiber:
0.5
g
Sugar:
5.9
g
And there you have it, friends. Enjoy the bark, and if you decide to use this base to make others of your favorite Brownie Brittle flavors, I'd love to hear about them!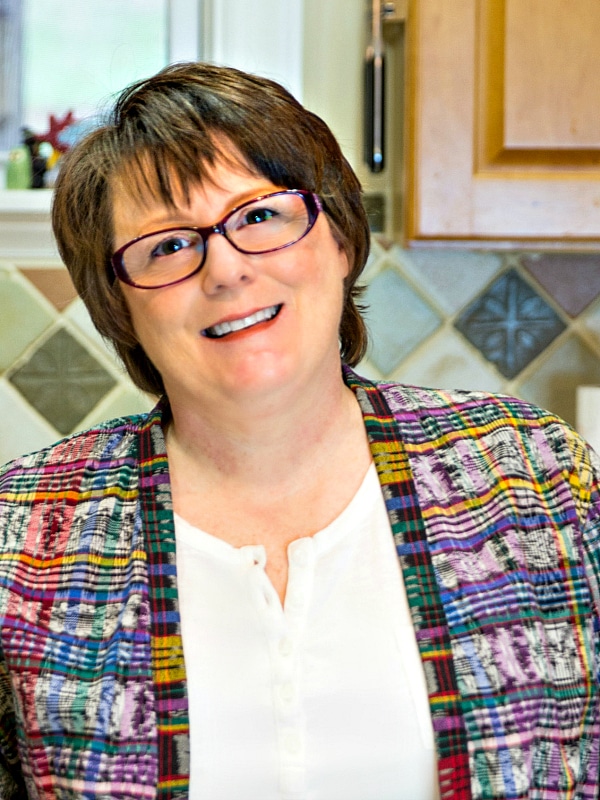 What are my qualifications to teach you baking and pastry? As a former working pastry chef and special educator, I marry my passions for both teaching and for baking into explaining techniques, methods, and developing the best possible recipes. For more info, you can read more about me.
If you'd like to receive new recipes and the occasional newsletter, I'd love for you to sign up for my Inbox Pastry Chef.
Thanks so much for spending some time with me today. Take care, and have a lovely day.