You're going to love this butterscotch ice cream sauce recipe, you guys. It's rich and creamy and is equally at home drizzled on cake or just eaten off a spoon!

You may also really like my butterscotch coffee syrup recipe–it brings the butterscotch goodness to your morning cup of joe!

For ease of browsing, you can find all my butterscotch recipes all in one place. Thanks for stopping by!
See my butterscotch ice cream sauce web story here.
[NOTE: The video in this post is for butterscotch creme brulee, but in it, I make butterscotch so you can see how it's done.
If you have never had true homemade butterscotch ice cream sauce, you owe it to yourself to try it.
It's deeply flavorful with a chewy texture that is irresistible. Let me tell you all about it!
Why Make This Particular Recipe?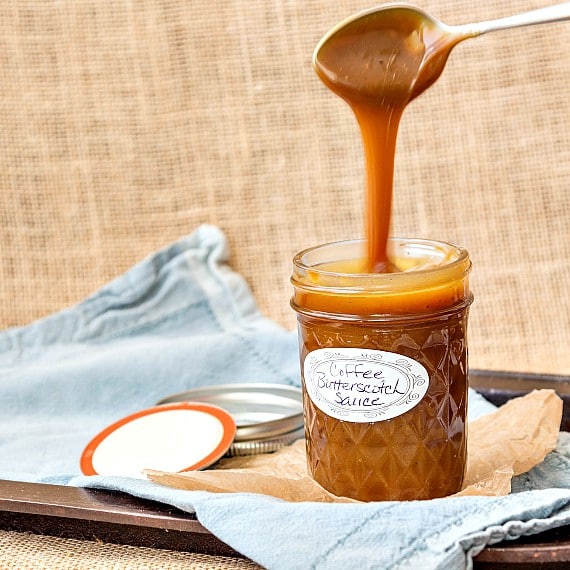 This is real butterscotch ice cream sauce, friends.
By that, I mean you cook butter, sugar, and molasses together until the butter browns and the sugar caramelizes. That's real butterscotch.
You'll be able to taste it in the depth of flavor and see it in the thick, chewiness of the sauce.
And the butterscotch is perfectly complemented by the coffee flavor.
If you'd rather, you can also leave out the coffee extract and just have a delicious plain butterscotch sauce.
PRO TIP: This is a very molassesy butterscotch sauce. If you want a less molassesy flavor, either substitute dark brown sugar for the sugar and molasses or cut back on the amount of molasses you use.
How to Make This Sauce
First, you'll make butterscotch.
Then, stop the cooking by adding cream. Boil for a few minutes, and then add your flavorings (if using).
Here's what you'll need:
butter: use unsalted here and then add your own salt. Use fresh butter, because it's an integral part of the flavor of butterscotch. Make sure it's a tasty part!
sugar: If you prefer, you can use dark brown sugar in place of the sugar + molasses
molasses: As written, this sauce is molasses heavy. You can cut back on the amount by up to half or use brown sugar as mentioned above
salt: this recipe is salt-heavy. Salt is also an integral part of the butterscotch flavor profile. I used Morton's brand kosher salt in this recipe
heavy cream: stops the cooking process, and mellows the flavor a bit
coffee extract: this is technically optional, but not if you like this flavor combination, then you'll want to use it.
How to Make the Butterscotch
Making the butterscotch is the most important part of the process.
First, melt the butter and add the sugar and molasses (or brown sugar) and salt
Stir to moisten all the sugar
Cook and stir until the sugar is mostly dissolved. The butter won't cleanly mix in with the sugar at this point
Keep stirring and heating until the butter and sugar come together
Watch carefully and stir contantly. As the butterscotch cooks, it may break and separate again and then come together.
You will know it's ready when the mixture darkens a bit in color and starts to smell like caramelized sugar. It may smoke just a bit.
Once the butterscotch is done, pour in the cream and stir over low heat until smooth.
Take the mixture's temperature. If it's below 230F, cook until you reach that temp.
If you don't have an instant-read thermometer, I strongly recommend you get one. I use mine for everything from taking the temps of cakes and custards to making candy.
Then stir in your coffee extract (or vanilla extract if making a classic butterscotch sauce)
Tips for Success
It's easier to accidentally burn butterscotch than it is to burn caramel, because the molasses color can mask the caramelization.
At least until you've done this a few times, consider erring on the side of less cooking rather than accidental burning.
Once you add the cream, make sure the temp gets up to 230F, and you'll have a great sauce.
If you can take it all the way to "the edge," the flavor will be deeper, but it will still be delicious if you add the cream a bit early.
If you're still concerned, please watch the video I've included with this recipe. It's for my butterscotch creme brulee, but the procedure for making the butterscotch is exactly the same.
Q & A
Can I make this vegan?
I have never tried to veganize this coffee butterscotch sauce, but I think you absolutely could by using vegan butter–the stick kind rather than the tub kind–and using full fat coconut milk rather than cream.
How long does it keep in the fridge?
Keep the cooled sauce in a sealed container in the fridge for up to 2 weeks.
How do I reheat it?
You can reheat the whole container in the microwave. You could also spoon out a portion and heat it on the stove over medium heat. A third choice would be to place the container in a pot of very hot water for a few minutes, stirring occasionally until the sauce is loose enough to pour.
Can I make other variations?
Sure. Stir in some chocolate chips or chopped chocolate for a chocolate butterscotch sauce. Add some orange zest or a very few drops of orange oil for an orange butterscotch. If you like nuts, some finely chopped toasted almonds would be a lovely addition as well.
Serving Suggestions
I can think of no greater compliment to a great butterscotch sauce than homemade French vanilla ice cream, y'all. And my recipe doesn't require a churn, either.
Use it as a sauce for a birthday ice cream cake.
Use it as a fruit dip.
You could even use it to sandwich cookies together, like these vanilla wafers.
A Note About Measurements
For convenience, consistency, and accuracy, almost all my recipes are written by weight, either in ounces and/or grams, even the liquids.
I strongly encourage you to purchase a kitchen scale and learn to use it.
This is the one I used for years. I love it and highly recommend it:
Best for Home Use
Escali Primo Digital Food Scale
Don't let its small price and small size fool you. The Escali Primo is an accurate and easy-to-use food scale that I have used for years. It's easy to store, easy to use, has a tare function, and easily switches between grams and ounces/pounds for accurate measurements.
This is an affiliate link which means I earn from qualifying purchases. Your price is unaffected.
Final Thoughts
Y'all, this sauce is a dream.
If you are a fan of deeply flavorful toffee-ish sauces, then this butterscotch sauce has your name written all over it.
What are you waiting for? Hie thee to the kitchen, people!
Once you taste this sauce, you'll see that you don't dislike butterscotch sauce. You just dislike bad butterscotch sauce.
It would be so helpful to me and to other readers that, when you make a recipe, you rate it and leave a comment. Whether it's a recipe or an informational post, your feedback helps others decide if the post is helpful or if the recipe works as advertised.

If you could leave a star rating, that would be very helpful. Thank you for being here!
Real Butterscotch Ice Cream Sauce
Rich, creamy and perfect over ice cream, cake or any number of desserts, this coffee butterscotch dessert sauce (made with, among other things, sugar, butter, molasses, and salt) is the real deal.
No shortcuts, not that you need any since it only takes about 10 minutes to make!
Ingredients
2

oz

unsalted butter

8

oz

granulated sugar

See Notes below*

1.5

oz

molasses

(I recommend Grandma's. Do not use blackstrap. See Notes below)*

1

teaspoon

kosher salt

(I will let you use only 3/4 teaspoon if you must, but no less)

6

oz

heavy cream

1

teaspoon

good quality vanilla

coffee extract

to taste (1-3 teaspoons) (leave out if you want straight up butterscotch ice cream sauce)
Instructions
Melt the butter over medium heat.

Stir in the sugar, molasses and kosher salt. The mixture will look like wet brown sugar. Cook over medium heat, stirring constantly, for 2 minutes.

Add the heavy cream and bring the mixture to a boil.

Cook, stirring frequently, until mixture reaches 230F, about five minutes.

Remove from heat and stir in the vanilla and optional coffee extracts. Taste and adjust seasonings as necessary.

Serve warm over ice cream. Or whatever.

Enjoy!
Did You Make Any Changes?
Notes
*For a milder molasses flavor, you can substitute dark brown sugar for the granulated sugar and molasses. For an even lighter molasses flavor, use light brown sugar.
If you can't find coffee extract, use espresso powder or freeze-dried coffee dissolved in a tablespoon of hot water. You may have to play around with how much you add, so start small, taste, and add more if necessary.
Substitute a small amount of almond extract for the coffee extract. You could also add a tablespoon of Amaretto or even Frangelico rather than–or in addition to–the coffee flavor.
Nutrition
Serving:
2
Tablespoons
Calories:
203
kcal
Carbohydrates:
26
g
Protein:
1
g
Fat:
11
g
Saturated Fat:
7
g
Polyunsaturated Fat:
3
g
Cholesterol:
32
mg
Sodium:
220
mg
Sugar:
26
g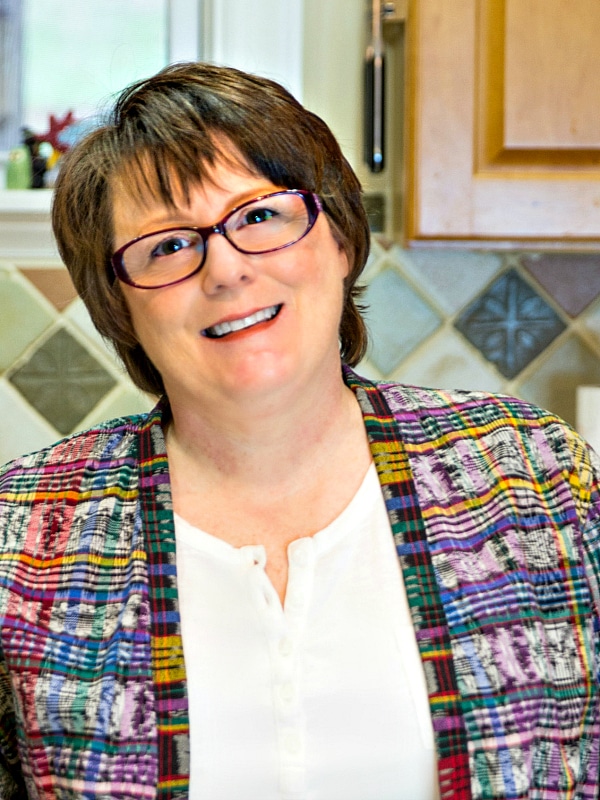 What are my qualifications to teach you baking and pastry? As a former working pastry chef and special educator, I marry my passions for both teaching and for baking into explaining techniques, methods, and developing the best possible recipes. For more info, you can read more about me.
If you'd like to receive new recipes and the occasional newsletter, I'd love for you to sign up for my Inbox Pastry Chef.
Thank you for spending some time with me today.
Have a lovely day.