In my quest to make all the butterscotch things, I have now made this truly spectacular butterscotch cake with butterscotch icing.

Based on a traditional Southern caramel cake, this version substitutes a portion of white sugar for dark brown sugar and uses an icing that is really nothing more than rich butterscotch sauce poured over the top.

Basically, we're talking about pouring candy on top of brown sugar yellow cake. It is incredibly good, and I really hope you give it a try!

Another butterscotch recipe you might like is my easy butterscotch sheetcake.

Find my other butterscotch recipes all in one place. Thanks for stopping by!

NOTE: The video doesn't show making this cake, but it does show how to make the butterscotch, and that's the trickiest part.
Icing vs Frosting. What's the Difference?
I grew up using the two terms "icing" and "frosting" pretty much interchangeably. But there actually is a difference between the two.
Also, between icing and frosting, I'm betting that icing has been around a lot longer than frosting.
An icing is generally a poured cake covering. Think royal icing, powdered sugar glazes, etc.
Frosting generally has air whipped into it and is of a spreadable consistency. And that's why I think it's a newer form of cake covering: it's easier to make things fluffy with some mechanical advantage such as a whisk, a hand mixer, or a stand mixer.
If you'd like a fluffy option for frosting this cake, try my fluffy caramel frosting. No, it's not butterscotch, but it is super good!
This cake is definitely iced with what I'd call butterscotch icing rather than frosting. It's a smooth, slick of butterscotch sauce, and it is The Best.
Caution
NOTE: Please take care in making the icing. If you burn the sugar as you're making your butterscotch, start over.
Keep a close eye on it and add the cream right when it begins to smoke just a tiny bit and smells like caramelized sugar.
Why Is It Called Butterscotch?
There are a couple schools of thought about why butterscotch is called butterscotch. Nobody knows for sure.
Camp One thinks that the "scotch" part refers to scoring the candy before it hardens.
Before butterscotch was a flavor or an adjective describing the flavor of something else (pudding, creme brulee, sauce, etc), it was a hard candy.
If you don't score butterscotch hard candy before it cools all the way, it is almost impossible to break–I know! So this answer is a pretty safe bet.
On the other hand, Camp Two thinks that the term literally means to scorch the butter, and browned butter is a part of the flavor profile.
At the end of the day, I honestly don't care where the name came from. I am just adamant that, if you're going to call a recipe "butterscotch," it must contain both brown sugar and butter, ideally caramelized and browned, respectively.
And you'll get that in spades with the icing for this cake.
What You'll Need to Make This Cake
Cakes, this one included, are usually made from simple ingredients. It's how you put them together that counts.
Raise you hand if you have all the ingredients you need to make this cake right now!
all purpose flour
granulated sugar
dark brown sugar
salt
baking powder
baking soda
butter
whole milk
large eggs
vanilla extract
heavy cream
It's also a good idea to have a nice, heavy bottomed saucepan for butterscotch (and other candy) making as well as 8″ cake pans. You can make this cake with a hand mixer, but a stand mixer is a great investment if you do a lot of baking.
How to Make This Butterscotch Cake
Make the Golden Yellow Cake You'll notice that the procedure for making the cake differs from the usual "cream butter and sugar together until light and fluffy" creaming method.

This cake uses the two-stage method which results in a very tender, melt-in-your-mouth cake with a tight, velvety crumb. You can use the creaming method if you'd like, but the texture and flavor (believe it or not) will be slightly different.

Bake the cakes, let cool, and cut off any domed tops. Since we're icing this cake and not frosting it, you want the smoothest, flattest surface possible, because you can't hide imperfections behind a thick layer of fluffy frosting.

Use a serrated knife to cut off any domed tops so you have nice flat layers. Save the scraps as the chef's treat, or make cake pops.

Make the Icing First, you'll make the butterscotch as described above. Then you'll add the heavy cream once the sugar has caramelized.

Cook this to 237F and then allow to cool for 20-30 minutes, stirring slowly occasionally so you don't create bubbles.

Set a cooling rack over a tray. Since you're glazing the cake, a lot will drip down off the sides. Make sure you're icing/glazing on a rack set over a rimmed tray to catch the excess icing.

Ice the cake. Once the butterscotch has cooled down some and thickened to a nice, pourable consistency, fill and ice the cake.

Pour on about 2/3 cup of glaze in the center of a layer and spread almost to the edges with an offset spatula.

Place the second layer on top of the first and repeat the icing. Once you have the third layer on top, carefully and slowly pour your icing across the top and down the sides of the cake.

Use a small offset spatula to add extra icing to any spots you may miss.

Embrace imperfections. Know that you will never have a completely smooth cake. It's not that kind of cake.

You can get the top nice and smooth and shiny, but the sides are another story. It's okay. It will be incredibly delicious, and you don't want more than a thin coating of butterscotch or it will overpower the more delicate flavor of the cake.

This butterscotch cake is perfect in its imperfections. You're going to love it.
Butterscotch Cake Q & A
Why don't you use butterscotch pudding mix in this cake?
Butterscotch = brown sugar + butter, ideally cooked together for a long time. Pudding mix doesn't contain either of those two ingredients, so it is not "real" butterscotch.

I prefer to use a portion of brown sugar and the butter in the cake bring a light butterscotch flavor while leaving the intense goodness to the icing.
Is this the same as a caramel cake?
While very similar in appearance to traditional Southern caramel cake, this cake is definitely carries butterscotch flavor and not caramel flavor.
Can I make butterscotch frosting instead of butterscotch icing?
You could, but I think the intensely butterscotch flavor–and beautiful, shiny top–of this icing is the way to go.

If you want to make frosting instead, Consider making and cooling butterscotch sauce (brown sugar, butter, salt, heavy cream–see the cake recipe) and then pouring it slowly into cream as you whip it.

This will give you a true butterscotch flavor in a fluffy, spreadable texture without adding a lot of extra richness the cake really doesn't need. If you go this route, you'll definitely want to store any leftover cake in the fridge and let it come to room temperature before serving.
Credit Where Credit is Due
The base of my butterscotch cake recipe is the golden yellow cake from one of my favorite dessert websites, Chocolate, Chocolate, and More. My friend Joan developed the recipe. After she passed away, her sister made and posted the cake on the site. I'm honored Gail let me play with Joan's cake recipe.
Note I modified the procedure just slightly and substituted brown sugar for one fourth of the granulated sugar in the original recipe. Otherwise, this cake is all Joan.
And for the frosting, I used Jocelyn Adams' (Grandbaby Cakes) recipe for the icing on her Real Deal Southern Caramel Cake as my template.
You will see I modified it by increasing the butter and salt, using dark brown sugar rather than granulated sugar, and substituting heavy cream for the evaporated milk.
A Note of Caution When Making the Icing
I've cautioned you once, but I'm doing it again.
A reader recently commented that they made this cake and the butterscotch icing was terrible and tasted burned so they had to throw the whole cake away.
Please, please, if you follow your nose and the butterscotch tastes burnt, don't pour it on your cake. Start again.
Making butterscotch is not difficult, but if you have not worked with caramelizing sugar before, it can be a bit tricky.
The sugar and butter mixture can go from beautifully caramelized to burnt in no time at all, so watch it closely.
When you see the first wisps of smoke and smell a hint of caramel, it is done.
Immediately remove the pan from the heat and start whisking in the cream.
Cake and
Often, a small slice of this rich cake is all you need for dessert, but for special occasions, consider making and serving it with this butterscotch ice cream. Or butterscotch ripple ice cream. Because if you're a butterscotch lover, you can't really ever get enough!
Have you ever made beaten coffee? If you haven't, I'm here to tell you you should! Whip up a cup and sweeten it with this butterscotch coffee syrup for a match made in heaven.
More Old-Fashioned Cake Recipes
If you're looking for more old fashioned cake recipes, I have gathered a few you might really enjoy.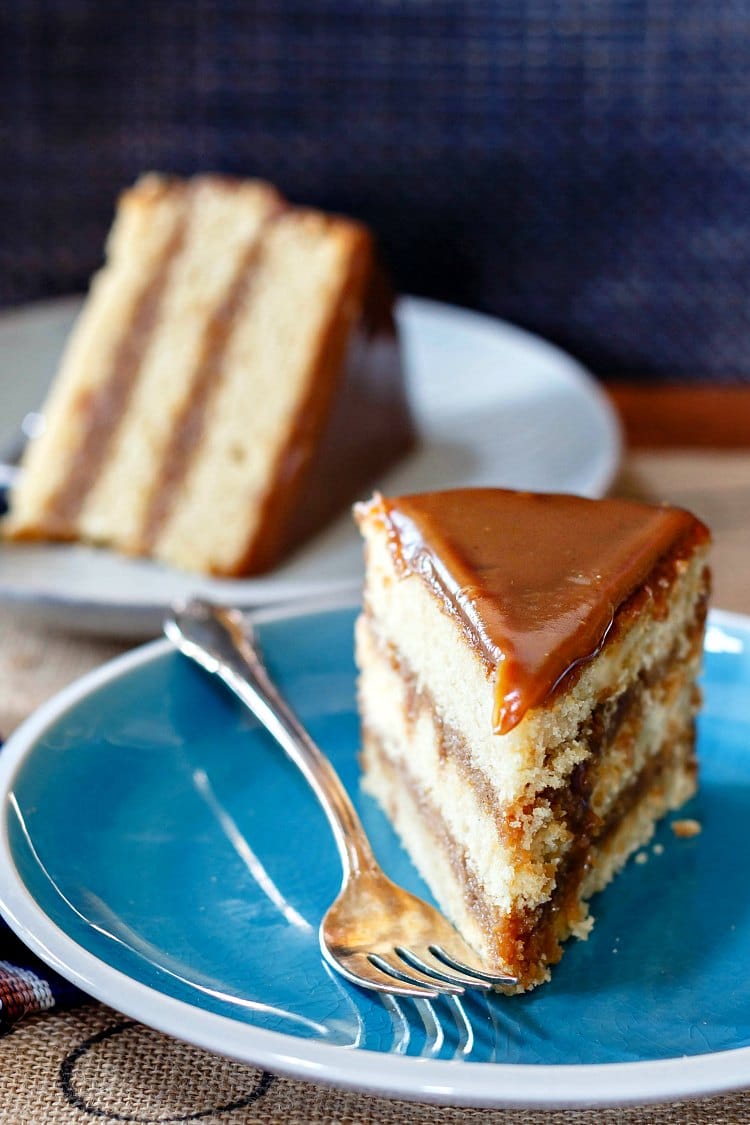 For convenience, consistency, and accuracy, almost all my recipes are written by weight, either in ounces and/or grams, even the liquids.
I strongly encourage you to purchase a kitchen scale and learn to use it.
This is the one I used for years. I love it and highly recommend it:
Best for Home Use
Escali Primo Digital Food Scale
Don't let its small price and small size fool you. The Escali Primo is an accurate and easy-to-use food scale that I have used for years. It's easy to store, easy to use, has a tare function, and easily switches between grams and ounces/pounds for accurate measurements.
This is an affiliate link which means I earn from qualifying purchases. Your price is unaffected.
It would be so helpful to me and to other readers that, when you make a recipe, you rate it and leave a comment. Whether it's a recipe or an informational post, your feedback helps others decide if the post is helpful or if the recipe works as advertised.

If you could leave a star rating, that would be very helpful. Thank you for being here!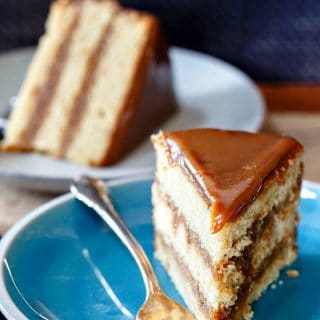 Irresistible Butterscotch Cake
This velvety, melt in your mouth golden yellow butterscotch cake is drenched in intensely butterscotchy glaze for the perfect butterscotch cake.
Ingredients
For the Cake
1 ½

cups

10.5 oz by weight granulated sugar

½

cup

4 oz by weight dark brown sugar, packed

3 ¼

cup

14 oz by weight all purpose flour (See Note 1)

1

Tablespoon

baking powder

1

teaspoon

fine sea salt

⅛

teaspoon

baking soda

¾

cup

1 1/2 sticks or 6 oz by weight unsalted butter, soft but not melted

1 ¼

cup

10 oz by weight whole milk, room temperature, divided use

4

large eggs

2

teaspoons

vanilla extract
For the Butterscotch Icing
2

sticks

8 oz by weight unsalted butter

2

cups

16 oz by weight dark brown sugar, packed

3/4-1

teaspoon

fine sea salt

depending on how salty you like your butterscotch

2 ½

cups

20 oz by weight heavy cream
Instructions
For the Cake
Line 3 8" cake pans (See Note 2) with parchment paper and spray the sides of the pan with pan spray.

Set your oven rack in the center of the oven and preheat to 350F.

In a large bowl, or in the bowl of your stand mixer, add all the dry ingredients and whisk together thoroughly.

In a medium bowl, whisk together 1/4 cup of the milk, the eggs, and the vanilla.

Add the softened butter and the milk egg mixture to your mixing bowl. Mix on low speed to moisten the ingredients, then increase the speed to medium and beat for two minutes to develop the structure of the batter.

Mix in the remainder of the milk just until smoothly combined.

Divide the batter evenly among the three pans. If weighing, you should have about 17 oz of batter per cake pan. Smooth the top of the batter and bake until well risen, deeply golden brown and just barely starting to pull away from the sides of the pan. If you have an instant read thermometer, you're looking for an internal temperature of 195F-200F. This will take between 25-30 minutes, depending on your oven. Start checking at 20-22 minutes just to be safe.

Remove to racks to cool for 15 minutes.

Run a thin spatula around the inside of each cake pan and then turn the cakes out on cooling racks to cool completely.

Optional: You can wrap each cake layer in plastic wrap as soon as you turn them out. This makes sure that all the moisture that would otherwise evaporate out of the cake stays inside. This will give you the moistest possible cake.
For the Butterscotch Icing
Melt the butter over medium heat.

Add the dark brown sugar and salt. Whisk constantly over medium-high heat until the butterscotch is smooth and boiling.

Keep whisking. It will go through a phase where the butterscotch gets kind of sloppy looking. The butter will separate out and you will think something has Gone Wrong. Keep whisking and cooking.

The butterscotch will come back together. When it comes back together, continue whisking until you see some smoke coming off the butterscotch and you smell a caramelized sugar smell.

Carefully whisk in the cream, a bit at a time, until it's all in. The butterscotch will hiss and spit and may seize up. That's okay. continue whisking over medium-low heat until all of the butterscotch has melted back into to cream, and then cook, whisking frequently, until it reaches 237F.

Remove from the heat and strain into a large pitcher or bowl.

Allow to cool and thicken a bit for about 30 minutes before icing your cake.
To Ice the Cake
When ready to ice your cake, place a rack over a rimmed baking sheet. Use a long serrated knife to slice off the domes from your cake layers. Save for snacking or to make butterscotch cake pops.

Place one layer of cake on an 8" cake board (or a piece of cardboard you cut to 8" and wrap in foil) and put on the rack over the baking sheet.

Pour or ladle on about 2/3 cup of icing and spread to the edge with an offset spatula.

Add the second layer and repeat with another 2/3 cup of icing.

Place the last layer, bottom side up, on top and press gently so all the layers adhere.

Pour a generous amount of icing over the top of the cake, starting in the middle and then working out to the edges, allowing it to run down over the sides of the cake. Ideally you will get complete coverage doing this. If not, you can use an offset spatula to scoop up some excess from the tray and do any patching that is necessary. Do take care to cover the top completely and smoothly. The sides are not as important, especially once you slice it.

Allow the cake and icing to sit at room temperature until completely cool (remember, your icing is still warm when you pour it), at least two hours.

Use two large spatulas or a cake shovel to move the iced cake off the rack and onto your serving tray.

Cake will stay fresh for 2-3 days before cutting. Once you slice it, store the cake, covered, at room temperature for 3-4 days.



Did You Make Any Changes?
Notes
If you are not using a scale, please measure your flour by whisking it well, lightly spooning it into your measuring cup and the sweeping off the excess with a straight edge. If you scoop the flour into the cup, it will be too much and you'll end up with a heavy cake.
If you only have 2 cake pans, you can bake 1/3 in one cake pan and 2/3 in an 8″ x 3″ pan. This is not ideal as one cake will bake more quickly. Once cooled, use a serrated blade to cut the thicker cake in half horizontally then proceed with the recipe.
The video for this post is not for making this cake, but it does very clearly show how to make the butterscotch, and that's the trickiest part of the recipe. Enjoy!
Nutrition
Serving:
1
/16
Calories:
524
kcal
Carbohydrates:
62.4
g
Protein:
5.4
g
Fat:
29.2
g
Saturated Fat:
17.9
g
Cholesterol:
127
mg
Sodium:
401
mg
Fiber:
0.7
g
Sugar:
42
g
And there you have it, friends. This is one spectacular cake, and everyone who has tried it kind of just moans with pleasure. So, yeah, I think you might need to make this butterscotch cake and the butterscotch icing that goes with it!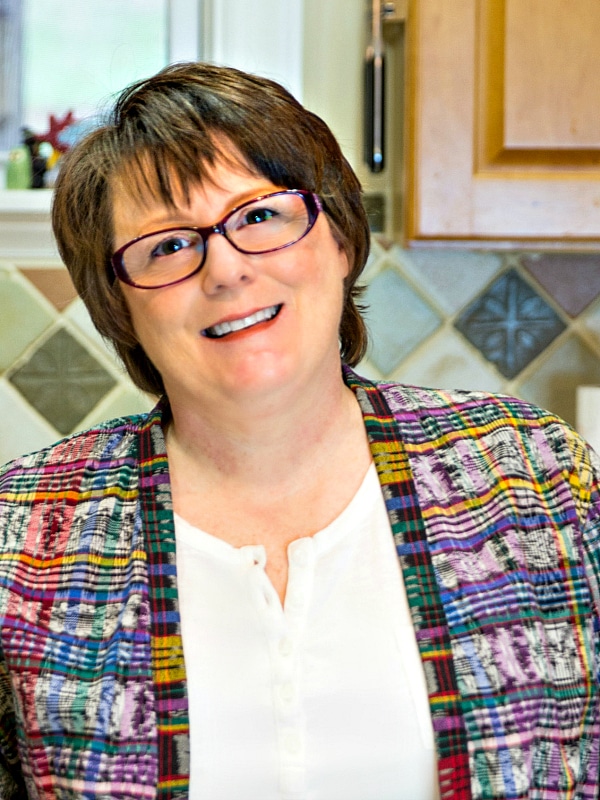 What are my qualifications to teach you baking and pastry? As a former working pastry chef and special educator, I marry my passions for both teaching and for baking into explaining techniques, methods, and developing the best possible recipes. For more info, you can read more about me.
If you'd like to receive new recipes and the occasional newsletter, I'd love for you to sign up for my Inbox Pastry Chef.
Thanks for spending some time with me today. Take care, and have a lovely day.