Most Recent Update:
In my quest to make all the butterscotch things, I have now made this truly spectacular butterscotch cake with butterscotch icing.

Based on a traditional Southern caramel cake, the butterscotch version substitutes a portion of white sugar for dark brown sugar and uses an icing that is really nothing more than rich butterscotch sauce poured over the top.

Basically, we're talking about butterscotch candy on top of brown sugar yellow cake. It is incredibly good, and I really hope you give it a try!

Find my other butterscotch recipes all in one place!

NOTE: The video doesn't show making this cake, but it does show how to make the butterscotch, and that's the trickiest part.
This post contains affiliate links. We are members of the Amazon Affiliate program. For any sale through our links, we earn a small commission. Your price is unaffected. For more information, please see our disclosure policy.
Icing vs Frosting. What's the Difference?
I grew up using the two terms "icing" and "frosting" pretty much interchangeably. But there actually is a difference between the two. Also, between icing and frosting, I'm betting that icing has been around a lot longer than frosting.
An icing is generally a poured cake covering. Think royal icing, powdered sugar glazes, etc.
Frosting generally has air whipped into it and is of a spreadable consistency. And that's why I think it's a newer form of cake covering: it's easier to make things fluffy with some mechanical advantage such as a whisk, a hand mixer, or a stand mixer.
In a nutshell, here's the difference between icing and frosting: icing is poured and frosting is spread.

What Is Butterscotch? What's It Made Of?
Butterscotch is a flavor that is made by cooking brown sugar and butter together. It's a pretty straightforward process, and you can do it one of two ways, although I prefer the second:
Cook the brown sugar and butter together until melted and bubbly and then proceed with your recipe.
or
Cook the brown sugar and butter together until the butter has browned and the sugar has caramelized. Then proceed with your recipe.
The difference here is really in the degree and depth of butterscotch flavor. The longer you cook the brown sugar and butter, the more flavor you develop. And when you get to the stage where the sugar caramelizes, you know you have reached the height (or depth) of butterscotch goodness.
Why Is Butterscotch Called Butterscotch?
There are a couple schools of thought about why butterscotch is called butterscotch. Nobody knows for sure.
Camp One thinks that the "scotch" part of butterscotch means to score the candy before it hardens. (Before butterscotch was a flavor as in butterscotch pudding or butterscotch creme brulee, it was a hard candy).
If you don't score the candy before it cools all the way, it is almost impossible to break–I know! So this answer is a pretty safe bet.
On the other hand, Camp Two thinks that the term literally means to scorch the butter, and browned butter is a part of the flavor profile.
At the end of the day, I honestly don't care where the name came from. I am just adamant that, if you're going to call a recipe "butterscotch," it must contain both brown sugar and butter, ideally caramelized and browned, respectively.
What You'll Need to Make Butterscotch Cake
Cakes, this one included, are usually made from simple ingredients. It's how you put them together that counts.
Raise you hand if you have all the ingredients you need to make this cake right now!
all purpose flour
granulated sugar
dark brown sugar
salt
baking powder
baking soda
butter
whole milk
large eggs
vanilla extract
heavy cream
It's also a good idea to have a nice, heavy bottomed saucepan for butterscotch (and other candy) making as well as 8″ cake pans. You can make this cake with a hand mixer, but a stand mixer is a great investment if you do a lot of baking.
The following are affiliate links. Pastry Chef Online participates in the Amazon Associates program. If you make a purchase through one of my affiliate links, I will receive a small commission. Your price is not affected.

How to Make This Butterscotch Cake
Make the Golden Yellow Cake You'll notice that the procedure for making the cake differs from the usual "cream butter and sugar together until light and fluffy" creaming method.

This cake uses the two-stage method which results in a very tender, melt-in-your-mouth cake with a tight, velvety crumb. You can use the creaming method if you'd like, but the texture and flavor (believe it or not) will be slightly different.

Bake the cakes, let cool, and cut off any domed tops. Since we're icing this cake and not frosting it, you want the smoothest, flattest surface possible, because you can't hide imperfections behind a thick layer of fluffy frosting.

Use a serrated knife to cut off any domed tops so you have nice flat layers. Save the scraps as the chef's treat, or make cake pops.

Make the Butterscotch Icing First, you'll make the butterscotch as described above. Then you'll add the heavy cream once the sugar has caramelized.

Cook this to 237F and then allow to cool for 20-30 minutes, stirring slowly occasionally so you don't create bubbles.

Set a cooling rack over a tray. Since you're glazing the cake, a lot will drip down off the sides. Make sure you're icing/glazing on a rack set over a rimmed tray to catch the excess icing.

Ice the cake. Once the butterscotch has cooled down some and thickened to a nice, pourable consistency, fill and ice the cake.

Pour on about 2/3 cup of glaze in the center of a layer and spread almost to the edges with an offset spatula.

Place the second layer on top of the first and repeat the icing. Once you have the third layer on top, carefully and slowly pour your icing across the top and down the sides of the cake.

Use a small offset spatula to add extra icing to any spots you may miss.

Embrace imperfections. Know that you will never have a completely smooth cake. It's not that kind of cake.

You can get the top nice and smooth and shiny, but the sides are another story. It's okay. It will be incredibly delicious, and you don't want more than a thin coating of butterscotch or it will overpower the more delicate flavor of the cake.

This butterscotch cake is perfect in its imperfections. You're going to love it.
Butterscotch Cake Q & A
Why don't you use butterscotch pudding mix in this cake?
Butterscotch = brown sugar + butter, ideally cooked together for a long time. Butterscotch pudding mix doesn't contain either of those two ingredients, so it is not "real" butterscotch. I prefer to use a portion of brown sugar and the butter in the cake bring a light butterscotch flavor while leaving the intense butterscotch goodness to the icing.
Is this the same as a caramel cake?
While very similar in appearance to traditional Southern caramel cake, this cake is definitely carries butterscotch flavor and not caramel flavor.
Can I make butterscotch frosting instead of butterscotch icing?
You could, but I think the intensely butterscotch flavor–and beautiful, shiny top–of the butterscotch icing is the way to go. If you want to make frosting instead, Consider making and cooling butterscotch sauce (brown sugar, butter, salt, heavy cream–see the cake recipe) and then pouring it slowly into cream as you whip it. This will give you a nice butterscotch flavor in a fluffy, spreadable texture without adding a lot of extra richness the cake really doesn't need. If you go this route, you'll definitely want to store any leftover cake in the fridge and let it come to room temperature before serving.
Credit Where Credit is Due
The base of my butterscotch cake recipe is the golden yellow cake from one of my favorite dessert websites, Chocolate, Chocolate, and More. My friend Joan developed the recipe. After she passed away, her sister made and posted the cake on the site. I'm honored Gail let me play with Joan's cake recipe.
Note I modified the procedure just slightly and substituted brown sugar for one fourth of the granulated sugar in the original recipe. Otherwise, this cake is all Joan.
And for the frosting, I used Jocelyn Adams' (Grandbaby Cakes) recipe for the icing on her Real Deal Southern Caramel Cake as my template. You will see I modified it by increasing the butter and salt, using dark brown sugar rather than granulated sugar, and substituting heavy cream for the evaporated milk.
More Old-Fashioned Cake Recipes
If you're looking for more old fashioned cake recipes, I have gathered a few you might really enjoy.
Other Butterscotch Posts on Pastry Chef Online
Wondering what butterscotch is? I can help.
And read on to find out what the difference is between butterscotch and caramel.
I really hope you love this butterscotch cake, you guys! If you make it, please share a photo with me, either in the PCO Facebook Group or on instagram by tagging @onlinepastrychef and using hashtag #pcorecipe. Thanks, and enjoy!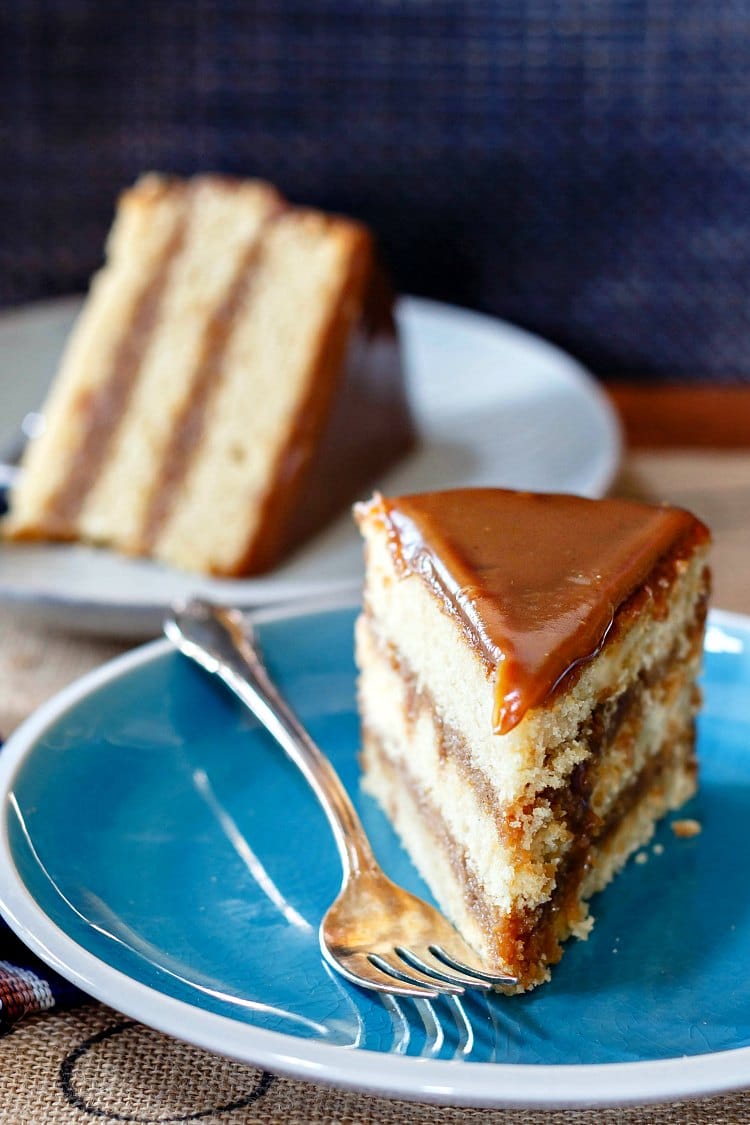 And there you have it, friends. This is one spectacular cake, and everyone who has tried it kind of just moans with pleasure. So, yeah, I think you might need to make this!
Thanks for spending some time with me today. Take care, and have a lovely day.