This homemade butterscotch syrup is exactly what you need to both sweeten your coffee and impart a delightful and real butterscotch flavor.

For all my butterscotch lovers out there, you'll want to add this coffee syrup to your butterscotch repertoire along with my butterscotch ice cream sauce. Sauce for all the things!

For ease of browsing, you can find all my butterscotch recipes in one place. Thanks so much for visiting!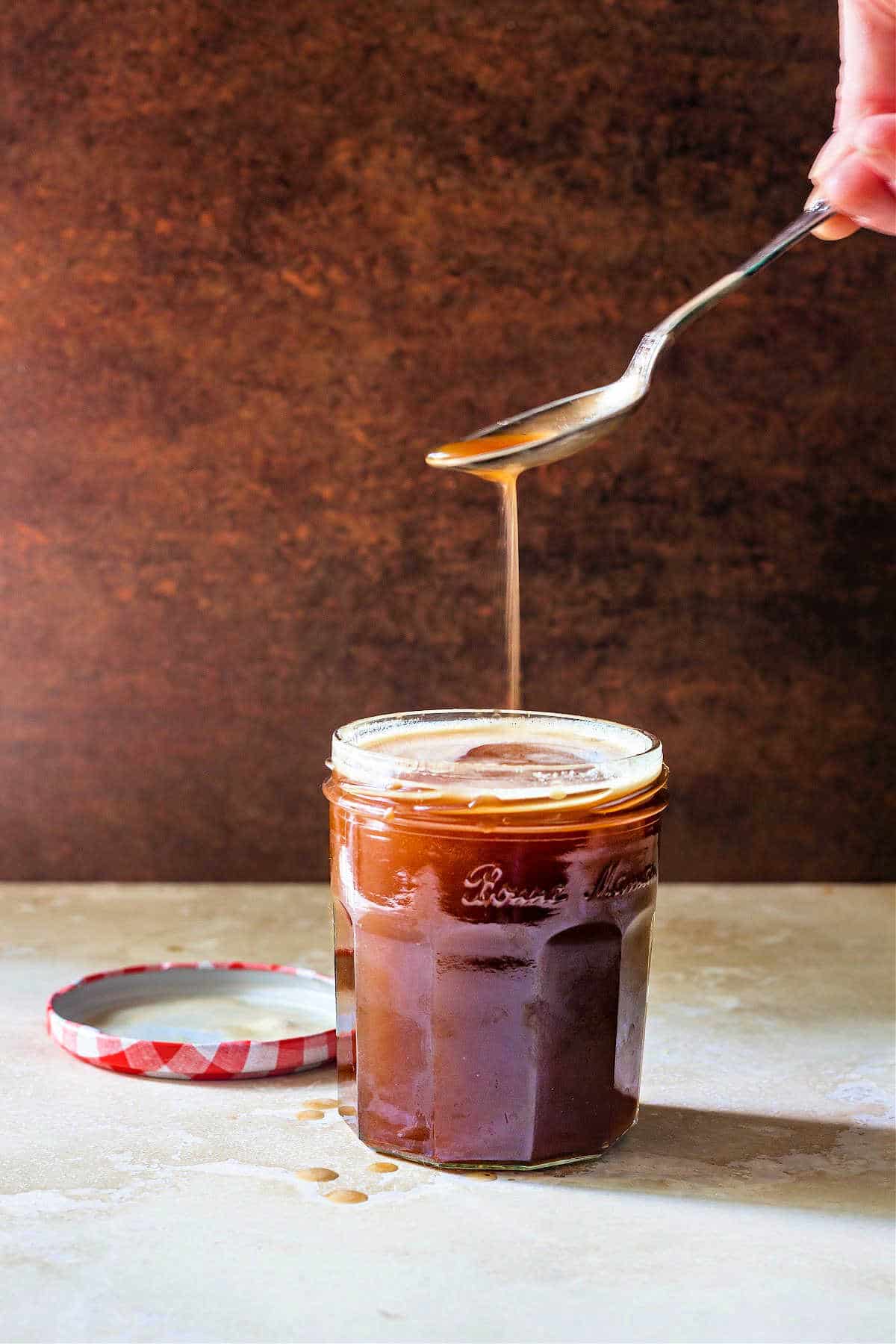 Watch my Butterscotch Syrup web story here.
You'll Love This Butterscotch Syrup If
Friends, I am aware you can purchase coffee syrups. I have some store-bought ones myself.
Not all recipes are for everyone.
But let me tell you why you should make this particular recipe.
You'll love this recipe if:
You want to be in charge of how much cream/milk goes in your coffee. This recipe doesn't contain any dairy other than some butter
You love robust butterscotch flavor
you're not a fan of unnatural or artificial ingredients in your coffee syrups
That last one is a biggie for a lot of people.
Let's just Regard the ingredient list for storebought butterscotch syrup, shall we?
cane sugar
dextrose
fructose
water
natural flavor
caramel color
Source: Amoretti website
By my count, that's three different types of sugars, zero butter, and zero salt. Oh, and zero molasses.
As we all know, and as I say ad infinitum, true butterscotch flavor is made up of sugar plus molasses (or, in modern kitchens, dark brown sugar), butter, and salt cooked together until:
a)the butter browns and
b)the sugar caramelizes
When you do make this recipe, it will help me and other readers if you:
✅Rate the recipes using the stars in the recipe card
✅Leave a review when prompted in the recipe card
✅Leave a comment on the post
Thank you! ❤️
Ingredients You'll Need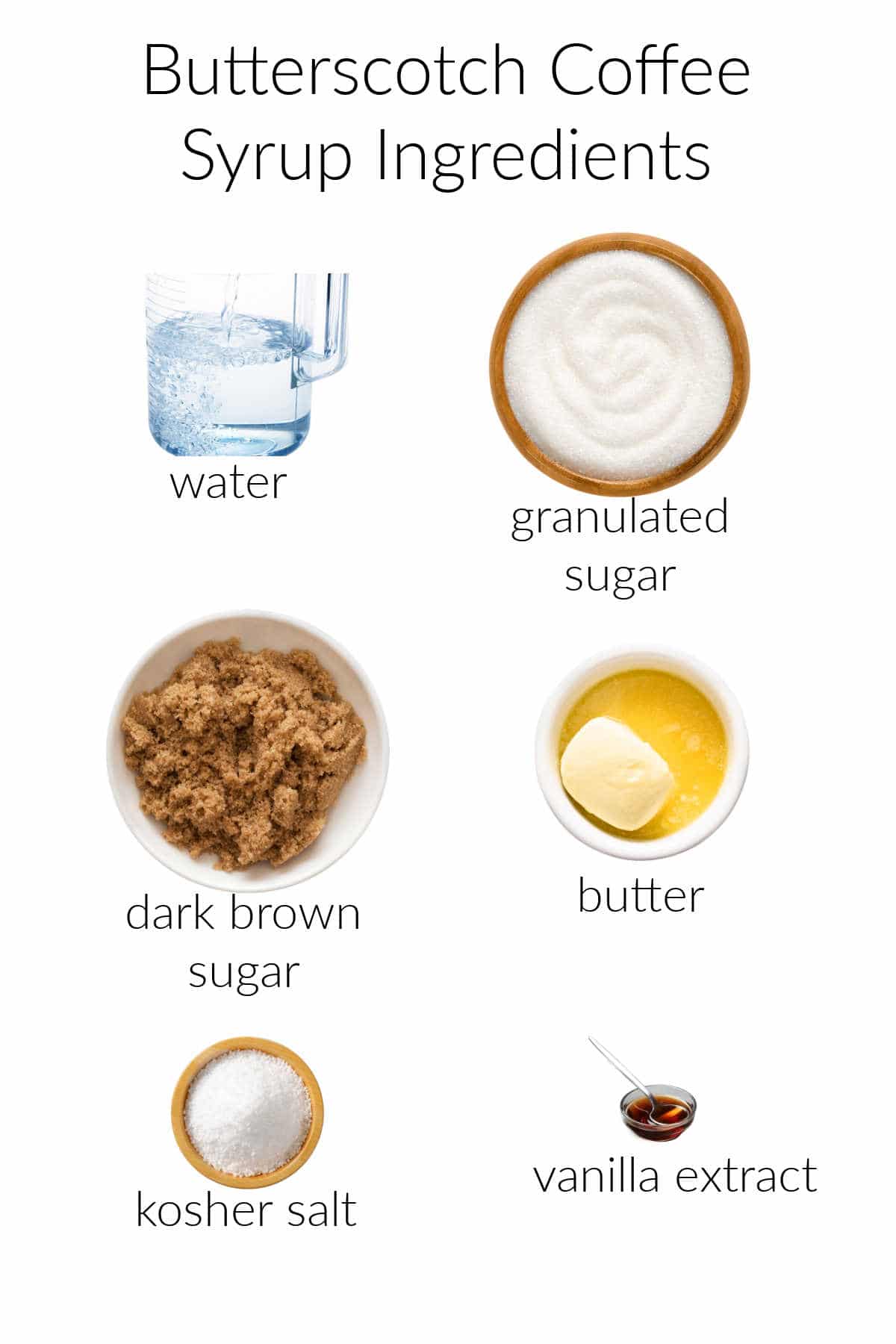 I'm glad you asked!
Let's take a look at my ingredient list:
water: used twice, once to make the simple syrup and again to dissolve the brown sugar to make a smooth butterscotch sauce
granulated sugar: used for sweetness in the simple syrup
brown sugar: gets cooked together with butter and salt plus a bit more water so it dissolves
butter: provides the browned butter portion of the butterscotch flavor
salt: has to be there, because salt is an integral part of the flavor profile
vanilla extract: not strictly necessary, but it does round out the flavor very nicely, and who doesn't like a touch of vanilla in their coffee?
Procedure
This is just a snapshot of how to make this recipe.
For the complete rundown, please scroll to the end of the post, or you can also jump there by clicking here.
Cook the water and granulated sugar together until all the sugar dissolves and the mixture boils for a few seconds. This is your simple syrup. Set aside convenient to the stove.
In a pot with a lid on it, cook brown sugar, water, butter, and salt together over medium heat until the butter has melted and the sugar has dissolved.
Take the lid of the pan and cook mixture to 300-310F.
Carefully stir in half of the simple syrup into the butterscotch to stop the cooking.
Add the rest of the simple syrup and whisk until all the butterscotch has melted and the mixture is smooth.
Whisk in the vanilla and cool.
To Emulsify or Not
One of the issues with using a fatty ingredient (butter) in a water-based sauce is that the fat will rise to the top.
But for a butterscotch syrup, you really need the butter for the flavor.
What's a person to do?
You have two choices. One, just heat the syrup in the microwave and stir well before adding it to your coffee.
You can also use your immersion blender to emulsify it.
The only issue with this is, the emulsion will break once you add it to hot coffee.
If you plan on using this butterscotch syrup to flavor your iced coffee, then go ahead and emulsify it. If you're using it in hot coffee, I wouldn't bother.
Here are two containers with the same syrup. I emulsified the fat into the syrup in the jar on the left.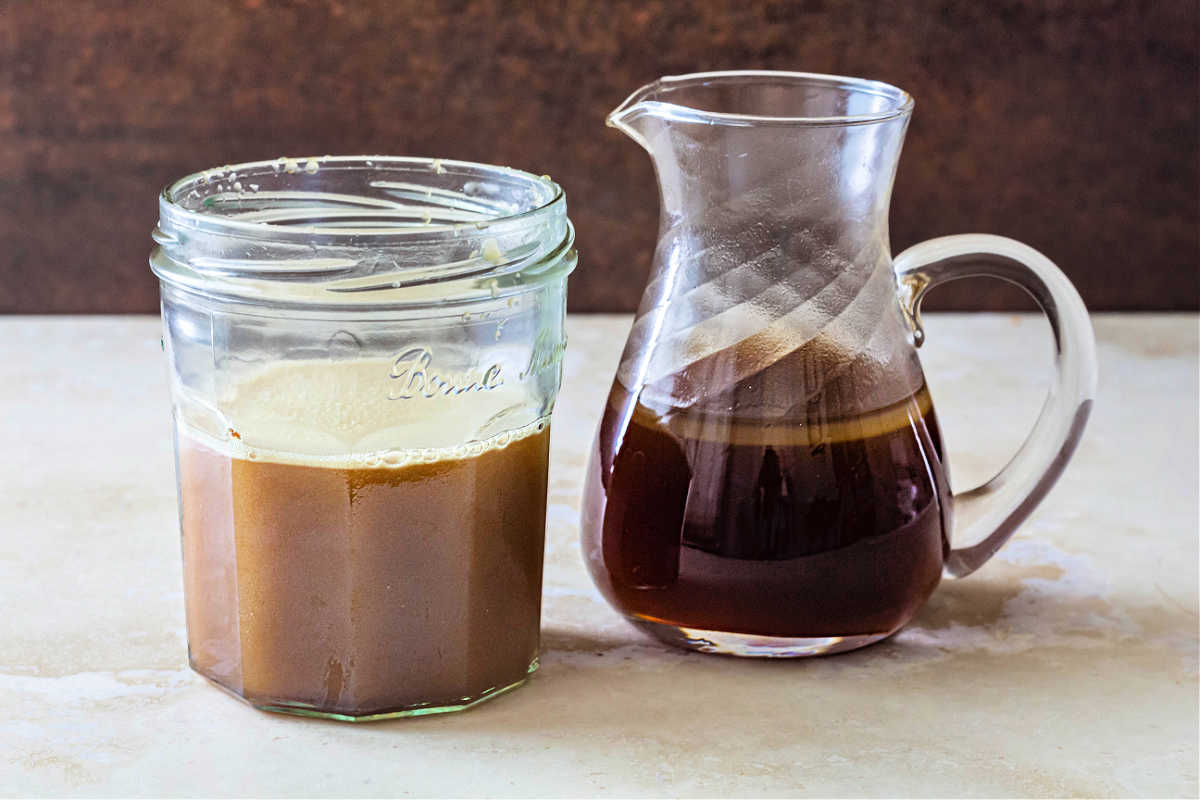 All you have to do to emulsify it is to hit it with your immersion blender for a few seconds. The extreme speed with which that little blade spins is enough to force the butter and water into an emulsion.
Q & A
What if I don't want any butter floating on top?
It's not really noticeable if you're drinking coffee with creamer in it, but you may see a bit of a slick of butter on black coffee. If it bothers you for any reason, refrigerate the syrup until cold and then you will be able to scrape the solidified butter off the top. The rest of the syrup should carry enough butterscotch flavor because of the caramelized sugar and the browned milk solids from the butter.
Is this vegan?
No, this recipe calls for real butter. You can veganize it by using a plant-based butter. Most of those are already salted, so you may be able to cut back on the additional salt by a little bit. Taste the syrup after you finish making it and add a little more salt if you think it needs it. The salt will dissolve into the syrup with no problem.
Is this a gluten-free coffee syrup?
It is. As written, all the ingredients are naturally gluten-free.
How long will this last in the fridge?
Your syrup will stay fresh and delicious for up to 2 weeks in the fridge. If you're like me, you'll end up needing to make more well before those two weeks are up, too.
How Much to Use
One pump of storebought coffee syrup is 10ml, which is roughly 2 teaspoons. 3 "pumps" yields about an ounce of syrup.
If you measure this recipe out in tablespoons, 2 tablespoons is about the equivalent of 3 pumps of syrup.
So now that you know that, if you're a person who asks for a specific number of pumps of your favorite syrup when you go to the coffee shop, you should be able to make your homemade butterscotch latte as sweet (or not) as your favorite barista-made number.
The nutritional information for my recipe is written per tablespoon, or for about 1 1/2 pumps.
What If I Want Butterscotch Iced Coffee
As I've stated above, the butter will solidify on top of the syrup once it's cold. This makes it unsuitable, or at least off-putting, for an iced coffee.
If you want to use the butterscotch syrup for iced coffee, you have two choices:
Once the syrup is chilled, lift off the solidified butter and toss it (or use it for something else). The rest of the syrup will carry enough butterscotch flavor for it to come through in iced coffee
Rather than making the recipe with butter to begin with, just caramelize the brown sugar before adding the simple syrup. Leave the butter out entirely. Then add some butter emulsion and stir it in well.
Of the two options, I prefer option 1, but you can use whichever method works best for you. Enjoy!
Serving Suggestions
Friends, I cannot stress this enough. Put this butterscotch syrup in your coffee. Any coffee you like.
I myself am using it in my whipped coffee, replacing granulated sugar and water with some of this syrup and then whipping it together with instant coffee with my trusty frother before adding hot milk.
Seriously, SERIOUSLY consider adding this to your pumpkin spice latte. Butterscotch and pumpkin are a match made in heaven! I think it'd be especially good when subbed in for the powdered sugar in this pumpkin cream cold brew coffee recipe.
And for a butterscotchy white chocolate mocha, add equal parts of my white chocolate sauce and this butterscotch coffee syrup to your coffee. So good!
Use it to flavor your vanilla ice cream base as a shortcut to make butterscotch ice cream.
Use it as a syrup for pancakes or waffles.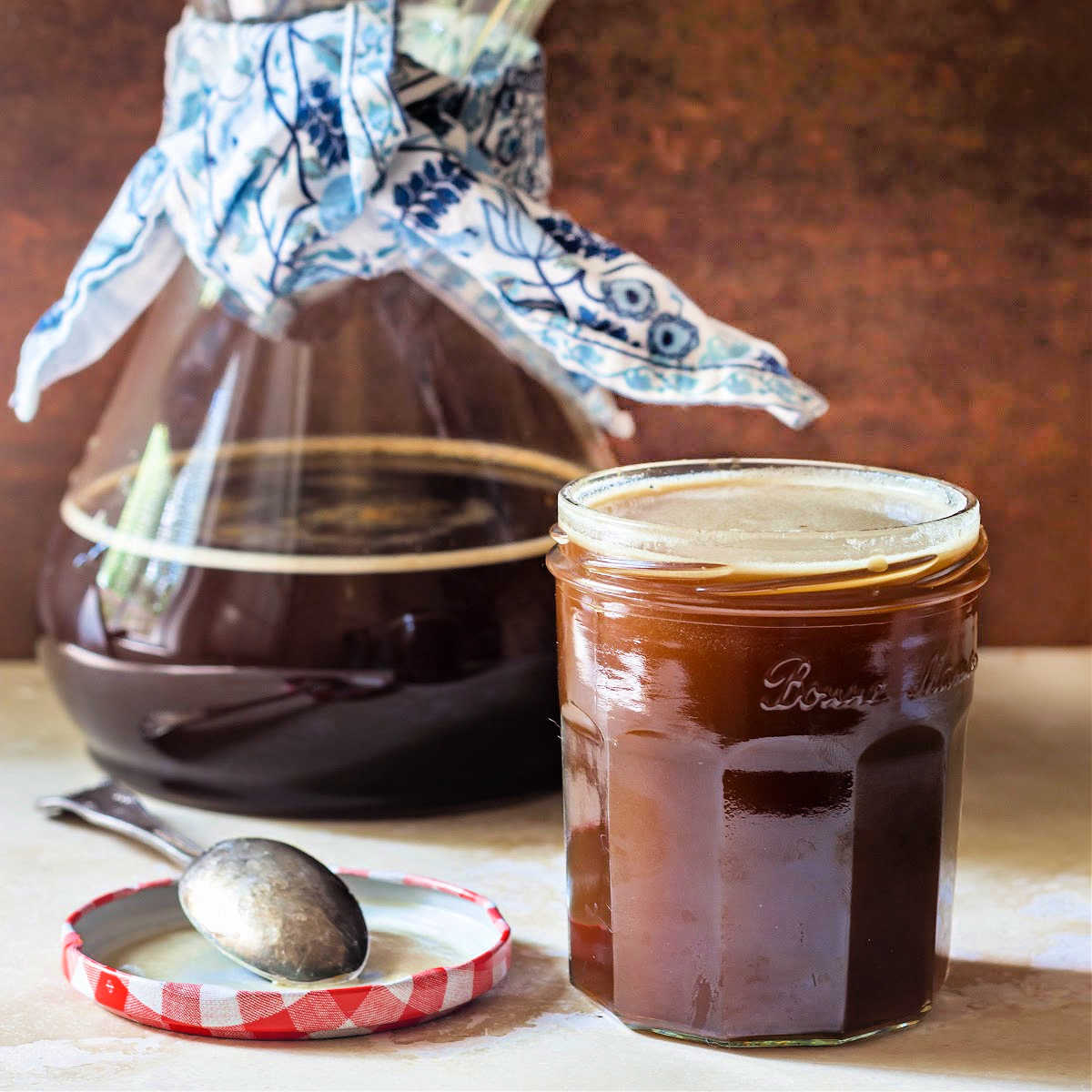 A Note About Measurements
For convenience, consistency, and accuracy, almost all my recipes are written by weight, either in ounces and/or grams, even the liquids.
I strongly encourage you to purchase a kitchen scale and learn to use it.
This is the one I used for years. I love it and highly recommend it:
Best for Home Use
Escali Primo Digital Food Scale
Don't let its small price and small size fool you. The Escali Primo is an accurate and easy-to-use food scale that I have used for years. It's easy to store, easy to use, has a tare function, and easily switches between grams and ounces/pounds for accurate measurements.
This is an affiliate link which means I earn from qualifying purchases. Your price is unaffected.
It would be so helpful to me and to other readers that, when you make a recipe, you rate it and leave a comment. Whether it's a recipe or an informational post, your feedback helps others decide if the post is helpful or if the recipe works as advertised.

If you could leave a star rating, that would be very helpful. Thank you for being here!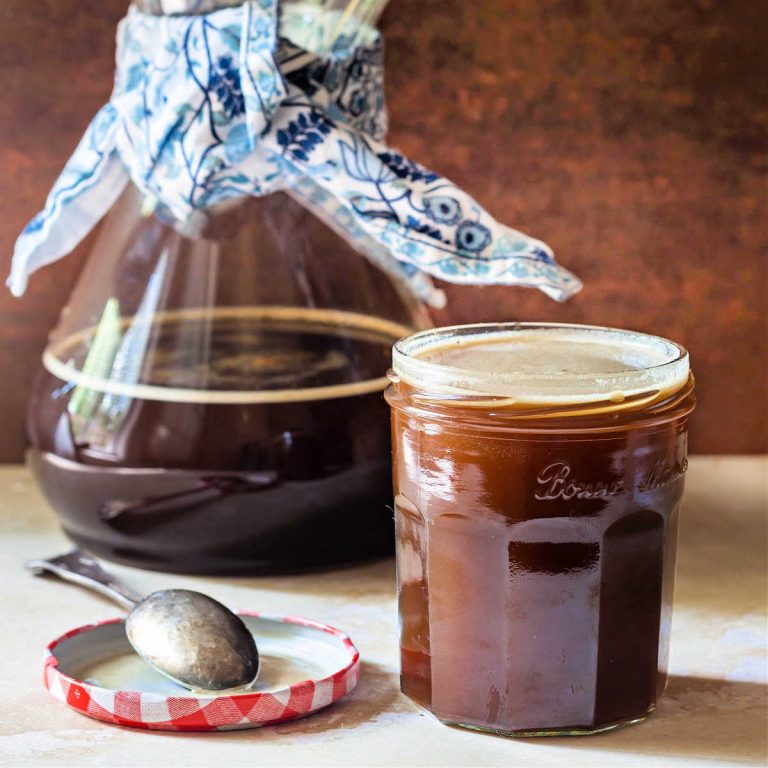 Butterscotch Syrup for Coffee
This butterscotch coffee syrup is the real deal. No artificial flavors. Just pure butterscotch flavor!
Ingredients
8

oz

1 cup water (preferably filtered)

6

oz

just shy of 1 cup granulated sugar

2

oz

about 1/4 cup dark brown sugar

1

oz

2 Tablespoons water (preferably filtered)

½

teaspoon

kosher salt

I use Morton's

1

oz

2 Tablespoons unsalted butter

¼

teaspoon

vanilla extract
Instructions
Make the Simple Syrup

Put the cup of water and granulated sugar in a heavy-bottomed saucepan.

Bring to a boil, stirring a couple of times to make sure all the sugar dissolves.

Allow the mixture to boil for just a few seconds, and then remove it from the heat.

Leave the syrup in the pan and keep it convenient to the stove.

Make the Butterscotch

In a heavy-bottomed saucepan that is taller than you think you'll need, combine the dark brown sugar, the ounce of water, butter, and salt.

Stir a couple of times, and then put the lid on the pan.

Heat over medium heat until all the butter has melted and the sugar is dissolved.

Remove the lid and cook the mixture together until it reaches 300-310F on an instant-read thermometer.

Carefully pour about half the simple syrup into the butterscotch, stirring well. Mixture will bubble up a Very Lot, and the butterscotch may harden.

Once the bubbling has calmed down, add the rest of the simple syrup and whisk over low heat until the butterscotch is completely melted.

Whisk in the vanilla off the heat.

Allow the syrup to cool and then store in an airtight container in the fridge for up to 2 weeks.

Warm the syrup before serving and then stir well to incorporate any butter that is floating on top.
Did You Make Any Changes?
Notes
If you're only going to use this syrup in iced coffee, feel free to emulsify the fat into it using a blender or your immersion blender.
Store in an airtight container for up to 2 weeks.
Nutrition
Serving:
1
Tablespoon
Calories:
66
kcal
Carbohydrates:
14.1
g
Fat:
1.4
g
Saturated Fat:
0.9
g
Cholesterol:
4
mg
Sodium:
85
mg
Sugar:
14.1
g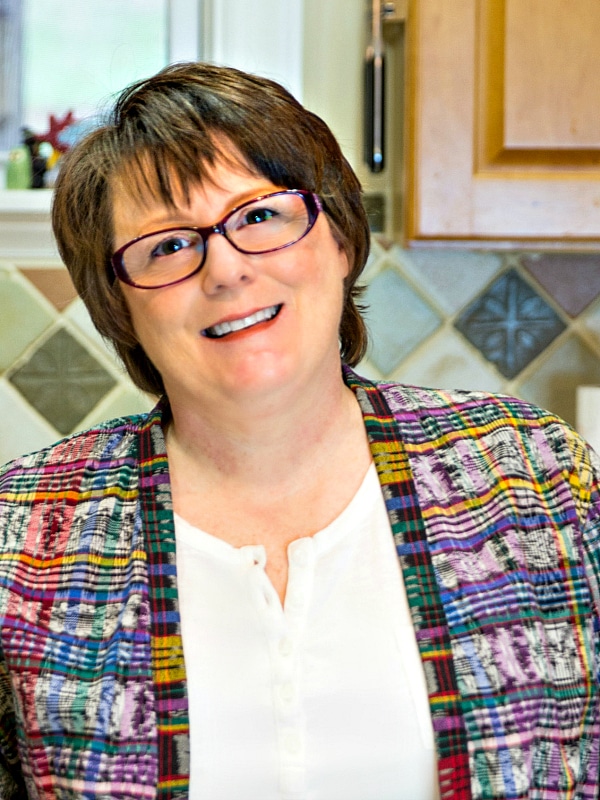 What are my qualifications to teach you baking and pastry? As a former working pastry chef and special educator, I marry my passions for both teaching and for baking into explaining techniques, methods, and developing the best possible recipes. For more info, you can read more about me.
If you'd like to receive new recipes and the occasional newsletter, I'd love for you to sign up for my Inbox Pastry Chef.