You are really going to love these s'mores bars, friends. Rich and gooey with three kinds of chocolate, marshmallow cream, and mini marshmallows all nestled in a crunchy Graham cracker dough, all that's missing is the campfire!

For ease of browsing, you can find all my cookie and bar recipes in one place. Now let's get started with the best s'mores bars you'll ever make!
There Are Other S'mores Bar Recipes Out There. Why Make These?
In a word, balance.
As a kid, who didn't love smooshing a meltingly gooey, toasted marshmallow between 2 Graham crackers and some Hershey bar? No one. That's who.
But, a little goes a long way, because they're just so sweet.
If you make my version, this is what you're getting into:
A not-too-sweet and well-seasoned Graham cracker dough made with a ton of finely-crushed Graham crackers in it.
A filling of semi-sweet chocolate chips, milk chocolate chips, and the obligatory milk chocolate candy bars
Marshmallow cream with some finishing salt sprinkled over it
More Graham dough
A scattering of mini marshmallows and milk chocolate bar segments added halfway through baking
Between the well-salted Graham dough and the extra sparkles of finishing salt, these bars have a more well-rounded flavor. Kids will still wolf them down, and adults may just go back for seconds, too!
If this sounds like your kinda s'mores bar, you can skip straight to the recipe. Otherwise, keep reading for some step-by-step instructions.
When you make them, I have a favor to ask:
When you do make this recipe, it will help me and other readers if you:
✅Rate the recipes using the stars in the recipe card⭐⭐⭐⭐⭐
✅Leave a review when prompted in the recipe card✍️
✅Leave a comment on the post📝
Thank you!😘
How to Make These Layered Bar Cookies
Unlike my angel slices (which I adore), where you have to make every component before layering, with s'mores bars, you'll only have to make the Graham dough.
The rest is just sprinkling on liberal amounts of chocolate chips, pieces of milk chocolate bar, and marshmallow cream. Easy!
If you don't need detailed, step-by-step instructions, you can skip down to the recipe to get started.
Ingredients and Substitutions
Here's everything you will need to make these bars. I'll provide substitutions where they make sense
butter: Provides flavor and texture to the dough
sugar: Not too much, because Graham crackers are already pretty sweet. We use just enough to help make the butter nice and creamy when mixing
kosher salt: Brings the flavors into focus and balances out the sweetness of the bars
vanilla: Rounds out the flavors with floral, woody notes
Graham crackers: I used store-bought, but you could also use homemade Graham crackers. You'll use finely-crushed Graham crackers as well as coarsely broken-up ones.
all-purpose flour: Lends structure and body to the dough, and along with the Graham crackers, it provides bulk
baking powder: Just a little bit so the dough puffs slightly and isn't too dense
dark and milk chocolate chips: Part of the filling. I used half dark and half milk chocolate chips. Using all milk chocolate would make the bars way too sweet (but you can totally do that if you want)
milk chocolate candy bars: You know the kind. They wouldn't be s'mores bars without them. I put some in the chocolate chip layer and then embellish the top with more halfway through baking
marshmallow cream: One whole jar (about 7 ounces). You can use either marshmallow cream or marshmallow fluff. Both will work. To make you own, use Swiss meringue or Italian meringue
mini marshmallows: I will admit that adding mini marshmallows on top along with more candy bar pieces might be considered gilding the lily. But they do toast up nicely, providing a bit of toasted sugar flavor. Plus, they look nice on top.
finishing salt: Use your favorite finishing salt–a smoked salt would be really nice, and sprinkle it on top at the same time you add the second layer of Graham dough. If you don't have a dedicated finishing salt, using a sprinkle more of kosher salt will work just fine.
Procedure
This is a very easy recipe to make.
The only component you have to make from scratch is the Graham dough. The rest is just layering.
Layers
Half of the Graham dough
Milk chocolate chips, dark chocolate chips, and milk chocolate candy bar (or any combination of those ingredients)
Marshmallow cream/fluff
The rest of the Graham dough
Mini marshmallows and milk chocolate candy bar pieces, both added halfway through baking
First, you'll make the dough.
Jenni Says: You can use a food processor to grind up your Graham cracker crumbs, or just do what I did and put them in a zip-top bag and roll them into fine crumbs with a rolling pin.
In the first photo in the collage above, you'll see one bowl with sugar, butter, salt, and vanilla, another bowl with all-purpose flour, finely crushed Graham crackers, and baking powder.
There's also a plate with an egg and coarsely broken Graham crackers on it.
This is a simple, creaming method dough, so here's how that goes:
Cream butter, sugar, salt, and vanilla together until creamy–it doesn't have to be light and fluffy.
Add the egg and cream that in very well.
Dump in the flour mixture and mix it in with a hand mixer or with your spatula.
Mix in the coarsely broken Graham cracker pieces.
Once you have the dough made, let the layering begin! Note also that the bars are baked in stages.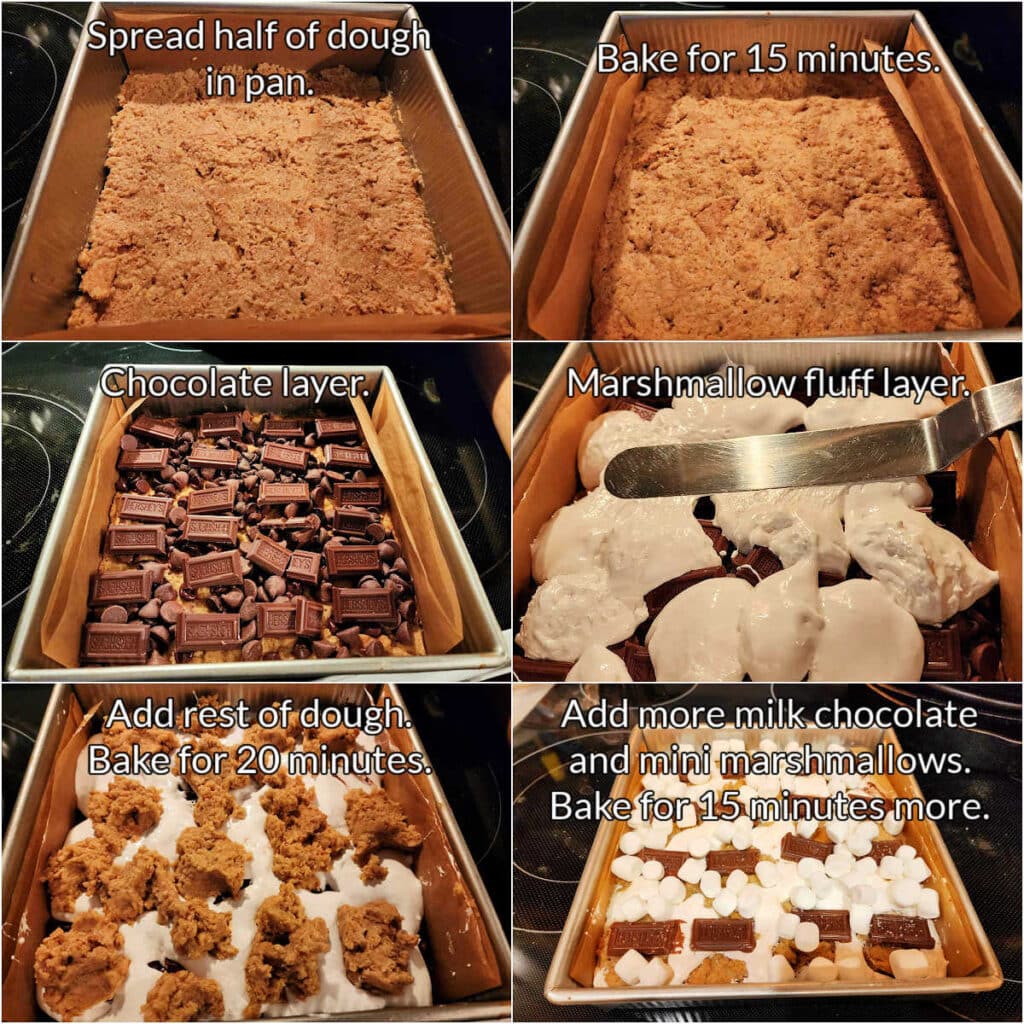 The dough will be fairly sticky, but it's easy to spread if you spray a little pan spray onto an offset spatula.
Once you have half the dough spread in the pan, bake it for 15 minutes. This gives the bottom layer a headstart on baking through and getting crisp on the bottom.
It is not strictly necessary, but you will have a crisper crust if you bake it before adding more layers.
Once the bottom crust is baked, go ahead and layer in everything else. No need to wait for the crust to cool. It's going right back in the oven anyway!
Add the chocolate layer, and then blob on the marshmallow cream. Spray your offset spatula with a little pan spray, or get it wet, and spread the cream out to cover all the chocolate.
then, blob on the rest of the Graham dough. It's fine to leave it in pieces–no need to spread it.
Bake the bars for about 20 minutes, and then add the mini marshmallows and candy bar pieces.
The mini marshmallows will brown (but not too much since you waited to add them) and the candy will melt and hold its shape.
Jenni Says: I used 16 segments of chocolate on top so each square I cut would have a whole piece of chocolate more-or-less in the centers.
Variations
The easiest way to make variations is to add different kinds of candy to the chocolate layer.
Consider using some peanut butter chips or butterscotch chips. Some crumbled toffee or even peanut brittle would be tasty as well.
You can also use that layer to use up some Halloween candy. For example, Reese's cups would be a most welcome layer!
More Bar Cookie Recipes
If bar cookies are your thing, you may like my mom's cranberry raisin bars. They make a great after-school or lunchbox snack.
And don't forget everyone's favorite bar cookie: brownies! My cocoa powder brownies are rich and fudgy.
You may also consider making these chocolate chip cookie bars made with olive oil rather than butter so they're dairy free.
Questions?
A Note About Measurements
For convenience, consistency, and accuracy, almost all my recipes are written by weight, either in ounces and/or grams, even the liquids.
I strongly encourage you to purchase a kitchen scale and learn to use it.
This is the one I used for years. I love it and highly recommend it:
Best for Home Use
Escali Primo Digital Food Scale
Don't let its small price and small size fool you. The Escali Primo is an accurate and easy-to-use food scale that I have used for years. It's easy to store, easy to use, has a tare function, and easily switches between grams and ounces/pounds for accurate measurements.
This is an affiliate link which means I earn from qualifying purchases. Your price is unaffected.
It would be so helpful to me and to other readers that, when you make a recipe, you rate it and leave a comment. Whether it's a recipe or an informational post, your feedback helps others decide if the post is helpful or if the recipe works as advertised.

If you could leave a star rating, that would be very helpful. Thank you for being here!
S'mores Bars Recipe
These s'mores bars balance sweet chocolate and marshmallow cream with a not-too-sweet Graham dough and a sprinkle of finishing salt so that kids and adults will both love them!
Ingredients
For the Graham dough
3

oz

unsalted butter, softened

3/4 stick, 6 Tablespoons, or 85 grams

2.5

oz

granulated sugar

1/3 cup or 71 grams

½

teaspoon

kosher salt

1.5 grams

1

teaspoon

vanilla extract

1

egg

4.25

oz

finely ground/crushed Graham crackers

1 cup, or 120 grams

3

oz

all-purpose flour

2/3 cup, or 85 grams

½

teaspoon

baking powder

5 grams

2

sheets

Graham crackers, coarsely broken

28 grams
The Rest
3

oz

dark chocolate chips

1/2 cup, or 85 grams

3

oz

milk chocolate chips

1/2 cup, or 85 grams

3 ⅓

milk chocolate candy bars, 1.55 oz each

divided use

7

oz

marshmallow cream or fluff

1 jar, or 198 grams

heavy pinch

finishing salt

to taste

1

oz

mini marshmallows

2/3 cup, or 28 grams
Instructions
Place a rack in the center of the oven and heat the oven to 350F/180C.

Line an 8" square baking pan with parchment so it fits snugly in the bottom of the pan and extends up 2 sides of the pan.
For the Graham Dough
Whisk together the finely crushed/ground Graham crackers, all-purpose flour, and baking powder. Set aside.

Using a hand mixer, stand mixer, or by hand, cream the butter together with the sugar, salt, and vanilla until smooth and creamy.

Thoroughly mix in the egg.

Mix in the flour mixture until no loose flour remains.

Fold in the coarsely broken Graham crackers.

Spread roughly half the dough evenly into the prepared pan. Bake for 15 minutes.
The Rest
Evenly sprinkle the two kinds of chocolate chips onto the still-hot crust. Add 24 segments of the milk chocolate candy bar.

Add blobs of the marshmallow cream all over the chocolate layer and, using a wet or pan-sprayed offset spatula, spread it to cover the chocolate.

Sprinkle this layer with a good, heavy pinch of finishing salt.

Crumble the rest of the Graham dough evenly over the marshmallow layer, and bake for 20 minutes.

Sprinkle on the mini marshmallows and arrange 16 milk chocolate squares on top so that each square you cut will have one full piece of chocolate in the centers.

Bake an additional 15 minutes.

Let the bars cool in the pan for 10 minutes. Use an offset spatula or thin knife to go around the sides of the bars to make sure they aren't sticking to the pan, then use the parchment to lift or slide the bars out onto a cooling rack.

Cool to warm and cut into 16 equal pieces using a pan-sprayed pizza cutter.

Serve warm or at room temperature. Store leftovers in airtight containers at room temperature for up to 5 days. Freeze for longer storage.
Did You Make Any Changes?
Notes
Variations
Add any flavor of chocolate chip or candy chips/bars to the chocolate layer. Peanut butter chips, butterscotch chips, Reese's cups, Snickers, etc, would all make great additions.
Nutrition
Serving:
1
bar
Calories:
262
kcal
Carbohydrates:
37.6
g
Protein:
3.1
g
Fat:
11.1
g
Saturated Fat:
6.9
g
Cholesterol:
26
mg
Fiber:
1
g
Sugar:
23.4
g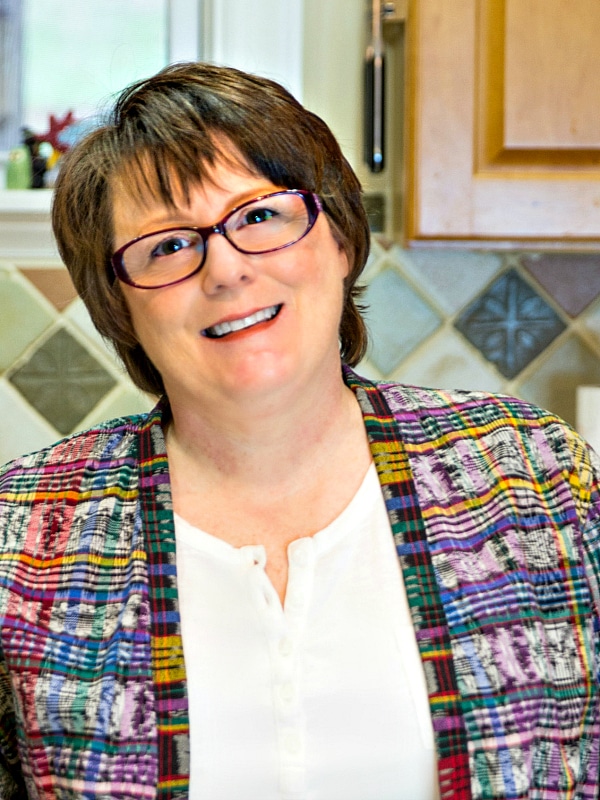 What are my qualifications to teach you baking and pastry? As a former working pastry chef and special educator, I marry my passions for both teaching and for baking into explaining techniques, methods, and developing the best possible recipes. For more info, you can read more about me.
If you'd like to receive new recipes and the occasional newsletter, I'd love for you to sign up for my Inbox Pastry Chef.
Thanks so much for spending some time with me today.
I hope you enjoy the s'mores bars. I really do think they're the best!
Take care, and have a lovely day.