Easy to make and elegant to serve, classic chocolate mousse is delicious and is a great dessert to make for a crowd.

If you've ever thought that making rich chocolate mousse is outside of your comfort zone, I'm here to help you get comfortable with making it.

You may also enjoy my butterscotch mousse or coffee mousse recipes.

For ease of browsing, you can find all my chocolate recipes in one place. Now let's get down to business.
Chocolate Mousse, at a Glance
✔️Skill Level: Intermediate
✔️Skills (some are linked to technique posts): making custard, tempering eggs, whipping cream, folding
✔️Type: Individual dessert
✔️Number of Ingredients: 7
✔️Prep Time: 10 minutes
✔️Cook Time: 10 minutes
✔️Yield: 10 1/2 cup servings

Related Posts: Why Is My Chocolate Mousse Grainy?
Jump Straight to the Recipe
Is Chocolate Mousse Really Fancy?
Believe it or not, chocolate mousse is a "kitchen dessert." That means that it was a dessert that can be made in a small commercial kitchen in a busy French bistro, even during the dinner rush.
In other words, chocolate mousse doesn't need to be made in a fancy, cold pastry kitchen.
So, while Americans tend to think of it as a fancy dessert, what it really is is three French staples blended together:
creme Anglaise
chocolate
softly whipped cream
Let your guests think you're fancy, but know that making this classic French dessert is pretty straightforward.
Why Make This Recipe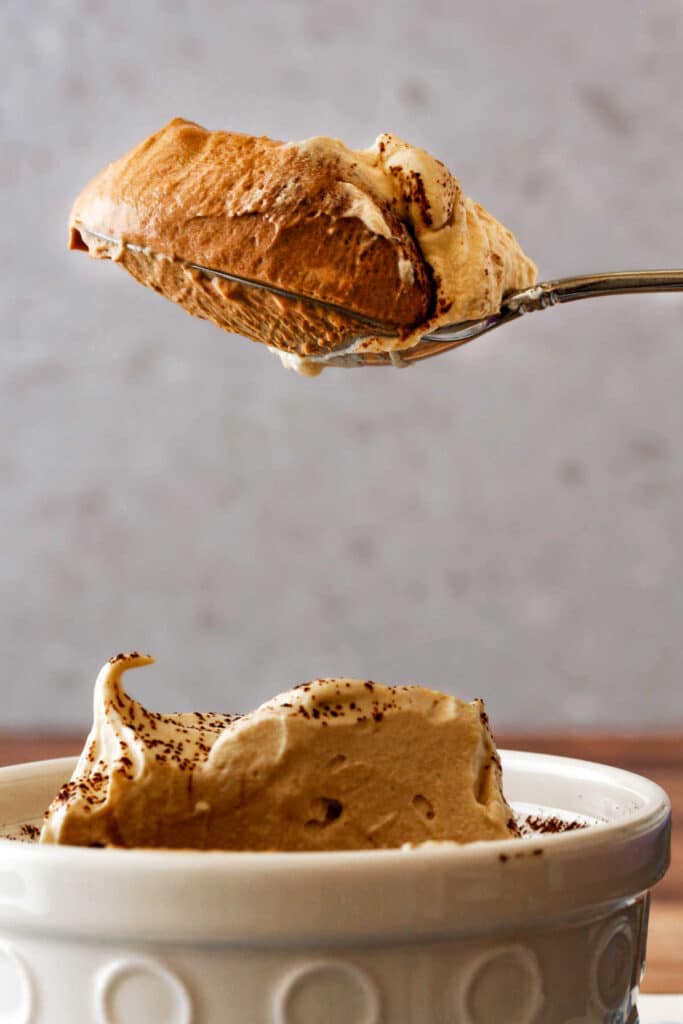 Rather than a super light and foamy texture, this chocolate mousse is creamy and as smooth as silk.
Since it has a fair bit of whipped cream folded in, it definitely has some bubbles too, but they are very, very fine, tiny bubbles that let this mousse melt in your mouth.
As opposed to a traditional mousse you might get in a bistro, this one has cooked egg yolks in it and doesn't contain any whipped whites.
Many mousse recipes call for you to cook a sugar syrup to cook whipped egg yolks, but that can be kind of fussy. Making a custard also results in cooked egg yolks without having to use a thermometer.
It stays soft and spoonable for several days making it a great make-ahead dessert.
If this sounds like your cup of tea, I have a favor to ask:
When you do make this recipe, it will help me and other readers if you:
✅Rate the recipes using the stars in the recipe card⭐⭐⭐⭐⭐
✅Leave a review when prompted in the recipe card✍️
✅Leave a comment on the post📝
Thank you!😘
How to Make It
If you don't need step-by-step directions and just want to get on with it, you can skip straight to the recipe.
Ingredients and Substitutions
Here are all the ingredients you'll need to make a basic, custard-based chocolate mousse.
chocolate: I used 50% dark chocolate chips and 50% milk chocolate chips. Other options are chopped chocolate bars or couverture if you are feeling fancy
heavy cream: The dairy in the custard, provides milk solids, some sweetness from lactose, and butterfat
whole milk: Or you can use half and half in place of both the heavy cream and whole milk
granulated sugar: You don't need a lot, and if you use sweeter chocolate, like all milk chocolate, you may find you don't need any additional sugar at all
corn syrup: Provides a little sweetness, but the main purpose is for texture and mouthfeel. You can leave it out if you are opposed to using corn syrup, and you can also substitute honey, Lyle's golden syrup, or maple syrup, knowing that those substitutions will yield a different flavor. Do not just omit corn syrup without making a substitute. The liquid sugar lends itself to the mouthfeel, and leaving it out altogether will result in a mousse that sets up a bit too firmly.
egg yolks: Yolks allow the custard to thicken, add fat to carry flavor, and contribute emulsifiers for a smooth mousse that won't weep. I call for a range of 4-6 yolks. You could even go as high as 8 yolks for a full recipe. I used 5 and was very pleased with the richness, but you may want to tweak it to your own preference
kosher salt: Salt brings all the flavors into focus and counteracts any bitterness from the chocolate. Please don't leave it out.
vanilla extract: A full recipe calls for 1 Tablespoon. You can use liquor like rum here, or use a liqueur for some or all of the vanilla. Again, feel free to tweak your additions to your preference
Procedure
In a nutshell, here's how you make chocolate mousse:
Make custard
Pour over chopped chocolate
Fold together with whipped cream
To Make the Custard
This is a classic, French technique: heat sugar and dairy together, then temper the egg yolks with about half of the hot dairy.
Pour the heated yolks into the pan and continue to cook until the custard has thickened, then pour it through a fine mesh strainer into the bowl of chopped chocolate.
Jenni Says: Be sure to scrape the back of the strainer to get all the custard into the bowl with the chocolate.
Adding the Chocolate
Pour the hot custard over the chocolate, allow it to sit for a minute or two, and then stir everything together until you end up with a super rich, shiny chocolate custard.
Let it cool to room temperature, which should take about 20-30 minutes.
If it's cold in your kitchen, heat the bowl of chocolate in the microwave for about 30 seconds, just to make sure it all melts once you add the custard.
Finishing the Mousse
A full recipe requires 1 1/2 cups or 12 oz of heavy cream.
You can whip it by hand, which is what I did, or you can use a hand mixer or stand mixer.
The most important thing to remember is do NOT take the cream past medium peaks. You want it to hold its shape and not be runny, but it doesn't need to stand up in peaks.
Once you have the cream nicely whipped, pour in the chocolate custard mixture.
Whisk the two together and then finish with a spatula, folding it until no streaks remain. Et voila: French bistro-style chocolate mousse!
Variations
Vary the flavor and chocolate intensity of this mousse in a few ways:
Add zest or spices to the custard to add flavor. Orange zest would be lovely as would cinnamon
Make it more intense (and firmer) by reducing the amount of cream you fold in from 340 grams/12 oz to 227-284 grams/8-10 oz. Or make it with 450 grams/16 oz of cream for a softer set and less-instense flavor
Switch up the chocolate you use. Use all dark chocolate, all milk chocolate, a good quality chocolate orange or mint chocolate bar, etc.
Use different liqueurs in place of or in addition to the vanilla. Likely suspects include Frangelico, Amaretto, Creme de Menthe, Bailey's Irish Cream, Kahlua, Chambord, or Cointreau. You could also introduce a few drops of orange oil, peppermint oil, instant coffee, etc.
Introduce other flavors in the garnish. For example, I added instant coffee to the heavy cream I whipped to garnish my mousse. You could add some caramel sauce to it, add a little cocoa powder or even freeze-dried fruit powder.
Once you have the basic technique down: make custard, mix with chocolate, fold together with whipped cream, I encourage you to try any of these ideas or come up with your own.
Pro Tips
I hope I've given you all the information you need to be confident in making chocolate mousse. Here are a couple of points to remember:
Do not overwhip your cream. Stop whipping once it gets to soft or medium peaks. If you take it to stiff peaks, you run the risk of overwhipping it while you're mixing it together with the chocolate custard, and this could result in grainy mousse.
Think about the occasion for which you'll serve the mousse. Is it fancy? Think about cut glass or small wine glasses. For less formal presentation, use espresso mugs, teacups, or ramekins. You can also keep the mousse in a large container and scoop it to serve.
Chocolate Mousse Q & A
What can I use in place of corn syrup?
You can substitute Lyle's Golden syrup, maple syrup, or honey for the corn syrup. Just note that any of those options will add a more assertive flavor.
How long will it keep in the fridge?
Covered, your mousse will stay lovely and creamy for up to 4 days. Because of the egg yolks, I wouldn't push it past 4 days. I really don't think it'll be a problem–it disappears pretty quickly!
Can I freeze chocolate mousse?
Yes! It freezes quite well. Freeze individual portions well-wrapped in plastic wrap and foil for up to 2 months. Thaw in the fridge overnight and then let temper on the counter for 30-45 minutes before serving. Store the remainder in the fridge. Don't refreeze.
Serving Suggestions
In the above photo, I've garnished the mousse with whipped heavy cream with a little sugar, instant coffee, a pinch of salt, and vanilla extract. Then I used a small mesh strainer to dust some cocoa powder on top.
You could also really gild the lily by topping it with some white chocolate sauce or even some homemade chocolate syrup.
This mousse is so lovely and creamy-dense it would make a great cake filling. I encourage you to play with that idea, maybe to fill a chocolate mayonnaise cake or a 1-2-3-4 cake.
Have the cakes ready and spread the mousse on as soon as you've finished making it. Then it can set up in the fridge as a creamy, chocolate surprise in the middle of your cake!
Other Mousse and Custard Recipes
If you're all about the creamy goodness, I have got you covered.
You may like to try my dark chocolate pudding, which is very similar to the base of this mousse but without eggs.
My caramel pumpkin mousse is a light and elegant alternative to pumpkin pie at the holidays.
If you love classic French desserts, consider making creme brulee or some pastry cream. Or for even more decadence, try my creme brulee cheesecake. Such a treat!
Questions?
If you have a question about this post and it is not time-sensitive, you can leave your question in the comments section here under the post.
If your question is more time-sensitive, the best way to reach me is by email. I will get back to you in under four hours unless I'm sleeping.
To email, simply click the button below:
A Note About Measurements
For convenience, consistency, and accuracy, almost all my recipes are written by weight, either in ounces and/or grams, even the liquids.
I strongly encourage you to purchase a kitchen scale and learn to use it.
This is the one I used for years. I love it and highly recommend it:
Best for Home Use
Escali Primo Digital Food Scale
Don't let its small price and small size fool you. The Escali Primo is an accurate and easy-to-use food scale that I have used for years. It's easy to store, easy to use, has a tare function, and easily switches between grams and ounces/pounds for accurate measurements.
This is an affiliate link which means I earn from qualifying purchases. Your price is unaffected.
It would be so helpful to me and to other readers that, when you make a recipe, you rate it and leave a comment. Whether it's a recipe or an informational post, your feedback helps others decide if the post is helpful or if the recipe works as advertised.

If you could leave a star rating, that would be very helpful. Thank you for being here!
Chocolate Mousse Recipe
This rich yet light chocolate dessert is a French classic. Making it requires little time, and the result is a dessert equally at home at a picnic as at a fancy dinner party. My recipe is a restaurant chocolate mousse, and I've scaled it down to serve 10. You can also cut the recipe in half with no issue.
Ingredients
250

grams

chocolate

9 ounces or about 1 1/2 cups, I used a mixture of Ghirardelli semi-sweet and milk chocolate chips
For the Custard
100

grams

heavy cream

3.5 oz or a scant 1/2 cup

100

grams

whole milk

3.5 oz or a scant 1/2 cup

50

grams

granulated sugar

1.8 oz or about 1/4 cup

50

grams

corn syrup

1.8 oz or 1/3 cup, sub Lyle's golden syrup, maple syrup, or honey

3

grams

salt

1 teaspoon Diamond Crystal or a slightly generous 1/2 teaspoon of Morton's kosher salt

4-6

egg yolks

I used 5 yolks, but you can make it slightly less (or more) rich by using 4 or 6

1

Tablespoon

vanilla extract and/or liqueur

14 grams
To Make the Mousse
340

grams

heavy cream

12 oz or 1 1/2 cups, cold
Instructions
Chop the chocolate (if in bars) and place in a large, heat-proof bowl convenient to the stove. If it is cold in your kitchen, heat the chocolate in the microwave for about 30 seconds to ensure it melts completely. Place a fine mesh strainer over the bowl of chocolate.
For the Custard
In a heavy-bottomed saucepan, combine the heavy cream, whole milk, granulated sugar, corn syrup, and salt.

Add the yolks to a medium bowl and whisk to break them up. Set aside, convenient to the stove.

Heat the dairy mixture over medium-high heat, whisking frequently, until it steams.

Pour about half the hot dairy into the egg yolks, whisking constantly. Then pour the yolk mixture back into the pot. Whisk and whisk. the mixture will get foamy. Continue to cook over medium heat, whisking constantly, until the mixture thickens and most of the foam dissipates.

Immediately pour the custard through the fine mesh strainer into the chocolate. Press the mixture through, and don't forget to scrape the back of the strainer to get all the custard into the chocolate.

Allow the custard to sit for about a minute, and then whisk until you have a shiny chocolate custard with no lumps and no streaks of yellow. Stir in the vanilla and/or liqueur. Let this mixture cool for 20-30 minutes until it is room temperature.
To Make the Mousse
In a large bowl with a whisk, or using a hand mixer or stand mixer, whip the heavy cream until it reaches soft peaks. Do not take it to more than medium peaks.

Scrape the chocolate custard into the bowl of heavy cream, and gently whisk the two mixtures together until most streaks are gone. Finish up by folding with a large spatula until there are no streaks remaining.

Scrape into ramekins/bowls/containers of your choice, or leave it in one big container and scoop to serve. Either way, refrigerate for 4 hours to let the mousse set up. Remove from the fridge about 30 minutes before serving.

Serve plain or with some lightly sweetened whipped cream. Store leftovers in the fridge, covered, for up to 4 days.
Did You Make Any Changes?
Notes
A Note About the Corn Syrup
You may substitute with any liquid sugar you would like, but do not omit it altogether. The thick syrup is important to the final texture of the mousse, and without it, it could set up too firmly. It will still be tasty, but it won't be quite as ethereal.
Variations
The two easiest ways to change the flavor are to use different types of chocolate and/or different types of liqueurs. Hazelnut liqueur like Frangelico, almond liqueur like Amaretto, Bailey's, Creme de menthe, Chambord, and Grand Marnier or Cointreau are all excellent choices for liqueurs. You may use vanilla in conjunction with liqueur, use vanilla alone, or use only liqueur.
Nutrition
Serving:
4
oz
Calories:
323
kcal
Carbohydrates:
21
g
Protein:
4
g
Fat:
27
g
Saturated Fat:
16
g
Polyunsaturated Fat:
1
g
Monounsaturated Fat:
8
g
Cholesterol:
129
mg
Sodium:
143
mg
Potassium:
139
mg
Fiber:
1
g
Sugar:
19
g
Vitamin A:
767
IU
Vitamin C:
0.3
mg
Calcium:
57
mg
Iron:
1
mg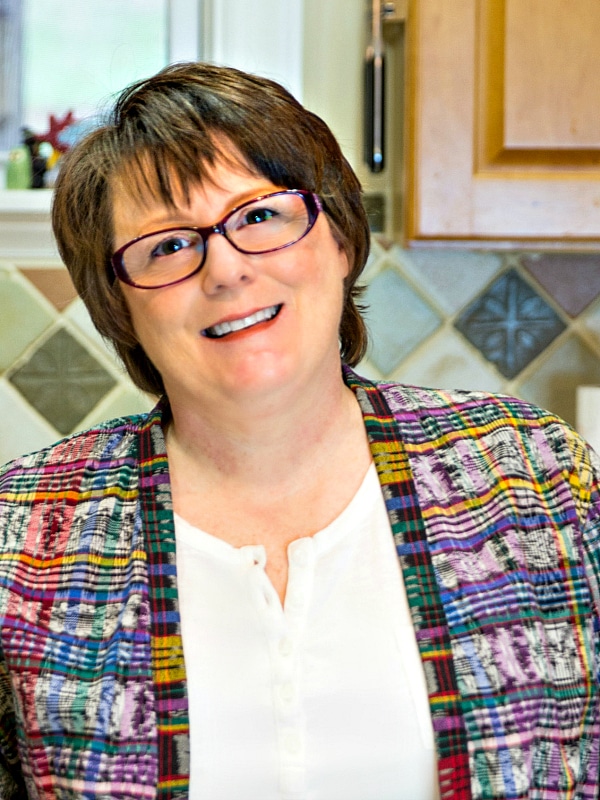 What are my qualifications to teach you baking and pastry? As a former working pastry chef and special educator, I marry my passions for both teaching and for baking into explaining techniques, methods, and developing the best possible recipes. For more info, you can read more about me.
If you'd like to receive new recipes and the occasional newsletter, I'd love for you to sign up for my Inbox Pastry Chef.
Thanks so much for spending some time with me today.
I hope you enjoy the chocolate mousse.
Take care, and have a lovely day.