Love fudgy brownies and you don't happen to have any unsweetened chocolate on hand? Don't worry, because you can make cocoa powder brownies instead!

I'll give you some basic rules to follow when your goal is fudgy and not cakey brownies, too.

For easy browsing, you can find all my cookies and bars here. Thanks for stopping by!
More chocolate treats to explore: strawberry swirl brownies, chocolate mousse, and Mom's chocolate pound cake.
Watch my best fudgy brownies web story here.
Fudgy Brownies, At a Glance
✔️Skill Level: Beginner
✔️Skills: Whipping, Mixing, Folding
✔️Type: Brownies/Bar Cookies
✔️Number of Ingredients: 8
✔️Prep Time: 15 minutes
✔️Cook Time: 40 minutes
✔️Yield: 20 brownies

Jump Straight to the Recipe
How Chocolatey Is Your Chocolate?
When I want brownies but don't have any bar chocolate, I turn to cocoa powder.
And that's what you should do, too.
Why not substitute semi-sweet or bittersweet chocolate or unsweetened? I'll tell you.
The more sugar in chocolate, the less chocolaty the chocolate is. That leads to boring brownies.
For those of you who scratch your head and say, "Come again?" think of it this way.
Each ounce of a chocolate bar is made up of a certain proportion of ingredients.
The more of one ingredient you squeeze into each ounce, the less of another.
In this instance, sugar squeezes out chocolate liquor. And that's not good for anyone.
For maximum chocolate goodness, choose the concentrated chocolate flavor of cocoa powder.
Cocoa Powder Brownies
Rather than do Math and Leave out Sugar and such, I decided to take the path of least resistance and go with cocoa powder brownies.
Cocoa powder, like unsweetened chocolate, doesn't contain any sugar, so it's mostly pure chocolate liquor that has been pressed and then ground up into powder. And that means super chocolaty brownies.
And for these cocoa powder brownies, I turned to my dear-but-as-yet-unmet friend Alton Brown.
You can find his original recipe here, but I tweaked and messed with it to make them How I Wanted.
Because I wanted to make sure what I ended up with was fudgy brownies.
If fudgy brownies are your kinda brownie and you decide to make these, I have a favor to ask:
When you do make this recipe, it will help me and other readers if you:
✅Rate the recipes using the stars in the recipe card⭐⭐⭐⭐⭐
✅Leave a review when prompted in the recipe card✍️
✅Leave a comment on the post📝
Thank you!😘
How to Make Your Brownies Fudgy
Alton's recipe calls for regular cocoa powder, and I wanted to use Dutch process. Why? Because I didn't want to have to deal with balancing the pH by using baking soda.
I also wanted these guys to be rich, moist, and dark. And you can't get that using regular cocoa powder.
Acidic batters, which is what you end up with when using regular cocoa powder, set up more firmly. And that would have given me Cakey Brownies. Or at least less fudgy brownies.
If I wanted that, I'd have just made Cake. So, that's why I went with Dutch Process Cocoa.
You can also use a mixture of half Dutch process and half "regular" cocoa powder. I've made them both ways, and they're fudgy and delicious both ways.
Ingredients
Here's what you'll need to make my (now) favorite cocoa powder brownies. Feel free to tweak the amounts to make them your own!
eggs: in this case, eggs function as leavener since you're whipping a bunch of air into them. This will give the brownies a little lift in the oven. They also provide structure, emulsifiers, and fat to carry flavor and for richness
espresso powder: just enough to underscore the chocolatiness. If you increase the espresso powder (or instant coffee) enough, you'll have mocha brownies, which is never a bad thing.
brown sugar: this provides the sweetness and lends to the tender, gooeyness of these cocoa powder brownies. You may also substitute a cup each of granulated sugar and packed brown sugar for the 2 cups of brown sugar called for
molasses: adds to the richness and bittersweetness of these brownies. Feel free to substitute honey or maple syrup for the molasses in the recipe
kosher salt: counteracts any bitterness from the cocoa and molasses and brings all the flavors into focus. You can substitute with fine salt, but reduce the amount by about 1/3.
Dutch process cocoa powder: provides the deep, chocolatey flavor we want in a good brownie. You may also use American cocoa powder or a mixture of the two
melted butter: Often in making cakes, we cream the butter and sugar together (See: the creaming method). This provides some leavening. With melted butter, we won't get any leavening. What we will get is lots of delicious fat to carry deep chocolate flavor. Creaming leads to cakey brownies, so using melted butter keeps things nice and gooey-fudgy, which is what we want
vanilla extract: rounds out the chocolate flavor
cake flour: provides a little bulk and adds to the structure while not being so much that your brownies lose their gooey lusciousness
Procedure
These brownies aren't hard to make, but the procedure might be a little different than what you're used to.
Read through the steps so you know what to expect:
Whip the eggs, espresso powder/instant coffee, brown sugar, molasses, salt, and vanilla together until very light, thick, and fluffy. Like billowy. The mixture will at least double in volume and should reach the ribbon stage.
While that mixture is whipping, melt the butter in the microwave and whisk the cocoa powder in until it is smooth.
Scrape in the melted butter mixture and whip for an additional couple of minutes, scraping the bowl as necessary.
With a large spatula, thoroughly fold in the sifted flour by hand.
Spread into your prepared pan and bake at 325F for about 40 minutes until nicely set.
Here are some collages so you can get an idea of the procedure and the texture of the brownies.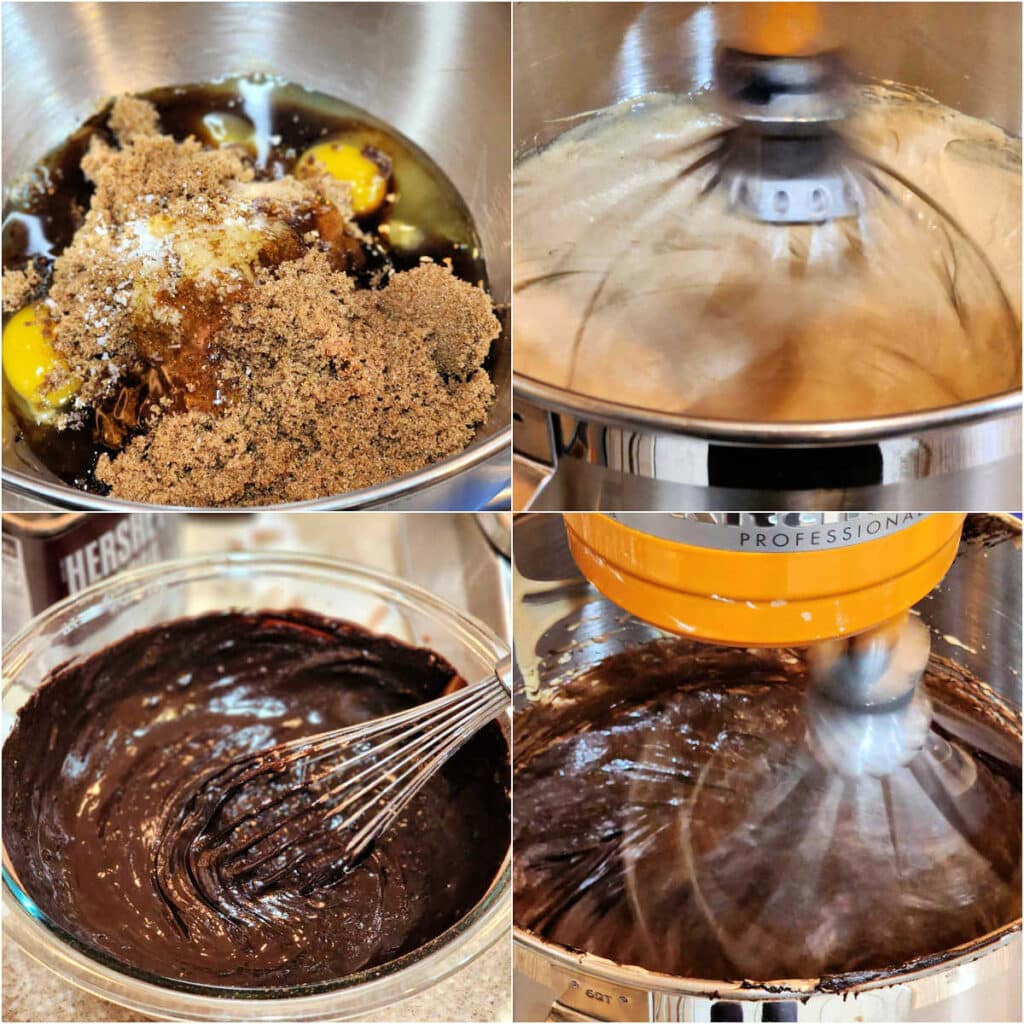 In the collage above, notice how light the egg and brown sugar get with constant whipping on the stand mixer. Whisking all that air into the eggs helps to lighten the brownies a little bit so they aren't super dense and have a bit of crumb to them.
And here's a collage of the last few steps of making and panning up the batter.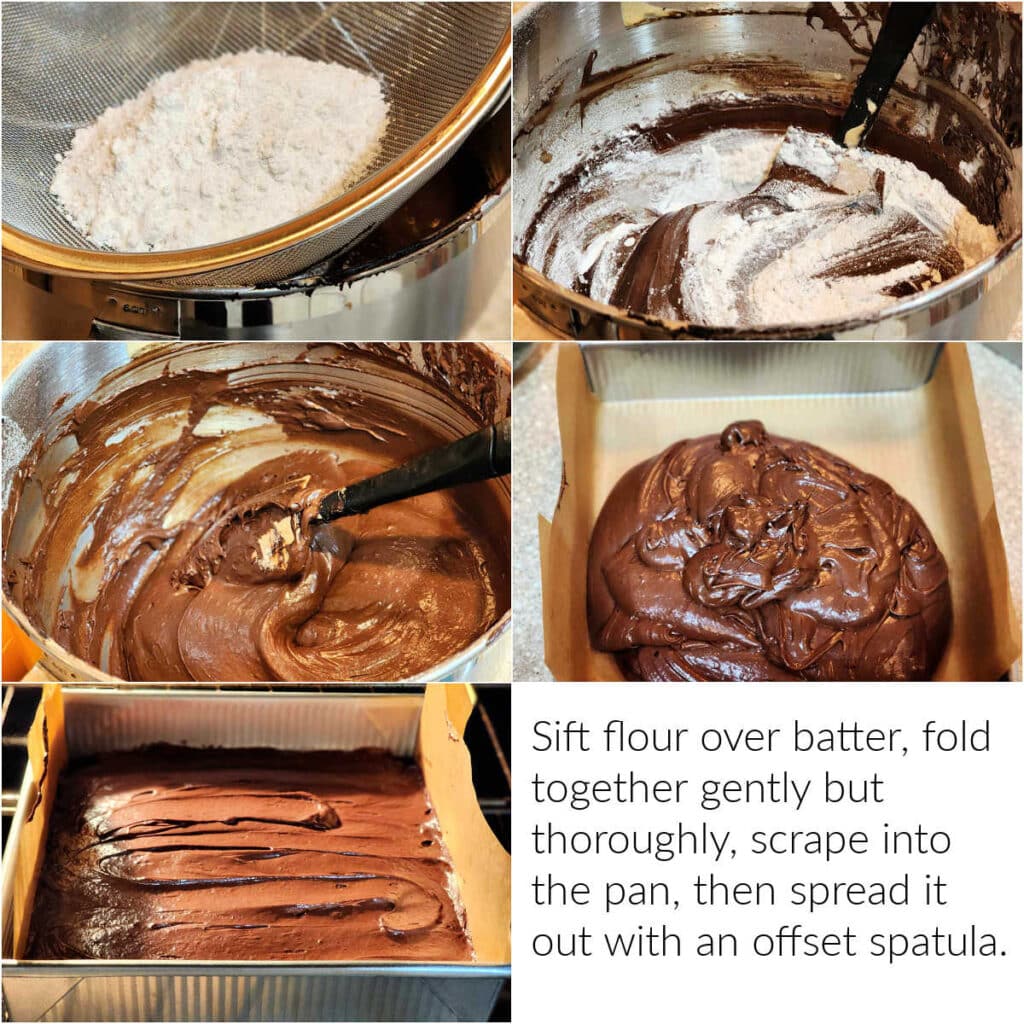 Equipment Recommendations
Because there is a lot of whipping, I recommend you use a stand mixer or a hand mixer to make these brownies.
Don't not make them if you don't have either–use a whisk and some elbow grease, and you will be enjoying fudgy brownies before you know it!
This is my favorite brownie pan. It measures 9″ x 9″ square.
This is an affiliate link which means I earn from qualifying purchases. Your price is unaffected.
Tips for Maximum Fudginess
In a nutshell:
Use lots of butter and eggs for richness
Don't use any leavening like baking powder or soda
Use unsweetened chocolate or cocoa powder–Dutch process
Use a relatively small amount of flour.
Deepen the flavor and chew with some liquid sugar. Anything from neutral corn syrup, to honey, maple syrup, or deep molasses
Underscore the chocolate flavor with a hint of espresso.
Fudgy Brownie Q & A
Can I bake in a different-sized pan?
You can use an 8-inch square pan, and your brownies will be a bit thicker. You could also bake in a 7 x 11 pan. I would not recommend baking in a 9 x 13 pan unless you increase the recipe by 1.5, otherwise your brownies will be very thin.
How should I store them?
Since they're so gooey, it's best to keep them in the fridge, covered. They'll be fine for about a week. Allow cut brownies to come to room temperature, or you can microwave them for a few seconds for maximum gooeyness.
Can I freeze brownies?
Yes, brownies freeze really well. Wrap them well and keep them for up to a month or so in the freezer. Put them in the fridge overnight to thaw before serving. And again, allow them to come to room temperature or microwave for a few seconds before serving.
A Note About Measurements
For convenience, consistency, and accuracy, almost all my recipes are written by weight, either in ounces and/or grams, even the liquids.
I strongly encourage you to purchase a kitchen scale and learn to use it.
This is the one I used for years. I love it and highly recommend it:
Best for Home Use
Escali Primo Digital Food Scale
Don't let its small price and small size fool you. The Escali Primo is an accurate and easy-to-use food scale that I have used for years. It's easy to store, easy to use, has a tare function, and easily switches between grams and ounces/pounds for accurate measurements.
This is an affiliate link which means I earn from qualifying purchases. Your price is unaffected.
It would be so helpful to me and to other readers that, when you make a recipe, you rate it and leave a comment. Whether it's a recipe or an informational post, your feedback helps others decide if the post is helpful or if the recipe works as advertised.

If you could leave a star rating, that would be very helpful. Thank you for being here!
Fudgy Brownies
If you love a deep, dark chocolate brownie, a grown-up brownie, these fudgy brownies with hints of coffee and molasses will be your new favorites. Enjoy!
Ingredients
4

large eggs

1 ½

teaspoons

espresso powder or powdered instant coffee

14

oz

brown sugar

397 grams or 2 cups, packed

½

teaspoon

kosher salt

2.5 grams I use Morton's. If you're not weighing your salt and you use Diamond Crystal, use a scant teaspoon.

1

oz

molasses, honey or maple syrup

28 grams or 2 Tablespoons

1

Tablespoon

vanilla extract

14 grams

5

oz

Dutch-process cocoa powder

142 grams or 1 1/4 cups, sifted

8

oz

unsalted butter, melted

227 grams, 16 Tablespoons, or 2 sticks

2

ounces

cake flour

57 grams, sifted (about 1/2 cup, sifted)
Instructions
Preheat the oven to 325F. Thoroughly spray an 8" or 9" square pan with pan spray. Cut a square of parchment to fit in the bottom of the pan, and then spray again.

In a mixer fitted with the whisk attachment, whisk the four eggs, espresso powder, brown sugar, salt, molasses, and vanilla together until very light and fluffy and at the Ribbon Stage. I did this on medium-high speed for about 6 minutes.

In the meantime, melt the 2 sticks of butter and whisk together with the cocoa powder.

Once the egg/sugar mixture is nice and light, scrape in the butter and cocoa powder mixture and whip together until smooth and uniform in color. Scrape the bowl as necessary.

Thoroughly fold in the sifted cake flour by hand.

Scrape/pour the batter into the prepared pan.

Smooth the top and bake on the center rack until set and beautiful, about 40 minutes to an hour.

Let cool on a rack for a few minutes, then lift out using the parchment and allow them to cool completely.
Did You Make Any Changes?
Notes
Nutritional information is based on cutting the brownies into 20 bars.
Nutrition
Serving:
1
g
Calories:
203
kcal
Carbohydrates:
26.7
g
Protein:
3
g
Fat:
11.2
g
Saturated Fat:
6.7
g
Cholesterol:
62
mg
Sodium:
145
mg
Fiber:
2.2
g
Sugar:
20.3
g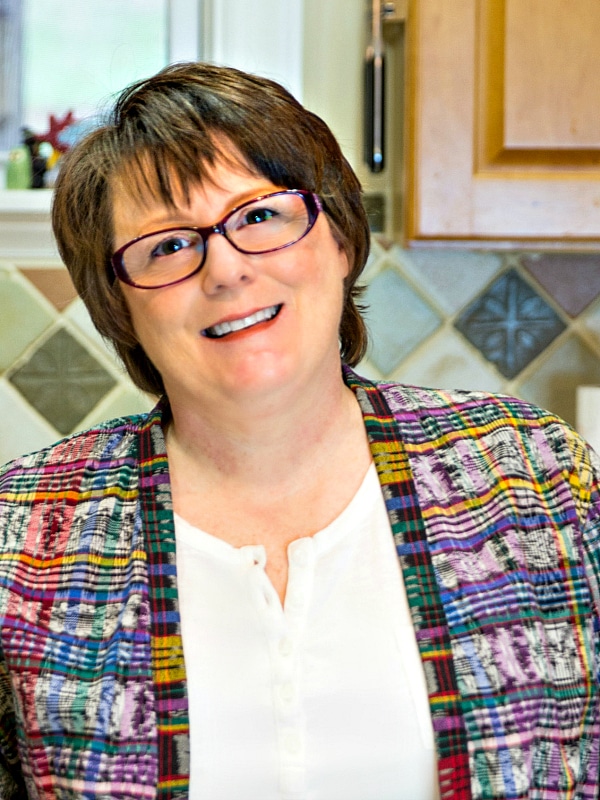 What are my qualifications to teach you baking and pastry? As a former working pastry chef and special educator, I marry my passions for both teaching and for baking into explaining techniques, methods, and developing the best possible recipes. For more info, you can read more about me.
If you'd like to receive new recipes and the occasional newsletter, I'd love for you to sign up for my Inbox Pastry Chef.
These cocoa powder brownies are amazing, rich, and fudgy.
Completely dark, completely moist, completely chocolate-y, bitter edge of burnt sugar. My Idea of Brownie Perfection. Enjoy!