The best graham cracker crust comes from homemade Graham crackers. I realize that might seem a little…much…for some folks, but honestly, they aren't hard to make, and if you're just going to turn them into crumbs, you don't even really have to bother rolling them out and cutting them.

I am telling you, if you are a cheesecake fan, a lemon meringue tart fan, or a no-bake pie fan, you will really be able to up your Graham crust game by making Graham crackers from scratch!

For ease of browsing, here are all of my cookie and bar recipes. Thanks for stopping by!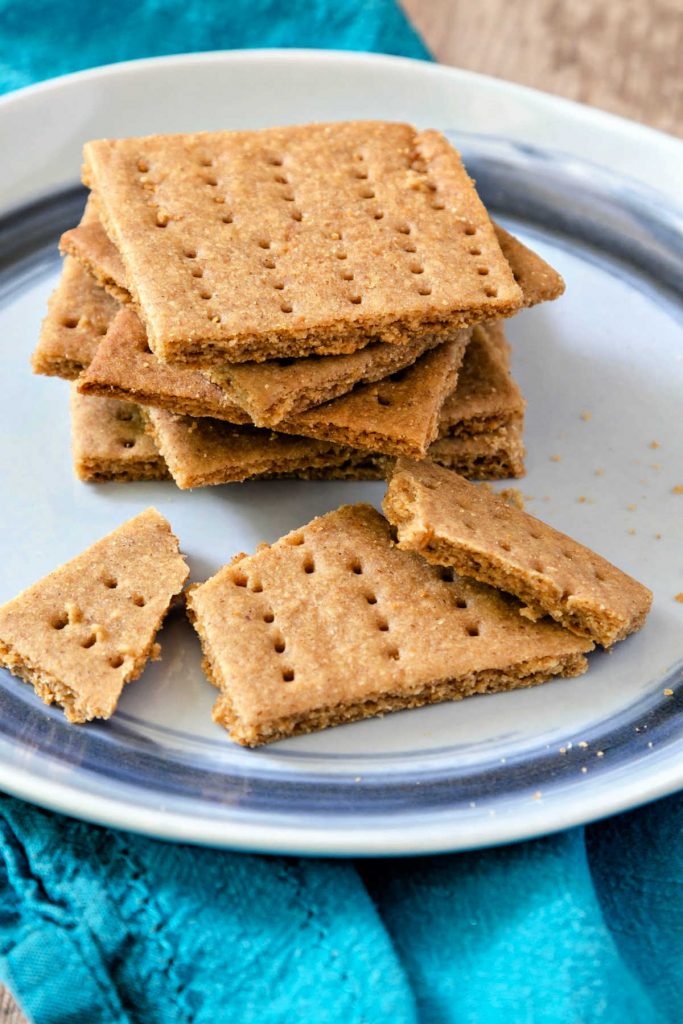 Why Make Your Own Graham Crackers?
Mass-produced food is convenient, but it isn't always awesome and doesn't always contain the highest quality ingredients.
For example, here's the ingredient list for Nabisco's Honey Maid Graham crackers:
Unbleached Enriched Flour
Graham Flour
Sugar
Soybean And/Or Canola Oil
Honey
Leavening (Baking Soda And/Or Calcium Phosphate)
Salt
Soy Lecithin
Artificial Flavor
While there is nothing inherently awful about this ingredient list, there is no really good reason for the oils, lecithin (an emulsifier), or the artificial flavor.
When you make your own Graham crackers, you can leave out the lecithin altogether and use butter and real flavoring/s for Way Better Flavor than store-bought.
By the way, Honey Maid Graham Crackers have a 182-day shelf-life. Is that the kind of cookie you want to make a crust out of?
I think not.
How To Make Graham Crackers
Ingredients
Here's what you'll need to make them: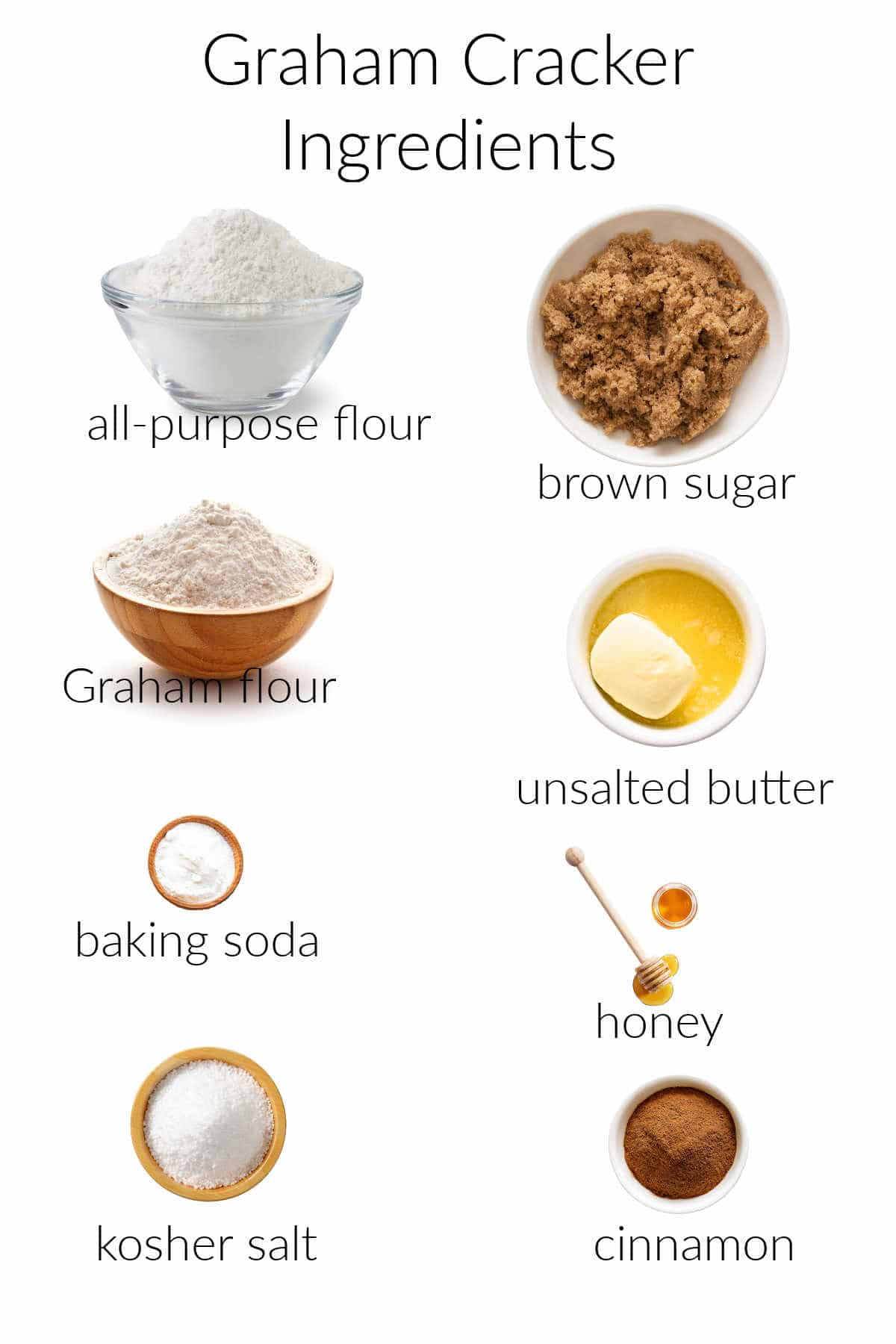 all-purpose flour: You can most likely make these with all whole wheat flour. Using half all-purpose makes them a bit more refined in texture
whole wheat flour: or Graham flour. The two are similar and are interchangeable for the purposes of making these cookies/crackers
baking soda: reacts with the molasses in the brown sugar to provide just a little lift so they aren't too crunchy or hard when baked
cinnamon: for flavor. Switch things up and use pumpkin spice or apple pie spice if you'd like
salt: brings out the flavor of the molasses, butter, and honey
butter: provides the fat, so it assists in browning and in helping the cookies hold together. It also carries flavor.
brown sugar: for sweetness, browning, and the acid to provide some lift. Use dark or light–it's your preference.
honey: provides a bit of extra sweetness and keeps the cookies from drying out. Most honey is on the acidic side, so it too will react with the baking soda to provide some lift.
Procedure
Whisk all the dry ingredients together and set aside.
Cream the butter, brown sugar, and honey together until smooth.
Mix in the dry ingredients on low speed.
Roll the dough between two sheets of parchment until about 1/8″ thick.
Refrigerate for about an hour to firm the dough up.
Bake until done.
Once they're ready to bake, you can either use a pizza wheel to cut them into crackers of whatever size you want or leave it as one big sheet to bake and crumble for crumbs.
If you do decide to cut them, to make them look like "authentic" Graham crackers, use the tines of a fork to pierce them all over to give them that classic look.
Once you bake your Grahams, go back over your score marks with the pizza cutter as soon as they come out of the oven. Let cool completely and then break them apart into crackers.
How to Make a Crust from Your Homemade Cookies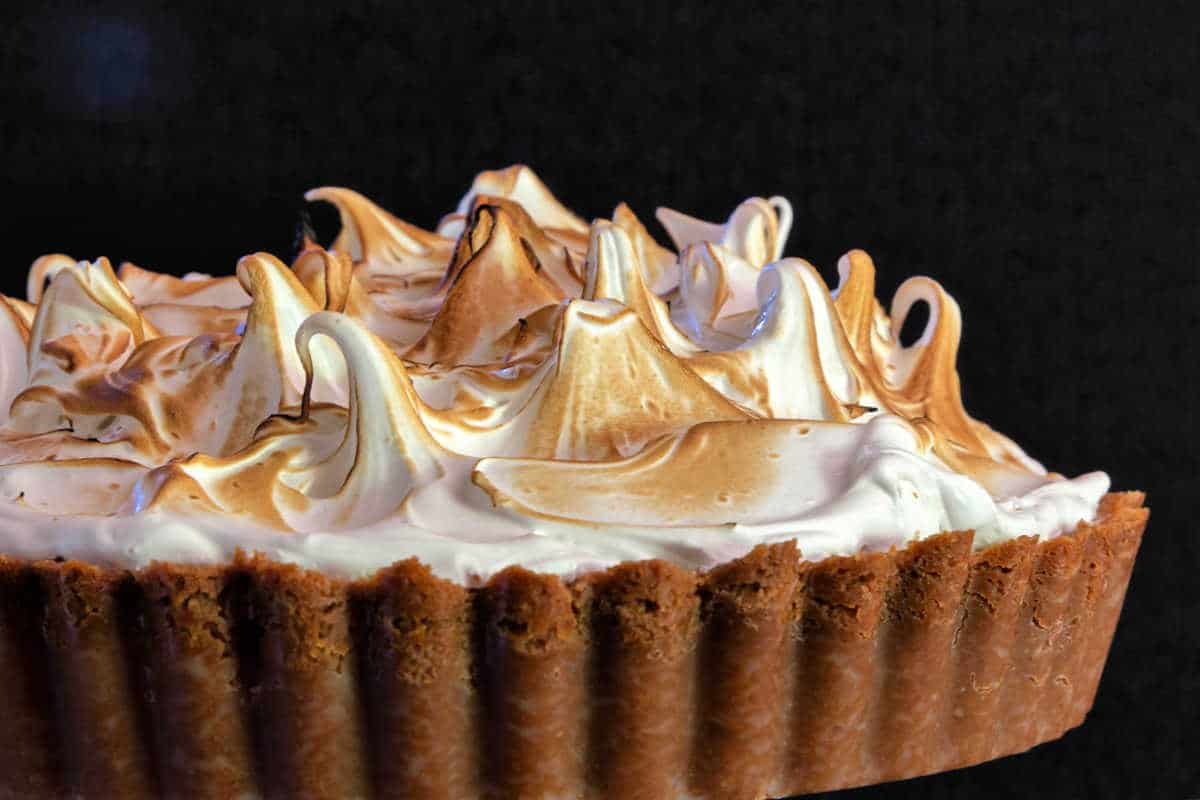 Whether you're using store-bought Grahams or you make your own, making your crackers into a Graham cracker crust is really easy.
Measure out 1 1/2-2 cups Graham cracker crumbs.
Pulse with 3-4 Tablespoons of butter and a pinch of salt.
Press into the bottom and up the sides (or not) of your pie pan or springform pan.
Bake for 8-10 minutes at 350F to set the crust.
Other Ways to Use Your Graham Crackers
Of course, cheesecake comes to mind first. You can make a classic New York cheesecake or consider making a butterscotch cheesecake or maybe a chocolate cheesecake.
Just because the recipe you're following doesn't call for a Graham cracker crust doesn't mean you can't make one.
Graham cracker crust is ridiculously tasty and there's no reason you can't use one to go with your favorite cheesecake or no-bake recipe.
If you have a lot of crumbs, you can use them to add crunch to ice cream like in my strawberry cheesecake ice cream or top any Sundae.
You could even make a "S'mores Sundae" with hot fudge sauce, marshmallow fluff, and Graham cracker crumbs!
Or use homemade Graham cracker crumbs in my S'mores Bars and then plop some ice cream on top of one of those!
Tips & Tricks for Success
Homemade Graham crackers are easy to make. And, once you've made them, save some for eating and then grind the rest up in the food processor to make the best Graham cracker crust you've ever had.
There's no need to beat the butter and sugar until light and fluffy. We're making cookies and not a cake, so they don't need to rise high.
Just blend the butter and sugar together until they form a paste.
If you're going to be making Graham crackers to use for crust, there is no real reason to cut them into individual cookies. You can just bake them as one large sheet and then crumble them when they cool.
If you are going to cut them into individual cookies, use a pizza wheel for this. You can measure them if you want, but I just zip the cutter back and forth to get reasonably uniform squares.
PRO TIP: There is no real need to add additional sugar to crumb crusts. The filling is usually sweet enough, and your crumb crusts will turn out crunchy yet easy to cut.
You can also freeze the crumbs for a good month or two so they'll be ready the next time you need to whip up a Graham crust.
If making a crumb crust with a very sweet cookie, add some ground nuts to the crumbs to cut down on the sweetness and reduce the risk of your crust turning hard as a rock.
Homemade Graham Cracker Q & A
Are Graham crackers vegan?
Not as written, but they can be easily veganized by replacing the butter with Earth Balance sticks, coconut oil, or even vegetable oil. Replace the honey with vegan molasses or agave syrup.
What's the difference between whole wheat flour and Graham flour?
In whole wheat flour, the entire wheat berry is ground together to make flour. In Graham flour, the three parts: germ, endosperm, and bran, are ground separately. The endosperm is ground finely just like white flour while the bran and germ are more coarsely ground. Then it's all mixed back together. And yes, you can absolutely use regular whole wheat flour in place of Graham flour in these crackers.
Why is my crust sometimes so hard to cut?
The phenomenon of the hard as a rock Graham cracker crust has to do with the amount of sugar you add to your crumbs (and the amount of sugar that's in the cookies you use to make the crumbs).

If you add a lot of sugar to your crus, especially if you prebake it, all that sugar will melt and then harden into a sheet of candy that you just can't cut with the side of a fork.
How to crush Graham crackers without a food processor
I have a food processor, but I don't always use it to make crumbs, so do what I do. Put your cookies in a heavy-duty zip-top bag and bash them into crumbs with a rolling pin. You probably won't get it all crushed to dust, but it'll do the job, and you'll also be able to take out some of your frustrations on the cookies!
Questions?
If you have a question about this post and it is not time-sensitive, you can leave your question in the comments section here under the post.
If your question is more time-sensitive, the best way to reach me is by email. I will get back to you in under four hours unless I'm sleeping.
To email, simply click the button below:
A Note About Measurements
For convenience, consistency, and accuracy, almost all my recipes are written by weight, either in ounces and/or grams, even the liquids.
I strongly encourage you to purchase a kitchen scale and learn to use it.
This is the one I used for years. I love it and highly recommend it:
Best for Home Use
Escali Primo Digital Food Scale
Don't let its small price and small size fool you. The Escali Primo is an accurate and easy-to-use food scale that I have used for years. It's easy to store, easy to use, has a tare function, and easily switches between grams and ounces/pounds for accurate measurements.
This is an affiliate link which means I earn from qualifying purchases. Your price is unaffected.
It would be so helpful to me and to other readers that, when you make a recipe, you rate it and leave a comment. Whether it's a recipe or an informational post, your feedback helps others decide if the post is helpful or if the recipe works as advertised.

If you could leave a star rating, that would be very helpful. Thank you for being here!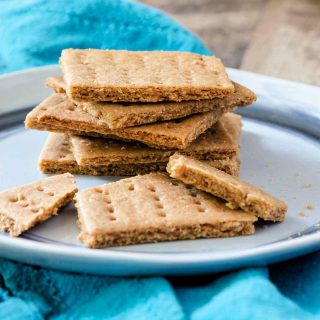 Graham Crackers
Homemade graham crackers are the best especially for graham cracker crusts. You can cut these with cutters, just bake them in a sheet, or you can slice them into thin rectangles and poke them with a fork to look like the boxed kind. No need to separate them before baking. You can break them apart when they're cool.

And you can and should use these to make the best ever Graham cracker pie crust too!
Ingredients
1 ½

cups

all purpose flour

1 ½

cups

whole wheat

(or Graham) flour

1

t

. baking soda

1

t

. cinnamon

½

t

. salt

or to taste

8

oz

. butter

2 sticks

5

oz

dark brown sugar

(you can use light, if that's what you have)

2

T

. honey
Instructions
Thoroughly whisk together dry ingredients.

Cream butter, brown sugar and honey until smooth. It doesn't need to be light and fluffy. Just smooth.

Add the dry ingredients and mix on low until the dough just comes together.

Remove from mixer and roll out between two sheets of parchment to about 1/8" thickness.

Chill this sheet of dough for an hour.

Optional: Sprinkle your crackers with cinnamon sugar before baking, if you want.

Bake on parchment-lined cookie sheet/s at 350 degrees, F, until golden and firm–the timing depends on if you've cut them apart or are baking them as one humongous cookie.

Allow to cool completely, then break the cookies apart or just crumble them or whir them in a food processor to make crumbs.
Did You Make Any Changes?
Notes
Storing
Your cookies will last in a sealed container at room temperature for about a week. If they do start to soften, you can refresh them in a 350F for 2-3 minutes. Cookies will recrisp as they cool.
Freezing
If you'd like, you can freeze the sheeted dough and save to bake some other time. Well wrapped, it will be fine for a month or even two.
To Make a Graham Cracker Crust
To make your Graham crust, take some graham crumbs (usually 1 1/2-2 cups is sufficient for a 9" crust) and mix them with 3-4 Tablespoons of butter and the optional ground nuts until it just holds together. Then, press it into the pie pan and bake at 350 degrees, F, for about 8-10 minutes to set the crust.
Variations
Try experimenting with adding different spices. They're your cookies, and wouldn't ginger Grahams be delicious? Or pumpkin spice?
Nutrition
Serving:
1
g
Calories:
83
kcal
Carbohydrates:
9
g
Protein:
1
g
Fat:
5
g
Saturated Fat:
3
g
Polyunsaturated Fat:
2
g
Cholesterol:
14
mg
Sodium:
109
mg
Sugar:
5
g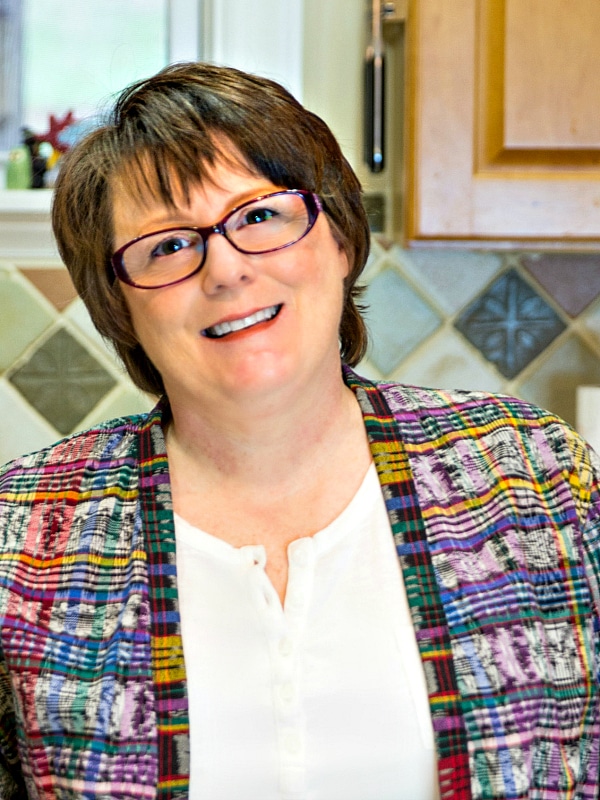 What are my qualifications to teach you baking and pastry? As a former working pastry chef and special educator, I marry my passions for both teaching and for baking into explaining techniques, methods, and developing the best possible recipes. For more info, you can read more about me.
If you'd like to receive new recipes and the occasional newsletter, I'd love for you to sign up for my Inbox Pastry Chef.
Thanks for spending some time with me today. Enjoy the Grahams, take care, and have a lovely day.