Eggnog lovers, prepare to be wowed by this Orange Spiced Eggnog!

Rum and Cointreau play very nicely with the eggy, creamy base. It's like a boozy creamsicle!

Serve them alongside some walnut shortbread cookies or angel slices for a holiday treat for you or for Santa.

And if you're looking for a non-alcoholic yet festive Christmas beverage, try my chocolate orange drinking chocolate.
For ease of browsing, here are all of my beverage recipes. Thanks for stopping by!
Nostalgic Holiday Foods
I have always been in love with holiday food.
As a kid, while I was always happy to be going to visit Ev and Ray in New Jersey for the holidays, I was maybe a bit more excited by the promise of Auntie Ev's English trifle, which is still one of my favorite desserts to this day.
As we made the 3-doors-down walk to Queenie and Ivan's house for the annual Christmas Eve party, our breath pluming in the cold December air, my mind was already racing ahead, up the stairs and around the corner to the dining room table to feast on poppy seed party ham biscuits, a port wine cheese ball, and cream cheese and red sauce.
A holiday staple in my childhood home from Thanksgiving through the New Year was eggnog.
Sweet, creamy, nutmeggy and comforting, I couldn't get enough. When mom finally brought some home from her grocery shopping trips, we knew that the holiday season had officially begun.
Boozy Eggnog
Oddly enough, I was never really a fan of spiked eggnog. I guess I just loved it straight up so much that I thought boozing it up just cut into the creamy goodness. Bless my heart, I was a naive little thing.
Probably about ten or twelve years ago, Julie's husband Scott began making homemade eggnog every year for the Christmas party they inherited hosting duties from Julie's parents.
Suddenly it dawned on me that shoving booze into eggnog is a very good idea indeed. Shove enough booze into eggnog, and you can age it from one year to the next.
I'm not really interested in that, because I'm all about drinking the eggnog as quickly as I can. I can barely wait the 24 hours it takes for the flavors to blend in the fridge.
If you are looking for a great aged eggnog recipe, you can't do much better than the one from Nutmeg Nanny.
Orange Spiced Eggnog
Since this holiday season seems to be dedicated to all things orange (hello there, No Bake Orange Cranberry Cheesecake Parfaits and Cranberry Fool with Grand Marnier Whipped Cream), I figured I'd try something a bit new with homemade eggnog: orange spiced eggnog.
Of course, as always, there is nothing new under the sun. There are lots of other recipes out there for an orange spice eggnog, but I don't care.
The recipe I came up with is pretty straightforward with only a few spices and two types of alcohol that nicely reinforce the orange spiced theme.
How to Make Orange Spice Eggnog
This eggnog comes together pretty easily. The ingredient list looks a little long, but nothing is hard to find. You may already have a lot of the ingredients you need.
Ingredients
Here's what you'll need to gather for Eggnog Making.
whole milk
heavy cream
granulated sugar
1/4 teaspoon kosher salt
cinnamon sticks
whole cloves
whole allspice berries
orange zest
eggs
egg yolks
spiced rum, (I used Captain Morgan's)
orange liqueur, (I recommend Cointreau for its pronounced candied orange peel flavor)
As far as the spices go, you can leave out what you don't like and use more of what you do. There are no hard and fast rules.
Procedure
The first step in making eggnog is all about infusing the flavors of the spices and zest into the dairy. Once you have that done, you can add in the eggs and cook until thickened.
Refrigerate for at least 24 hours so the flavors can mingle and get to know each other. Before serving, stir in the alcohol, whip the cream and fold that in, and enjoy!
It would be so helpful to me and to other readers that, when you make a recipe, you rate it and leave a comment. Whether it's a recipe or an informational post, your feedback helps others decide if the post is helpful or if the recipe works as advertised.

If you could leave a star rating, that would be very helpful. Thank you for being here!
Holiday Printable Recipe Card
Simply click on the card to get a pdf you can download and keep in your holiday recipe box.
I made you three different kinds of blank printable holiday recipe cards, so please use them!
Orange Spiced Eggnog Recipe
This orange spice eggnog is spiced with allspice, cinnamon and clove. The flavor profile gets some reinforcement with the addition of spiced rum and orange liqueur
Ingredients
24

oz

3 cups whole milk

8

oz

1 cup heavy cream

7

oz

1 cup granulated sugar

¼

teaspoon

kosher salt

3

cinnamon sticks

3-5

whole cloves

(depending on how much you like clove. You can also leave it out if you want)

5-7

whole allspice berries

zest of 1 orange

2

whole eggs

3

egg yolks

¾

cup

spiced rum

(I used Captain Morgan's)

¼

cup

orange liqueur

(I recommend Cointreau for its pronounced candied orange peel flavor)

8

oz

1 cup heavy whipping cream
Instructions
Heat milk, the first amount of cream, sugar, salt. spices, and zest over medium heat until very warm. Remove from heat and let steep for 30 minutes. Taste, and decide if you want the spices to steep a bit more or not. Your call. When you like the flavor of your milk base, strain out the spices and the zest and return the milk to the pot. Whisk in the eggs and yolks and heat, whisking constantly until steaming and slightly thickened, 165F on an instant read thermometer. Strain again to get out any stray bits of cooked egg and then stir in the spiced rum and orange liqueur.

Cover and refrigerate for at least 24 hours or up to 3 days.

When ready to serve, whip the second amount of whipping cream to soft peaks and whisk into the eggnog. Serve cold, and garnish with a bit of grated nutmeg. I also sift on a bit of apple pie spice since it contains cinnamon and allspice already.

Enjoy!
Did You Make Any Changes?
Nutrition
Serving:
6
oz
Calories:
353
kcal
Carbohydrates:
30.8
g
Protein:
6
g
Fat:
16.9
g
Saturated Fat:
9.6
g
Cholesterol:
170
mg
Sodium:
141
mg
Fiber:
0.3
g
Sugar:
30
g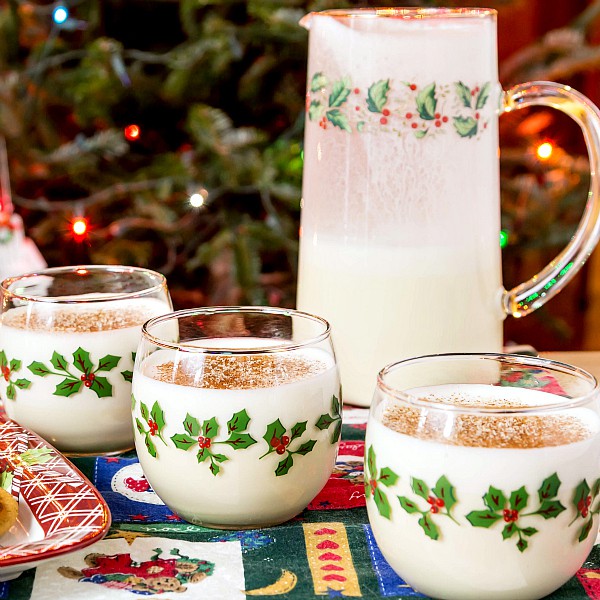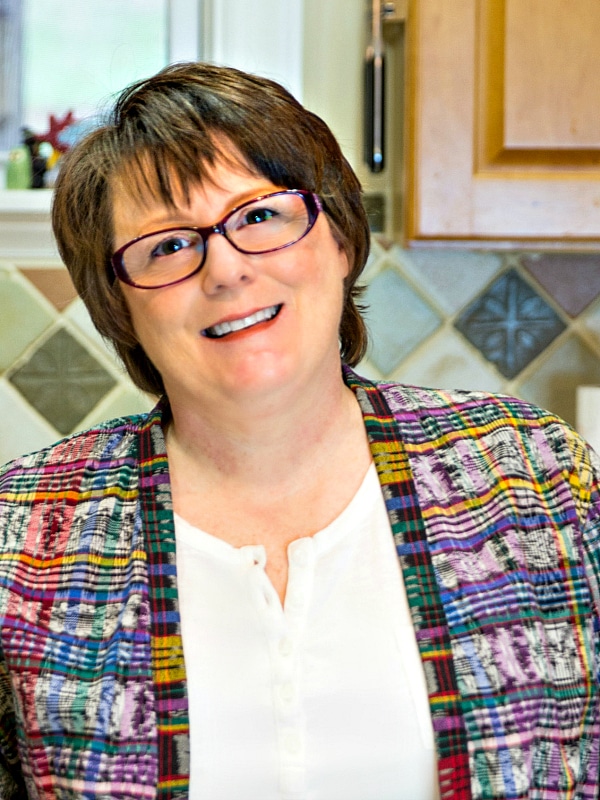 What are my qualifications to teach you baking and pastry? As a former working pastry chef and special educator, I marry my passions for both teaching and for baking into explaining techniques, methods, and developing the best possible recipes. For more info, you can read more about me.
If you'd like to receive new recipes and the occasional newsletter, I'd love for you to sign up for my Inbox Pastry Chef.
Thank you for spending some time with me today. May your holiday be full of good cheer and plenty of spiced eggnog!
Take care, and have a lovely day.