It's cranberry fool time, y'all! I'm going to show you all you ever wanted to know about this old-fashioned, super easy dessert and delicious dessert.

Work out your hand-whipped cream skills as well to make the Grand Marnier whipped cream. Two easy components, swirled together, and done. One of the easiest and lightest holiday desserts in all the land.

Another great recipe to try is my no-bake orange cranberry cheesecake parfaits.

For ease of browsing, here are all of my individual desserts.

Let's go!
What is a Fool?
A fool is an English dessert, and it's one of the easiest desserts you'll ever make. But unlike mixing an egg into a cake mix and calling it cookie dough, this fast and easy dessert is made from all real food.
All you have to do to make your fool is cook some fruit in a bit of sugar until it gets jammy, let it cool, and then fold it together with either some custard or some whipped cream. That's it. You're done!
And you don't even have to fold completely–in fact, a fool looks more interesting if you leave streaks of white cream (or pale yellow custard) and streaks of fruit. Sweet!
How Did It Get Its Name?
Nobody knows for sure why a fool is called a fool. Even Wikipedia doesn't know.
I choose to believe that it's because you can fool your guests into believing it took forever to make this dessert. Sort of like the fruit and cream based version of the Krispie Treat. Please tell me you remember those commercials, yes?
Even though I've gussied it up a bit with the Grand Marnier whipped cream, this cranberry fool is even easier to make than Krispie treats because there's no cooking at all: no melting of marshmallows and butter and what not.
Super easy, super delicious and totally worthy of a spot on your Christmas dessert buffet!
Make these and privately congratulate yourself on maximum reward for minimum effort, because how often does that happen in the dessert world? Exactly.
Is It Similar to a Trifle?
The traditional English trifle we serve in our family is layered sherry-soaked pound cake, raspberry jam, vanilla custard, and topped with whipped cream. It is one of my favorite desserts in the world.
It is entirely possible that thrifty British cooks extended the lifespan of dry cake by soaking it in booze and then layering in some fool (custard + cooked fruit, right?)
So, while I don't have any hard evidence, I would bet there is a relationship. And know you can make a mean trifle by layering cake with whatever type of fool you care to make. Lovely.
Difficulty Level
Level Zero. That's how easy it is to make.
If you can cook some fruit (or even use a lovely, high-quality jam, either homemade or store-bought), and know how to whip some cream, you are in business. I think my cran-raspberry jam would be perfect in this recipe.
As much as I love the no bake orange cranberry cheesecake parfaits I posted awhile ago, I can admit it takes a bit of futzing about, even if you don't have to bake the cheesecake.
If you looked at that recipe and thought, "Never in a million years will I make that," cranberry fool with Grand Marnier whipped cream is the recipe for you.
How Long Does It Take To Make?
If you already have your cooked fruit or jam, it'll only take a few minutes to whip your cream, either with your stand mixer, hand mixer or even by hand.
A quick fold, and then portion into serving dishes, and you're done!
If you do need to cook your fruit, call that maybe 20-30 minutes of gentle simmering on the stove while you do other things.
Then chill it in the fridge and proceed. See? So easy to make and impressive to serve in fancy glasses.
Storing
If you make your whipped cream-based fool like this one, it will be fine in the fridge for up to 4 days before serving. A nice make-ahead during the busy Christmas baking season. Nice to have a no-bake dessert option on hand, right?
If you decide to make a custard-based fool (which is probably more old-fashioned even than the whipped cream version), I wouldn't let it sit more than a couple of days in the fridge before serving.
Top it with a poof of whipped cream and maybe a little bit of crunchy garnish, and you've got a gorgeous dessert ready to go.
Flavor Bases
See how pretty this fool is? And you really can't go wrong with the flavor.
I do suggest you use your favorite homemade cranberry sauce recipe since the canned kind tends to be very dark red and isn't quite as festive-looking when folded together with the whipped cream.
Still, it will be tasty, especially if you add a bit of orange flavoring, in the form of either orange liqueur or a touch of orange oil, to the sauce.
Other festive red flavor options to consider include:
raspberry
red currant
strawberry
pomegranate
And here are some fantastic cranberry sauce recipes to consider:
Pomegranate Cranberry Sauce has only four ingredients, and you get some crunch from fresh pom arils stirred in once the sauce is cool. Texture in your fool without really trying!
This Cranberry Orange Jam gets body from shredded apple, and you cannot go wrong with the cran-orange combo. Perfect with the Grand Marnier whipped cream!
How to Make Your Fool Fancy
You can just scoop fool into a dish and call it a day. It will be delicious. But for the holidays, adding some festive touches is never a bad thing.
Consider rimming your serving glasses with sparkling sugar (use alcohol or a bit of corn syrup for the "glue") and serving in beautiful glasses.
Or use the sprinkles as garnish. And pretty serving glasses that aren't too big are also a bonus.
More Easy Christmas Desserts
If you're an ice cream fan, you really can't go wrong with my no churn peppermint ice cream. That stuff is hard to find in stores these days, and making your own only takes about 10 minutes of active work.
If you're a cookie fan, consider some peppermint brownie bark or rich fudgy (and gluten free!) chocolate peppermint crinkle cookies.
For more (mostly) no bake yum, this festive Christmas lasagna feeds a crowd and is so pretty with its red, white, and green layers.
It would be so helpful to me and to other readers that, when you make a recipe, you rate it and leave a comment. Whether it's a recipe or an informational post, your feedback helps others decide if the post is helpful or if the recipe works as advertised.

If you could leave a star rating, that would be very helpful. Thank you for being here!
Cranberry Fool with Grand Marnier Whipped Cream
Cranberry fool with Grand Marnier whipped cream delivers huge cranberry flavor in a five-ingredient, five-minutes-to-make package. This is a great recipe to have on hand when you need a quick and impressive dessert.
Ingredients
1

cup

smooth cranberry sauce

(make sure to puree it or run it through a food mill. You don't want it chunky)

6

oz

3/4 cup heavy whipping cream

2

Tablespoons

powdered sugar

1

Tablespoon

Grand Marnier or other orange liqueur

(sub 2 drops orange oil or about 1 teaspoon orange zest to keep it non-alcoholic)

small pinch of fine sea salt
Instructions
Stir the cranberry sauce (or jam) really well to loosen it up.

Whip the cream, powdered sugar, liqueur and salt together to medium to medium-stiff peaks.

Scrape the cranberry sauce into the bowl with the cream. Fold together 2 or 3 times, keeping some bright white and bright red streaks of cream and cranberry sauce showing.

Spoon into decorative glasses.

Chill for up to 4 days before serving.
Did You Make Any Changes?
Notes
You don't really have to chill this before serving, so this also makes a perfect last minute dessert.
If you prefer not to use alcohol, you may sub a drop or two of orange oil or 1/8 teaspoon orange extract for the Grand Marnier.
Nutritional Information based on 8 servings.
Try my cranberry raspberry jam here.
Nutrition
Serving:
60
g
Calories:
140
kcal
Carbohydrates:
16.84
g
Protein:
0.5
g
Fat:
7.92
g
Saturated Fat:
4.9
g
Polyunsaturated Fat:
2.6
g
Cholesterol:
29
mg
Fiber:
0.3
g
Sugar:
16.45
g
If you'd like blank printable recipe cards, I made you some of those as well.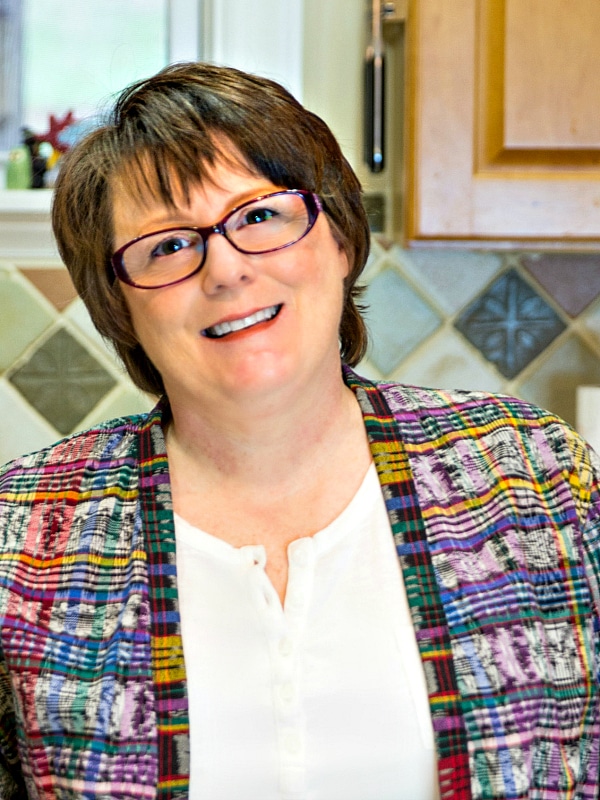 What are my qualifications to teach you baking and pastry? As a former working pastry chef and special educator, I marry my passions for both teaching and for baking into explaining techniques, methods, and developing the best possible recipes. For more info, you can read more about me.
If you'd like to receive new recipes and the occasional newsletter, I'd love for you to sign up for my Inbox Pastry Chef.
Thank you for spending some time with me this holiday season. Take care, and have a lovely day.