This old-fashioned fudge recipe uses cocoa powder and is super creamy. I was honored to give this recipe back to a family who only had the ingredient list from their grandma.

They'd tried and failed to make it a few times. I am so happy I could allow them to enjoy their family's treasured fudge recipe again! I have updated the post with a larger batch that is also more intensely chocolatey. You can find that variation in the recipe notes.

You can learn more about the science of making fudge here or, for ease of browsing, find all my candy recipes here in one place. Enjoy!
Watch my old-fashioned cocoa fudge recipe web story here.
Old-Fashioned Fudge, at a Glance
✔️Skill Level: Intermediate
✔️Skills: Cooking sugar, using a candy thermometer
✔️Type: Candy
✔️Number of Ingredients: 8
✔️Prep Time: 5 minutes
✔️Cook Time: 15 minutes
✔️Yield: 40 pieces for 1x recipe, 80 pieces for 2x

Related Recipes: Peanut Butter Fudge, Penuche
Jump Straight to the Recipe
Bringing Back a Treasured Family Recipe
This is what happened to reader Carol:
Her grandmother used to make this old-fashioned fudge recipe every year, but she never taught the kids how she made it, and now that she's gone, they were left fudge-less.
Carol did find the list of what she hoped were the ingredients for creamy cocoa fudge, but that was all she found. No rules. Just ingredients.
She sent me this message:
I ran across a list of ingredients for my Granny's Fudge but no instructions. She is no longer with us, so I can't ask her about it. I remember watching her when I was little, but she wouldn't let me get too close for fear of me getting burned. She used to "tweak" it to make white fudge and peanut butter fudge.

Ingredients:

2 cups sugar
1 Tablespoon cocoa
1 Tablespoon Karo
1 Tablespoon butter
1 teaspoon vanilla
1 cup milk
Chopped pecans

Thanks so much and belated Merry Christmas!

Carol
Fudge-Making Rules to Remember
Making fudge is all about concentrating the sugar so that when it sets up again as crystals, it feels smooth and creamy in your mouth and not grainy.
Cooking it to too high a temperature causes it to set up really hard.
Cooking it to too low a temperature causes it to be too soft or even runny like sauce (which isn't bad. It's just not what we're going for).
You really need an instant-read thermometer or a good candy thermometer if you're making fudge or any other kind of candy.
Stirring is the key to making and controlling how the crystals set up. But if you stir too soon, or too late, you'll end up with grainy fudge. Think of it the same way churning ice cream while it's freezing ensures tiny ice crystals and smooth, creamy ice cream. This is the same principle.
How to Make Cocoa Fudge
Before we get down to the actual recipe, I want to make sure you a)have all the ingredients you need and b)know what to expect.
if you already know how to make fudge, you can skip the following sections and head straight to the recipe.
Here's the rundown:
Ingredients
sugar: provides the sweetness and the crystals needed to help the fudge set up into a creamy texture. For more depth of flavor, you can substitute with light brown sugar
cocoa powder: you don't need Dutch process for this. Plain old American cocoa powder will work just fine. Control how chocolatey your fudge is by using more or less cocoa powder
corn syrup: helps to inhibit large crystals so you don't end up with grainy fudge. You can substitute Lyle's golden syrup here if you'd rather
butter: adds fat for carrying flavor and also for mouthfeel
milk: lends milk solids and liquid to moderate how quickly the sugar cooks. Also lends some complexity as the milk solids brown while cooking. I used whole milk. You can also use 2%. Do NOT substitute with evaporated milk, 1% or skim milk
kosher salt: brings out the flavor in the fudge while counteracting any bitterness from the cocoa powder
vanilla: chocolate's best friend, the vanilla rounds out the flavors
pecans: toast your nuts before chopping for maximum nutty flavor and crisp texture. You can substitute your favorite nut here or leave them out entirely
Two Different Versions
Note some of the photos of the fudge in this post are paler than others.
That's because the paler ones only have a heaping tablespoon of cocoa powder in them.
I made them that way because that was how Carol's grandma's recipe was written.
I remade (and doubled) the recipe recently to add more chocolate, deepen the flavor, and add a touch more butter.
You will find that ingredient list in the NOTES section of the recipe card. The procedure for making both types is exactly the same.
Pro Tips
Take your time. Cooking over medium heat will let you get to where you need to go. It will happen more slowly so you have just a bit more margin for error.
Be precise with your temperatures: both how hot you cook your mixture and–especially for fudge–what temperature you cool it to before you start stirring.
How To: Step by Step
Everyone in the pool except for butter and vanilla.
Bring to a rolling boil. Check temperature frequently until it reaches 234F. Remove from heat.
Add butter and vanilla, but don't stir them in yet.
When the fudge cools to 110F, begin stirring. Stir and stir.
It will start to thicken up after about 5 minutes or so. Continue stirring until fudge starts to lose its gloss.
Quickly stir in nuts (if using).
Spread into prepared pan to set up.
Visual Cues
Sometimes just seeing photographs doesn't fully convey what you're looking for at different stages.
Here are a few short video clips that hopefully will help.
1. The candy will boil pretty vigorously, so make sure your pan is much larger than you think you need. Boiling dairy can get out of hand quickly!
2. Make sure you check the temperature frequently. You are shooting for 234F/112C. You can take it a little higher, but no more than 236F/113C.
3. When you begin stirring the fudge, it will be fairly thin and easy to stir. (Note that in between shooting these clips, I was stirring very quickly and vigorously to help the candy cool and also to beat a little air into it).
4. As the fudge cools, the candy will lighten in color a bit and become less shiny and much thicker. That's when it's time to add the nuts.
Once your fudge gets very thick and more matte than shiny, add your nuts (if using). Stir them in quickly, because the fudge will thicken up very quickly once the nuts are added.
This is because the nuts are at room temperature and will bring the temperature of your candy down quickly.
Jenni Says: Buy yourself a little extra time to stir in the nuts by keeping them warm in your toaster oven before adding them to the fudge. Just be careful not to burn them.
Scrape your candy into your prepared pan, and then smooth it out with an offset spatula. I spray mine with pan spray to make it easier to spread/press the fudge into the pan.
If it starts to stick, add some more spray.
Cover and let the fudge set up in the fridge for a couple of hours before removing from the pan and slicing on a cutting board.
Cocoa Options
You can use whatever cocoa powder you have, but the richer the powder, the richer your fudge.
Especially if you make the version with just 1 heaping tablespoon of cocoa, you want to use the most flavorful you can find.
I have two recommendations for you.
The first is the cocoa powder we used to buy at the restaurants I worked in.
It is rich and contains about 25% cocoa butter, which means it brings its own body and fat to the party.
Best Restaurant Pick
Cacao Barry Cocoa Powder 100% Cocoa, 2.2 lb (Pack of 2)
This is the cocoa powder we used to use at the restaurant. It is deeply delicious with a pretty high percentage of fat. That leads to richer flavor. I used to make the hot fudge sauce with this cocoa powder, so if you use a lot of cocoa powder and want to take some fancy, restaurant-quality cocoa powder for a spin, this Cocoa Barry is fantastic. Note this is FOUR POUNDS of cocoa powder!
This is an affiliate link which means I earn from qualifying purchases. Your price is unaffected.
My second pick is more widely available, and I can usually find it in the regular grocery store.
If I can find it, I will generally choose Ghirardelli over other brands like Hershey's or Nestle.
It is richer, darker in color, and has a full-bodied chocolate aroma, much more so than the other two brands.
If you see Ghirardelli at the store, pick some up.
Best Home Pick
Ghirardelli Unsweetened Cocoa Powder 8 Ounce (Pack of 3)
This is the cocoa powder I use to make hot fudge sauce (and other stuff) at home. It is rich and delicious and will give your hot fudge sauce and baked goods a lovely, deep chocolate flavor. It is less expensive than the premium brands, but it costs a bit more than the brands that are widely available at the grocery store. Definitely worth having in your pantry. NOTE: The price is for 1 1/2 pounds of cocoa powder.
This is an affiliate link which means I earn from qualifying purchases. Your price is unaffected.
Equipment You May Need
Here are some recommendations for making your candy-making life easier.
A heavy pot with sloped sides will make it easy to stir into the corners.
And, as I have mentioned previously, owning an instant-read thermometer is almost a must. I much prefer them to clip-on candy thermometers because they're more responsive and much more versatile.
I use mine to check doneness in everything from cakes to candy to chicken and bread.
Using a wooden spoon or high-heat silicone spatula is definitely the way to go because metal utensils will just transfer the heat up to your hand, and that would be bad.
A pizza cutter makes a surprisingly good candy cutter too, especially if you spray the wheel with a little bit of Pam or other pan spray.
Jenni's Pick
This is an affiliate link which means I earn from qualifying purchases. Your price is unaffected.
The Most Important Thing You Need to Know About Making Fudge (and other candy)
If you do not want to read all this supporting information and you already know how to make fudge, you can jump straight to the recipe.
Just the thought of making fudge, or any candy, can scare folks. And what's scarier than a fudge recipe?
A random list of old-fashioned creamy cocoa fudge ingredients with no instructions on how to make it. That's what.
Successful candy-making requires that sugar be cooked to precise temperatures so the finished candy is the correct texture. What are you supposed to do if there aren't any instructions?!
You had better know your candy-making techniques, and the most important thing to know about that is what sugar does–how it acts–when it is cooked to different temperatures.
Stages of Cooking Sugar
Have you heard of terms like "thread stage," "hard ball stage," or "soft crack stage?" These terms have to do with how sugar behaves once it reaches certain temperatures.
Back before we had access to precise thermometers, folks would test their sugar by plopping just a bit of the boiling sugar into a glass of ice water and then seeing what happened.
If the sugar made a blob that you could squish with your fingers, it was at the soft ball stage.
If you could squish it but it took a bit of effort, it was at firm ball stage.
If it ended up in shards that bent but then snapped, it was as soft crack stage.
Thank goodness we don't need to use that method anymore. Because sugar is hot and the more times you take blobs of it and transfer them to a glass of ice water, the more of a chance you have of burning yourself. Nope, I'll take an instant-read thermometer any day.
You still need to know what temperatures give you what results, so I made this handy stages of sugar chart for you.
Adjusting Temperature for High Altitude Candy Making
Reader Charlie recently commented saying that his fudge tasted great but was crumbly. He did his own research and realized that it was because 234F was too hot at his altitude (5000 ft above sea level).
This information will help a lot of you, so thank you so much, Charlie. And I know your next batch of fudge will be Perfection!
Here's the rule: reduce the temperature by 1 degree for every degree below sea level boiling temperature of 212F.
Make Adjustments for your Elevation Like This:
Take the temperature of your boiling water.
Subtract 1 degree from the target temperature for every degree below 212F your water boils.
If your water boils at 208F, then you will have to stop cooking your sugar at 230F (4 degrees below 234F since your water boils at 4F below 212F).
For reference, I found this Altitude Conversion Chart in a booklet titled "The Art of Candy Making" from the USU Extension/Utah County in Provo, Utah.
More Candy Recipes
Questions?
If you have a question about this post and it is not time-sensitive, you can leave your question in the comments section here under the post.
If your question is more time-sensitive, the best way to reach me is by email. I will get back to you in under four hours unless I'm sleeping.
To email, simply click the button below:
It would be so helpful to me and to other readers that, when you make a recipe, you rate it and leave a comment. Whether it's a recipe or an informational post, your feedback helps others decide if the post is helpful or if the recipe works as advertised.

If you could leave a star rating, that would be very helpful. Thank you for being here!
Old Fashioned Creamy Cocoa Fudge
This old fashioned fudge recipe will make you very happy, but only if you make it correctly. Pay close attention to the instructions, because they are universal to pretty much all fudge making.
Ingredients
2

cups

sugar

(14 oz)

1

heaping Tablespoon cocoa*

(See Notes)

1

Tablespoon

corn syrup

(light or dark. Any liquid sugar will work here such as maple syrup, honey or molasses)

½

teaspoon

salt

(my addition. Rounds out the flavors and keeps the fudge from seeming too sweet)

1

cup

whole milk

(8 oz)

1

Tablespoon

butter

1

teaspoon

vanilla

1

cup

toasted pecan halves or pieces

(use whatever nut you prefer or leave them out altogether)
Instructions
To Make Fudge
Line an 8″x8″ pan** (See Notes) with parchment or non-stick foil with a piece that is long enough to line the bottom and come up and over two opposite sides of the pan. (use these as "handles" to get the cooled fudge out of the pan). Spray with pan spray. You can also spray or butter the pan well, but using parchment or non-stick foil will make it easier to get the fudge out of the pan.

Place the sugar, cocoa powder, corn syrup, salt and milk in a heavy-bottomed saucepan that is much larger than you think you need. 3 quart size will work just fine.

Stir well, and cook over medium heat until the mixture comes to a boil. You can stir it and scrape the sides of the pan until it starts to boil.

Allow the mixture to boil until it reaches 234F. This is just under the soft ball stage, but this is the correct temperature for making cocoa fudge. (If you're making chocolate fudge, cook to 238F, which is the soft ball stage.)

Move the pan off the burner and drop in the butter and the vanilla. Don't stir them in (if you stir too soon, you'll end up with grainy fudge).

Let the mixture cool to 110F. The pan will feel warm but by no means hot. If you're using a "leave-in" candy thermometer, there will be no question. If you don't have one, occasionally check the temperature with your instant read thermometer (that's what I do).

Once the candy has cooled to the correct temperature, begin stirring vigorously with a wooden spoon. You can also scoop up a bunch of the warm candy and let it pour back into the pot. This will make you feel fancy, and it will help to bring the temperature of the candy down more quickly. Keep stirring and stirring until the candy is just starting to lose its gloss and thicken up.

Dump in the pecans if using, and stir them in quickly.

Scrape the now-quite-thick fudge into the pan and moosh it into the corners with a spatula. I sprinkled some flaky sea salt on top of mine. You can too if you want. Or not.

Allow the candy to set up for at least an hour before slicing with a sharp knife.

Store at room temperature in a tightly-sealed container for 3-4 days. But it will be gone before then.
Did You Make Any Changes?
Notes
*even though the recipe called for only 1 Tablespoon, I figured granny probably used a heaping spoonful–she may not have even used an actual measuring spoon. I used what probably amounted to 2 level Tablespoons of cocoa powder and ended up with a mild-tasting fudge. You will probably be fine to increase the amount to 4 or even 5 level Tablespoons if you want darker fudge. At that point though, you may just want to make chocolate fudge instead.
**I used a loaf pan that was 8 1/2" x 3" across the bottom and ended up with the fudge you see in the photos. Using an 8"x 8" pan will give you a thinner candy. You can also split the difference and make it in a 9"x5" large loaf pan. Your call.
Feel free to double this recipe. It will scale up with no problem at all.
MORE CHOCOLATEY VARIATION
Use the same procedure as the original recipe. Here is your ingredient list. This makes double the original recipe and fits beautifully in an 8" or 9" square pan.
4 cups granulated sugar
1/2 cup cocoa powder
2 Tablespoons corn syrup
1 Tablespoon espresso powder or instant coffee
1 teaspoon kosher salt (I use Morton's)
2 cups whole milk
2 oz (4 Tablespoons or 1/2 stick) unsalted butter
1 Tablespoon vanilla extract
2 cups toasted pecans, whole or coarsely chopped
NOTE: Cooking and resting times are approximate. Please make sure you're using an instant read thermometer to check your temperatures.
Nutrition
Calories:
64
kcal
Carbohydrates:
11
g
Cholesterol:
1
mg
Sodium:
34
mg
Sugar:
10
g
Here's the downloadable recipe card, friends! If you'd like some blank printable recipe cards, I have 3 different holiday designs for you to choose from.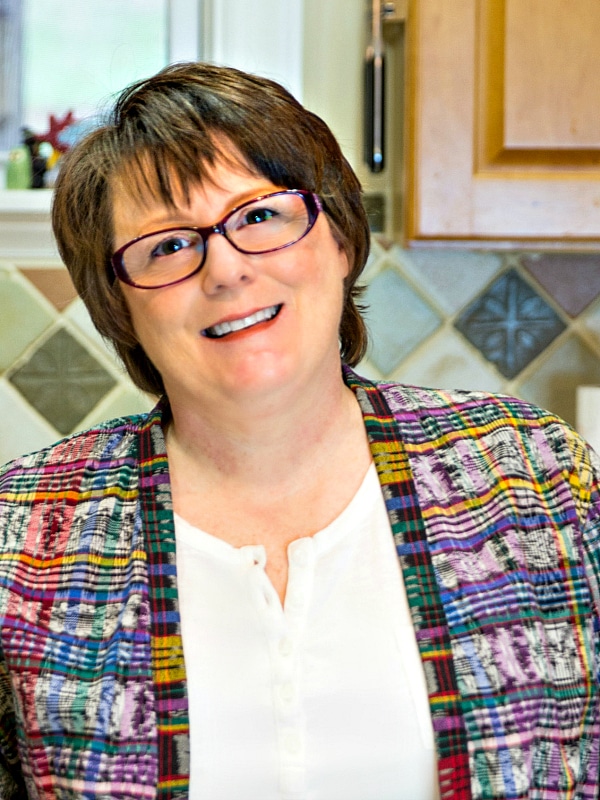 What are my qualifications to teach you baking and pastry? As a former working pastry chef and special educator, I marry my passions for both teaching and for baking into explaining techniques, methods, and developing the best possible recipes. For more info, you can read more about me.
If you'd like to receive new recipes and the occasional newsletter, I'd love for you to sign up for my Inbox Pastry Chef.
Thank you for taking the time to read today. Enjoy the old fashioned fudge recipe!
Take care, and have a lovely day.
Watch my Christmas fudge recipe web story here.
Watch my traditional fudge recipe web story here.