Welcome to my post all about the science of making fudge. If you have burning questions about fudge like "why is my fudge grainy?" "How long do I cool it before stirring?" or just want some really great tips on making homemade fudge, this post is for you.

For recipes, try my creamy cocoa fudge or this old-fashioned fudge recipe.

This post is a part of my Fundamental Friday series about baking science and answering questions about how ingredients work in the kitchen.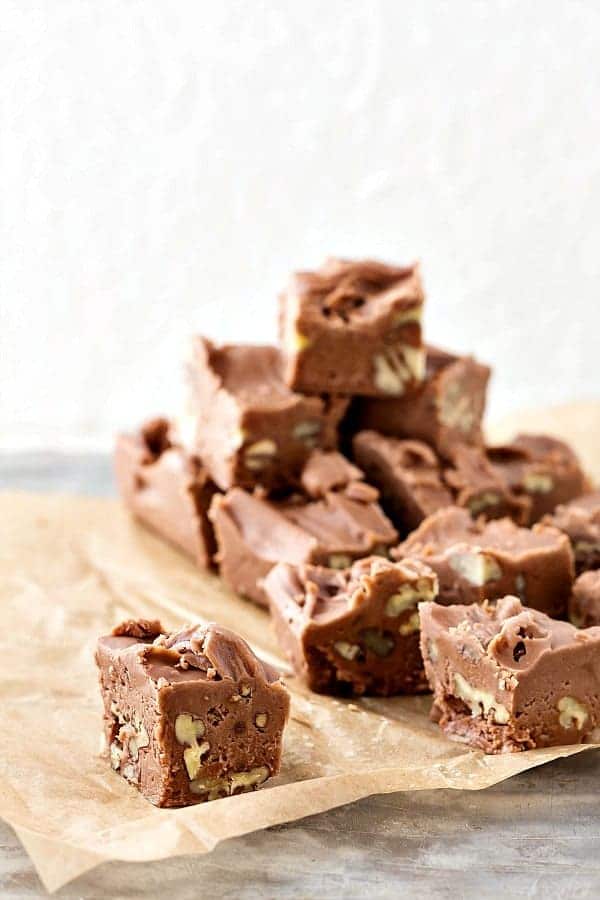 Why Making Fudge Can Be Scary
There is something about fudge that fascinates yet strikes fear into the heart of the home cook.
And I will admit, homemade fudge can be kind of particular about how it is treated.
If you mistreat it, it will let you know by turning into a grainy, sullen mess. You can almost hear it muttering, "Serves you right, treating me like that."
Take heart, friends, for I am here to help. Let me tell you, if college kids home on summer break can learn to make this stuff while singing in front of an audience on the boardwalk, you can learn to make it, too!
Fudge Science
First, let's look a little bit at the science behind fudge.
Sugar is an amazing ingredient, and the hotter you cook it, the more firmly it will set up when cooled.
Also, sugar crystals can vary in size from so tiny that they give the finished product a creamy texture to huge rock candy crunchy crystals.
Here's how fudge happens
you heat sugar with some chocolate and some dairy and a few other things until enough water has evaporated to leave such a concentration of sugar that it will crystallize as it cools.
Agitation at just the right temperature will result in those tiny creamy-feeling sugar crystals. If you heat the sugar too high or wait until it is too cool to stir it, you will pretty much end up with rock candy, so that's why the first thing you need if you're going to make fudge is a good candy thermometer.
Important Equipment
Owning a candy thermometer is a good investment, even if you only use it a few times a year–they don't take up much storage space, and they can help ensure that your candies turn out perfectly every time.
And, by the way, if you're saying to yourself, "I can just use the ice water test," and are thinking to yourself that you don't need a thermometer, I'm telling you: get one.
Even with ice water close at hand, you can seriously burn yourself if you're dripping molten sugar around. Keep the sugar contained in the pan, and buy a candy thermometer.
I actually don't use a clip-to-the-side-of-the-pan candy thermometer. My thermometer of choice is an instant read thermometer. I take the temperature periodically during the cooking process, plus I can use it for more than just cooking candy or deep frying.
Here's the fudge we used to make at my old restaurant (we'd give it out with the check instead of little Starlight mints). I think you'll be surprised by how easy the procedure is:
Basic Fudge Ingredients and Amounts
2.5 cups sugar
4 oz. semi-sweet chocolate, chopped fine, or good quality semi sweet chocolate chips
1.5 oz. softened butter
8 oz. half and half
about 1/2-1 teaspoon of salt, to taste (taste it before it comes to a boil)
1 T corn syrup
1 T vanilla
toasted nuts (optional), 1 c.
Procedure, in Great Detail
Line a loaf pan or a 6″ square cake pan with parchment or magical non-stick foil. Butter the pan well.
Put all the fudge ingredients except for the butter, vanilla and nuts into a large, heavy-bottomed sauce pan.
Heat on medium-high heat, stirring with a wooden spoon or silicone spatula (so heat doesn't transfer and burn your hand), to boiling.
PRO TIP: Stir with a wooden or silicone spoon so heat doesn't travel up the handle of a metal spoon and burn you.
Cover the pan for 1-2 minutes to let the steam wash any errant sugar crystals down off the sides of the pan.
Remove the lid and turn down the heat to medium. Clip on the candy thermometer, and let the fudge cook without stirring until the thermometer read 234 degrees, F. (234F is the lower end of the soft ball stage. If you cook your fudge much hotter than this, it will be too firm to bite cleanly and will be more like taffy. Which is not what we want here).
Remove the pot from the heat, leaving the thermometer in the fudge.
Put the butter and vanilla on top of the molten candy, but don't stir it in. Now, leave the pan alone. Do not bump it, slosh it or stir it until the thermometer reads 130 degrees, F.
What Happens if You Stir Too Early (or Too Late)
130F is the magical temperature at which you will get tiny creamy-feeling sugar crystals, and if you start stirring before then, the crystals might never form so your fudge won't have the correct creamy fudge texture.
PRO TIP: Cook fudge to 234F and cool to 130F before stirring. Remember these 2 magic temperatures!
Conversely, if you start stirring too late (when the fudge mixture is cooler) it could set up before you've had a chance to thoroughly stir it. This could mean fudge with an uneven or grainy texture. The graininess happens because the mixture was too cool when you started stirring it.
Once it hits the magical 130 degrees, stir vigorously with a wooden spoon until the fudge thickens and is no longer shiny.
Streaky/shiny isn't good enough. Make sure it's uniformly matte and very thick.
This means you have achieved uniform crystallization. Yay!
Stir in the nuts, if using, and pour/scrape into the prepared pan.
You might need to press the fudge into a uniform thickness. Let it cool the rest of the way and then slice into tiny pieces.
If you've followed the directions and made perfect fudge, and I know you have, the fudge will have a delightful bite/chew/melt mouthfeel, and you (or the lucky recipient/s) will be swooningly happy.
Questions
It would be so helpful to me and to other readers that, when you make a recipe, you rate it and leave a comment. Whether it's a recipe or an informational post, your feedback helps others decide if the post is helpful or if the recipe works as advertised.

If you could leave a star rating, that would be very helpful. Thank you for being here!
While you're here, I'd also love it if you could sign up for my newsletter. If you'd like to occasionally see me pop into your inbox, here's how to make it happen: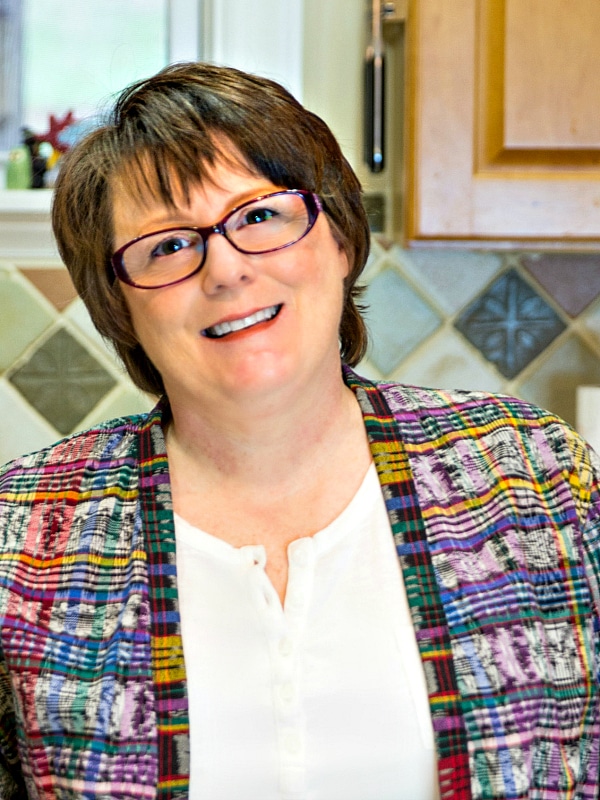 What are my qualifications to teach you baking and pastry? As a former working pastry chef and special educator, I marry my passions for both teaching and for baking into explaining techniques, methods, and developing the best possible recipes. For more info, you can read more about me.
If you'd like to receive new recipes and the occasional newsletter, I'd love for you to sign up for my Inbox Pastry Chef.
Thanks for joining me on this exploration of the science of making fudge, friends.
Take care, and have a lovely day.