Whether you make this Thanksgiving Shepherd's Pie for your main Thanksgiving meal as we did or use the remains of your turkey to make leftover turkey shepherd's pie with stuffing crust the day after Thanksgiving, you're going to love this versatile recipe.

All the Thanksgiving flavors in bite after delicious bite! You should also make some delicious dinner rolls to go with! For another laid-back Thanksgiving option, make turkey and waffles with my potato stuffing waffles!

If you're in need of more comforting poultry dishes, you may want to check out my chicken pot pie, which you can easily turn into turkey pot pie.

For ease of browsing, here are all of my poultry recipes in one place. Thanks for stopping by!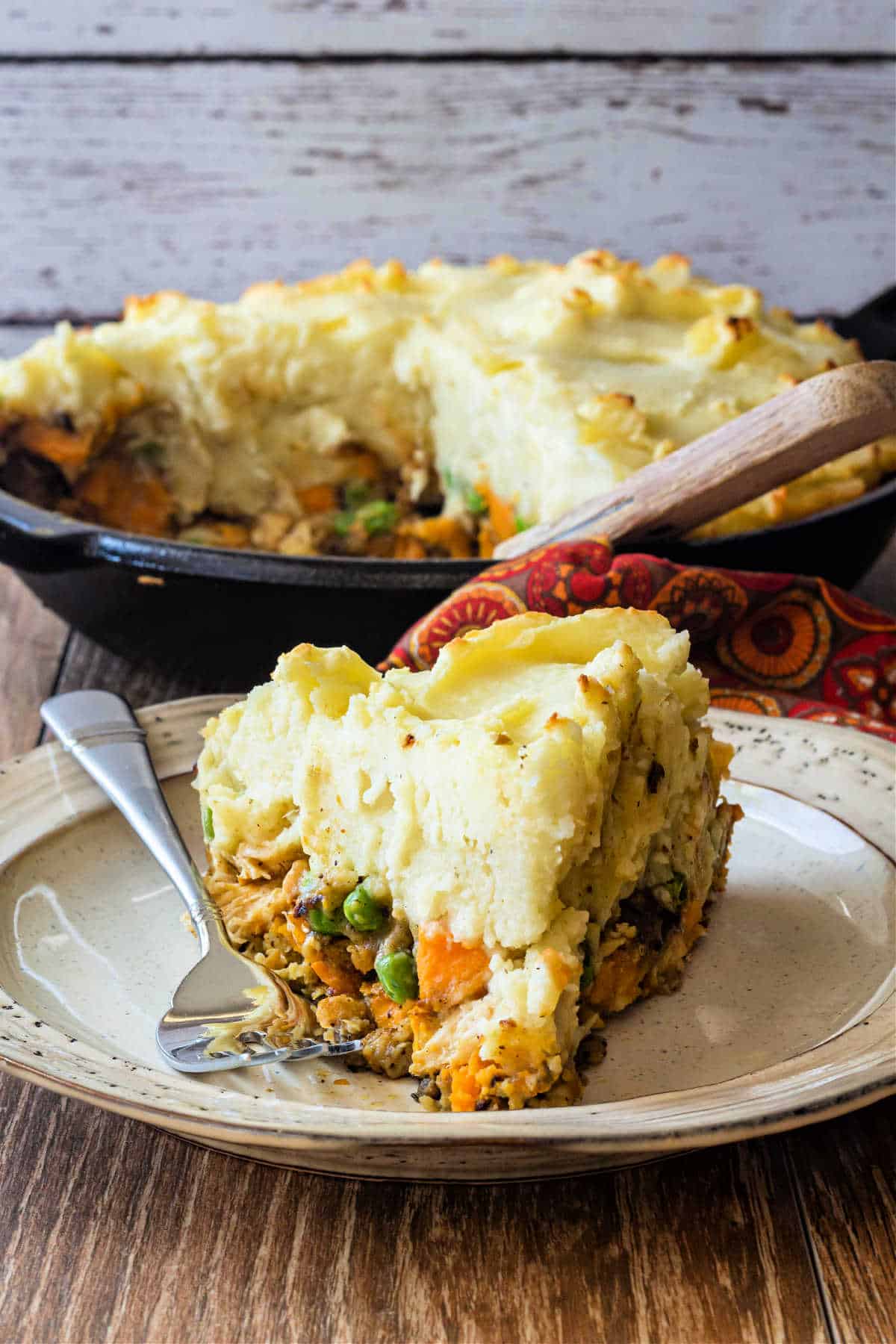 Watch my turkey shepherd's pie web story here.
NOTE: This post contains a long story about my family. If you prefer, you can skip straight to the recipe.
Thanksgiving with Uncle Ray
One year, we took an early Thanksgiving meal down to Pinehurst to enjoy with Uncle Ray.
My mom made some of the food, and I made some of the food, and we all ate in Uncle Ray's room at the nursing home.
One of the many wonderful staff people there brought in a card table from the activities room so we wouldn't have to serve from the bed, and we all enjoyed a rather festive and tasty time.
Norman Rockwell never painted a Thanksgiving scene like that. And none of us balancing a plate on our knees as we perched on the foam mattress or one of the walkers or wheelchairs would've believed that image if someone had mentioned it to us just three years ago.
Time does Things to people and to families. It flows through us and around us and changes us.
It smooths out rough edges through erosion. Erosion which seems to happen more quickly the older one gets.
It leaves us breathless. It makes us more accepting. It requires that we cherish every moment. Because time doesn't stop, even as we, one by one, fall out of its stream.
Thanksgivings Past
Our family meals—the Holiday ones anyway—were always rather formal affairs. There was plenty of laughter and conversation and gravy boats dropped in centerpieces, but there was also candlelight and fine china and polished silver and white tablecloths.
There were forgotten bags of giblets left in 26-pound turkeys and stories where everyone broke something one year, but there was also prayer and ritual and nice clothes. And Auntie Ev's Traditional English Trifle for dessert. And maybe even Angel Slices, if Auntie Ev made them early that year.
There was always room for one more at the table, but nobody ever ate until the hostess was seated.
How to Have a Relaxed Thanksgiving
So, since we had enjoyed A Very Happy Nursing Home Thanksgiving on Saturday, the name of the game for our meal on actual Thanksgiving was "relaxed."
I didn't want a bajillion serving bowls. I didn't want to have to count out serving spoons.
What I wanted was comfort.
And having just made a pot pie a few weeks before, I figured that Something Similar would definitely fit the bill for Thanksgiving.
Enter: Thanksgiving shepherd's pie!
Thanksgiving Shepherd's Pie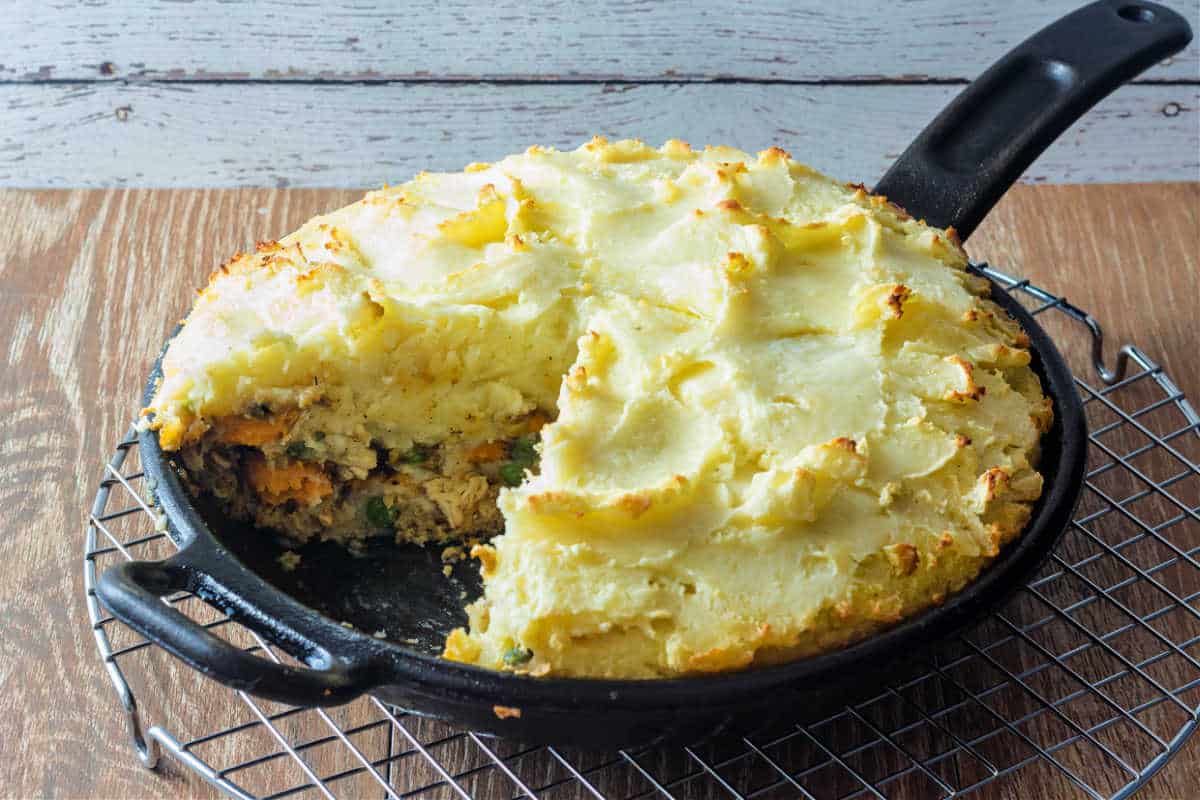 Here's what I like to eat at Thanksgiving: beige stuff. Potatoes. Stuffing. Gravy. Turkey. In that order.
But, to keep dinner from looking too monochromatic and institutional, I also tossed in some sweet peas, diced sweet potatoes and a big old handful of Craisins.
The beige parts played the part of the bottom crust (stuffing), top crust (mashed potatoes), and the rest of the filling (turkey chunks and gravy).
This dish is a wonderful way to use up your leftovers, so don't feel like you must Strictly Adhere to this recipe.
But do make the stuffing crust. It was Rather Awesome.
In need of a great stuffing recipe? Try these Stuffing Cubes. If you have any leftover, they'd be great to turn into stuffing crust!
What's So Great About This Recipe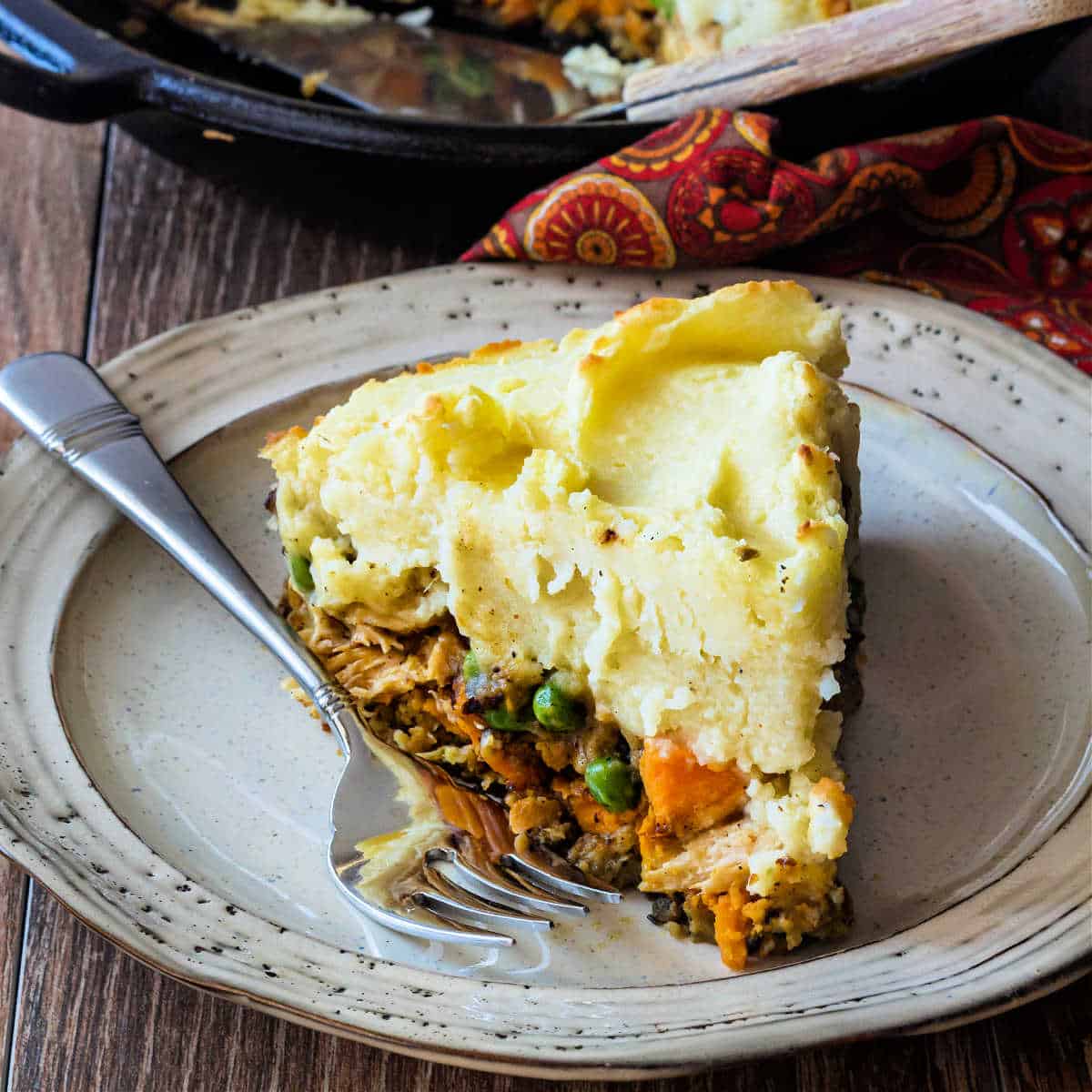 My favorite thing about this Thanksgiving version of shepherd's pie is that you can make it for the main event as a casual meal, or you can make it to use up leftovers from a more formal Thanksgiving spread.
I also love that it's versatile. Whatever you have that's Thanksgiving-y, you can use.
How to Make a Turkey Shepherd's Pie with Thanksgiving Leftovers
Below are the ingredients I used, plus I'll give you some ideas for substitutions.
Ingredients
Here's what you'll need: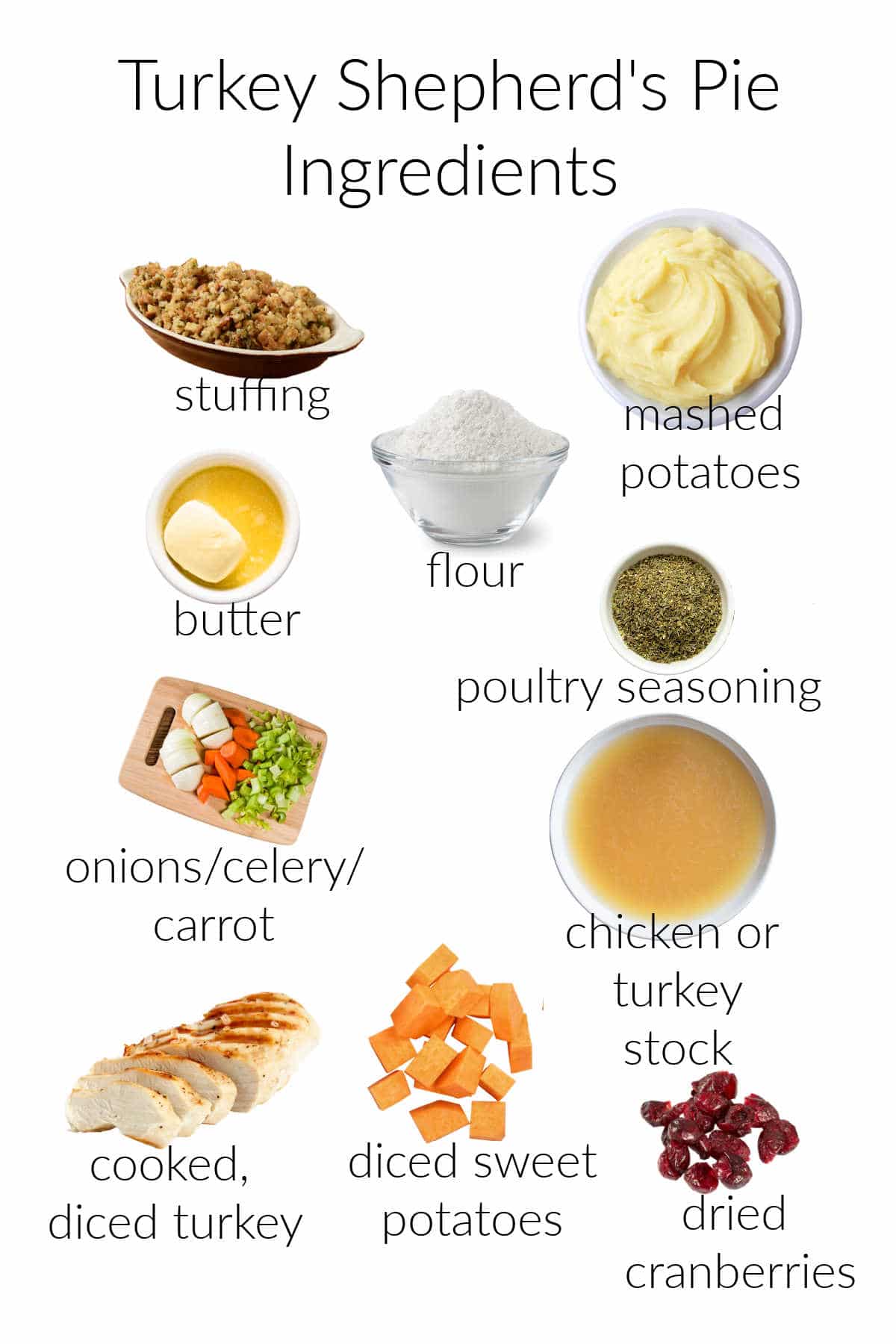 stuffing: use your favorite homemade stuffing or start with Stove-Top. No wrong answers here
mashed potatoes: use leftovers if you have them, or make fresh. You can even use instant potatoes if you like
butter: butter is the fat that allows you to taste all the Thanksgiving flavors, friends
flour: the butter, flour, poultry seasoning, and stock are for a quick gravy to bind all the filling ingredients. If you have jarred gravy or leftover gravy, you can use that instead. It'll save you a couple of steps
poultry seasoning: this is my go-to flavor combination for all things, well, poultry. If you don't have poultry seasoning, use a mixture of sage, thyme, marjoram, and rosemary
chicken or turkey stock: used in both the stuffing to make it soft enough to press into a pie pan and also to make the gravy
onions/celery/carrot: or "mirepoix" is the flavor base of so many good things, from chicken soup to coq au vin. Sauteed in butter with some poultry seasoning, it can't be beat.
diced, cooked turkey: because Thanksgiving. But if you want to substitute chicken, by all means do
diced sweet potatoes: You can put them in raw and they'll cook just fine. If you're using leftovers, you can add spoonsful of puree or dice up your leftover candied yams
dried cranberries: if you have homemade or canned cranberry sauce, sub that in for sure. Maybe try my cran-raspberry jam

PRO TIP: Limit your specific vegetable/leftover add-ins to no more than 3 or 4. You don't want to muddy up this guy with too many competing flavors.
How to Turn Stuffing Into a Pie Crust
You'll need about 2 1/2 cups or so of stuffing, leftover or freshly made. This is not an exact science, so use what you have.
If using cold leftover stuffing, cut it into chunks.
Put it in the bowl of your food processor with about 1/4 cup of chicken or turkey stock or broth.
Pulse to break up the chunks into small pieces.
Press some of the stuffing mixture together with your fingers to see if it holds together.
If not, add an additional 1/4 cup of broth and pulse again. Mixture will be sticky.
Spray your deep dish pie pan with pan spray.
Dump the stuffing mixture into the pie pan, and then spray your hands with pan spray to keep it from getting your fingers super messy.
Use your sprayed hands to press the stuffing into the bottom and up the sides and out onto the rim of the pie pan. You want about a 1/4″ layer across the bottom and up the sides.
Bake at 350F for about 30 minutes until the crust is dry and starting to brown.
Set aside until ready to fill. If the sides have slumped during baking, you can use a spatula to press them back into place. All will be well. And delicious.
And now you know. The next time someone asks you "What can I do with leftover stuffing?" tell them to make a crust for shepherd's pie!
Jenni Says: If for some reason you don't have any stock or broth, you can use a beaten egg mixed with 2 Tablespoons of water. The egg will give your crust a bit more structure once it bakes.
Next Up: Fill Up Your Crust with Leftovers
Once you have your crust, it really is as simple as either layering in your leftovers or gently mixing them together before topping with mashed potatoes and baking.
What can you fill your stuffing crust with? Well, what do you have leftover? You can mix and match, use my recipe exactly, or go an entirely different direction.
You can even make some of my (super good) cranberry ketchup and either drizzle it into the filling or spoon it over the top for some serious tangy cranberry flavor to accent the rich, mellow pie.
And if you're not feeling up to making a shepherd's pie, why not make some quick Thanksgiving Leftovers Quesadillas?!
Skillet Thanksgiving Shepherd's Pie
For my most recent version, the one you see in many of these photos, I made my shepherd's pie in this Lodge skillet. I also use it for cooking frittatas for the two of us.
Jenni's Pick
This is an affiliate link which means I earn from qualifying purchases. Your price is unaffected.
Thanksgiving Shepherd's Pie Q & A
Is this gluten-free?
As written, it is not. If you use all gluten-free components, yes. You'll want to especially make sure your stuffing and gravy don't contain any gluten.
What other meat can I use in it?
Chicken is an obvious substitution, but never underestimate a good ham or even roast beef. Pretty much any meat that you had at your Thanksgiving dinner, you can put in this pie.
Can I make a vegetarian option?
Yes. Just load it up with lots of vegetables and go heavy on sweet potato or butternut squash. Make sure you make a vegetarian gravy using vegetable stock, and you'll be good to go.
What About Dessert?
This is an excellent question. Because dessert is never optional at Thanksgiving. If you're a traditionalist at Thanksgiving, make a fabulous pumpkin pie or pecan pie.
If you are a bit less traditional, or you're looking for some new Thanksgiving traditions, consider my roasted corn cheesecake served with cranberry sauce, caramel pumpkin mousse, or maple pumpkin pudding if you're looking for individual desserts, or spiced apple cake if you want a "slicing dessert."
One of my favorite desserts I've ever made is pumpkin caramel latte flan. Yowza, that stuff is delicious!
Anyway, whatever you put in your turkey shepherd's pie and whatever you have for dessert, make it a memorable Thanksgiving.
Questions?
If you have a question about this post and it is not time-sensitive, you can leave your question in the comments section here under the post.
If your question is more time-sensitive, the best way to reach me is by email. I will get back to you in under four hours unless I'm sleeping.
To email, simply click the button below:
A Note About Measurements
The vast majority of the recipes on my site are written by weight and not volume, even the liquids unless otherwise specified.
I strongly encourage you to buy and use a kitchen scale to make sure you achieve accurate and consistent results.
This is the scale that I used for years, love, and recommend, both because it is accurate and because the price will not break the bank.
Best for Home Use
Escali Primo Digital Food Scale
Don't let its small price and small size fool you. The Escali Primo is an accurate and easy-to-use food scale that I have used for years. It's easy to store, easy to use, has a tare function, and easily switches between grams and ounces/pounds for accurate measurements.
This is an affiliate link which means I earn from qualifying purchases. Your price is unaffected.
It would be so helpful to me and to other readers that, when you make a recipe, you rate it and leave a comment. Whether it's a recipe or an informational post, your feedback helps others decide if the post is helpful or if the recipe works as advertised.

If you could leave a star rating, that would be very helpful. Thank you for being here!
Turkey Shepherd's Pie with Stuffing Crust
Warm and filling, this "Thanksgiving shepherd's" pie is brimming with Thanksgiving flavors. I realize that most turkeys and chickens do not require Shepherds, but please just go with it for the sake of the season and the mashed potatoes.
Ingredients
For the Crust
About 2 1/2-3 cups of stuffing/dressing made from the recipe of your choice

(leftover is just fine)

About 1/2 cup turkey or chicken broth/stock
For the Potatoes
2

each medium Yukon Gold and Russet potatoes

(you can use all of one or the other, I'm just letting you know what I did).

salt and pepper

to taste

about 2 ounces butter

about 1 cup warmed milk

(maybe a bit more. I just put it in a pan over medium heat until it was hot but not scalding)
For the Filling
3

Tablespoons

fat

(you can use oil, butter, coconut oil, chicken fat–whatever you like here)

1

medium onion

finely diced

1

large rib celery

finely diced

1

large carrot

finely diced

1

teaspoon

poultry seasoning

salt and pepper

to taste

2

Tablespoons

flour

1-1 ½

cups

chicken or turkey stock

sweet potatoes in 1/2″ dice

(I used about 1/2 cup or so, I guess)

2-3

cups

diced chicken or turkey

(leftover is fine. If you're making "new," the meat doesn't have to be cooked all the way through since it'll bake up in the pie)

1

cup

frozen peas

½

cup

dried cranberries
Instructions
For the Crust
If you're using cold, leftover stuffing, cut it into kind of manageable 1″ chunks.

Put in the bowl of a food processor.

Add 1/4 cup of stock and pulse until it still has some texture but isn't too chunky.

Test to see if it is still crumbly. If it is, add the other 1/4 cup of stock and pulse again.This stuff will be sticky, so look out.

Spray a deep-dish pie pan lightly with pan spray.

Dump the stuffing into the pan and roughly press it out with the back of a spatula. Lightly spray this with pan spray so you can work with it, then press the stuffing in the pan and up the sides trying to make it look as nice as possible. It should be about 1/4″ thick.

Bake in a 350F oven for about 30 minutes, until the crust is dry on top and has taken on some color. If any of it has slumped, you may have to futz around with it a bit once it comes out of the oven. Just press it back in place with a spatula or something. It will be fine. Set aside.
For the Mashed Potatoes
Peel and cut the potatoes into 1″ dice (more or less) and place them in a pan of cold water.

Add a healthy sprinkle of salt and several grinds of black pepper to the water. Bring to a boil and then reduce heat. Let the potatoes simmer about 12 minutes until tender. Check by stabbing them with a knife. They should offer no resistance. Resistance is futile.

Drain off all the water, put the lid on the pan and let the potatoes dry over medium-low heat for about 5 minutes.

Mash the potatoes with your favorite masher.

Add a bit of salt and pepper and the butter and mash well to combine.

Taste for seasoning and add the milk, a bit at a time, until you like the consistency. Add more salt and pepper if necessary. Cover and set aside to stay warm.
For the Filling
Heat a large saute pan over medium heat until hot.

Add the fat. When it is melted and shimmering, add the onions, carrots and celery (mirepoix) to the pan along with a heavy pinch of salt, freshly ground black pepper, and the poultry seasoning.

Stir and saute for about 5 minutes until the vegetables are softened and somewhat translucent.

Stir in the flour and cook, stirring, for another 2 minutes or so. The mixture will seem very dry. If you want to add a bit more fat, you can. It's your call.

Pour in the stock and bring to a boil. The mixture will be quite thick. You can add a bit more stock if you want, if you want your final pie to have a bit more gravy in it. Personally, I think thicker is better.

Add in the sweet potatoes and cook, stirring, for about 5-7 minutes, just to give them a head start since they're kinda hard.

Stir in the meat, peas and cranberries and stir everyone around for a minute.
To Assemble and Bake
Spread the filling evenly in your stuffing crust.

Top with the mashed potatoes, making it swirly if you want.

Tent the pie with foil and bake at 400F for 30 minutes.

Remove the foil and bake for 30 minutes more at 375F.

Take the pie out of the oven, tent with some foil, and let set up about 15-20 minutes before slicing and serving.
Did You Make Any Changes?
Notes
I used a blender to make the crust. Use the food processor. It'll be much easier. Trust me.
My stuffing, if you're interested, contained cubed stale Italian bread, onion/celery/carrot (cut up itty bitty in the food processor and sauteed in a boatload of butter), mild pork sausage, dried cranberries, salt, pepper, poultry seasoning, stock and an egg.
Shortcut: No need to make a thickened stock if you already have leftover gravy, Just reheat it to thin it out and pour over all your fillings.
Storing
Keep covered in the refrigerator for 2-3 days. Since you are working with leftovers, it doesn't last as long. If you are making this with all fresh ingredients, you can keep it refrigerated for up to 5 days.
Nutrition
Calories:
242
kcal
Carbohydrates:
28
g
Protein:
16
g
Saturated Fat:
2
g
Cholesterol:
37
mg
Sodium:
143
mg
Fiber:
4
g
Sugar:
10
g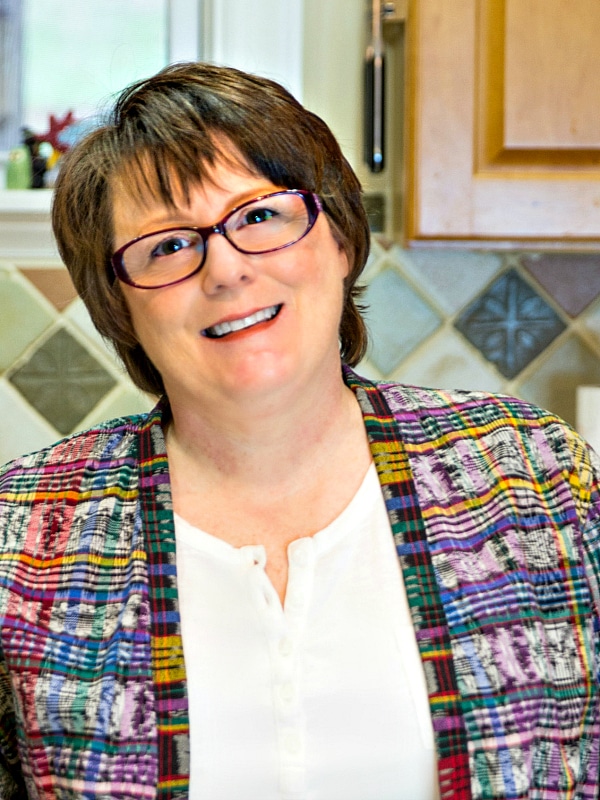 What are my qualifications to teach you baking and pastry? As a former working pastry chef and special educator, I marry my passions for both teaching and for baking into explaining techniques, methods, and developing the best possible recipes. For more info, you can read more about me.
If you'd like to receive new recipes and the occasional newsletter, I'd love for you to sign up for my Inbox Pastry Chef.
Watch my turkey dinner pie web story here.