Y'all, have I got a treat for you today! Wondering what to do with leftover grits? Well, I am going to show you how to make a delicious soft sandwich bread (or burger buns) using leftover stone ground grits! That's right–grits bread!

The cool thing about this bread is that, because of the way the grits swell up when cooked, it stays soft for a good week or so at room temperature. The grits behave in very much the same way that the potatoes do in my potato sandwich bread.

I've made this bread several times, and I've even made them into the burger buns for my breakfast burgers. And I've had two of my very best baking friends test it, and they are fans as well!

If you're looking for more recipes that use buttermilk, give this Boston brown bread or these dried cherry buttermilk muffins a shot. So good!

For ease of browsing, here are all of my bread and roll recipes. Thanks for stopping by!
Why Grits in Bread?
For the same reason I use potatoes in bread: for the swelled up starches in the grits.
The starches swell through cooking in water, and the water slowly penetrates the hard little bits of corn, gelatinizing the starches in them.
When grits cool off, do they turn back into dry coarse crumbs?
Nope. They cool into sort of a gummy, cold slab of a bunch of starch that is holding onto water even once cool.
And those cooked grits will keep holding onto that water, even when baked into bread.
This slows down the staling process and increases the keeping ability of bread.
I've made this loaf many times now, and I kept a couple of pieces out of one loaf to see how long it would stay soft, and the bread got moldy long before it staled. Nice!
Grits Bread Q&A
How long will the bread keep?
At room temperature and well-wrapped (I usually wrap it in heavy duty foil), this grits bread will stay soft and fresh for a good five days.
How long does it take to make?
You can make this bread, start to finish (not including making and cooling the grits) in about 4 hours. That includes 2 rises and baking time.
Can I store this bread in the fridge?
Please don't. Keeping bread in the refrigerator actually encourages staling. Keep this bread, well-wrapped, on the counter for a good 4-5 days.
How about freezing?
Most bread does very well in the freezer. Once I bake and cool it completely, I slice the loaf and then put it back together, wrap it well in plastic wrap and foil, and freeze for up to 3 months. I just take pieces out as I need them, thawing them at room temperature, putting them in the toaster oven, or in the microwave for about 10 seconds.
Can I knead this by hand?
I don't recommend it. This dough is very sticky until it has been properly kneaded, and even then it's pretty soft. This recipe really is a reason to bust out your stand mixer.
Can I use instant grits or quick grits?
That's a good question, and the answer is that I don't know. I have made this as a loaf and as buns many times, but I always use stone ground grits that have a 4:1 cooking ratio. That is, you need 4 cups of water to cook 1 cup of grits. Check your package labels. If the instructions are 4:1, you should be fine. If it's less, like 3 cups or 2 cups of liquid per cup of grits, you will have to increase the amount of liquid you add to the recipe.
About the Video
Note the video is a real-time video in which I make and knead the bread dough live.
It is about 50 minutes long. If you do not want to watch the entire thing, you can click over and watch it on Facebook. There you will be able to fast forward to get to the parts you are most interested in.
Please, especially if you do not bake a lot of yeast breads, take the time to watch the kneading in particular. You will be able to see how the dough changes and gains structure as it is kneaded.
Watching it in real time will help you resist the urge to add additional flour to your dough while it's in the mixer. And we don't want that.
Adding too much extra flour can lead to a dense loaf that doesn't rise as much as it should.
What My Testers Said
I don't often ask other folks to test my recipes. I generally do all the testing myself. But I think I am onto something pretty special here, and I wanted to make sure that other folks who don't bake a lot of bread would have success with this recipe.
I asked two cookbook author friends, Nancie McDermott and Jill O'Connor to give the bread a try and see what they thought.
Here's a photo of Nancie's bread:
And here's what she said about it:
It is delicious and a lovely texture. A great, wonderful, doable recipe.

Nancie McDermott
And here is how Jill's bread turned out:
And this is what Jill had to say about the recipe:
This Southern California girl didn't know grits from granola until Jenni Field introduced me to this super simple recipe for a delightful loaf of bread. The grits give the dough a great texture and a dollop of honey adds a whisper of sweetness. Even when sliced, the bread stays fresh and tender for days. A definite winner, even for beginning bakers.

Jill O'Connor
I was thrilled with their reactions, and I am sure you will find this bread easy to make and really delicious as well!
Another Reader Rave
Ingredients
NOTE: The full recipe is at the bottom of the post. This section is just letting you know what you'll need to make the bread.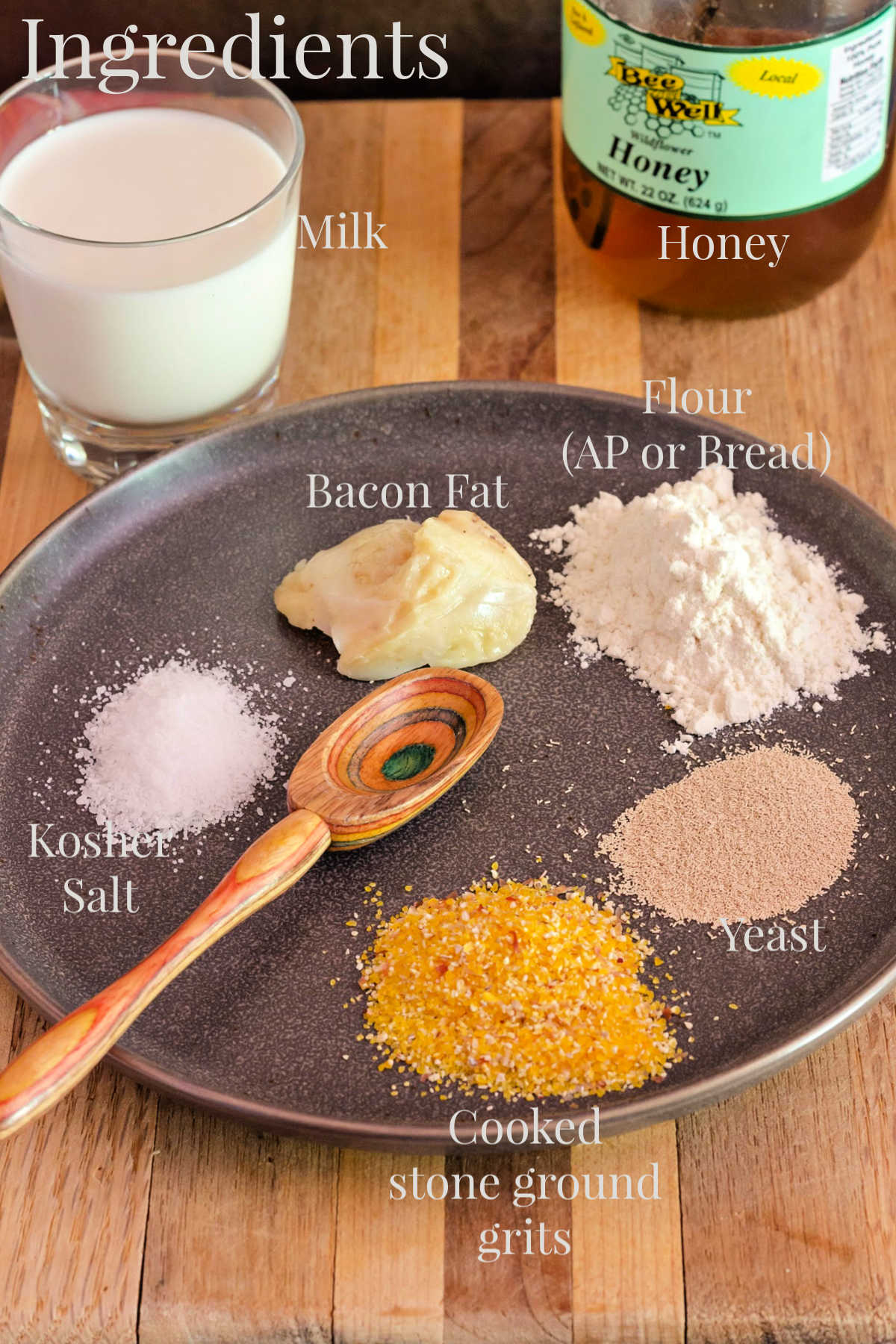 The players:
leftover cooked stone-ground grits (and yes, you can cook some special just for this recipe. Just let them cool before adding them to the mixer bowl. And cold out of the fridge is fine too.) NOTE ABOUT GRITS MEASUREMENT: measure your cup of cooked grits once they've cooled down. If you weigh them, you will need 10 oz cooked grits. Otherwise, measure a full cup of cooked then cooled grits
salt
bacon fat
honey
whole milk
flour–either all purpose or bread flour will work here
yeast–I use instant, but you can dissolve active dry yeast in some of the milk and use that instead
Ingredient Substitutions
You can use either white or yellow stone ground grits. I use yellow, because the little specks show up. Either will work just fine though.
I use kosher salt, but if all you have is fine table salt, you can use it. You will probably only need a teaspoon and 1/4-1/2 rather than the 2 teaspoons of kosher salt called for.
Instead of bacon fat, feel free to use very soft butter, soft coconut oil or even olive oil if you like. It will change the character of the bread slightly, but any of these substitutions will work just fine. Oh, and I've also used the fat from cooking sausage too, and that's really good!
You can use sorghum syrup instead of honey. Maple syrup is also a good option. I think that would be especially nice if you use sausage fat as the fat in the recipe.
You can substitute 2% milk for the whole milk. You can also use buttermilk, but since it is thicker, if you do use it, you will probably need to add an additional tablespoon or two of water or milk.
I have not tried to make this bread with whole wheat flour, but I've tested with both bread flour and all purpose flour with great results. Do not use a lower protein flour like White Lily or cake flour. It doesn't have a high enough protein content to work here.
I used instant yeast, but you can also use active dry. Note if you have less than the 1 1/2 teaspoons called for, you can use less. Your rise time will be longer, but what you lose in time, you gain in additional flavor.
Measuring the Grits
I have had a couple of people tell me that their dough has not come together and they had to add a whole bunch of extra flour to make their dough workable.
So this doesn't happen to you, I want to reiterate how to measure the grits.
Bring 4 cups water plus a teaspoon or so of salt to a boil.
Stream in 1 full level cup of stone-ground grits.
Stir and cook until tender, about 30-40 minutes.
Eat some grits now if you want.
Cool down the remaining grits and chill them in the fridge.
Weigh out 10 oz of the cooled, cooked grits. If you don't have a kitchen scale (please get one), measure out 1 full dry measuring cup of cooled cooked grits.
Procedure
This bread is made using the straight dough method.
That means everyone goes in the pool at the same time.
The one "rule" I have about it is to keep the salt and the yeast away from each other until the mixing begins.
That's because high concentrations of salt can kill yeast. Just to clarify–not dry salt, but still.
So I keep the flour between them until I start mixing.
If you add everything to your mixer in the order I suggest, all will be well.
What Is the Crumb Like?
In a word, excellent. This bread has a fairly tight crumb but is also light and chewy. If you look closely, you can see the little specks of cooked grits in the finished bread, too.
Serving Suggestions
Honestly, any way you'd use store-bought bread, you can use this bread.
Here are some things I've made with it so far:
I will say that this bread makes gorgeous toast, so if you have a loaf of this and a loaf of some other bread and are trying to decide which one to make toast with, choose the grits bread.
I mean, just look how perfect!
The Kind of Flour Matters
I recently had a reader comment that her grits bread dough needed a full 1/2 cup extra of milk.
She was using a combination of white and whole wheat flour but said she followed the recipe to the T, otherwise, including weighing her ingredients.
You can use whatever higher-protein flour or mix of flours you'd like, but do know that the amount of liquid may change accordingly depending on how much liquid your flour can absorb.
Once she added the extra liquid, all was well and her bread turned out fine.
Yours will too!
Here's her complete comment, and I'm adding this section to the post so it can help everyone:
Do You Have More Bread Recipes?
As a matter of fact, I do!
I love making bread and playing with the Tangzhong method to create breads that stay soft for days like my Tangzhong pain au lait or milk bread recipe.
I also have a great recipe for potato sandwich bread that is just as soft as this bread is. It also makes beautiful toast.
And if you are having difficulty finding baking yeast, I also have a few breads that I make with yeast used for making beer or wine. You may want to check out my posts on baking with brewers' yeast, champagne yeast pita, and champagne yeast brioche.
A Note About Measurements
NOTE: Most of my recipes are written by weight and not volume, even the liquids.

Even though I try to provide you with volume measurements as well, I encourage you to buy a kitchen scale for ease of measuring, accuracy, and consistency.
This is the scale I use, love, and recommend is the Escali Primo.
For convenience, consistency, and accuracy, almost all my recipes are written by weight, either in ounces and/or grams, even the liquids.
I strongly encourage you to purchase a kitchen scale and learn to use it.
This is the one I used for years. I love it and highly recommend it:
Best for Home Use
Escali Primo Digital Food Scale
Don't let its small price and small size fool you. The Escali Primo is an accurate and easy-to-use food scale that I have used for years. It's easy to store, easy to use, has a tare function, and easily switches between grams and ounces/pounds for accurate measurements.
This is an affiliate link which means I earn from qualifying purchases. Your price is unaffected.
Questions?
It would be so helpful to me and to other readers that, when you make a recipe, you rate it and leave a comment. Whether it's a recipe or an informational post, your feedback helps others decide if the post is helpful or if the recipe works as advertised.

If you could leave a star rating, that would be very helpful. Thank you for being here!
Grits Bread Recipe
This grits bread uses cooked, leftover stone ground grits as the base for a flavorful and soft sandwich bread with incredible keeping qualities. It toasts beautifully and is soft enough for kids to enjoy while still standing up to hearty sandwich fixin's.

NOTE: Instructions for including an overnight rise as well as for making burger buns or dinner rolls are in the Notes section.
Ingredients
10

oz

1 level cup stone ground grits, cooked according to package directions, cold

2

teaspoons

kosher salt

I use Morton's

1

oz

honey or sorghum syrup

1

oz

bacon fat or soft butter

4

oz

whole milk

13.5

oz

all purpose or bread flour

1 ½

teaspoons

instant yeast
Instructions
Combine all the ingredients in your mixer bowl in the order given.

Fit your mixer with the dough hook and mix on low speed until all the ingredients have been incorporated and you have a shaggy dough.

Increase the mixer speed to medium and knead for 10-12 minutes, until all the dough gathers in a ball around the dough hook. NOTE: Please watch the video to see in real time what the dough looks like while kneading. It will help you resist the urge to add more flour.

Once the dough is smooth, shiny, and nicely stretchy, oil your hands and form the dough into a ball. Plop it back in the mixer bowl, spray lightly with oil or pan spray, and cover it with a lint-free towel or plastic wrap.

Allow to rise in a cozy place until doubled in size, about 90 minutes. I like to put a mug of boiling water in the microwave, place the covered dough next to it, and shut the door.

Plop your dough onto a clean surface. Press out all the gas bubbles you can and then fold the dough a couple of times just to redistribute the yeast.

Pat the dough into a rectangle about 6" wide and 14" long. You don't have to measure, honest.

Starting at a short end, roll up the rectangle of dough tightly, like a jelly roll. At this point the dough cylinder will be about 9" long because it will stretch out as you roll it up.

Tuck the ends of the roll down towards your work surface and then place the roll of dough into a greased 9" x 10" loaf pan, again pointing the ends of the log down towards the bottom of the loaf pan.

Spray with pan spray and let rise until it is about 1" over the top of the pan, about 45 minutes.

Preheat the oven to 350F.

When the loaf is nicely risen, make a 1/2" slash with a sharp knife right down the center of the loaf.

Bake until nicely golden brown with an internal temperature of between 195F and 200F. If the loaf seems to be browning more than you would like before it's ready, loosely tent with foil for the last 5-10 minutes of baking.

If desired, brush the top of the loaf with melted butter as soon as it comes out of the oven. This will keep the crust from getting crispy as it cools.

Allow the loaf to cool in the pan for 10 minutes. Then remove to a cooling rack to cool completely before slicing.
Did You Make Any Changes?
Notes
To Make Burger Buns
Make the dough following the above instructions, 1-6.
After you press out the gases, divide into 7-8 equal sized portions. For accuracy, I always weigh my entire amount of dough and divide by the weight I want my buns to be. The ones in these photos, I scaled out at 3.6 ounces each, and I made 8. You can also scale out to just over 4 ounces apiece and end up with 7 buns that are the perfect size for a large burger.
Place the portioned dough on a parchment lined tray, cover with plastic wrap, and refrigerate for 45 minutes. This will make the dough easier to work with as it is pretty soft.
Remove the tray from the fridge, form each piece of dough into a smooth ball and then, with cupped hands, scoot them around on the counter, using the friction between the dough and the work surface to pull the surface tight so you have a nice, smooth ball. I have a video showing how to shape burger buns if you'd like to see it in action.
Place 4 burger buns each (or 4 and 3) on 2 parchment-lined baking sheets. Allow the buns to rise in a warm place for about 45 minutes.
If you'd like, you can egg wash the buns and then sprinkle with sesame seeds or poppy seeds. I used smoked salt and smoked pepper on mine.
Bake on 2 separate racks, for about 20 minutes, rotating the pans and switching shelves halfway through the baking time. The buns should be a light golden brown and the internal temperature should be between 195-200F.
Remove to cool on the pans for 10 minutes and then remove to racks to cool completely.
To Include an Overnight Rise
For a Loaf of Bread
Once you shape and pan the dough, spray the top with pan spray, cover with plastic wrap, and refrigerate overnight.
Remove the pan from the fridge the next day. It will probably have visibly risen, even in the fridge.
Allow to sit in a cozy place until the dough is peeking over the top of the pan by about an inch or so.
Make the slash down the center, and bake as directed.
For the Buns
Follow the main instructions through step 4.
Cover the bowl of dough with plastic wrap and refrigerate overnight.
The next day, press out any gases that have formed, scale your dough, and continue with the burger bun variation, by scaling and shaping your buns.
Spray with pan spray and allow to rise in a cozy place for about 45 minutes.
Bake as directed.
Nutrition
Serving:
1
g
Calories:
165
kcal
Carbohydrates:
30
g
Protein:
4
g
Fat:
3
g
Saturated Fat:
1
g
Polyunsaturated Fat:
2
g
Cholesterol:
3
mg
Sodium:
362
mg
Fiber:
1
g
Sugar:
3
g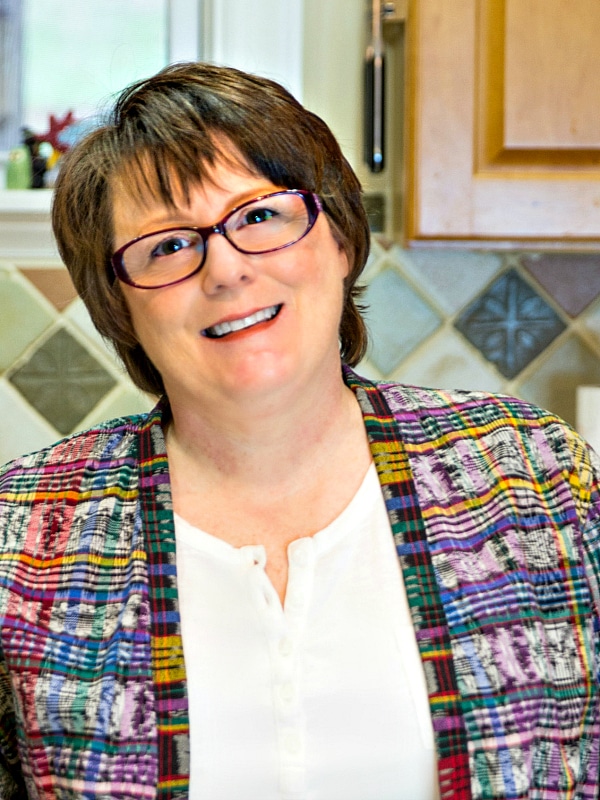 What are my qualifications to teach you baking and pastry? As a former working pastry chef and special educator, I marry my passions for both teaching and for baking into explaining techniques, methods, and developing the best possible recipes. For more info, you can read more about me.
If you'd like to receive new recipes and the occasional newsletter, I'd love for you to sign up for my Inbox Pastry Chef.